There was never a better excuse for a mini break than the one time I had to go to Melbourne on Bupa Blog Awards business and my friend Joan came to visit from the UK. It was an opportunity too good to miss so we decided to spend some time (48 hours to be exact) to explore all that Melbourne has to offer. If you're wondering how much you can pack into two days in Melbourne, the answer is quite a lot… And here's what!
Where to Stay
Tuesday 1pm – Check into our in a cool, retro style Airbnb
This place is all about location, location, location, in the heart of the CBD with trams, trains and Town Hall, literally on our doorstep. I could get used to waking up to this view every day!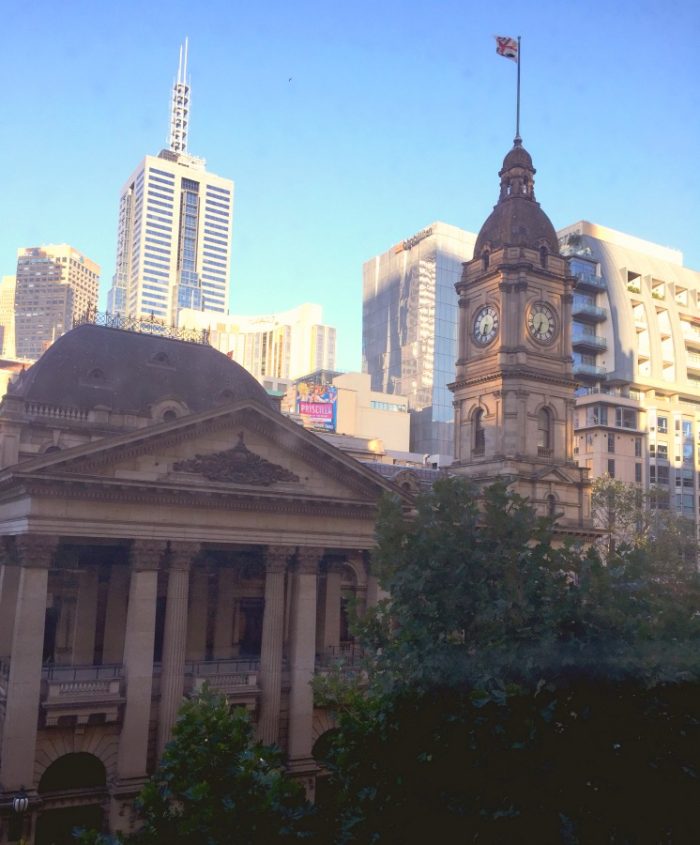 I love the freedom and convenience that staying in an apartment affords. Although this place isn't big, it has a large well equipped kitchen, lounge, bathroom and kitchen and everything we need for our stay. Check out my tips on finding the perfect Airbnb for your next trip!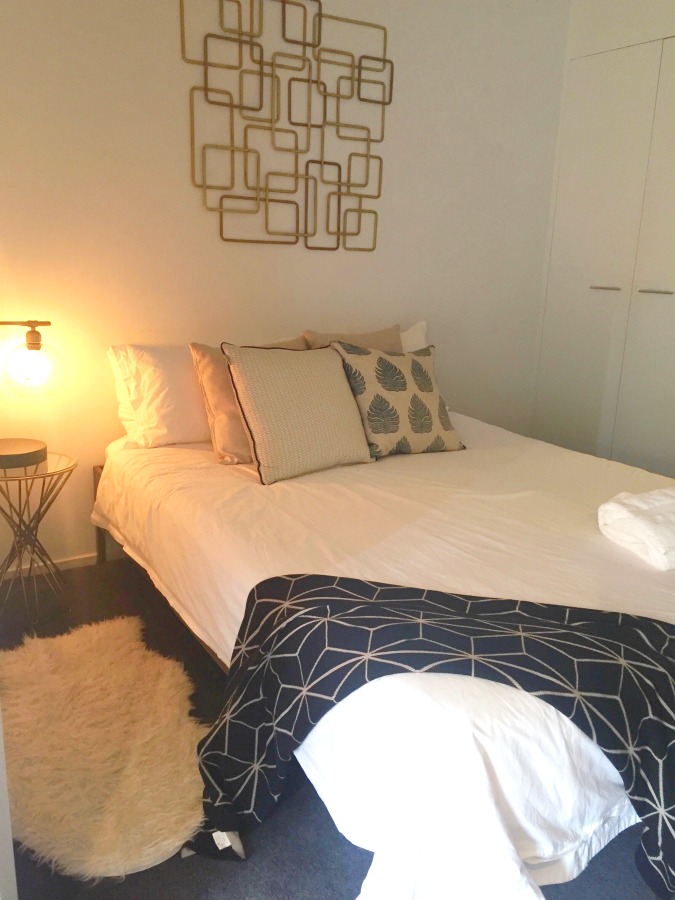 Where to Eat, Drink and Things to Do
Tuesday 1.30 – Lunch at Miznon 59 Hardware Lane, Melbourne
It's not often I go back to the same place twice when I'm travelling but it's not often I love a place as much as I love Miznon so of course, I make an exception. Not only am I on a mission to show Joan the best of Melbourne, I'm on a mission to introduce her to as many new foods/cuisines as I can in two days. She's never had Israeli food so this is the most perfect and delicious opportunity. Joan's Ocean and Earth pita (ling, potato, aioli, pickles and onion) totally hits the spot.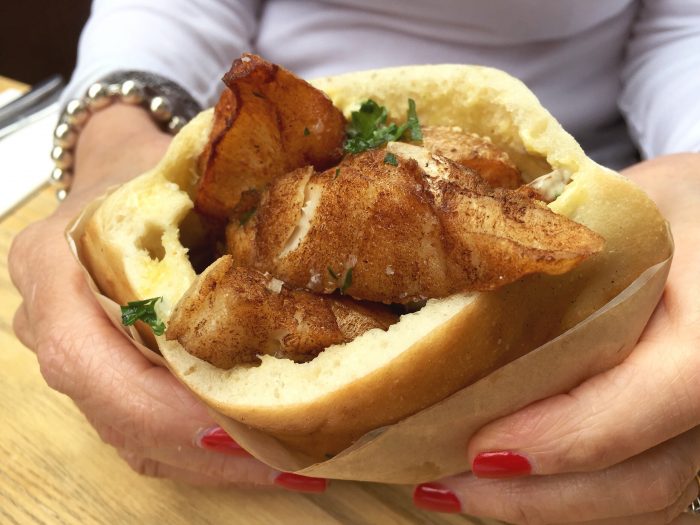 My falafel is also something to write home about, as are the Hot Chick Peas melting on tahini, with boiled egg, onion and chilli – this is something I really must try at home!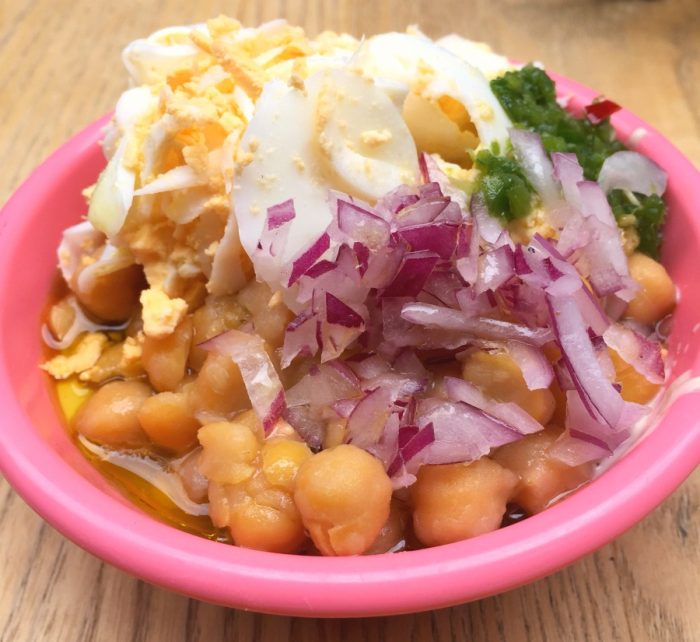 Having spent one of the best years of my life on a kibbutz and travelling in Israel, Israeli food is one of my favourite cuisines and this is some of the best Israeli food I've had outside of Israel. I can't wait to come back,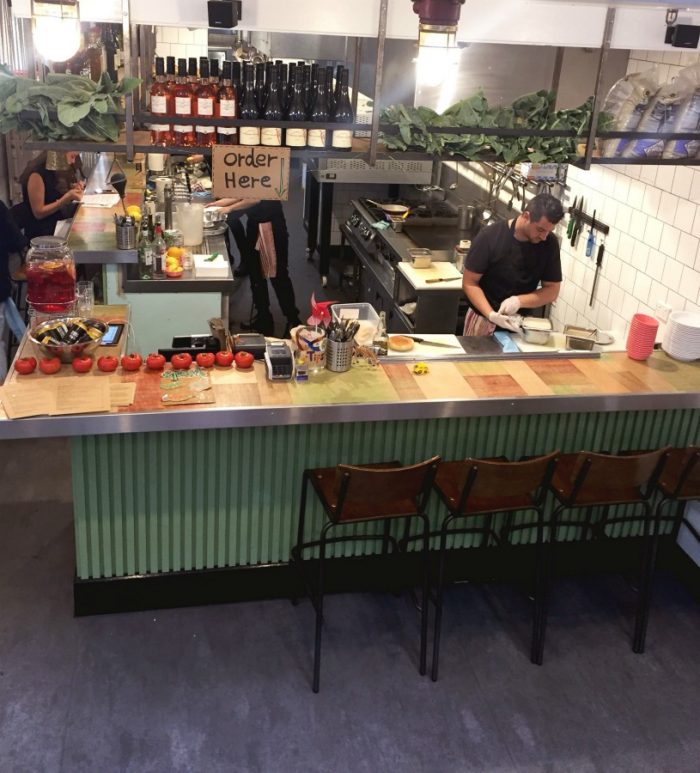 My favourite way to explore a new city is, on foot and Melbourne is no exception. We are keen to do a walking tour but only if it's free and only if it fits in with our tight schedule. Thankfully the City of Melbourne delivers with it's self guided, downloadable Arcades and Lanes Tour. It's a gem!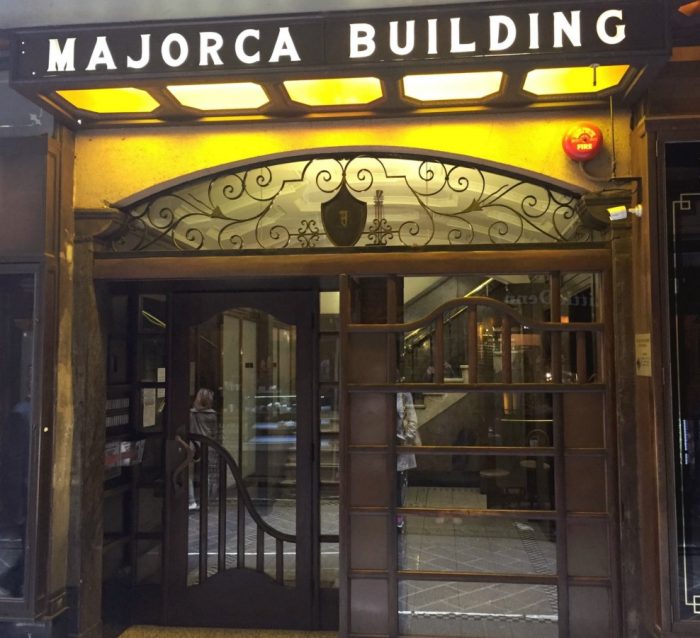 This leisurely 2.5km stroll  takes us down alleyways, tiny streets, elegant arcades, laneway cafes and fascinating shops. The tour is easy to follow (even for someone like me who can't find their way out of a paper bag) and is a great introduction to Melbourne and it's history. Highlights include the Majorca Building, the Block Arcade and of course, a pit stop at the Hopetoun Tea Rooms!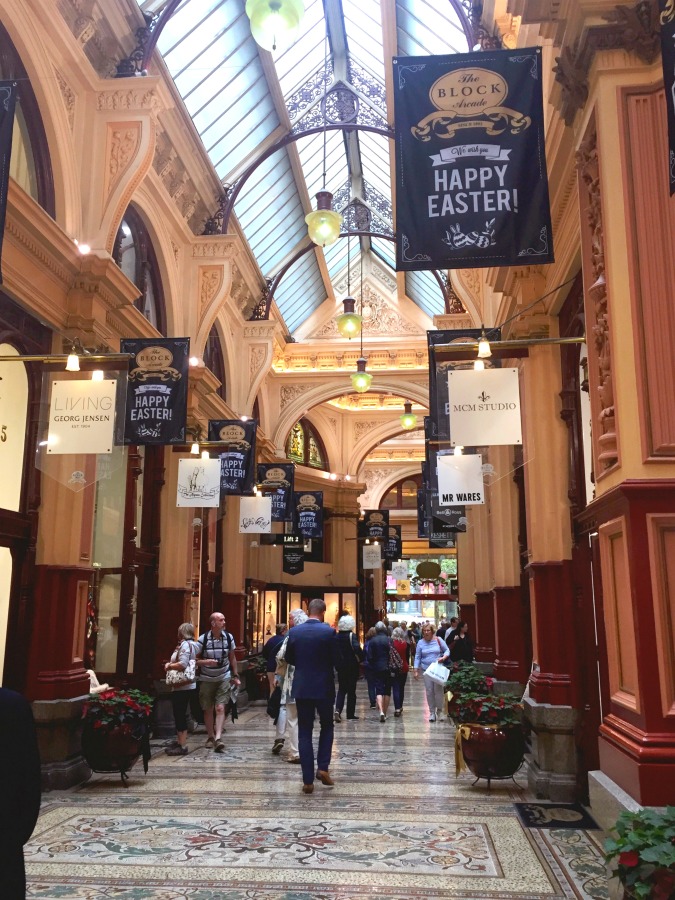 Tuesday 3.30pm – Cake and a cuppa at Hopetoun Tea Rooms Block Arcade, Melbourne
A visit to Melbourne isn't a visit to Melbourne without a visit to the Hopetoun Tea Rooms. Even though we are quite full from lunch, we're pretty sure we can find some stomach space for a cake and a cup o'tea – we're British after all. There is always a queue here but it moves quickly, and Joan spends her time wisely surveying the Hopetoun windows. They really are a sight to behold.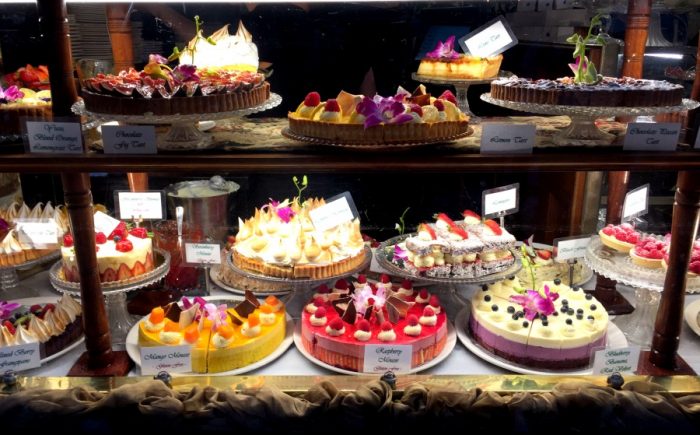 As Joan is the guest and I hate making decisions, I let Joan choose a cake for us to share. In the spirit of her quest to eat and enjoy all new things, she selects the lamington. This makes my inner Australian proud – she's chosen (in my opinion) the national cake of Australia! Of course, this being the Hopetoun, this is no ordinary lamington, it's a Lamington Plus and Joan pops her lamington cherry in remarkable style. It might be her first lamington but I don't think it will be her last.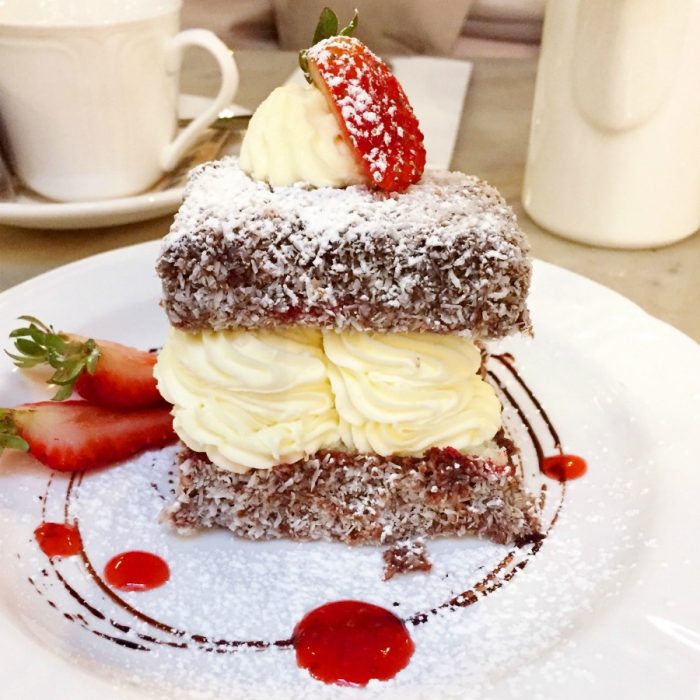 Tuesday 5.30pm – Early dinner at  HuTong Dumpling Bar  14-16 Market Lane, Melbourne
Clearly, my dumpling bug is infectious. Within days of Joan arriving, I have her addicted to dumplings which is a most pleasing situation. Word on the street (AKA my friend Rochelle) is that this is the  place to have dumplings in Melbourne.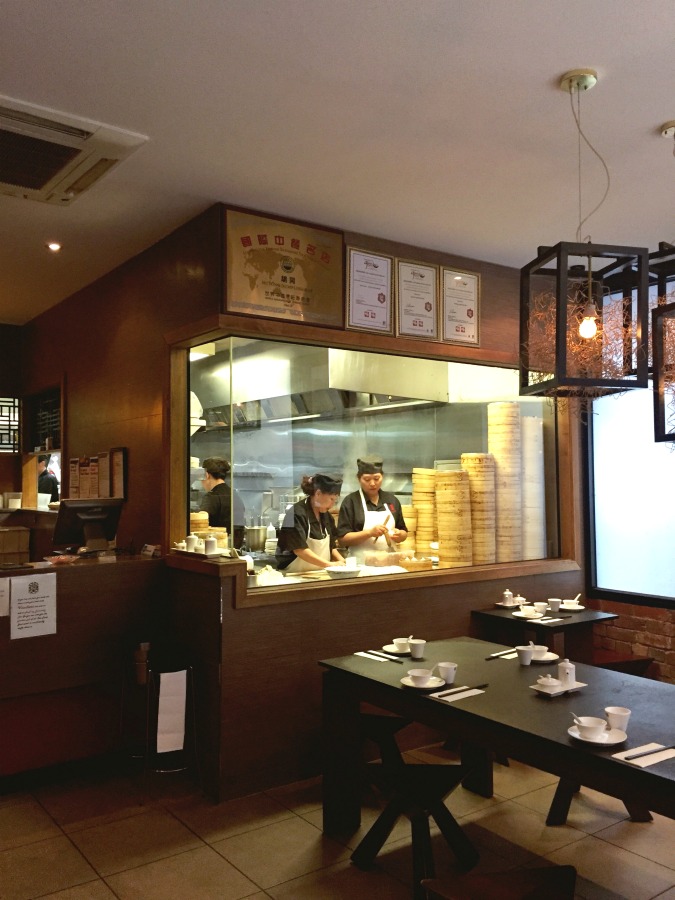 I feel a bit silly booking a table for 5.30 which is when the restaurant opens, but this turns out to be a wise idea because the restaurant is already busy. Even though we're a bit stuffed from lunch (and the enormolamington,) we are all over the Stir Fried String Beans with Minced Pork in Chilli Sauce (which to Joan's relief are warm as opposed to hot spicy.) They're not pretty, but they sure are tasty!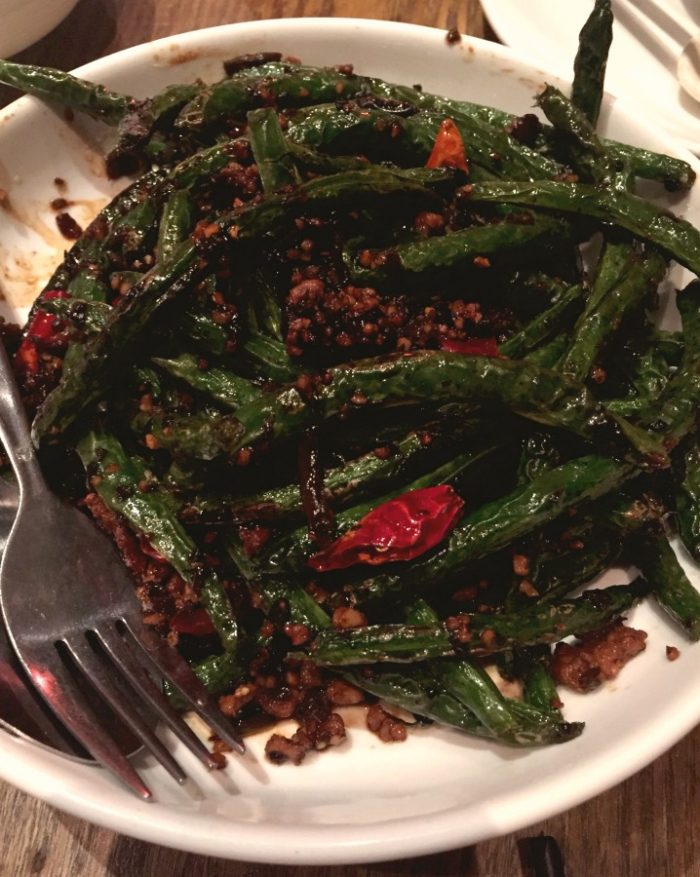 We also find room for some Shanghai Fried Noodles with Shredded Pork, although the Steamed Crab Meat Dim Sim are the stars of the show because… Dumplings! Service is friendly and attentive and the food is delicious and great value. Our only regret is that we're out of time and stomach space.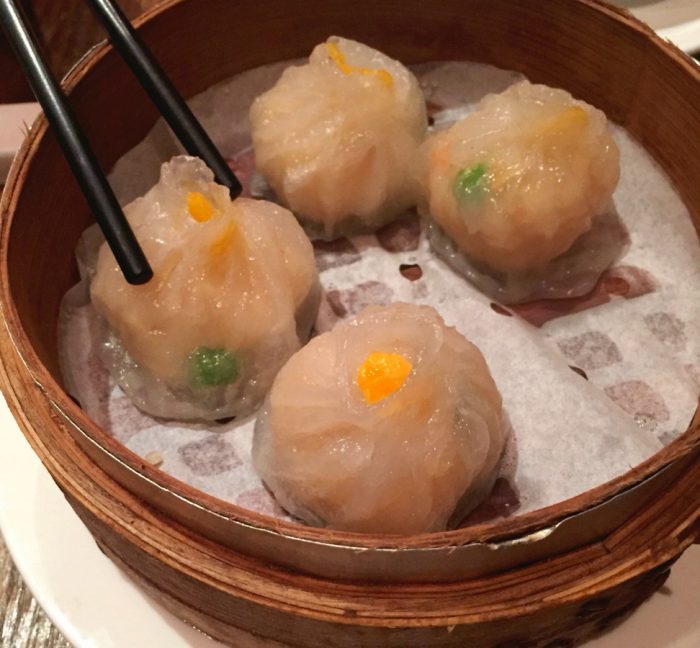 Tuesday 7.00pm – The Minimalists: Less Is Now Athenaeum Theatre
If you love live theatre and the arts, you're going to be spoilt for choice in Melbourne, but I only have eyes for The Minimalists who are on stage for the last night of their epic Less is Now Tour. I've been fangirling over these guys for quite some time, but I'm delighted to introduce Joan to Josh and Ryan who loves them (nearly) as much as I do. It's a inspiring and uplifting evening.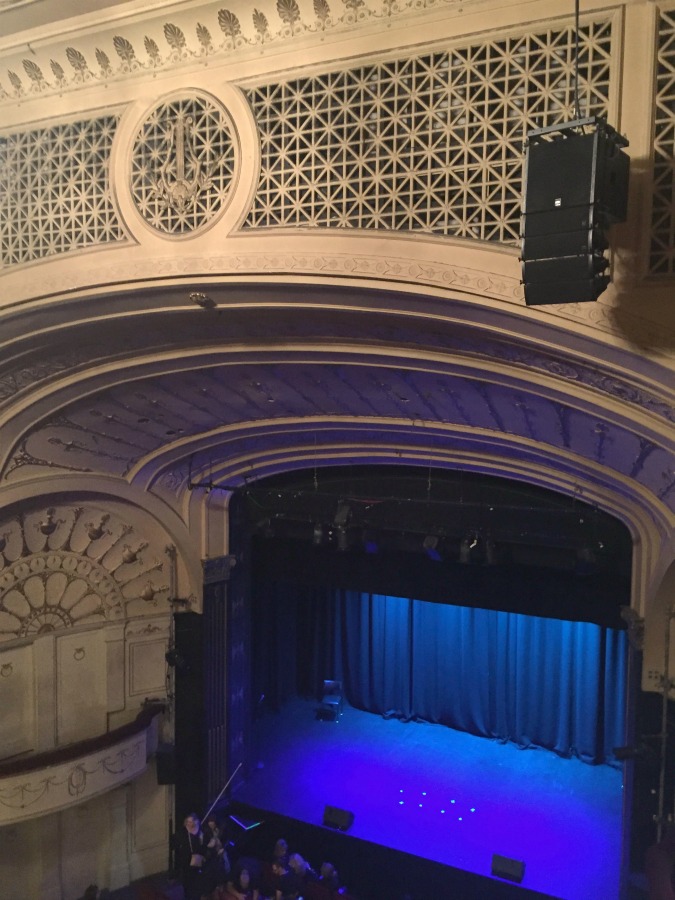 Incidentally, the Athenaeum founded in 1839,  is one of the oldest public institutions in Victoria. It mainly hosts theatre, music and comedy performances and is a principal venue for the Melbourne Comedy Festival and Melbourne Opera.
Tuesday 9.30pm – Cocktails at The Gin Palace 10 Russell Place, Melbourne
Joan loves gin, like I love The Minimalists so it is only right that we swing by after the theatre. This basement bar is dark, quirky, classy and full of olde worlde charm. The menu has more gin than you can shake a stick at but the friendly wait staff are more than happy to offer some advice. We grab the last remaining seat in the darkest corner of the bar and grab a couple of delicious cocktails. It's the perfect way to end the day.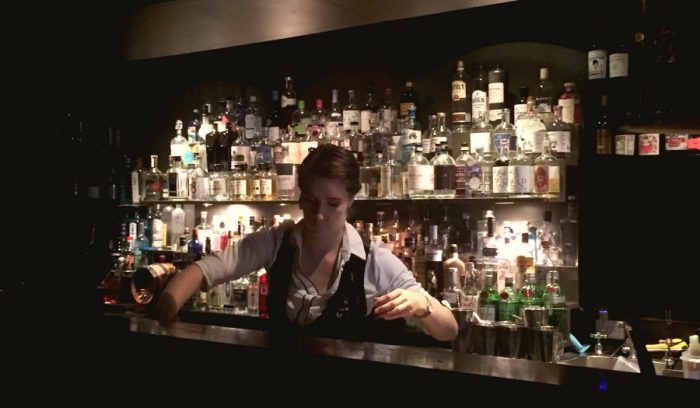 Wednesday 10.00am – Breakfast at Cumulus Inc 45 Flinders Lane, Melbourne
Breakfast is at Cumulus Inc – one of Melbourne's most famous and most finest. Located in an old rag trade building, Cumulus has high ceilings, open kitchen and an upmarket menu. If you don't have the time or the budget for lunch or dinner, breakfast (or even coffee) is a great (and very affordable) option. There's a really cool vibe here but there's nothing cool about the service, it's exceptionally warm and friendly.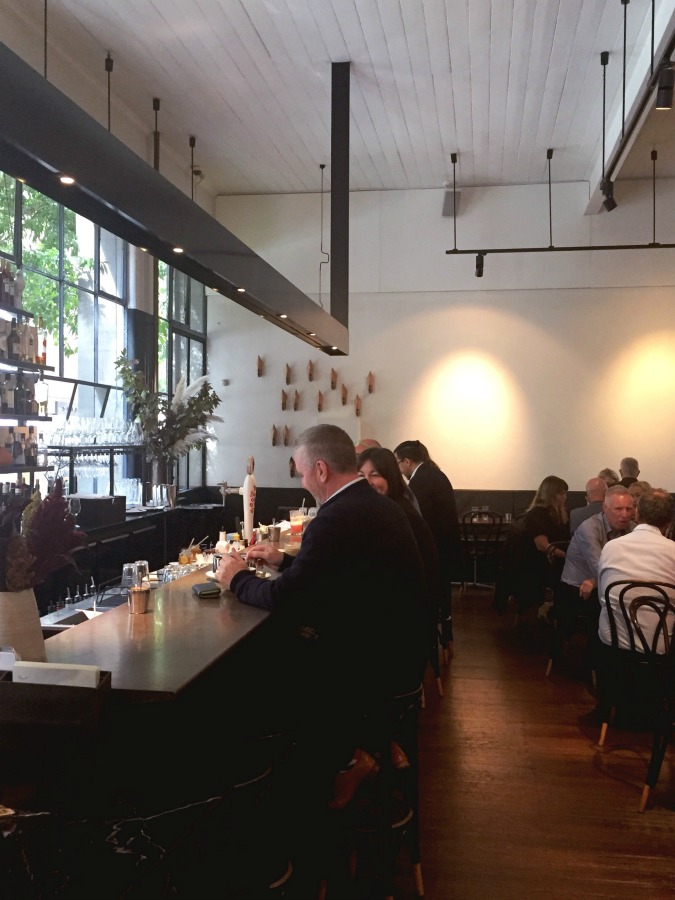 We both opt for the Cumulus Inc Breakfast (boiled egg, three slices of thick toast, preserves, yoghurt, OJ and coffee.) We're so full afterwards we can hardly walk.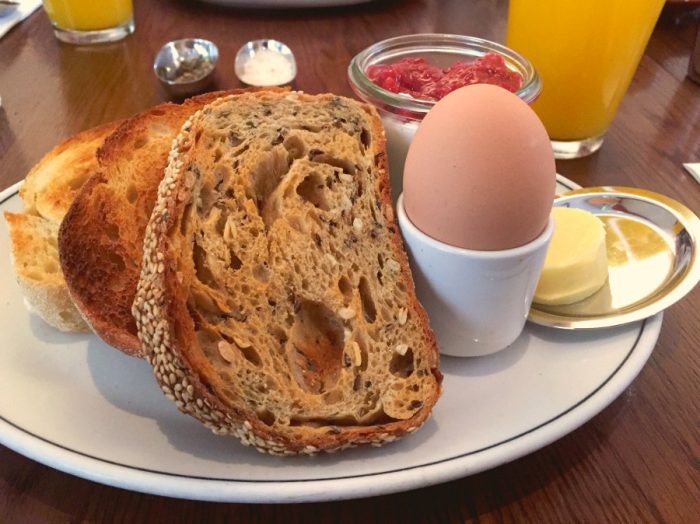 Wednesday 11.00am – Hosier Lane 
Lucky for us, we don't have to walk far to get to Hosier Lane. If you love street art, you'll love Melbourne, it's full of it. I can't wait to take Joan to my favourite street art spot, Hosier Lane. Here, you can guarantee you'll get to see some amazing art and if you're lucky you might squeeze in some celebrity spotting too… Ed Sheerhan performed an impromptu gig in Hosier Lane earlier this year.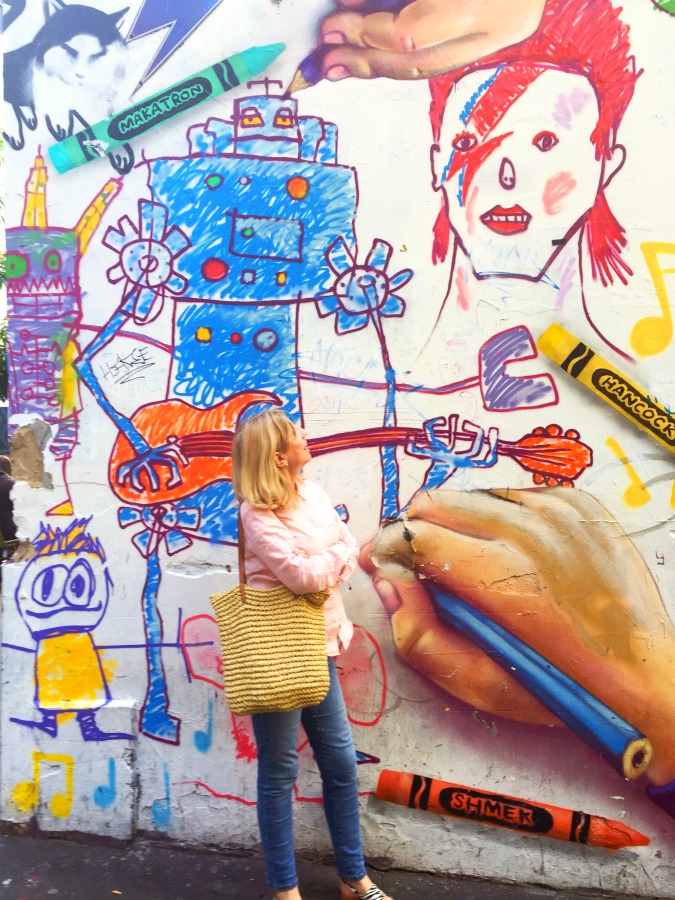 Even without Ed Sheerhan, Hosier Lane  is always busy, but on this occasion it's busting at the brickwork and we soon find out why. The Australian Formula One driver Daniel Ricciardo is in town for the Grand Prix and he's getting his spray paint on, not on the walls but on some cars. As you can see, he is very relaxed about the situation and not nearly as excited as us! I think I should consider a new career in the paparazzi!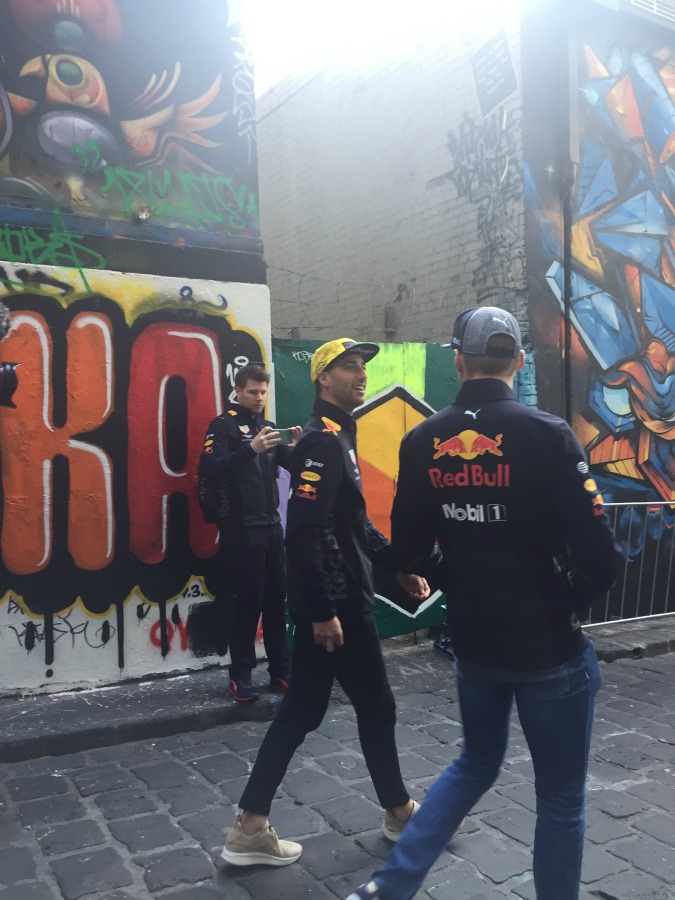 Wednesday 11.30am – The Ian Potter Centre: NGV Australia
After a stroll through Federation Square, we find ourselves at the National Gallery of Victoria and decide to be culture vultures. The NGV collection consists of 70,000 works of art spanning thousands of years, and reflecting a plethora of different disciplines, periods, styles and inspirations. The Ian Potter Centre: NGV Australia  is home to the Australian art collection – including works by the Aboriginal and Torres Strait Island communities – and like the best things in life, it's free!
The Colony: Frontier Wars exhibition is of particular interest, exploring the period of colonisation in Australia from 1788 onwards and its often devastating effects on First Peoples. The exhibition is educational, powerful and confronting, showing through art, what Aboriginal people have experienced as a result of colonisation. This is part of a text based installation that challenges racism in Australia by Vernon Ah Kee called 'If I was White.' The exhibition is well worth a visit and runs until 2 September 2018.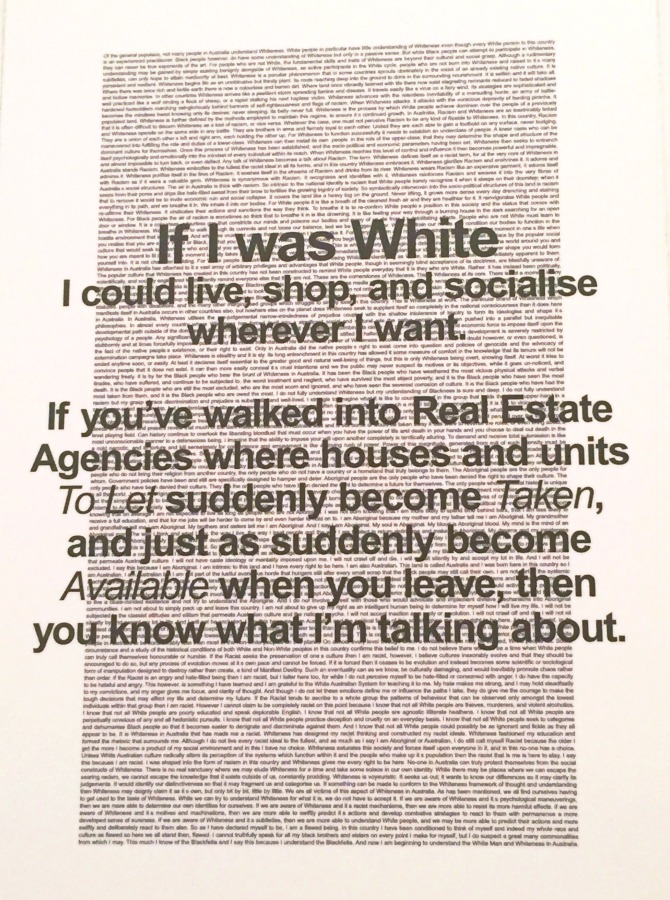 Wednesday 2.00pm – Wonderbao 4/19-37 A'Beckett Street, Melbourne
Joan has never heard of bao, let alone eaten one and I plan on rectifying the situation immediately. There's a new metro being built in the Melbourne CBD and the area around Wonderbao is like one big building site. Google Maps is melting down and our patience is fraying but I will not leave town without a visit to Wonderbao. I'm like a dog with a bone.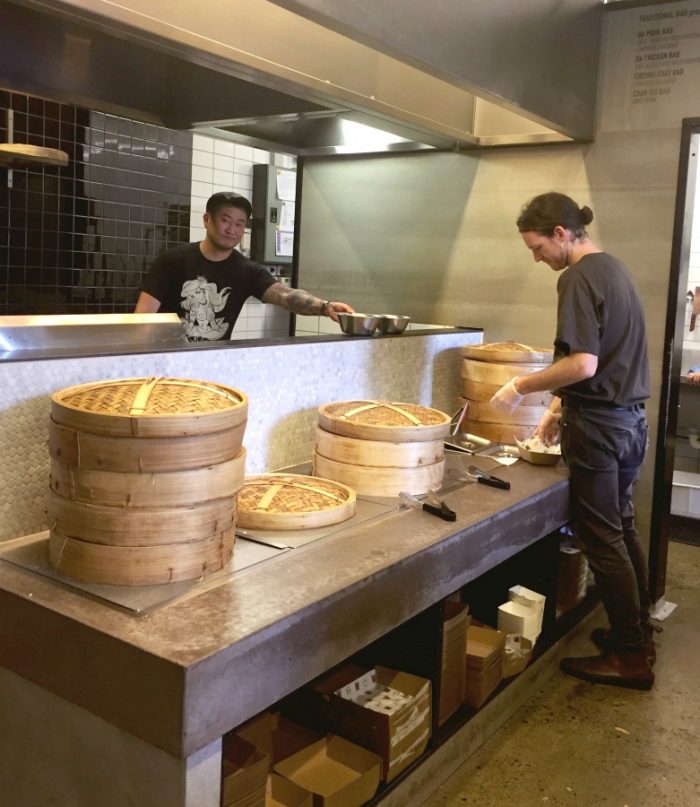 After a full thirty minutes of pacing up, down and around the block (clearly navigation is not my strong point,) we finally fall into this small, trendy eatery and all our bao dreams come true. The buns and ingredients are prepared fresh every day and we fall in love with the soft, fluffy steamed buns.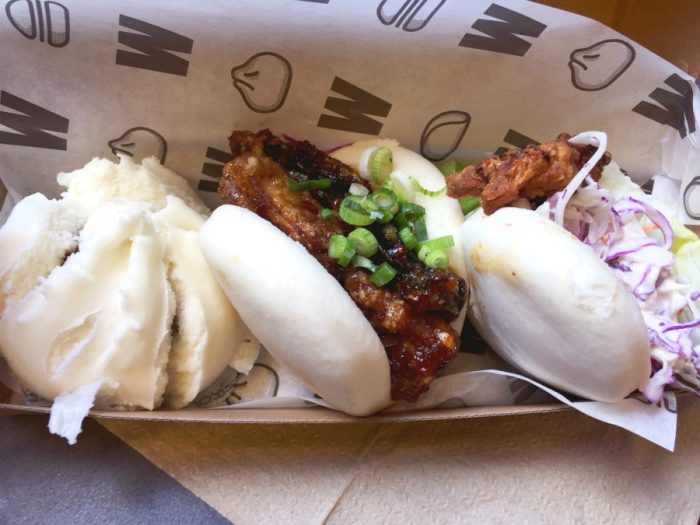 Joan chooses the Fried Chicken Gua Bo but I can't go past the Crispy Eggplant Gua Bo with sticky sauce, coriander and spring onion. It's a proper baogasm. Of course, Joan's introduction to bao wouldn't be complete without a barbecue pork bun so we add a  Char Siu Bao to our order too. These might be Joan's first bao but I don't think they'll be her last!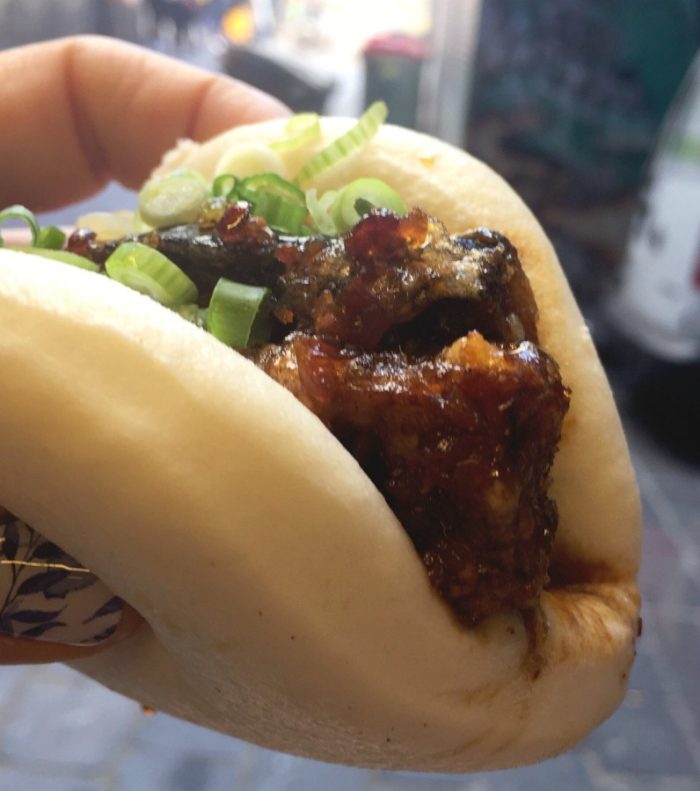 Wednesday 3.00pm – Drinks at Riverland Bar Federation Wharf, 1-9, Melbourne
All that walking for baos has really taken it's toll, so we head to this riverside urban beer garden to kick back and relax and watch the world go by. It's the perfect place for some liquid refreshment, and if you're hungry, there's a full menu from brunch to dinner.
Wednesday 4.00pm – Melbourne River Cruise Yarra River
It's a picture perfect day in Melbourne and the river is looking mighty inviting. Joan is very fond of a river cruise so in the spirit of trying something new we take a Melbourne City Cruise up river (which is supposedly more scenic.) I won't lie, the Yarra, pretty as it is, is not the most interesting or beautiful river we've cruised upon, but we do enjoy watching the rivers, spotting the birdlife and checking out the beautiful bridges.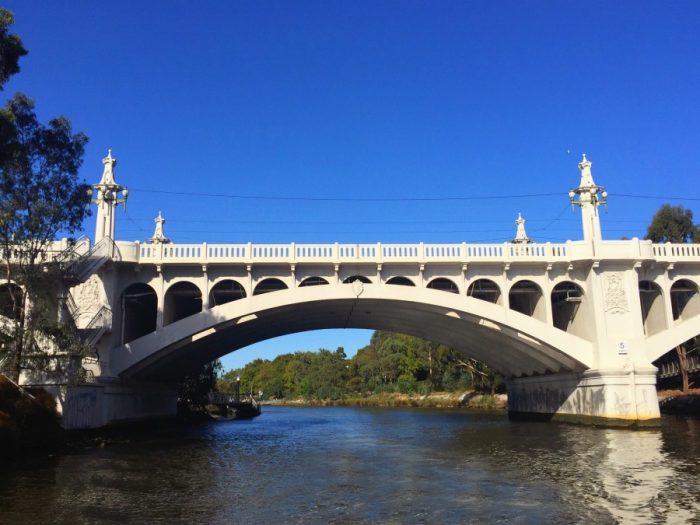 The boat could do with a bit of a facelift and it's not flash by any stretch of the imagination, but the commentary is informative and humorous, and it's a pleasant way to pass the time. Our tip is to sit on the right hand side of the boat travelling up the river and if you can hop over to the left on the way back, it's much more scenic. We splashed out $25 a pop for our tickets, but there are often half price tickets up for grabs at Groupon which are well worth looking out for.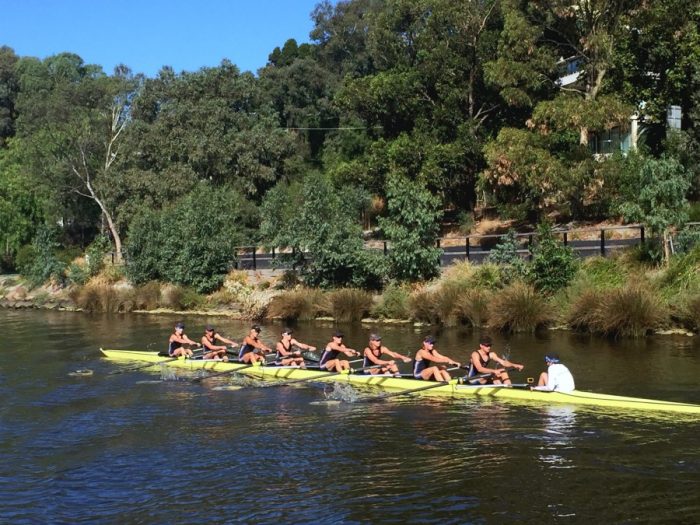 Wednesday 7.00pm – Dinner at  Maccaroni Trattoria Italiana 10 Manchester Lane, Melbourne
Joan has a penchant for pasta and so it has to be featured in our eating itinerary. Nestled in the heart of Manchester Lane, this warm, bright trattoria ticks all the boxes. Joan's Pappardelle with Mushrooms and Truffle totally hits the spot and I can't get enough of my pizza with mushrooms, artichokes and ricotta cheese. If pizza and pasta aren't your jam, there's a mouth watering range of Italian classics too.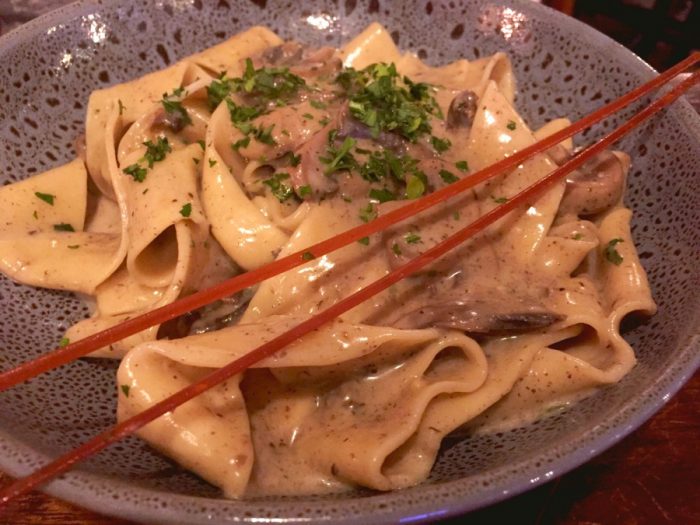 Service is efficient and super friendly, the wait staff go above and beyond, from taking our photo to mopping up the red wine that Joan knocked over the table and on her beautiful white shirt! There were even stain removal tips!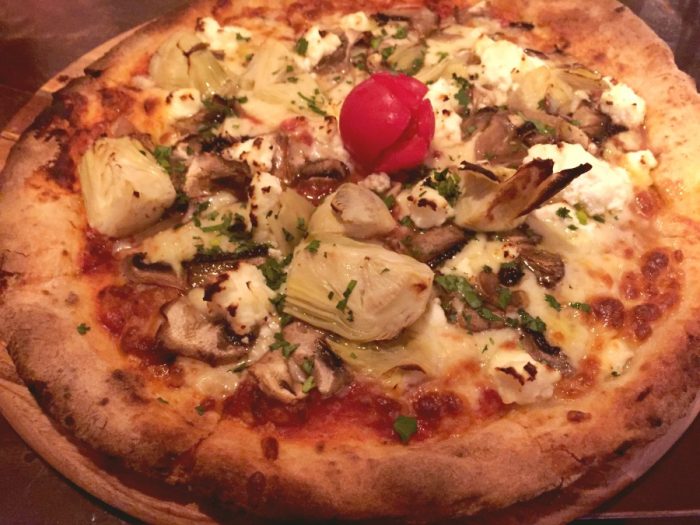 Wednesday 8.30pm – Drinks at Madame Brussels 59 Bourke Street
This kitsch rooftop cocktail bar is one of my Melbourne favourites and I know that Joan will love it as much as me. It's already dark so we can't really appreciate the views but the pink and white decor, faux grass, garden furniture and bubbles still hit the spot. Cheers, Melbourne you've been grand.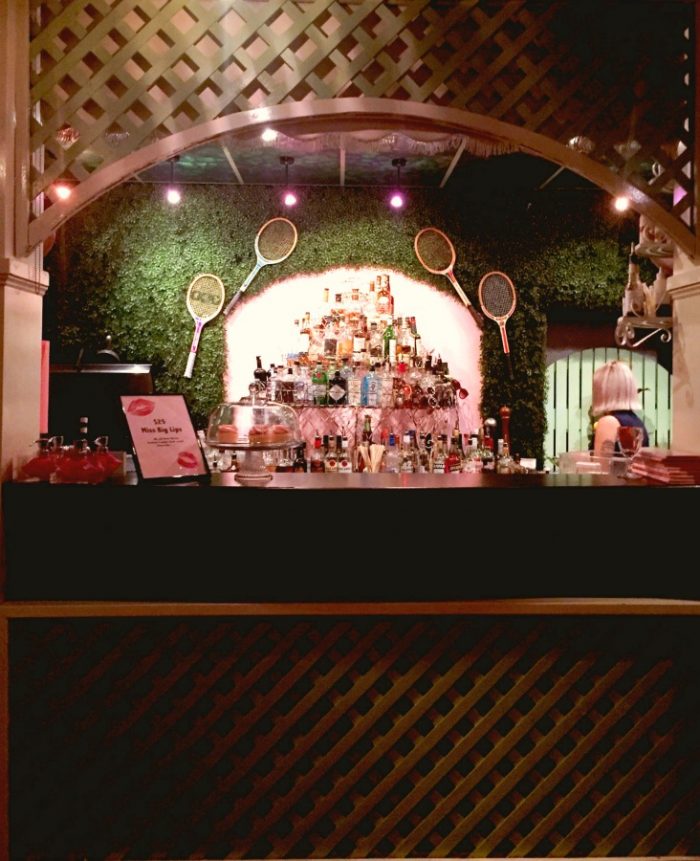 Until next time! Because there will be a next time! What's your Melbourne favourite? Have you got anything I need to add to the list?
All food, drinks and accommodation were thoroughly enjoyed and independently paid for.
Linking up with Kylie for IBOT.