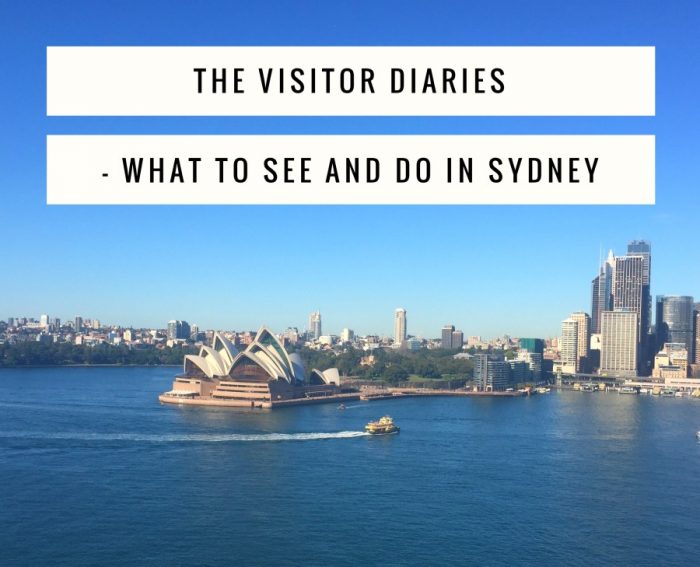 It seems like only yesterday that we were gallivanting all over town with  our visitors Beverley and Joan. Although they were only here for 2 and 4 weeks respectively, they used their time very well with an action packed itinerary. I've already spilled the beans vis a vis our favourite places to eat and drink and here's the Visitor Diaries sequel, things to see and do!
Beaches
The best thing about beaches in Sydney is that they are in abundance, they are accessible and they are free! It is perfect beach weather when Joan and Beverley are in town and they totally make the most of it, ticking some of Sydney's best beaches off their list.
Balmoral
With views over the harbour and through the heads, gentle waves and more luxury houses than you can shake a stick at, Balmoral is my favourite beach. There's a lovely promenade, perfect for a stroll or a bike ride and if swimming is you're thing, at the northern end of the beach,  next to the Boathouse, there's an enclosed swimming area with shark nets and a wide boardwalk. Beverley can't resist a dip!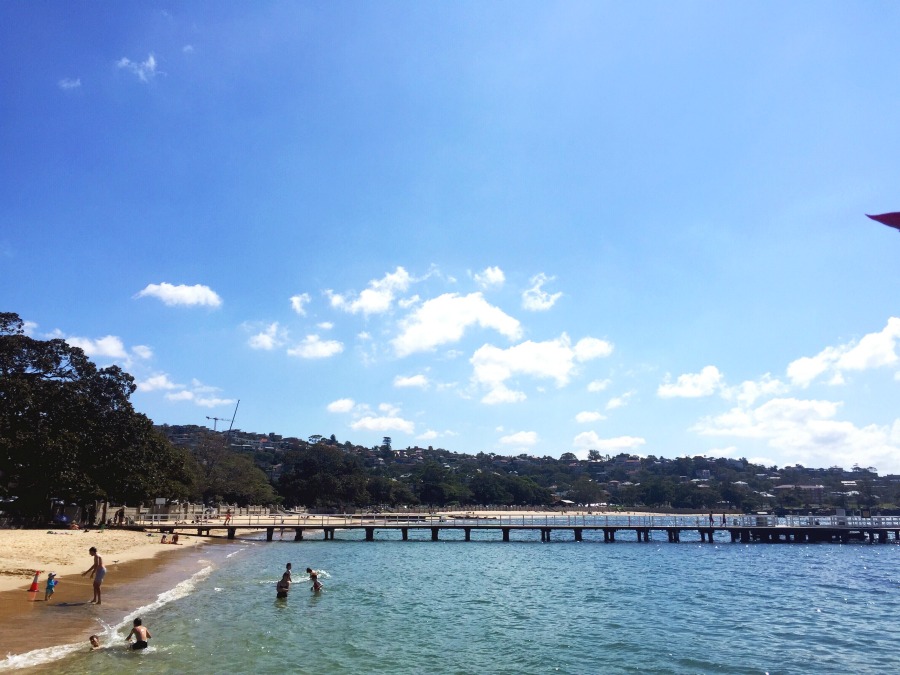 Balmoral has a wonderful small town charm, even at it's busiest it still feels intimate and friendly. There are a few food options here, but we can't go past The Boathouse. Incidentally, there are no pubs at Balmoral, (although there is a bottleshop) but if you've worked up a thirst for something stronger, The Boathouse serves a limited selection of wine and beer.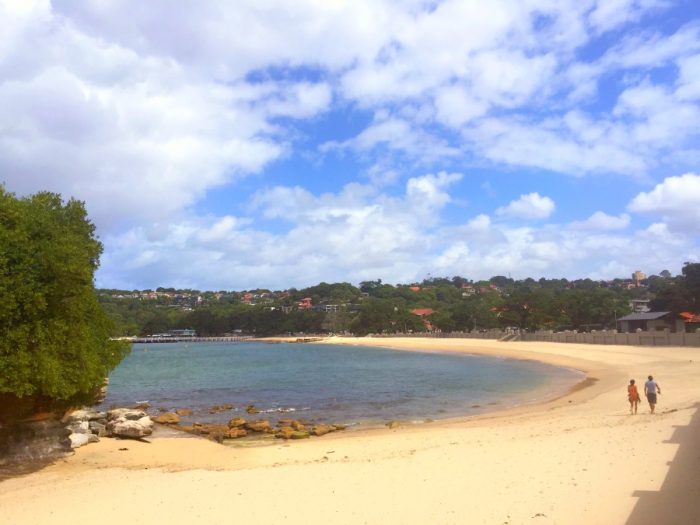 Finding a parking spot here can be both difficult and expensive, if you can, take the bus! The 238 goes from Taronga Zoo Wharf to Balmoral and the 257 Chatswood to Balmoral.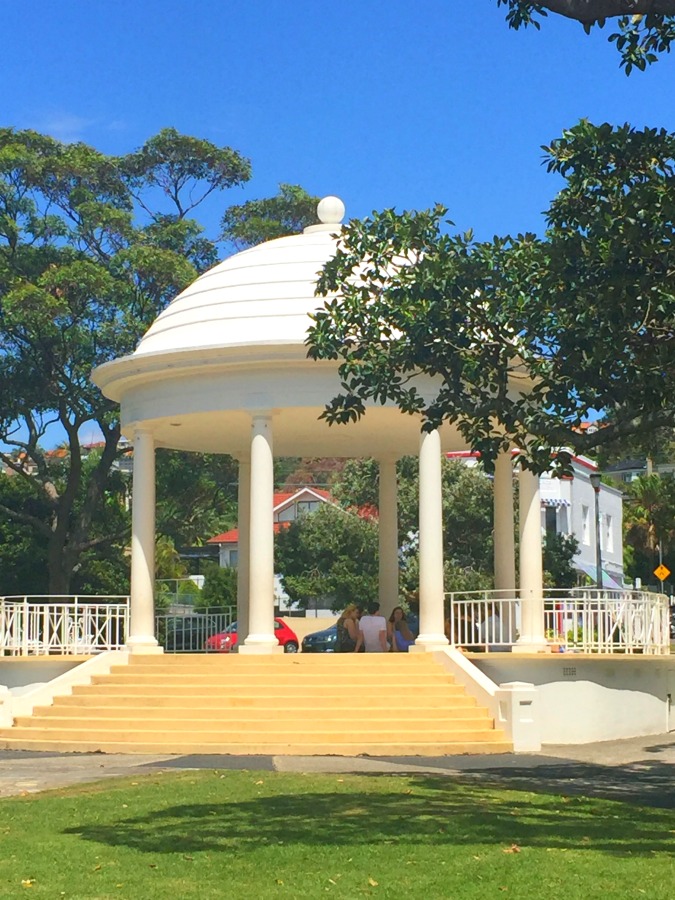 Manly
With it's harbour beach on one side and Pacific Ocean Beach on the other, Manly Beach is a real gem. With stunning ocean and harbour views, harbour foreshore walks and a plethora of eating, shopping and drinking options, it's easy to see why visitors love it here.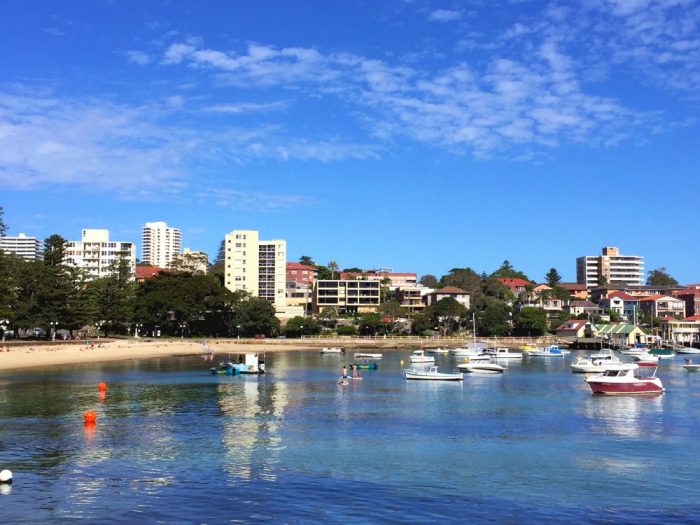 It's a 30 minute ferry ride from Manly to Circular Quay and it's also one of the most expensive ferry rides too. We're thrifty as, and take the ferry on a Sunday when Opal cards are capped at $2.75. It's cheap at the price!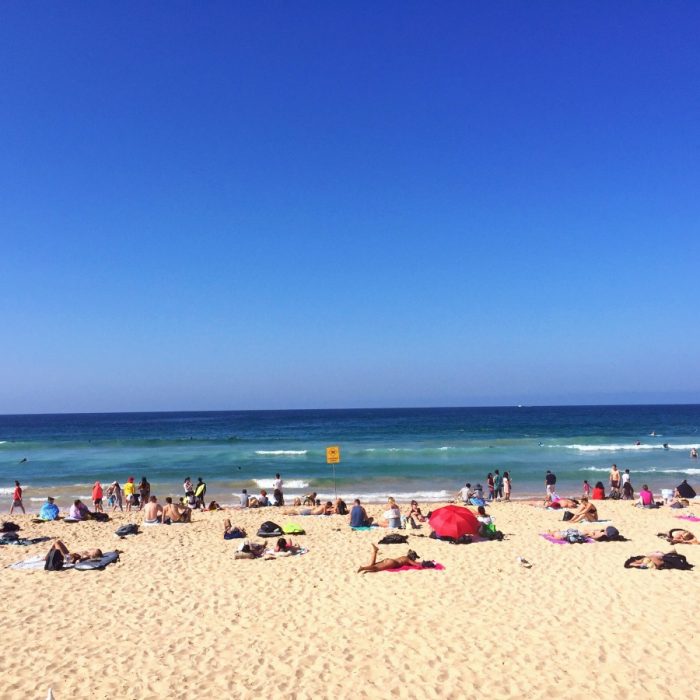 Bondi
I fell in love with Sydney at Bondi and this iconic beach will always have a special place in my heart. With it's enormo-crescent of white sand, dramatic coastal scenery and hipster places to eat and drink, it's quintessential Australia for Bev and Joan. They love it!

Walks
I've got a walking bible AKA Sydney's Best Harbour and Coastal Walks containing 36 stunning harbour walks, each with photographs and maps that even I can understand.  My mission in life, is to walk all 36 walks and while the visitors are in town, we manage to squeeze in three of my favourites,
Spit Bridge to Manly
Hands down, this has to be one of the best coastal walks in Sydney. It's probably also one of the longest – it's about 10km one way and takes about 3.5 hours.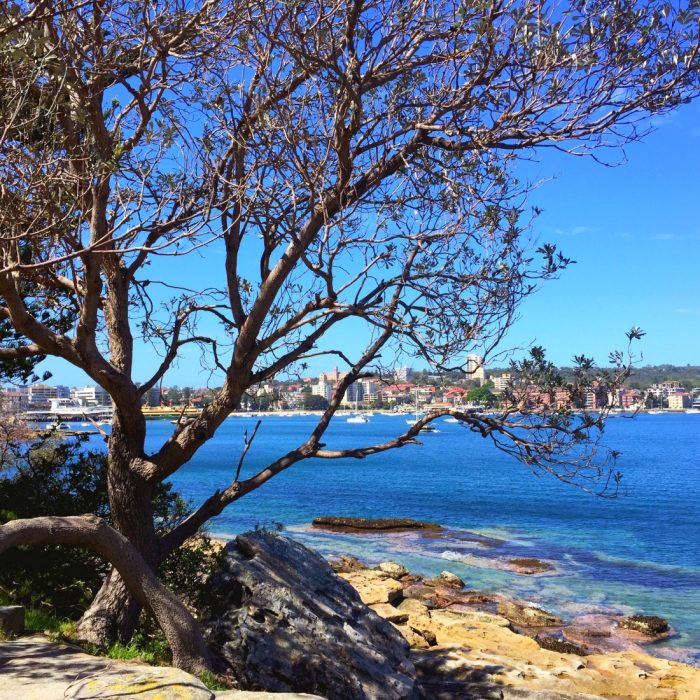 The walk has a variety of terrain (including a plethora of steps,) some stunning swimming spots and breathtaking harbour views. The advantage of finishing in Manly is that when it comes to eating and drinking, you are literally spoilt for choice!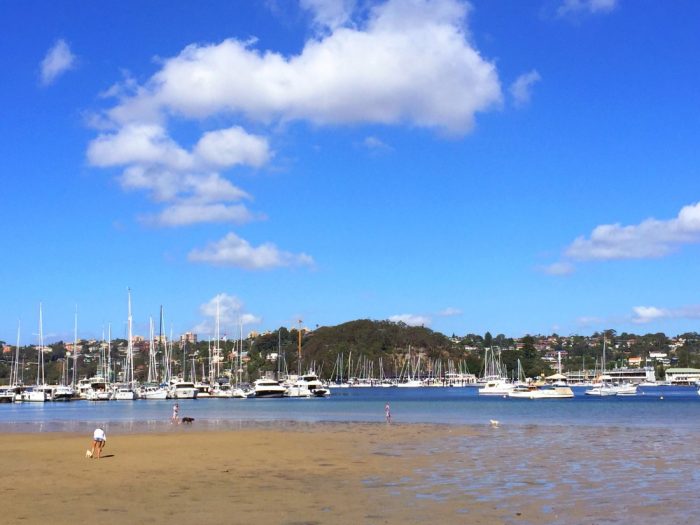 After our walk, we rehydrate with a glass of wine (or two) and a delicious lunch at Manly Wharf Hotel, which has a varied menu and some great daily specials.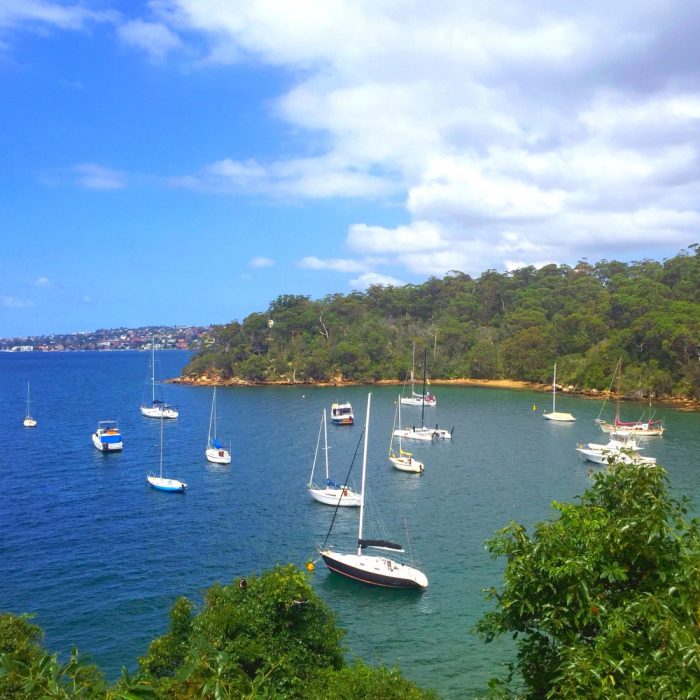 Taronga Zoo to Balmoral
Still on the North Shore, this is another one of my favourites. This 6.5km walk showcases pristine beaches, stunning city and harbour views, lush bushland and finishes in one of my favourite spots, Balmoral Beach. This walk is nice and shady, even on a hot day.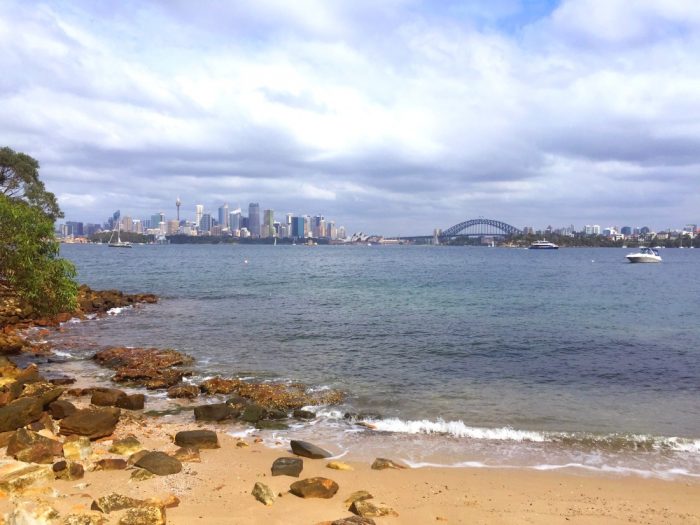 On a good day, the walk should take about 3 hours but it takes us a little longer as we enjoyed a diversion (ie, got lost.) The beauty of this walk is that you're exploring a bushland oasis, while essentially in the middle of the city. It really is Sydney at it's finest.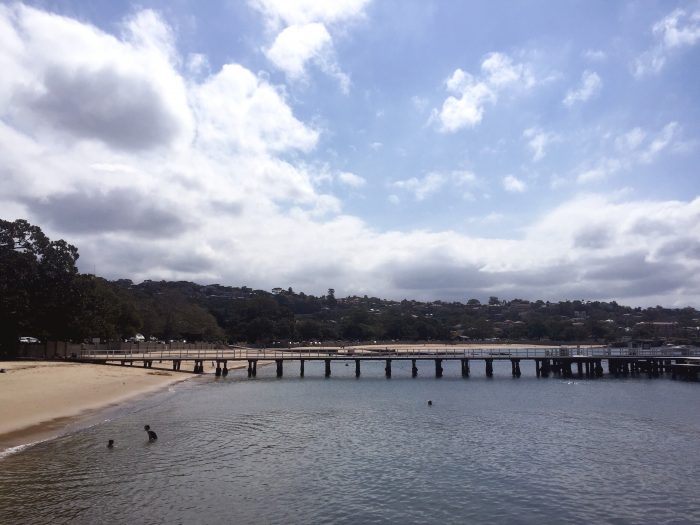 Bondi to Coogee
This is Sydney's best known coastal walk and for good reason, it's a stunner! The path hugs the cliffs and beaches all the way from Bondi to Coogee with some amazing views.  It's a relatively easy 6km one way walk and takes about 2.5 hours and you'll end up with good transport and refreshment options, whether you walk from Bondi to Coogee or Coogee to Bondi.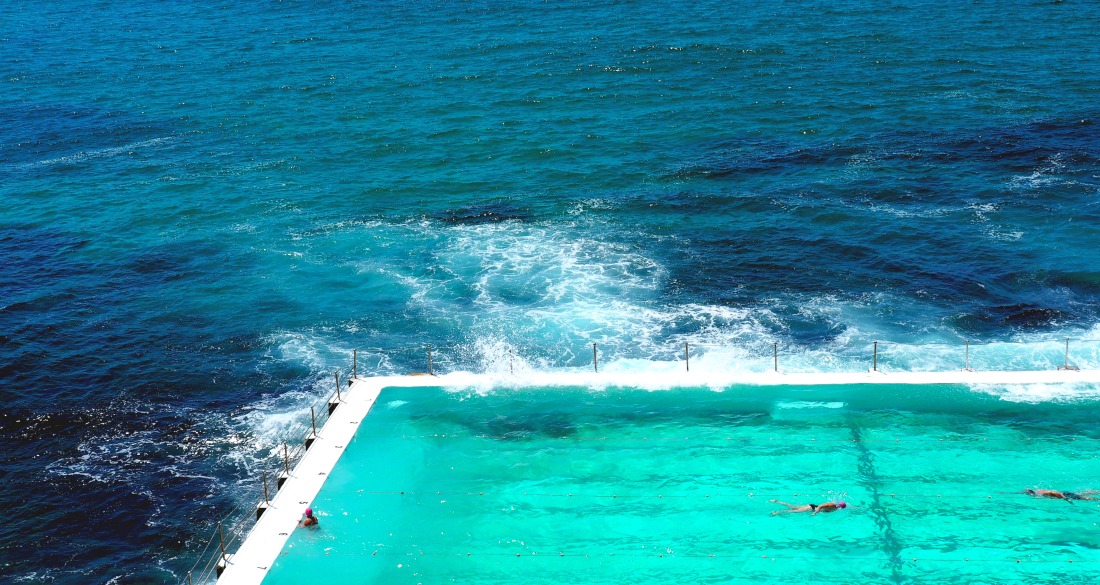 It's quite exposed (I've got burnt on this walk on a cloudy day,)  but there are cafes and kiosks along the way and plenty of beautiful beaches, don't forget your swimmers if you fancy a dip. This  walk is super popular and does get very busy, especially at weekends, so the earlier you start out the better.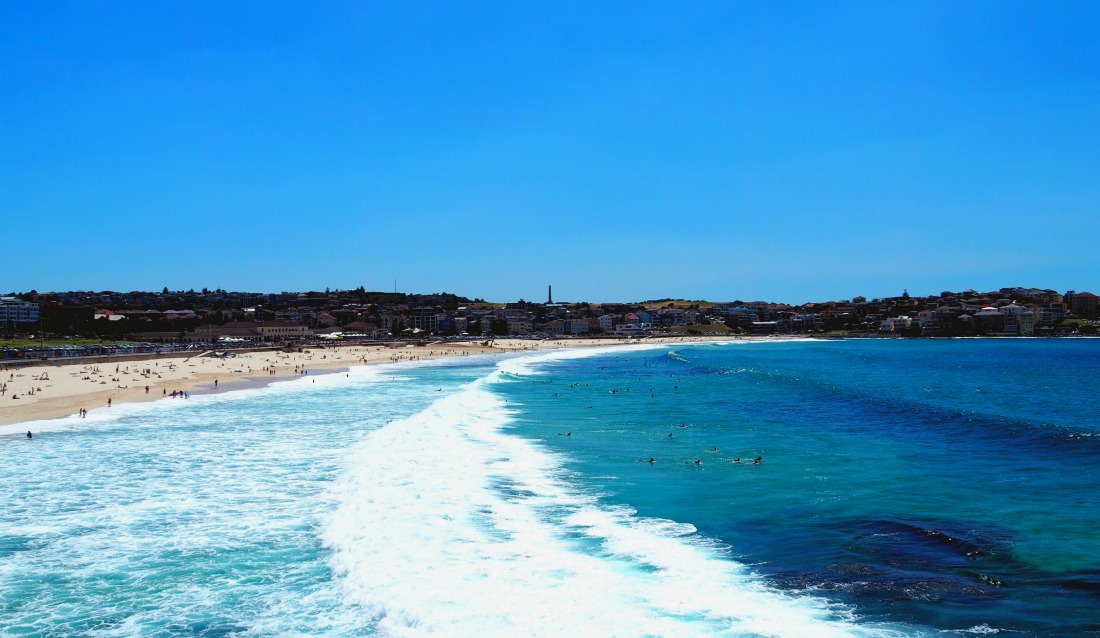 Ferry rides
One of the best ways to explore the harbour is by ferry. They're well priced, frequent and oh, so scenic. A visit to Sydney isn't a visit to Sydney without a ferry ride!
Parramatta River
Riding the Rivercat up the Parramatta River is quite unlike any other ferry ride, and not just because you're on a Rivercat and not on a ferry boat. The first part of the ride is your standard Sydney Ferry scene – the Harbour Bridge, Luna Park, Walsh Bay and Pyrmont – but once you pass Balmain and Cockatoo Island,  the big waves and ocean boats make way for handsome waterside suburbs and eye pleasing real estate. Beverley and Joan relax and enjoy the 50 minute ride and the opportunity to explore Parramatta at the other end is always a bonus.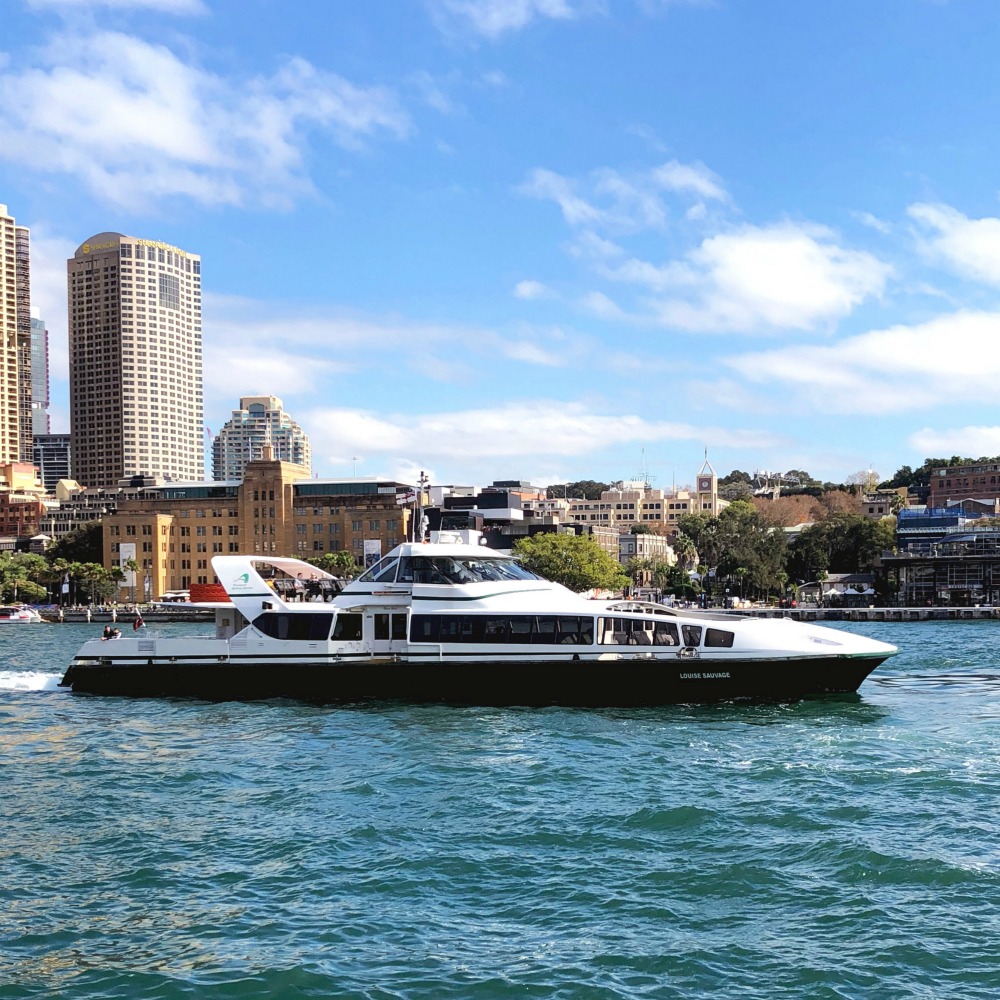 The Manly Ferry
This is surely the most famous of the Sydney ferry rides and it's certainly the longest (at 7 nautical miles) and the most expensive. It's definitely the most scenic way to get to and from Manly. Many consider the Manly Ferry a must do for tourists and Bev and Joan tick it off their list, but they tick it off on a Sunday when the maximum Opal fare is just $2.75. I suggest you do the same!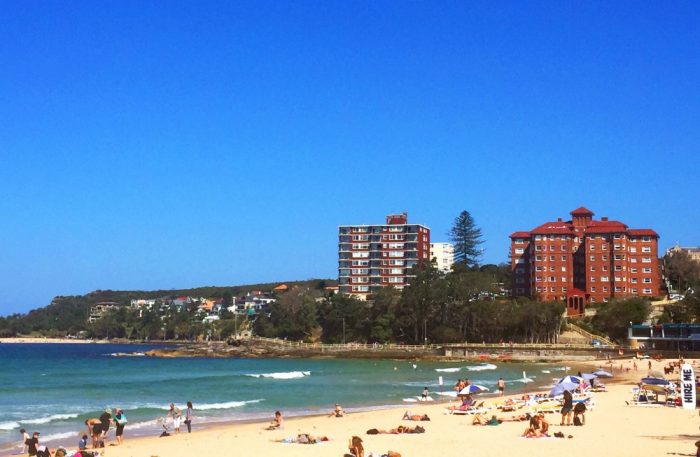 Circular Quay to Watsons Bay
Bev and Joan have been to Watsons Bay before but they love it so much they can't resist a return visit. This is a delighful ferry ride to a delightful destination. It's pretty beach, city views and first rate fish and chips make it a great destination for a day out, especially on a sunny day. Bev and Joan have high hopes of walking around to the lighthouse but it's way too hot for that so they cool off in the Watsons Bay Hotel instead.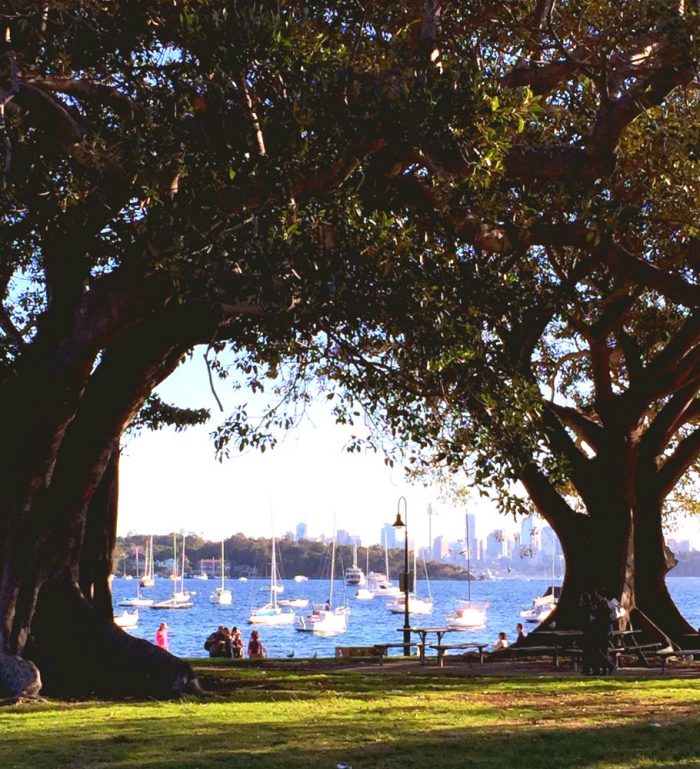 Taronga Zoo to Circular Quay
The wharf at Taronga Zoo is worth a visit in itself because the views of the city skyline are phenomenal. We check out the zoo facade and then hop on the ferry because although it might be one of the shortest ferry rides in town, it's also one of the most scenic. The views of the Opera House in particular are quite spectacular and our cameras get a thorough workout.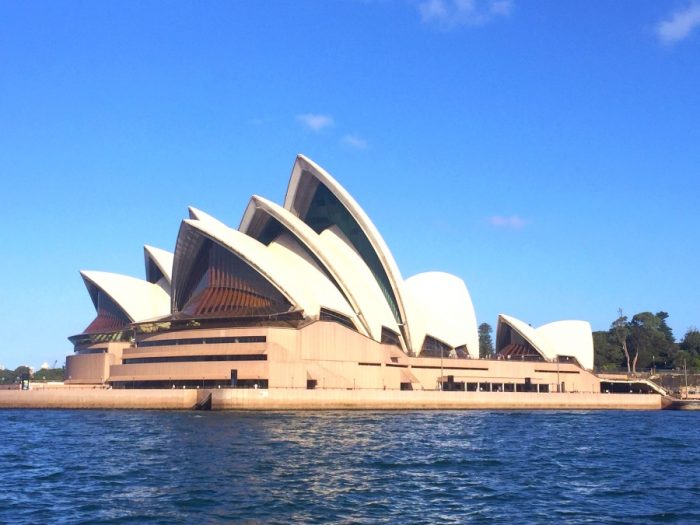 Circular Quay to Barangaroo
If you're tight for time or simply want to save your legs, you can't beat a ride on the Cross Harbour Ferry. With stops at Milsons Point, McMahons Point, Balmain East, Barangaroo and Pyrmont Bay, it's the perfect choice for a bit of harbour hopping. Bev pops her ferry cherry on her first day in town, it's a great way to see some of Sydney's best loved icons. All our sightseeing has worked up quite a thirst so we hop off in Barangaroo to check out the plethora of food and drink options.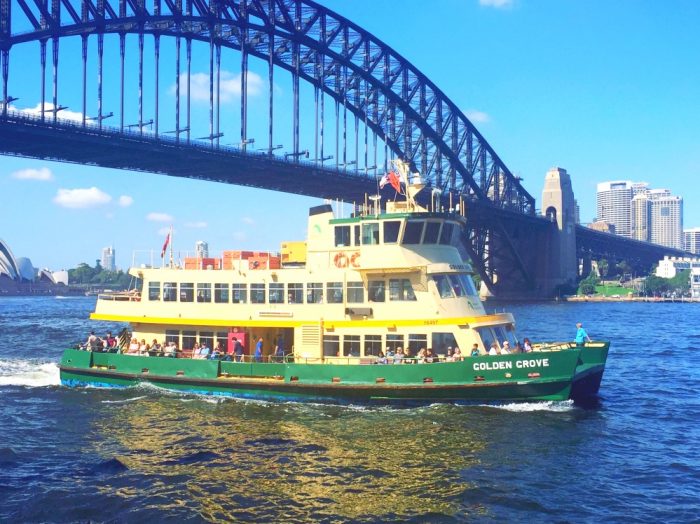 Sightseeing
It's hard to believe this stunning waterfront precinct used to be a container terminal. The views from the reserve are most pleasing and the shared paths are perfect for running, walking or cycling. We take a leisurely stroll from The Rocks through Walsh Bay and in to Barangaroo Reserve. There are beautiful harbour views, gardens planted with over 75,000 native trees and shrubs and lots of places to stop to rest your legs and/or enjoy the view. All this walking has worked up quite a thirst so we make our way round to the dining precinct where there are a wide variety of eating and drinking options. There's something for everyone here.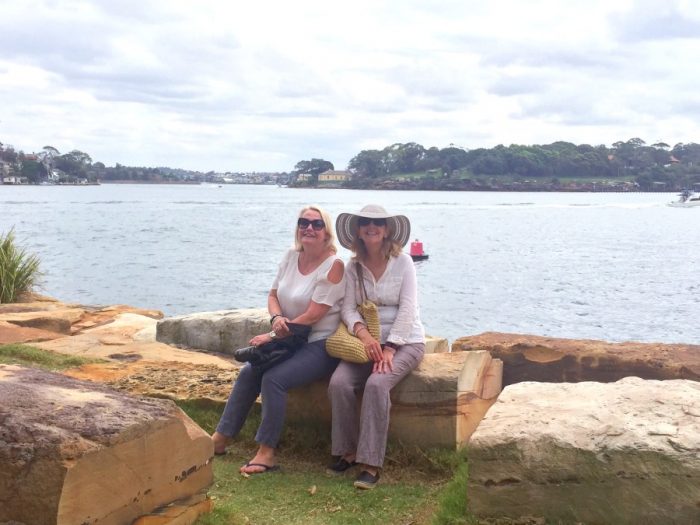 If you really want to push the boat out and you have about $300 to spare, you might consider the Bridgeclimb. I did it when I first came to Sydney in 2002 and it's top of Beverley's to-do list. It's a once in a lifetime experience and the views truly are spectacular. You'll need to allow about 3 hours for the experience although you'll probably only spend half of that time climbing. As it's not peak season, school holidays and Bev is climbing solo, she can afford to pick and choose her time, although if you're on a tight schedule, it's worth booking ahead to avoid disappointment. Bev gives the Bridgeclimb a big thumbs up, it's everything she imagines it would be and more.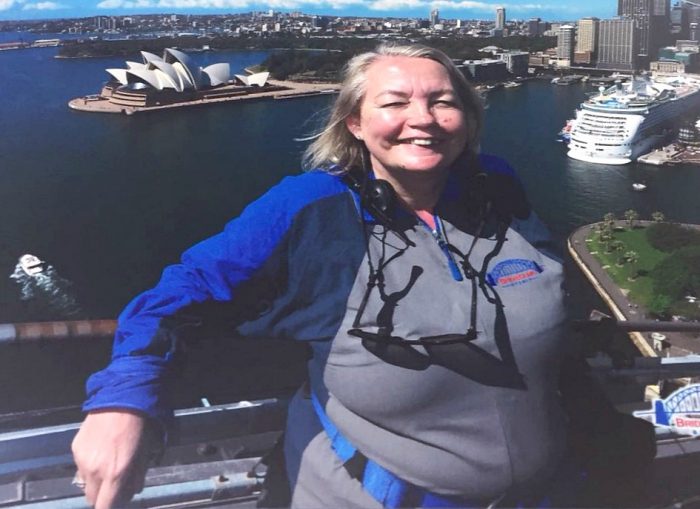 3 Cumberland Street, The Rocks
For a more affordable and less energetic option, the Pylon Lookout is where it's at! There are 200 stairs to navigate to the top of the lookout but in between there are three levels of exhibits where you can find about the fascinating history and the construction of the Sydney Harbour Bridge and the men who built it.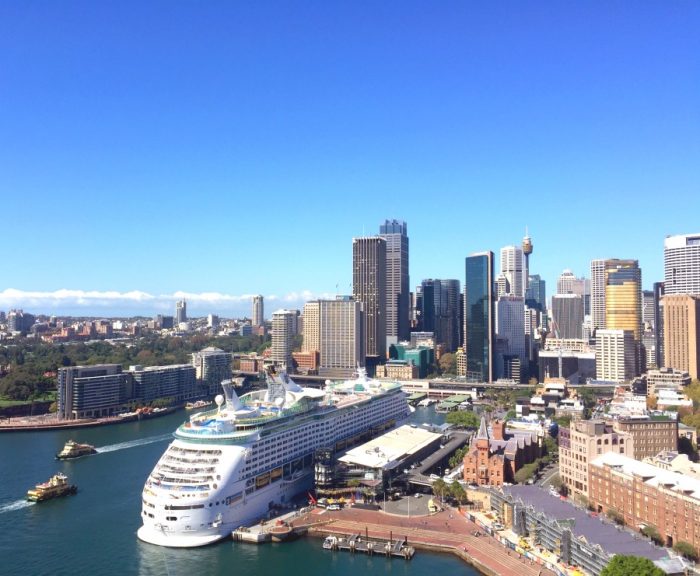 At the top, 87m above sea level you will be rewarded with stunning 360 degree views of the city and the harbour in every direction with more photo opportunities than you can shake a stick at.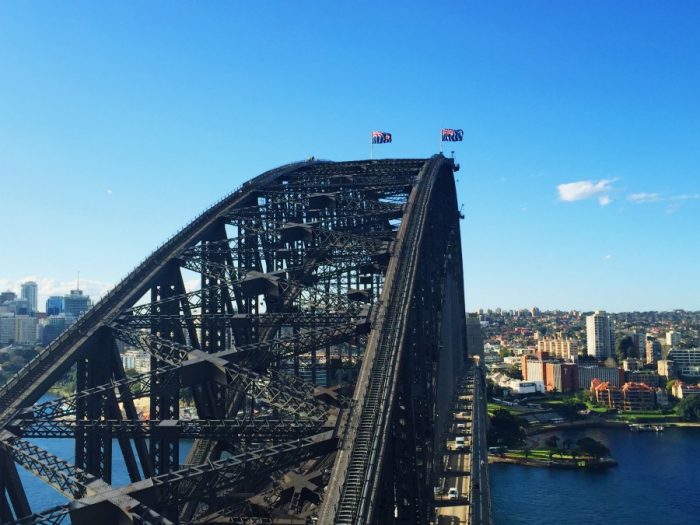 At $15 for adults, $10 for concessions and $5 for children (under 4s are free) it's excellent value and a very affordable alternative to the Bridgeclimb. Incidentally Bridgeclimbers get a free pass for the lookout and Bev kindly gives hers to Joan and I so while she climbs the Bridge, we explore the lookout. It's a highlight in every sense of the word! If you want still more scenery, you can walk along the bridge either to Milsons Point or to the heart of the historic Rocks area. The adventure never ends!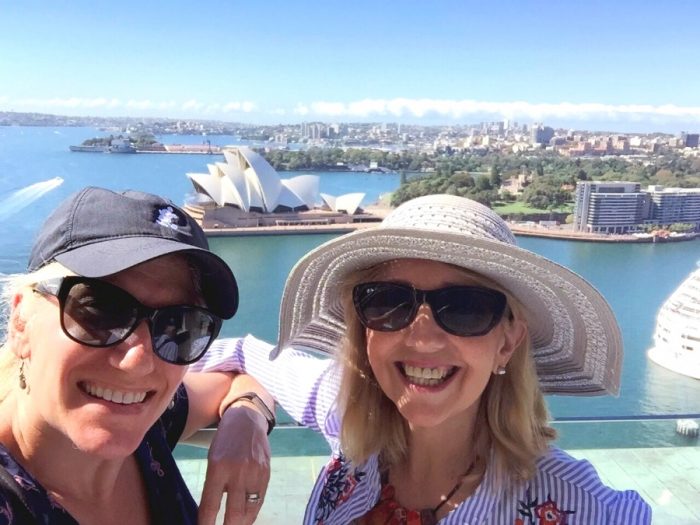 Modelled on the classic private gardens of the Ming Dynasty, this walled garden is a green oasis in the heart of the city. Here you'll find waterfalls, pavillions, exotic plants and koi carp swimming in the lakes. There's even a teahouse serving Chinese tea and dim sum! Entrance to the garden costs $6 for adults and for an extra $10, you can  dress up in traditional Chinese costumes and take your own pictures around the garden. However, Bev and Joan are feeling so zen, they're too relaxed to even think about it!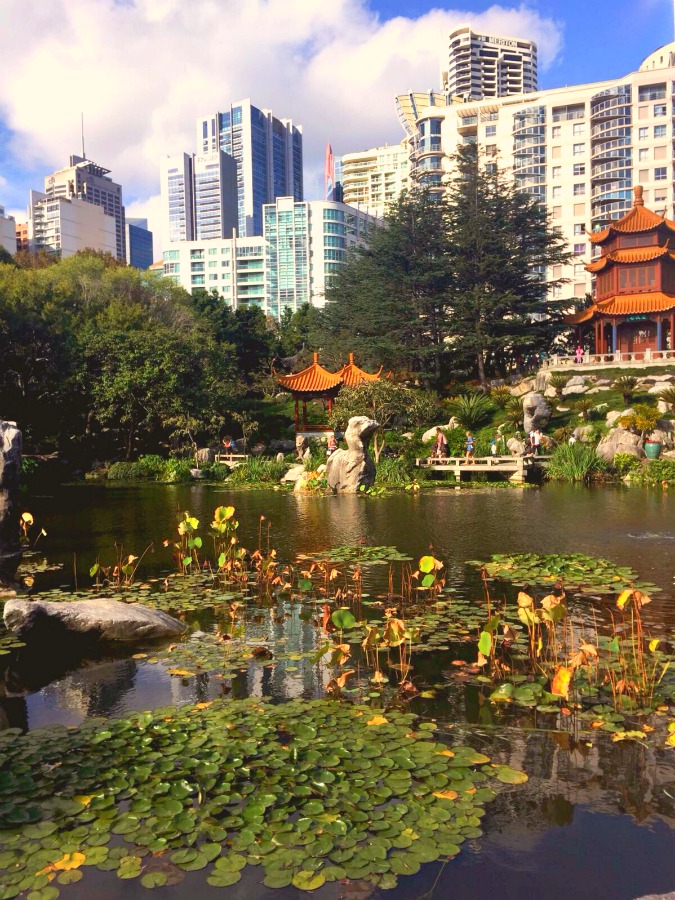 Pier Street, Sydney
More Fun things to do
Barefoot bowls is as it's name suggests, is lawn bowls sans shoes. There are a number of places to play around Sydney, but our pick is The Greens where for $20 per person, you get a crash course in lawn bowls, and a lane to play in for two hours. You need to book ahead but you don't have to be sporty to enjoy barefoot bowls, enthusiasm always trumps experience, well, that's our theory and we're sticking to it.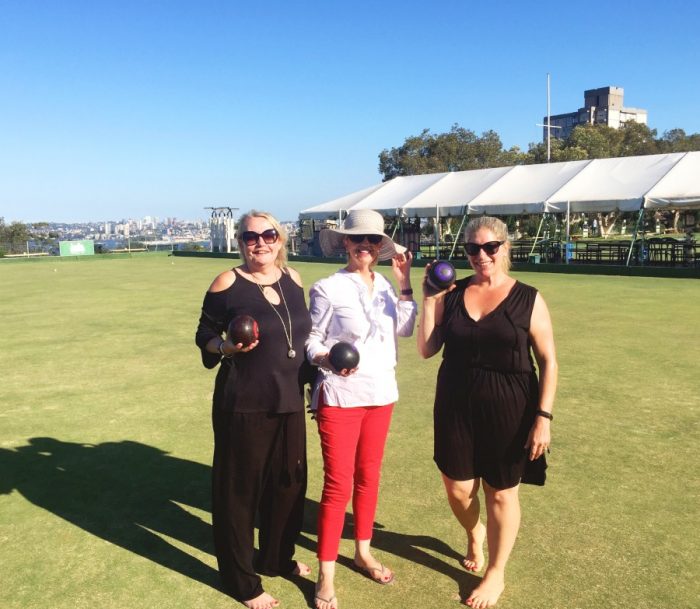 The views of the Sydney Harbour Bridge and the cute canines romping in the park beyond the green are an added bonus. All that bowling works up an appetite, so be sure to make a reservation to dine, the food here is totally on point.
50 Ridge Street, North Sydney
Souvenir Shopping
The ladies want to buy some souvenirs so I send them to Paddy's Market which is about as touristy as it gets. Located in Chinatown and open Wednesday to Sunday,  you'll find everything from fast fashion to souvenirs galore at this indoor market and you'll pay much less than you would in a city souvenir shop too. There's also a great produce market here, but Bev and Joan only have eyes for the toy kangaroos!
Haymarket, Sydney
For something a little different and a little more upmarket, the ladies complete their souvenir shopping at The Rocks. With Sydney harbour and the bridge as the backdrop, this is about as scenic as shopping can get! This weekend street market showcases locally designed fashion, handcrafted jewellery and original art as well as stylish souvenirs and all kinds of Australiana. Try as I might, I just can't visit this market and leave empty handed and neither can Beverley and Joan! While you're there, why not stop for some tea and scones at The Tea Cosy?
George Street, The Rocks
We certainly packed a lot in. I'm not sure who had the best time, me or the visitors! I just love being a tourist in my own town!
What are your Sydney must-sees and dos? Are you a fan of ferry rides too? Have you ever played Barefoot Bowls?
Linking up with Kylie for IBOT