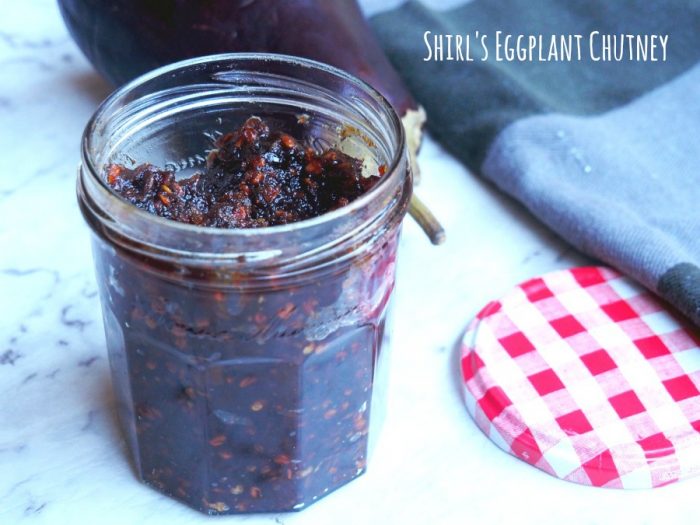 It's time for this month's Reader Recipe and this one is a cracker. Praise be to my friend Judy who has kindly shared her Auntie Shirl's magic recipe. This eggplant chutney is the business!
Gift giving and receiving is a whole new ball game now that I've embraced my inner minimalist. My friends and family know that the best gift they can give me is some of their time, which after all is the most precious gift of all. Of course, I'm not anti-gift, especially if it's something that I can use or I can eat! So when my friend Judy gave me some of this eggplant chutney at Christmas I was quite beside myself with excitement. Homemade is my favourite!
Just between you, me and the rest of the interwebs, I was also secretly thrilled because knowing that eggplant was David's food nemesis, I knew I wouldn't have to share. However, David's love of chutney clearly cancelled out his hatred of eggplant, because he tried this chutney and loved it and I won't lie, it broke my heart to share. Not only did David inhale "my" jar of chutney but he kept begging me to get the recipe so we could make some more so I in turn begged Judy to give me the recipe… And we all ate eggplant chutney and lived happily ever after. Not that there's any obligation to use eggplant, a plethora of fruit, like mangos, apples, plums or pears would work too.
I made my chutney in the Thermomix because although it takes longer to cook, it takes less of my attention, which is always a win, win for me. If you're making the chutney on the stove, and you want to make a bulk batch, you can double the ingredients but don't try that in the Thermomix, there's only so much it can hold!
This chutney is spicy but nicey, of course, if heat is not your jam, reduce the chilli flakes or skip them altogether. The combination of the spices here is what makes this chutney so unique, the very smell of it is intoxicating! Talking of spices, fenugreek seeds can be a bit tricky to find but they're totally worth tracking down at your local Indian grocer.
Are you on Team Eggplant? Do you have some a favourite family recipe to share?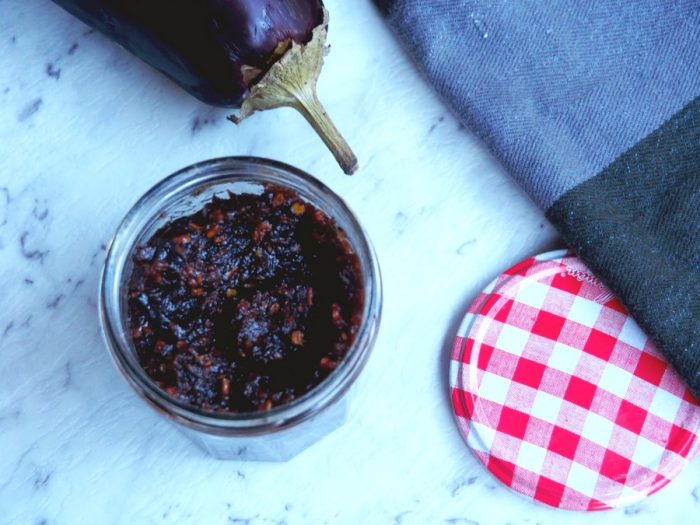 Makes 1 large jar
Ingredients
500g eggplant
300g sugar
1/2 cup vinegar (plus 1/4 cup extra)
thumb sized piece of ginger, grated
3 or 4 garlic cloves, peeled and chopped finely
100g sultanas
1 1/2 tablespoons cracked black pepper
2 tablespoons fenugreek seeds
2 tablespoons fennel seeds
1/2 tablespoon chilli flakes (or less if spicy is not your jam!)
1/2 – 1 tablespoon salt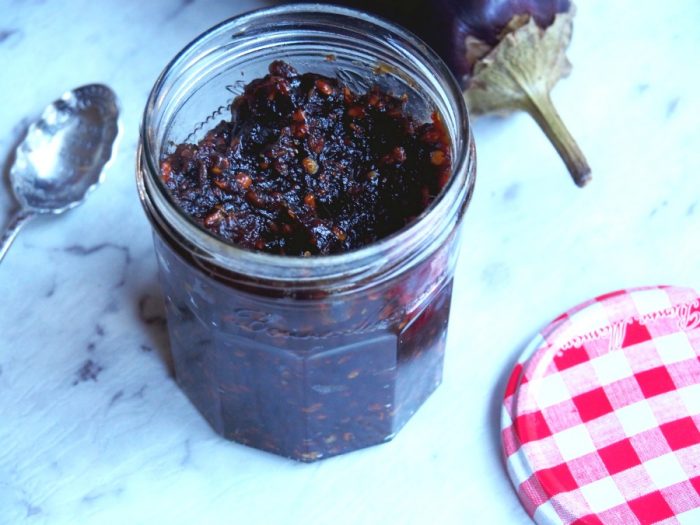 How to – Traditional
In a large pan, boil the eggplant, sugar and vinegar until the sugar dissolves.
Add the remaining ingredients and boil for about 20 minutes until you have a marmalade consistency. If the mixture gets short of liquid, add some of the extra vinegar.
Place into warm sterilsed jars and seal.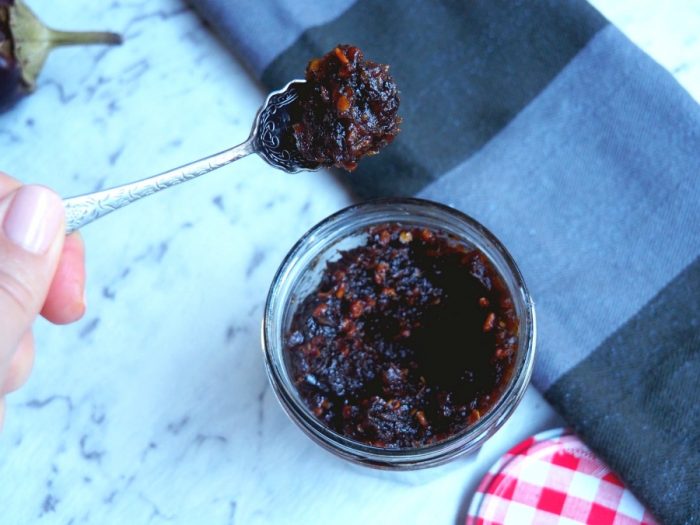 How to – Thermomix
Place garlic and ginger in TM bowl and chop for 5 seconds on speed 7.
Add all the other ingredients and mix for 3 seconds on reverse speed 4.
Remove measuring cup and place steaming basket over the hole in lid to prevent splashing. Cook for 60 minutes at 100C on reverse speed 1-2.
If the mixture is to thick, add some of the extra vinegar. Continue to cook for a further 20 minutes at Varoma temperature on reverse speed 2.
The mixture should be like marmalade consistency. If it's still too runny, keep cooking at Varoma for 5-10 minutes on reverse speed 2 and check again.
Place into warm sterilsed jars and seal.