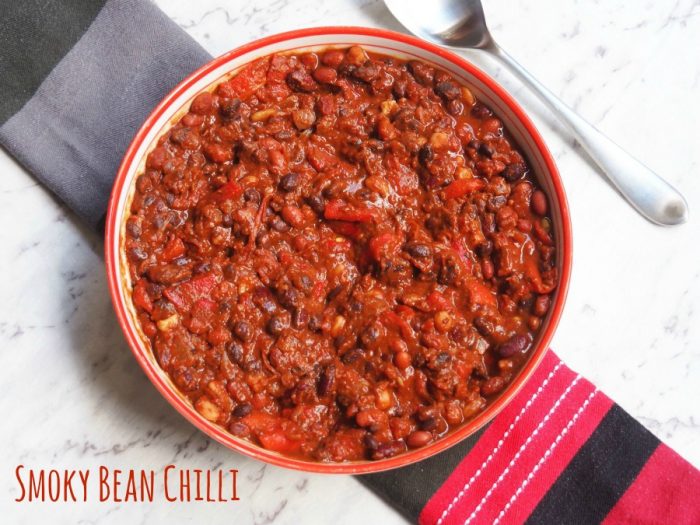 This delicious chilli is full of beans and smoky not spicy. It's low fat, gluten free and freezer friendly and it's my new Meatless Monday favourite.
This chilli was perfect for lunch at the Asylum Seekers Centre because it's cheap, easy and feeds a crowd. I usually take vegetarian offerings not because I'm too tight to buy meat, it's just that I don't love cooking it and I especially don't love transporting it across town. You see as I am environmentally friendly (and by that I mean, I don't/can't drive) I have to transport all my lunch items via two trains and with my granny trolley. I don't mind the journey one bit, but it does limit my lunchtime offerings to food that's vegetarian and food that travels well. Taking a plate of chicken would be all of my salmonella nightmares come true!
Anyhoo, this recipe can be easily halved but it freezes fabulously, so why not make a big batch, eat some now and freeze some for later? You can swap any beans you like in or out but don't substitute the refried beans because that's what gives the chilli it's deliciously thick gravy. It's plate lickingly good! This chilli is so satisfying and so flavoursome that no one will miss the meat!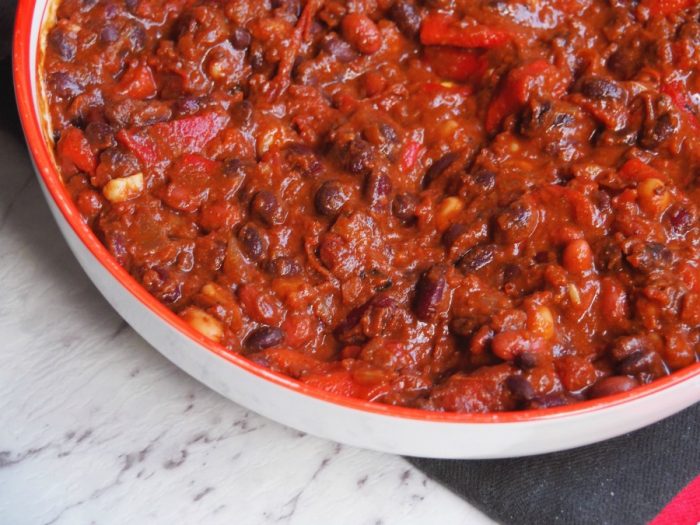 The thing I love most about this chilli is that almost all the ingredients can be found in the pantry. Well, at least they can all be found in my pantry but then again, I am a bit of a survivalist! Admittedly, the red peppers in a jar can be a touch exxy, but I buy them on special and stash them in the pantry for when I need them. They're worth every last cent though because they bring such deliciousness to the dish.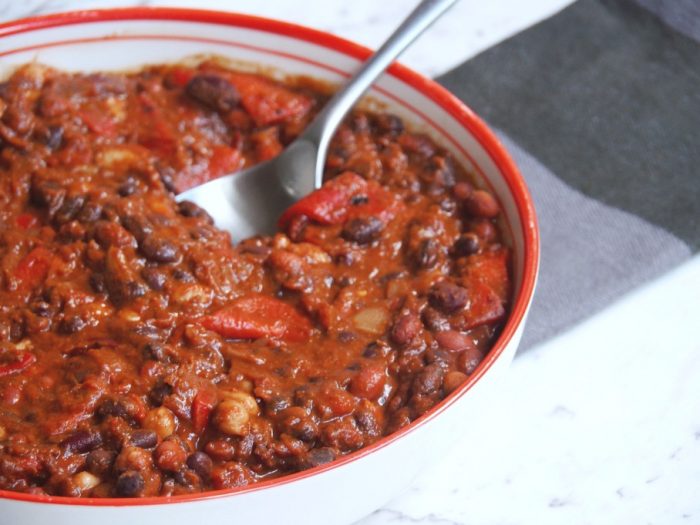 The serving possibilities for this chilli are endless. It goes great with rice, tortilla chips and a baked potato. Serve it with some sour cream and if you think spicy is nicey, add a dash of tabasco too!
Have you got a survivalist pantry too? How would you like to serve this?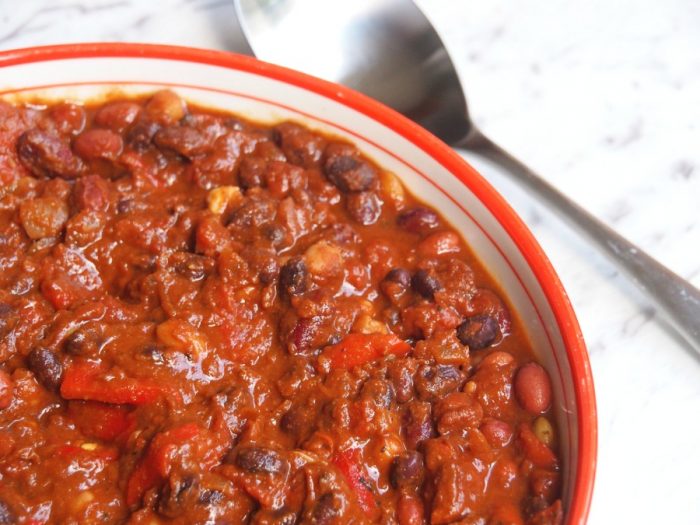 Ingredients
2 large onions, chopped
4 cloves garlic, crushed
2 tablespoons olive oil
1 x 1kg jar roasted red peppers
2 teaspoons chipotle sauce
2 tablespoons balsamic vinegar
1 tablespoon cocoa
1 tablespoon dried oregano
1 tablespoon sweet smoked paprika
2 tablespoons ground cumin
1 teaspoon cinnamon
2 x 400g cans chopped tomatoes
1 x 400g can refried beans
1 teaspoon brown sugar
2 x 400g cans kidney beans
1 x 400g four bean mix
2 x 400g cans black beans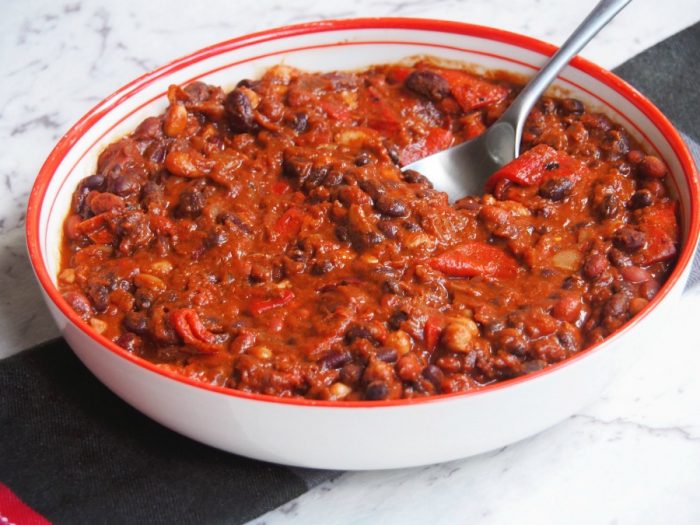 How to
Drain the peppers over a bowl, saving 1/4 cup of the juices for later. Chop three quarters of the peppers into bite size pieces and set aside.
Place the un-chopped peppers in a food processor or Thermomix. Add the vinegar, chipotle sauce, cocoa and dried herbs and blitz until you have a thick paste.
Heat oil in a large saucepan and cook onion and garlic on a low heat until softened, but not coloured. Add the smoky paste and fry for a couple of minutes until fragrant.
Add the tinned tomatoes, refried beans and brown sugar. Add a can full of water, the reserved pepper juice and an extra 1/4 cup of water. Bring to the boil. Gently simmer for about one hour, stirring regularly. The sauce should be deliciously thick and smoky.
Season the sauce to taste and then add in the beans and chopped peppers.