I've wanted to go to Edinburgh for as long as I can remember. When I was a kid, my mum went to Edinburgh on business and brought me back a costume doll complete with kilts and bagpipes for my costume doll collection (so eighties!) and I've been wanting to go ever since. When I moved down under and embarked on my new career of teaching English to international students, one of the text books contained an entire lesson about visiting Edinburgh and took me on a virtual tour around all the sights – The Royal Mile, the castle and Holyrood Palace – I wanted to see it all!
It's only taken me 40+ years to get here but when it comes to Edinburgh, it's definitely a case of better late than never. There's a lot to love about Edinburgh and I'm not just talking about seeing kilt wearing, bagpipe playing costume dolls come to life. I don't think I've ever walked over so many cobblestones, seen so many monuments, waxed lyrical about such amazing architecture, spied so many statues and been wedged between so many tourists, in such a relatively small space.
Of course, there is no correlation between the time spent waiting to visit  (40+ years) and time actually spent in this wonderful city (48 hours) but we follow Muhammad Ali's advice, and don't count the days, we just make the days count. You'll be amazed at how much you can fit in a full 48 hours!
Wednesday
12:55pm Arrive at Edinburgh Waverley
I'm not a fan of flying but I can totally get on board with travelling by train. It's easy, it's land based and the views are just fabulous. Plus if you're a canny (and an organised) traveller and book well in advance, you can great rates on first class tickets and travel in style. Free wifi, complimentary snacks and beverages, don't mind if I do!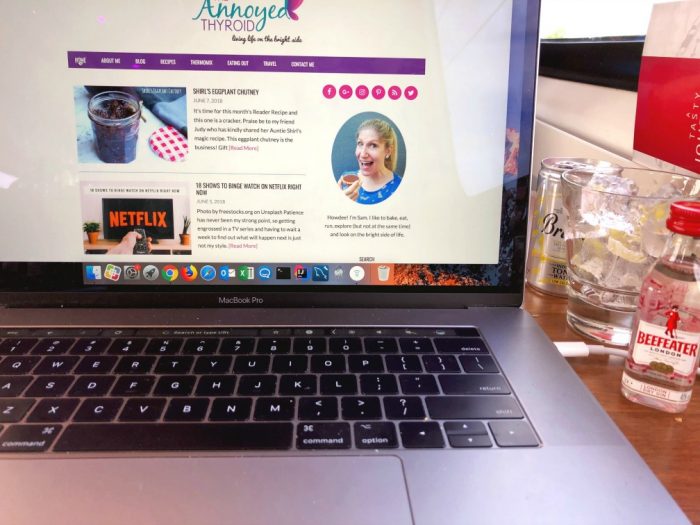 1:00pm Check in to the Airbnb of our dreams
You know how much I love a good Airbnb and we've stayed in some spectacular homes all over the world. Our place in Edinburgh is no exception.  This Airbnb brilliantly located to explore Edinburgh, (it's just a stone's throw from the train station and the Royal Mile) but that's not all there is to love in this beautiful basement apartment. Our host Graeme has thought of everything and his attention to detail is second to none. Also, his snack game is totally on point.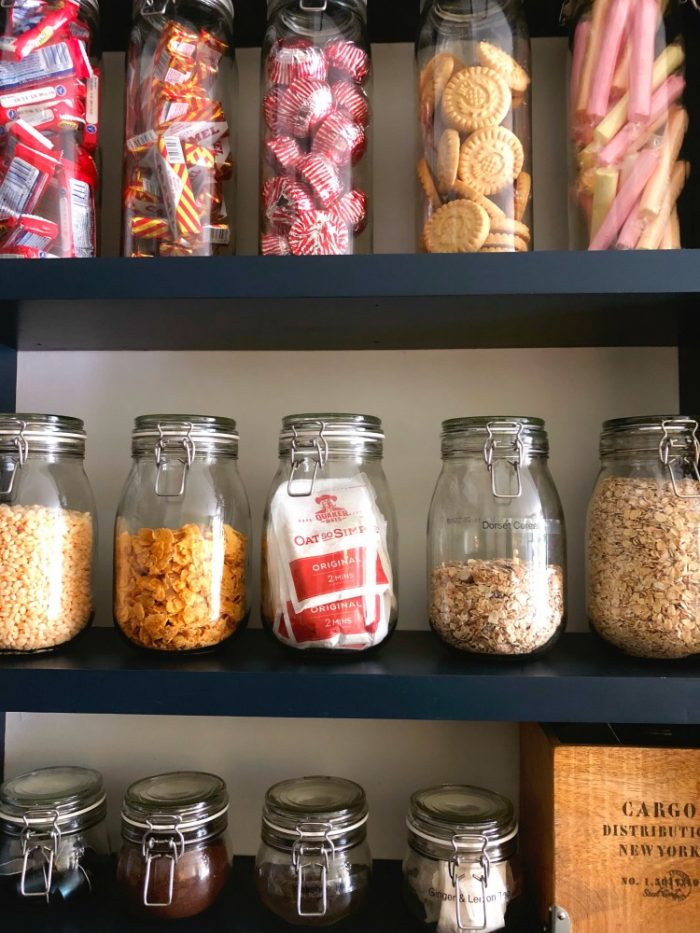 The apartment is so stylish, we're afraid we might never want to leave and Graeme has covered all the bases, leaving us everything from an ipad and iphone to wine and breakfast supplies! I think the dining nook with the honesty bar might be my favourite spot in the house.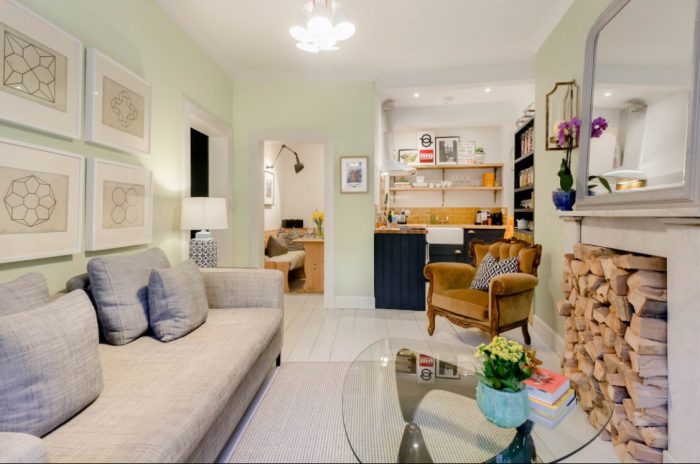 photo credit: Airbnb
Here are my top tips for picking the perfect Airbnb. If you're new to Airbnb, click my referral link here and you'll score $55 credit off your first stay!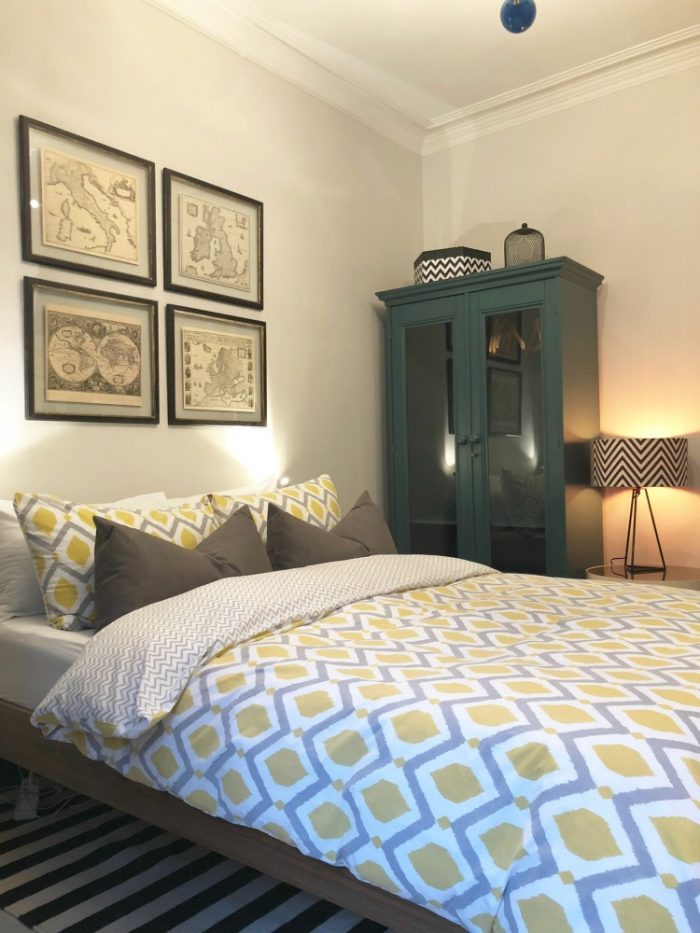 photo credit: Airbnb
1.30pm Explore Edinburgh on foot
After swooning all over our new digs, we head out to explore Edinburgh on foot. We walk around the corner (literally) to the Royal Mile and head towards the castle. Flying (or walking) by the seat of my pants is not my usual travel style but Edinburgh streets are made for wandering. There is more beautiful architecture, more hidden alleyways and more tourists than you can shake a stick at. Our  legs and my camera get a thorough workout. Edinburgh, you so pretty!
2.30pm Tea and Sarnies at The Dome
Think corinthian columns, marble bars and palm trees, this multi roomed venue is elegance plus. We manage to take our eyes off the beautiful domed ceiling to order some roast pork cabbage and coleslaw sarnies and a bowl of chips on the side, because chips are everything.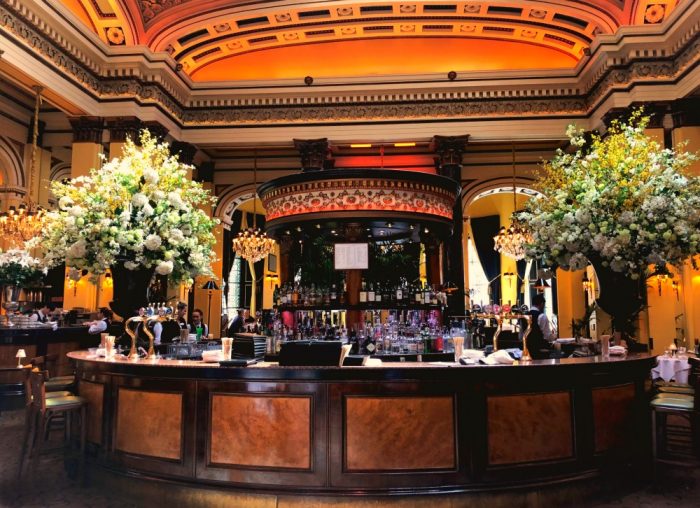 I had promised myself to make Scotland a scone free zone but old habits die hard, so when I see scones on the menu, resistance is futile. These scones may be small but they're perfectly formed and they're served warm, a first on my UK scone adventures! What's more, they're served with clotted cream and quality Wilkin and Sons strawberry jam. The sconeage here really hits the spot.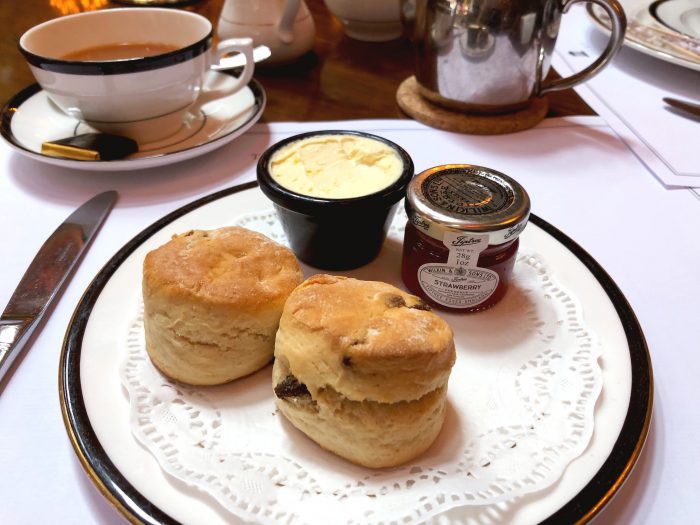 14 George Street, New Town, Edinburgh
3.30pm Beer and Cheer at Hollyrood 9A
We walk back through the city and work up quite a thirst so we head around the corner from our digs to this relaxed, wood panelled pub for some cracking craft beer. Apparently the burgers here are the bomb diggity but alas, we are all out of stomach space.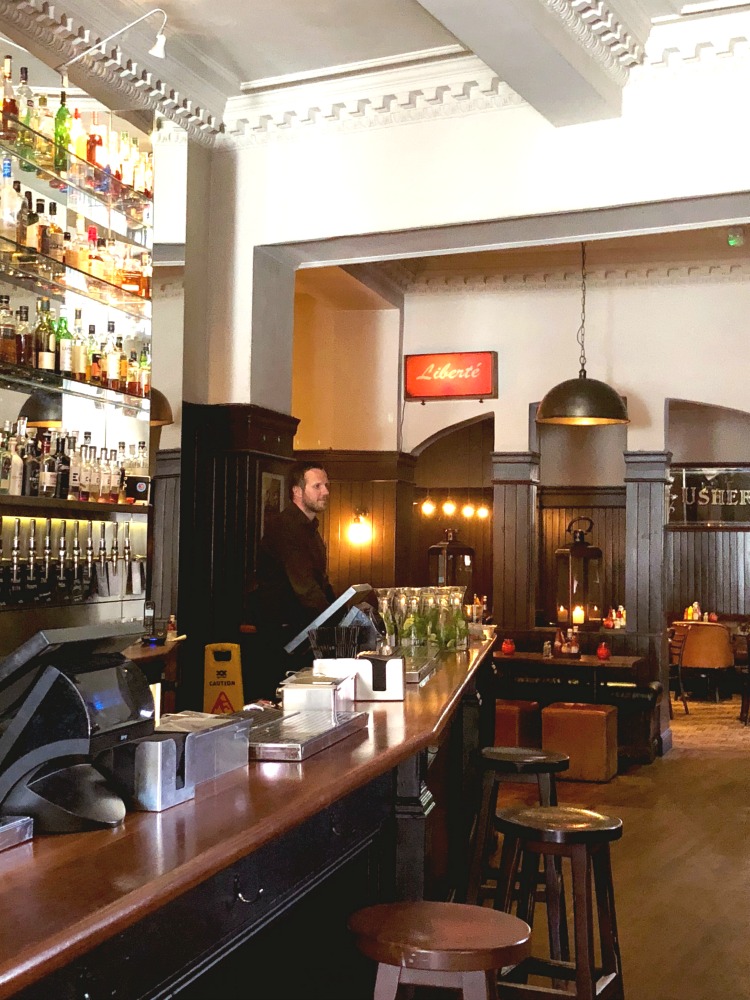 9A Hollyrood Road, Edinburgh
7:00pm Dinner at Magnum
After recharging our batteries back at the ranch, we head out to meet our friends Kat and Henry who live in the most glorious top floor apartment. I really heart the homes here – my love affair for Edinburgh real estate knows no bounds! There's a lot to love about their place, not least that it's across the road from local favourite Magnum.
This upscale bar and restaurant is all about good drinks, good food and good times and that just about sums up our evening. The food is especially outstanding although I think David wins dish of the day with the pork belly.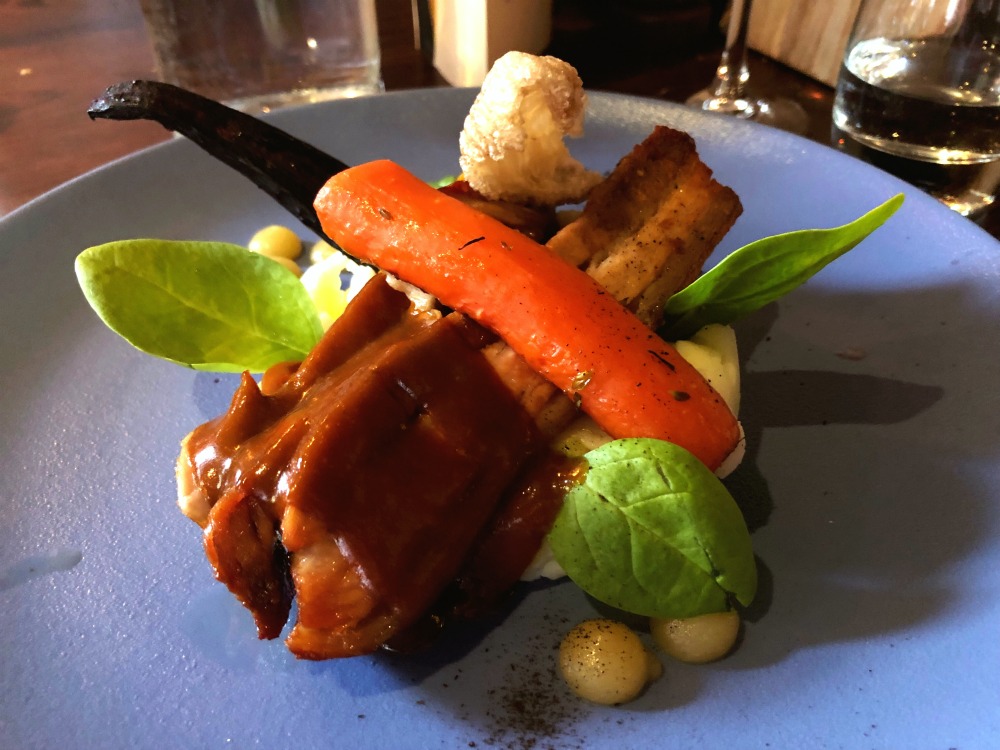 We make new friends with Kat's doggy neighbour, Peewee, and then head upstairs for dessert, a cuppa and a side of sunset. I can't believe how long it stays light here. We head home across town with full bellies and happy hearts.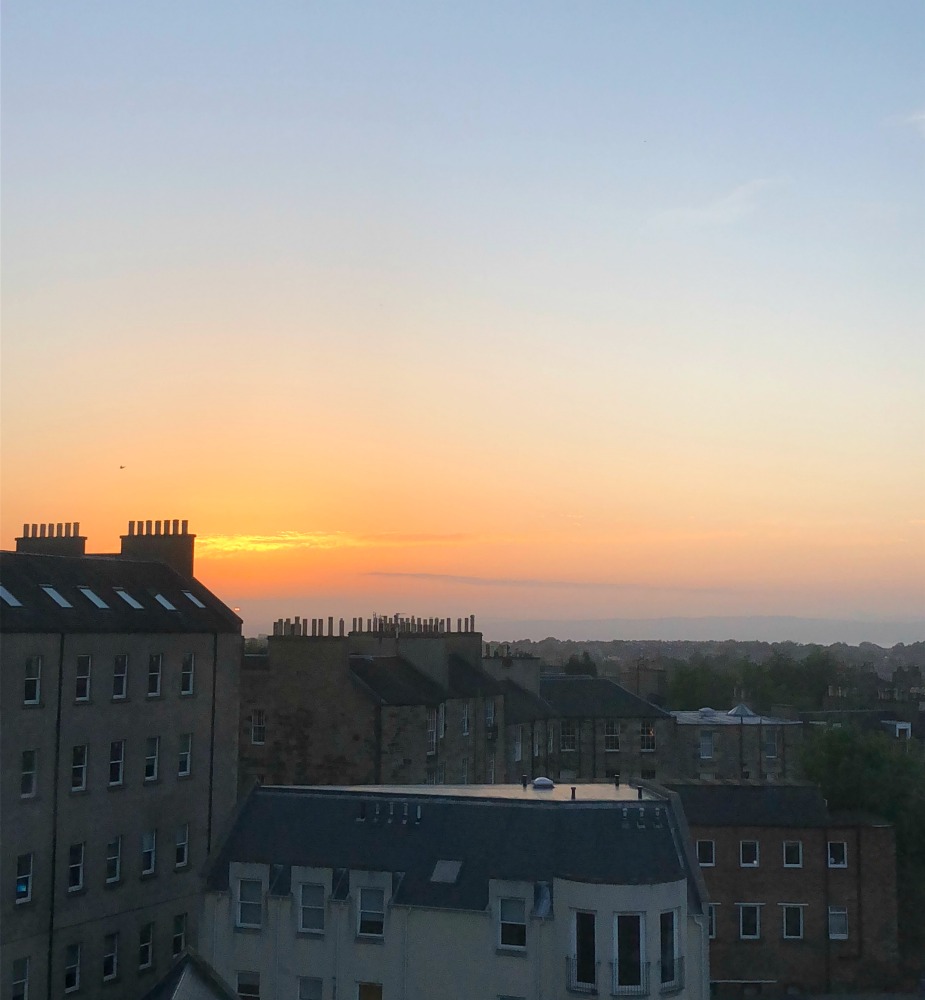 1 Albany Street, Edinburgh
Thursday
I declare today to be Tour Day and we kick things off with this hour long guided tour exploring Edinburgh's hidden history on The Real Mary King's Close Tour. Our guide, Stephen, who is  enthusiastic, knowledgeable and decked out in period costume takes us through this underground rabbit warren complete with cobblestones and low doorways. It's touristy but fun and  gives a fascinating insight into the Edinburgh of yesteryear.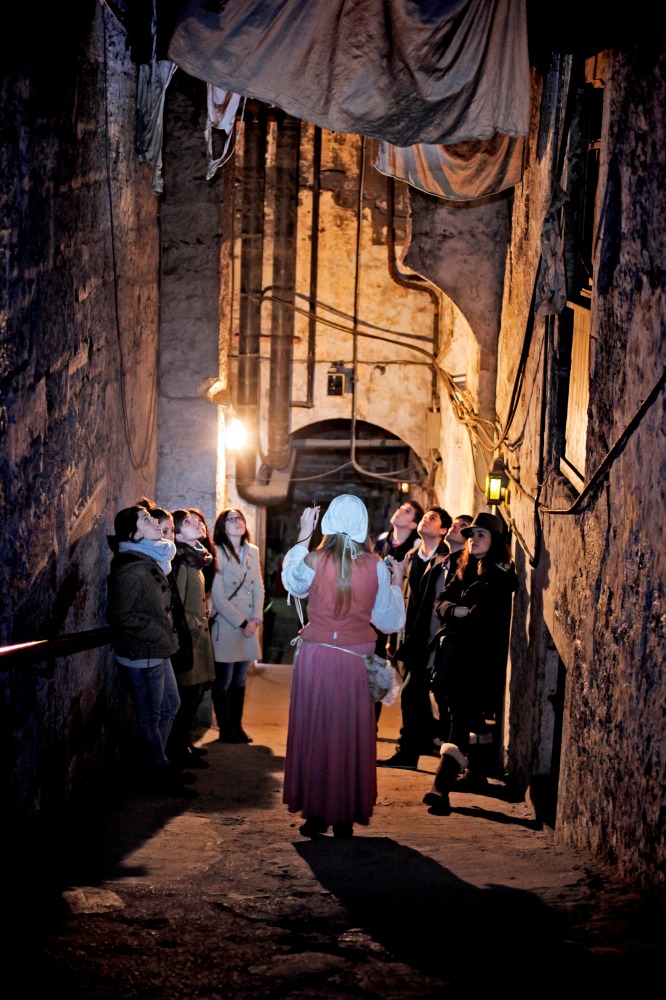 High Street, 2 Warriston's Close, Edinburgh (opposite the Mercat Cross and St Giles' Cathedral)
The Real Mary King's Close Tour is about as much history as we can handle for one day. We're keen as mustard to see this historic fortress up close, but we're not bothered about splashing cash to go to the exhibits inside so instead we take a short walk up the Royal Mile to see what we can see. It seems that every tourist in town is headed to the castle too and the place is quite literally mobbed. Queues for tickets are crazy long and preparations for the Edinburgh tattoo are in full swing so we capture what we can of the facade on camera and then head on our merry way.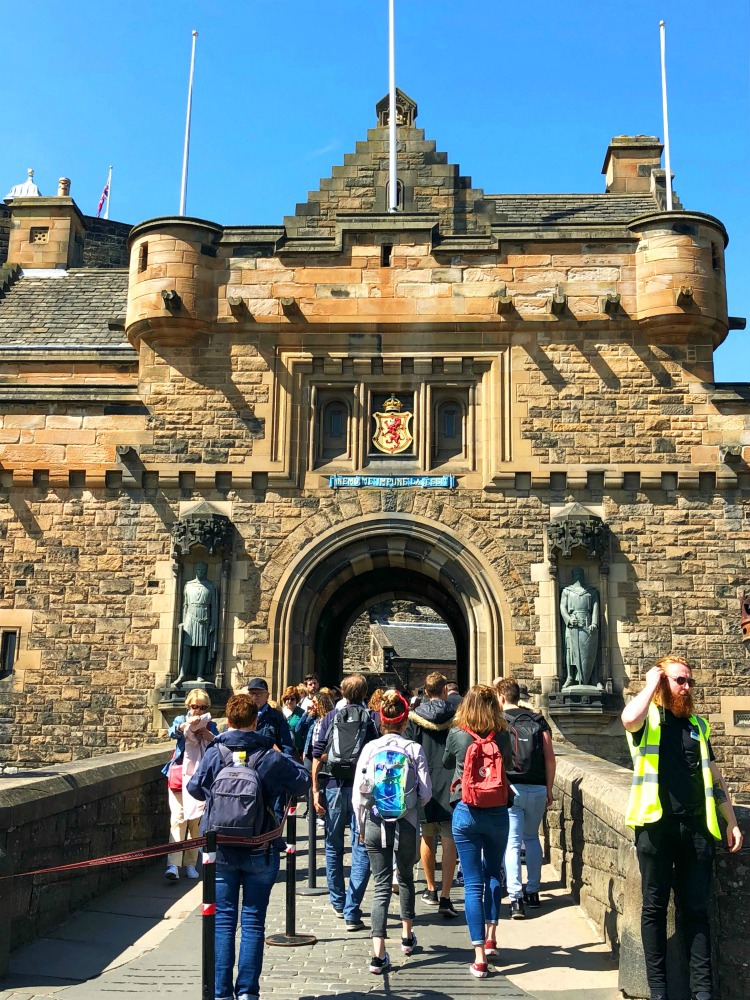 Castlehill, Edinburgh
I've heard great things about this place from David's sister so I can't wait to get inside. It's a stone's throw from the castle at the top of the Royal Mile and upon entering, you get allocated a show time and a stamp on your hand so you can come and go as often as you like throughout the day… So handy!  There are over 150 illusions here so allow yourself at least 2 hours to make the most of it! We don't waste any time getting reaquainted with the first two floors, Bewilderworld and Eye Spy Edinburgh. I wonder if I'm ever going to get out of the mirror maze (it's touch and go,) but when I do, I take a break and head across the road to the Scotch Whisky Experience.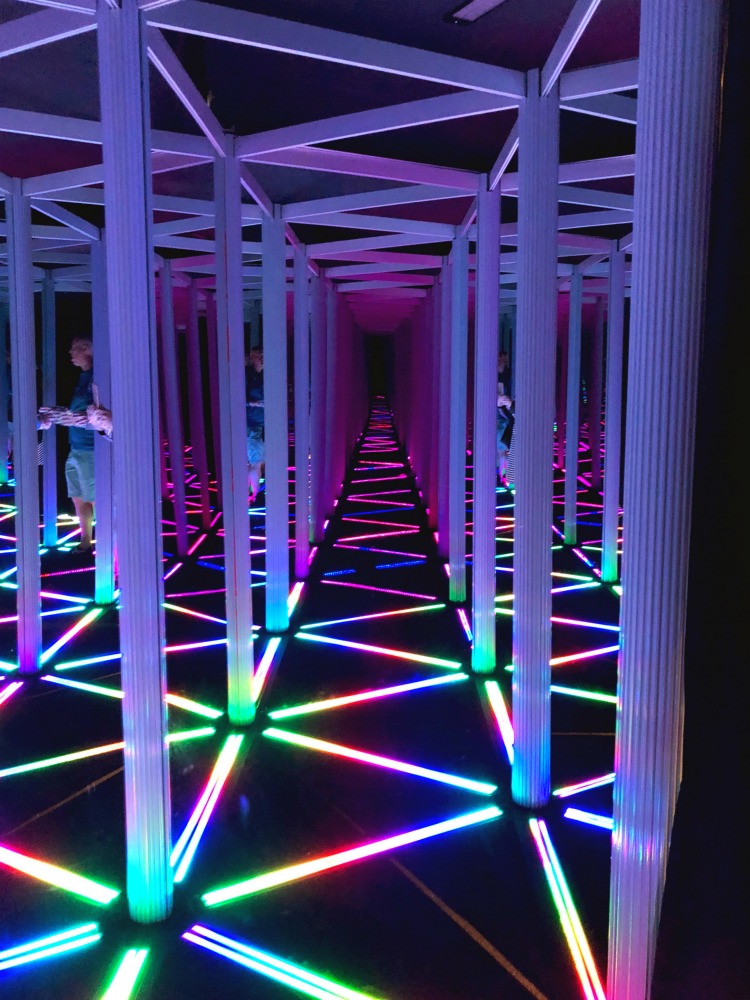 Castlehill, Royal Mile, Edinburgh
Now it's no secret that we like a wee tipple so this tour seemed like just the ticket. There are a range of tour options available, but we book ahead (highly recommended) and choose the Silver tour which at one hour long is perfect for our time tight itinerary. The tour starts with a whisky barrel ride explaining how scotch whisky is made – it's like an educational, whisky themed Disneyland ride, so much fun!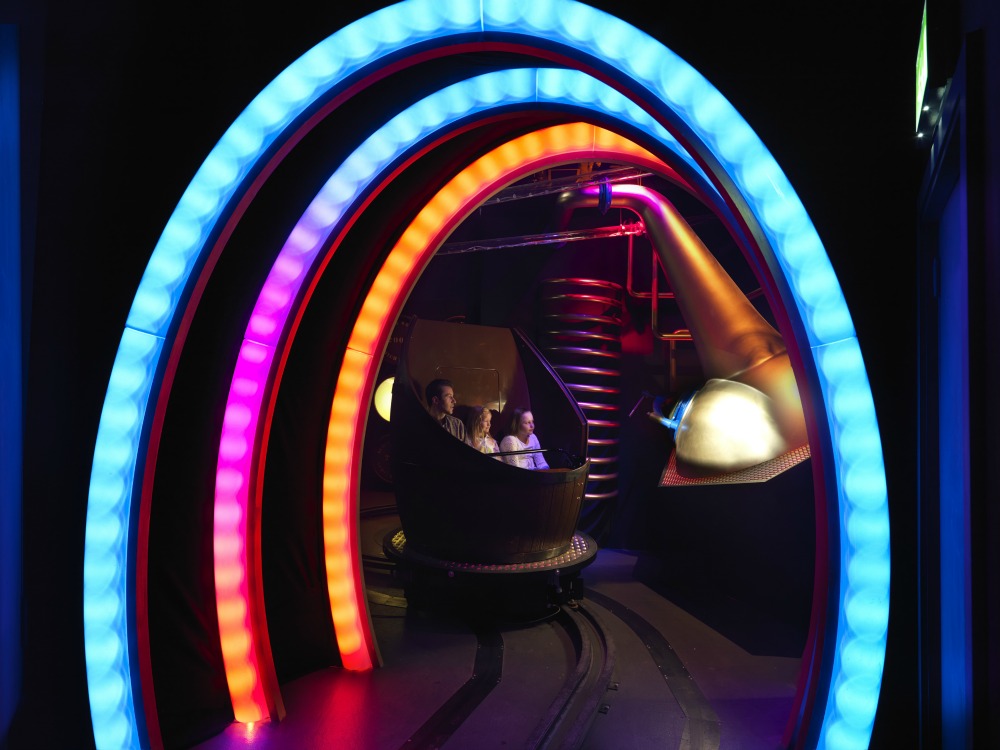 Rosie our guide is both delightful and knowledgeable. We learn about the different aromas of Scotch whisky, how to taste whisky and get to sample a wee dram (and take home the crystal whisky tasting glass too!)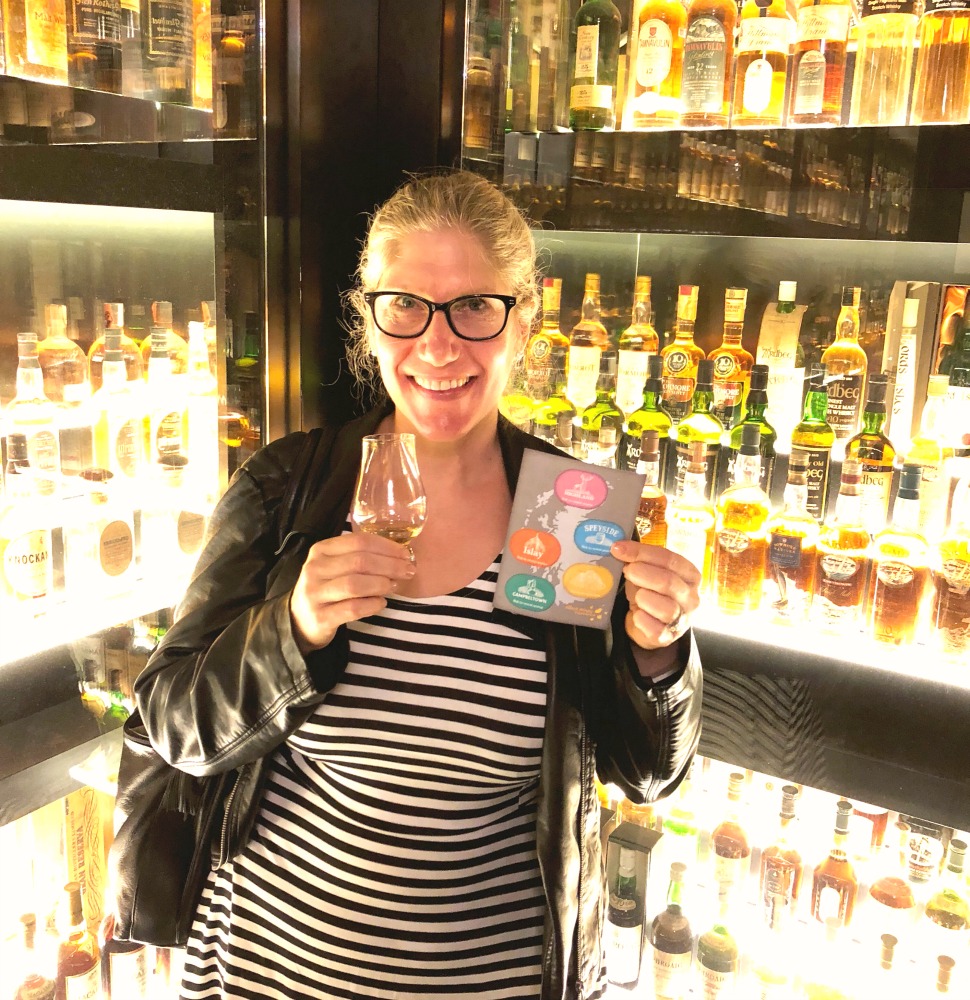 We then get up close and personal with the world's largest collection of Scotch whisky (that's 3384 bottles if you're counting) including the oldest bottle dating back to 1897! It's so cool. The tour is both fun and knowledgeable and not just for whisky lovers. If you're under 18 or just not keen on the good stuff, you'll still have barrels of fun and you can swap your dram of whisky for a drop of Irn Bru instead. It doesn't get more Scottish than that!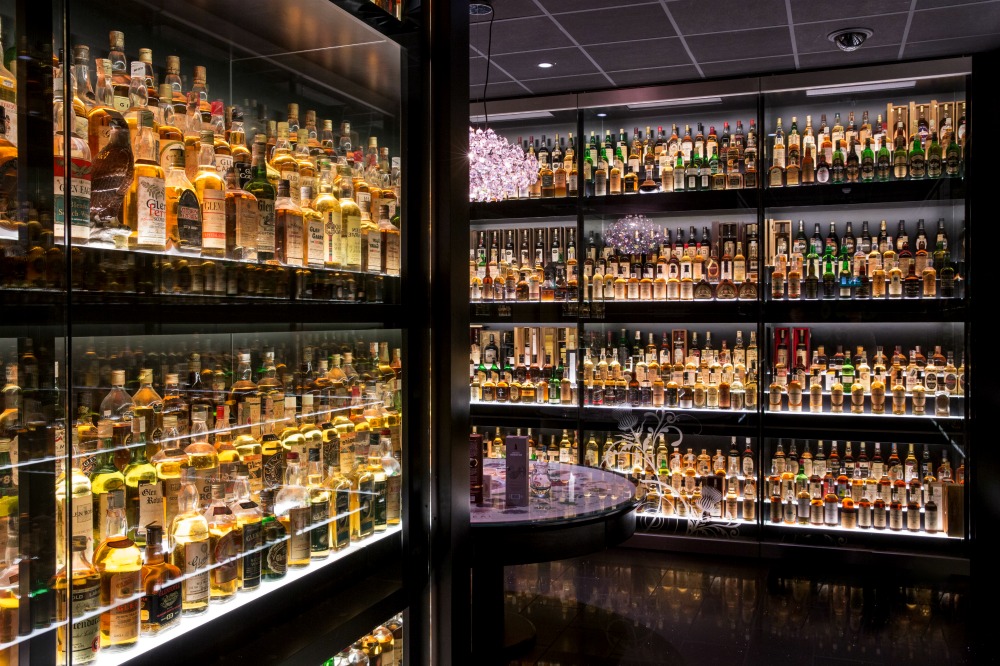 Castlehill, Royal Mile, Edinburgh
We head back across the road to cover the remaining three floors at Camera Obscura which are home to some of my most favourite attractions. I present to you, exhibit A.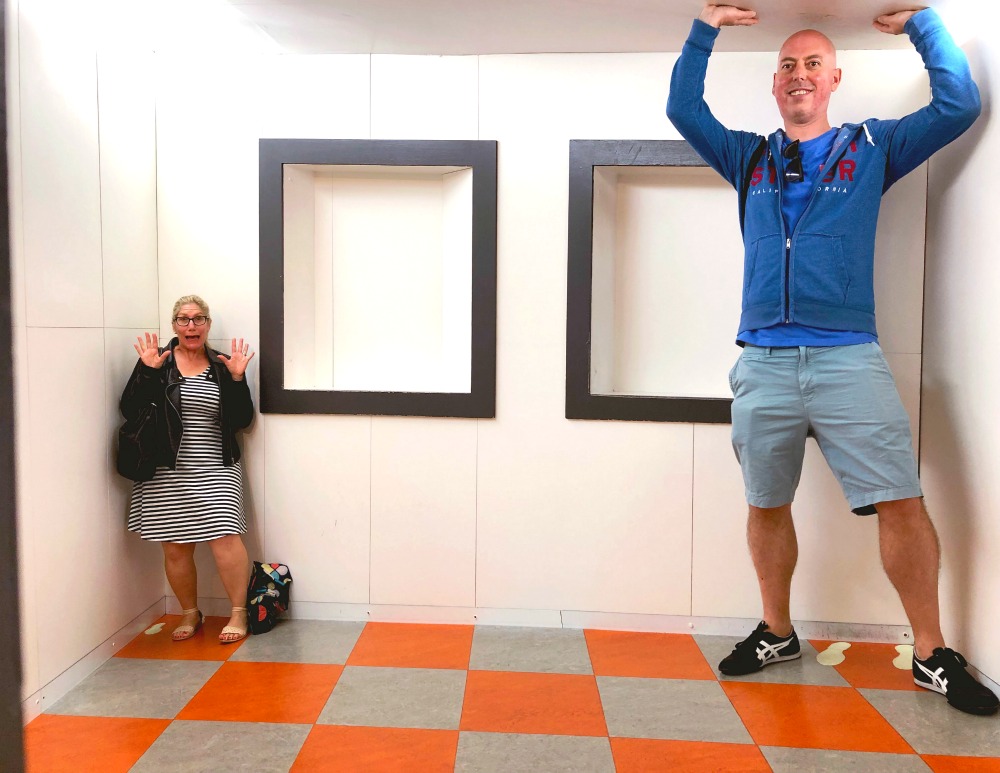 And exhibit B! It's not just the exhibits that make this place so ace, it's the staff too. They are friendly, helpful and interactive and keen to make sure that you get the most out of the experience, from assisting with illusions to taking photographs. They even give photo tips to make sure you get the snazziest snaps. The severed head had us in bits! (Sorry, couldn't help myself!)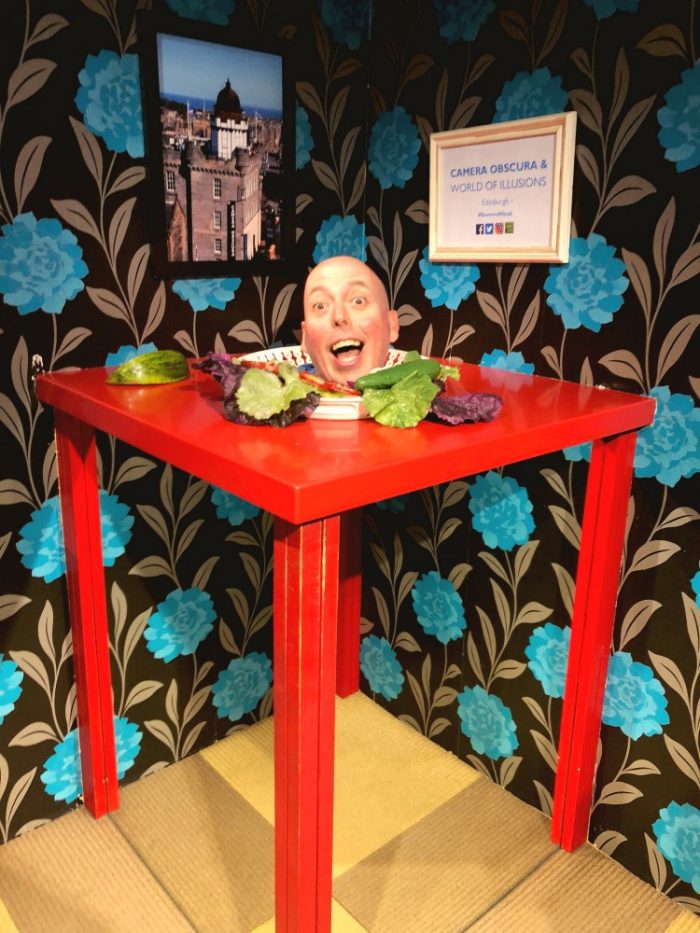 The rooftop terrace on level 6 is worth the admission price in itself, the views of the city from up here are amaze. We have a ticket for the 2 o'clock show which is more fun that I ever imagiend. If I wasn't such a wannabe minimalist, I could have a field day in the shop which has a plethora of cool gifts and gadgets. And did I tell you there's free wifi throughout too? This place is just magic!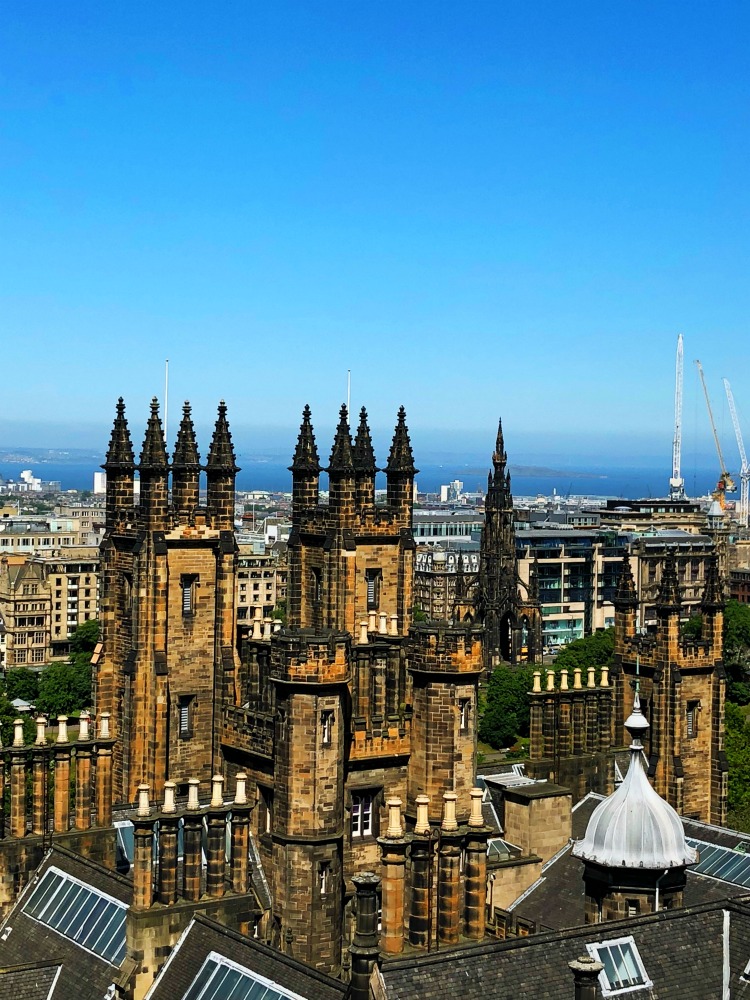 Castlehill, Royal Mile, Edinburgh
2.30pm Pigging out at Oink
We work up quite an appetite after all that excitement and head to Oink, one of Graeme's (many) top tips. This no frills joint is based on a simple but very delicious premise,  hog roasts! The porky goodness is served in bread buns with a range of stuffings and sauces. It's quick, cheap and totally delicious! The menu is small but perfectly formed (a bit like the place) but the staff are super friendly and the pork is so good.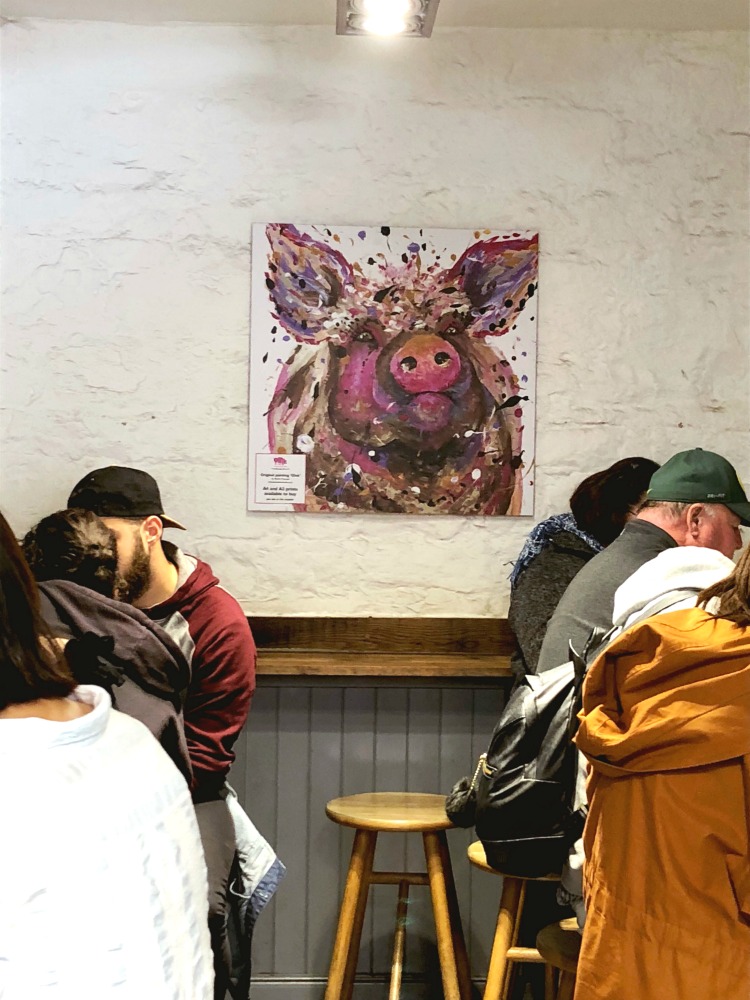 The pork is served in three sizes, piglet, oink and  grunter. We both have the oink, but I'm not brave enough to choose haggis, although when I see how good David's looks, I'm full of haggis regret. The serves are both generous and filling. I feel like a right porker!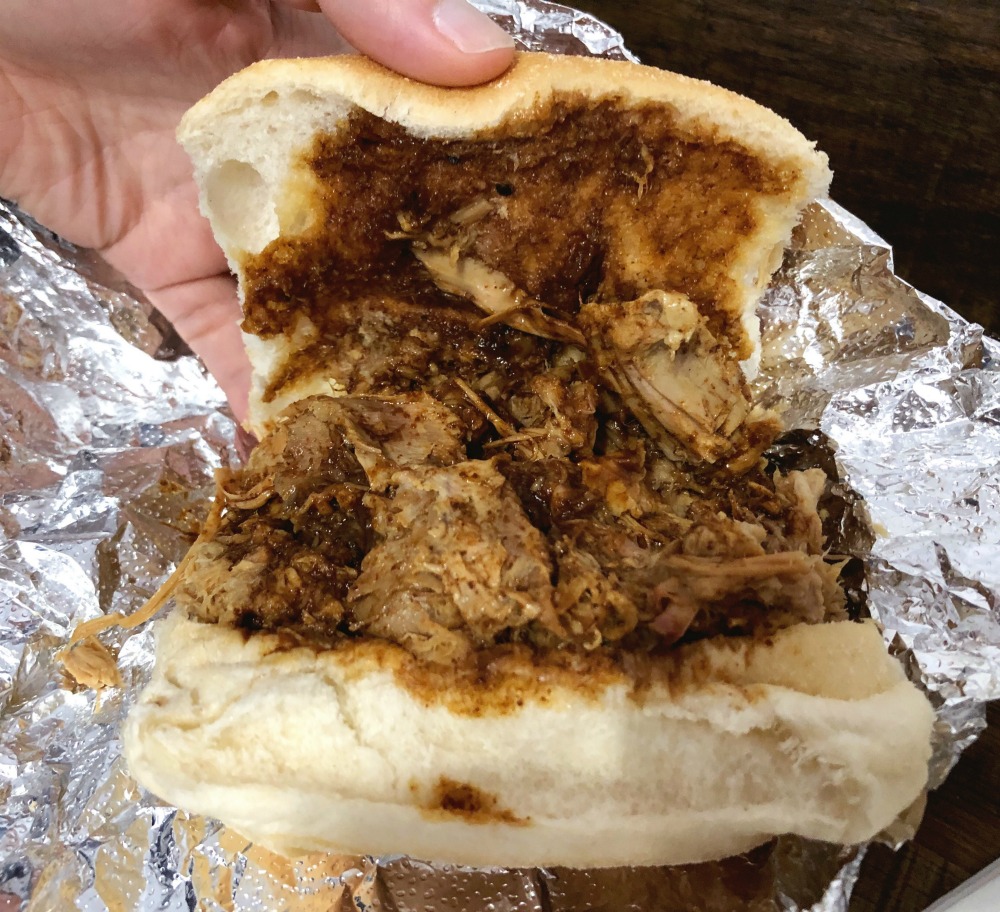 34 Victoria Street, Edinburgh
In the show at Camera Obscura, Claire tells us that not only is this the most haunted graveyard in Edinburgh, it's also the place where J.K Rowling got the inspiration for some of her character names. I can't find any character names on the gravestones, but then again,  I don't want to outstay my welcome. Others aren't bothered though, the graveyard is full of people sunbathing, children playing and tour groups learning about the history of the yard, it seems more like a park than a cemetery!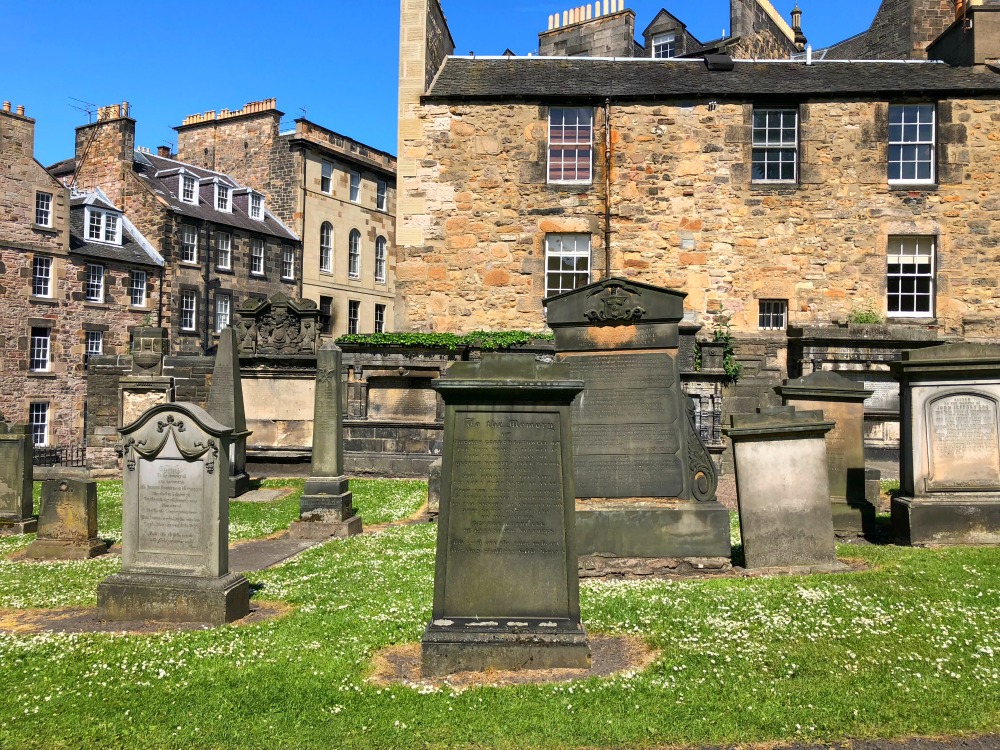 26A Candlemaker Row, Edinburgh
3.15pm Harry Potter Pilgrimage at Elephant House
This cafe became famous as the place of inspiration for JK Rowling who wrote many of her early novels in the sunny back room. I can't resist the lure of the Harry Potter connection and although the menu seems designed with tourists in mind, the service is friendly, the coffee is decent and the millionaire's shortbread totally hits the spot. We even sit in the back room just like JK Rowling – I wonder if she ordered the millionaire's shortbread too?!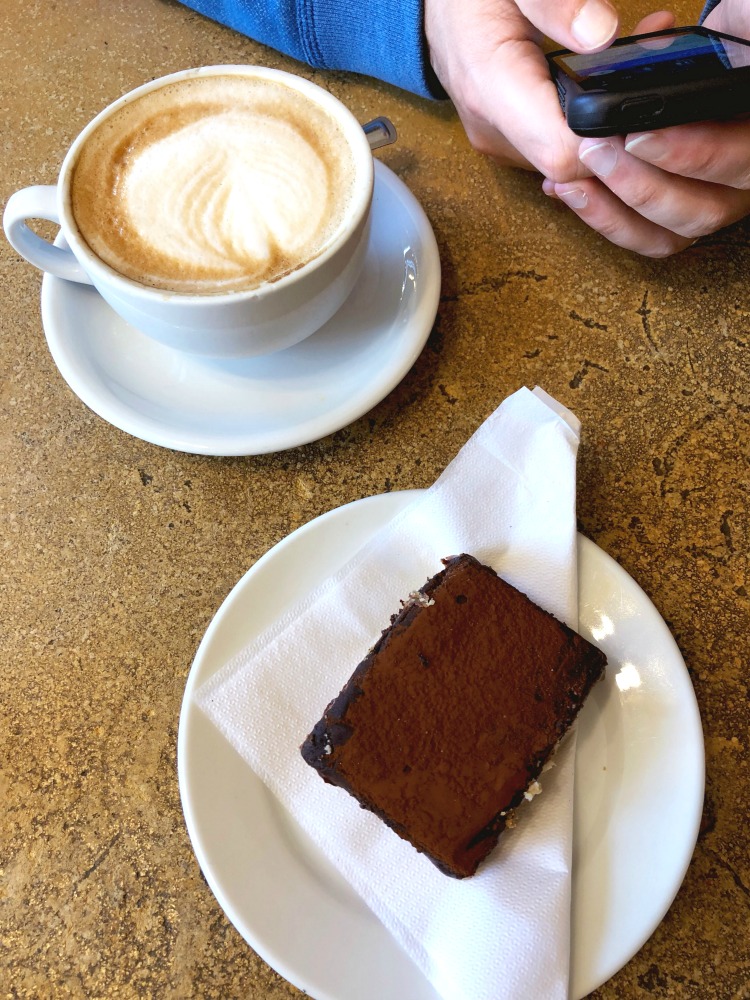 I can't resist some sneaky pics of the JK Rowling memorabilia on the wall and a sneak peek inside the loos where Harry Potter fans have covered every single centimetre with Harry Potter graffiti, or should I say Harry Pooter?! Sorry, couldn't help myself!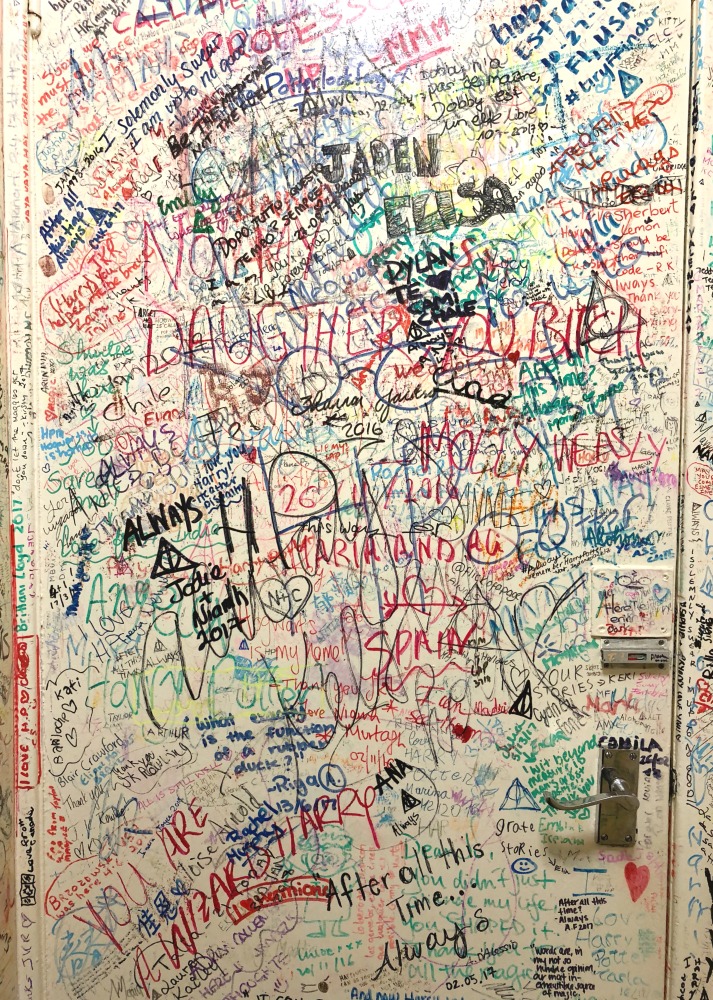 21 George IV Bridge, Edinburgh
Despite the coffee, we feel like we're flagging a little so head to this lovely little bar and eatery down a little lane, just off the Royal Mile. The cocktail list is quite delightful and the wine list isn't bad either.  The weather is still playing nice so we sit outside and enjoy a tipple on the terrace. It's just a stone's throw from the action but it feels like we're miles away from The Royal Mile.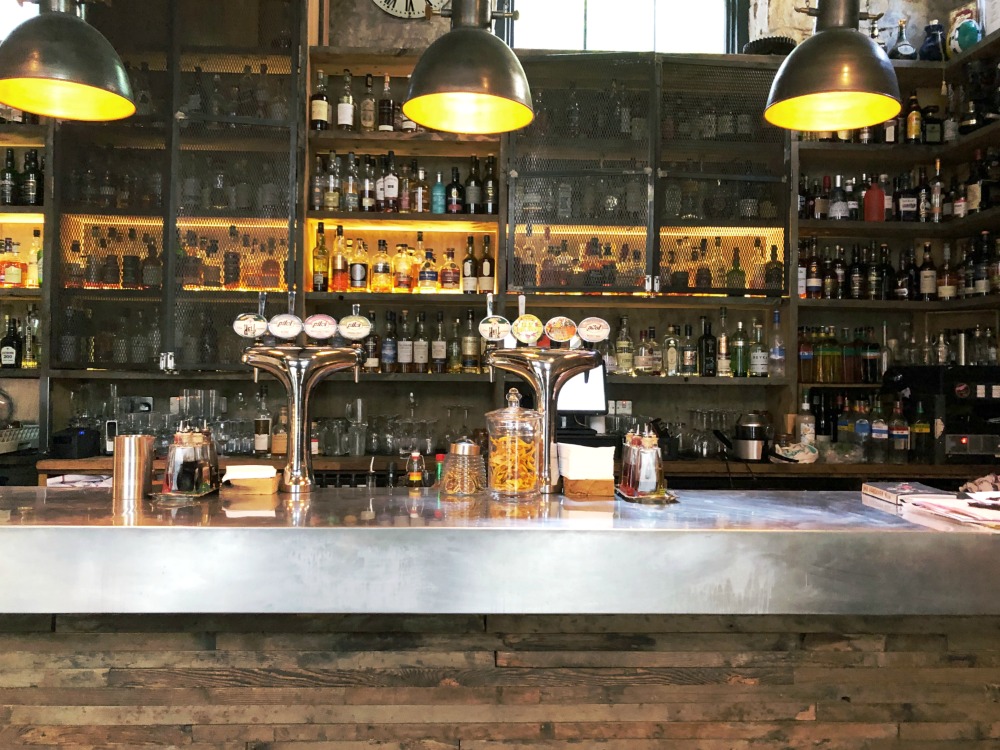 9 Advocate's Close, Edinburgh
6.30pm Getting our cocktail on at Bramble
This cool subterranean cocktail bar is a little tricky to find but we're pleased we sought it out. It's easy to see why it's one of the best in Edinburgh – the cocktails are creative and service is super warm and friendly. I figure when in Bramble, drink a Bramble and by golly, this cocktail with Portobello Road gin, lemon, sugar and bramble liqueur  is a cracker!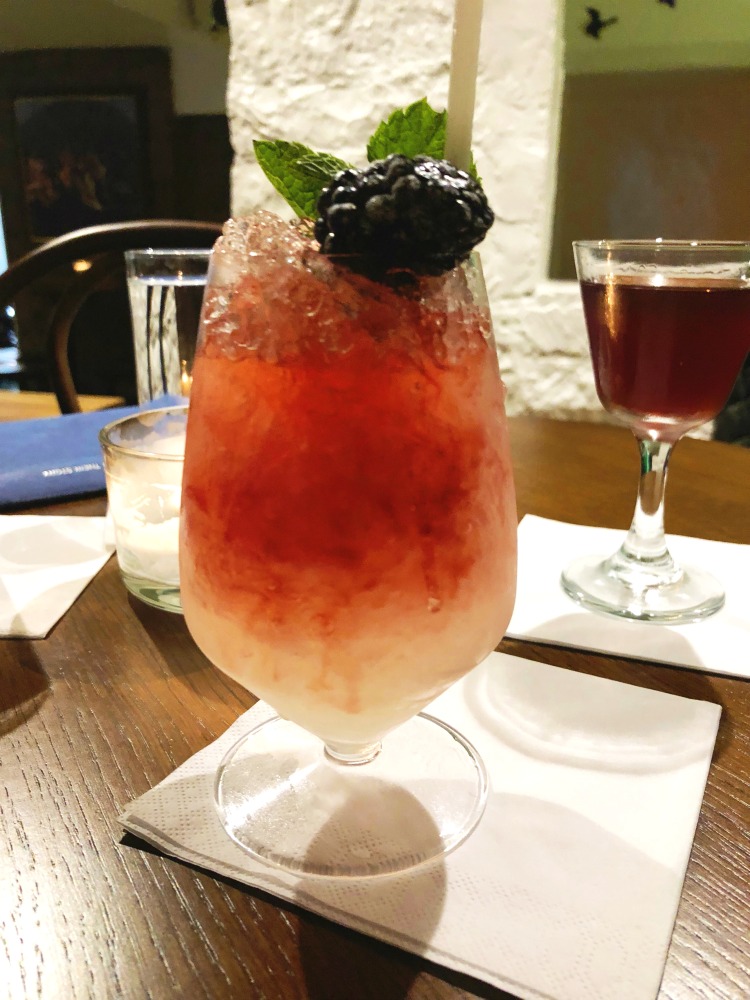 16A Queen Street, Edinburgh
We're very excited about dinner at this award winning gastropub and it does not disappoint. The pub is rustic chic, wheelchair accessible and dog and child friendly. There's even a little playroom for the wee scallies! The menu is inspired by traditional 18th century Scottish menus and Robert Burns menus of the time.
The menu looks deceptively simple but the dishes are rich and complex. David only has eyes for the Scran and Scallie Steak Pie but I win the award for dish of the day with Ham, Egg and Chips which is Ham, Egg and Chips but not as you know it. Check out this huge ham hock, triple cooked chips, diced pineapple and this egg-squisite egg – which is a cross between scrambled and baked and topped with a runny poached egg yolk. It is sublime and I have to walk home just to avoid falling into a food coma!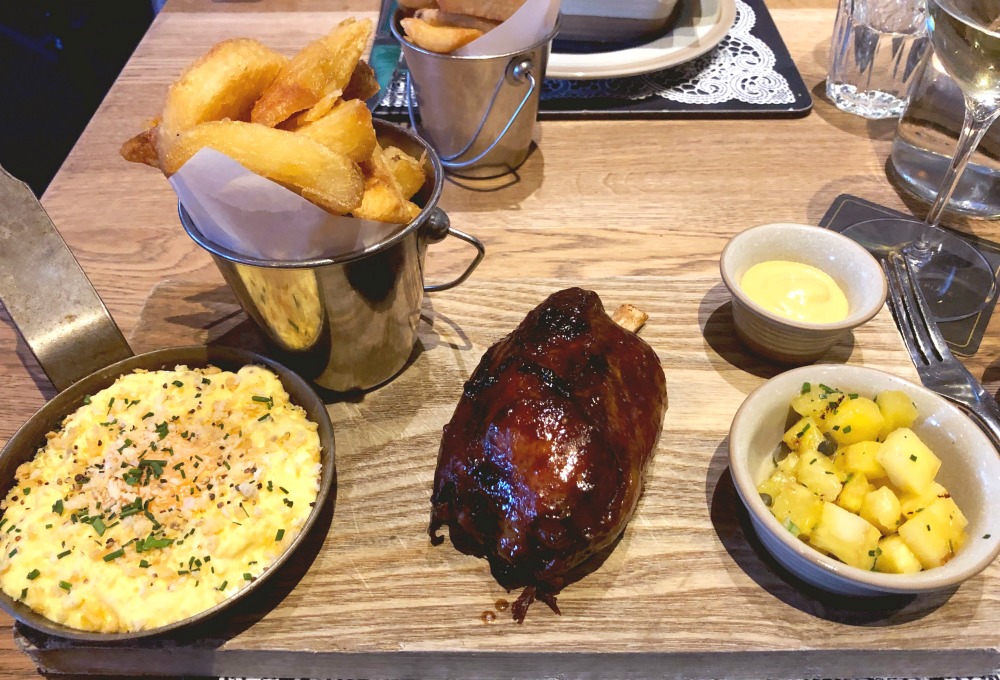 Service is warm and friendly and there is a real family feel to this place. The pub is in Stockbridge which with it's pretty little shops and plethora of eateries, is an attraction in itself.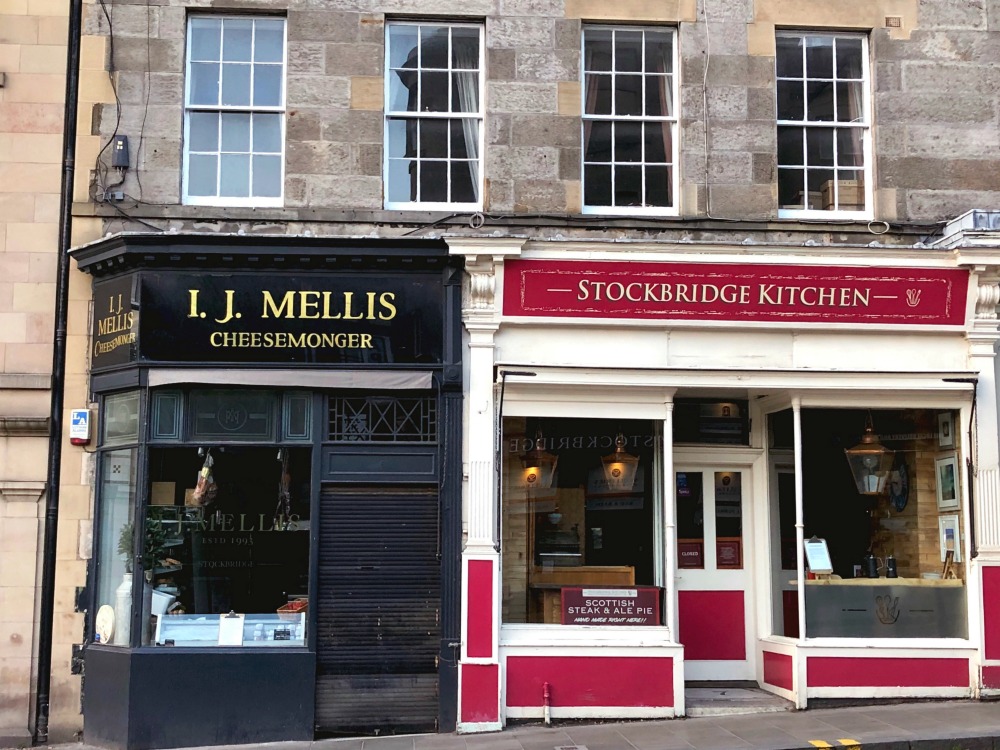 1 Comely Bank Road, Stockbridge, Edinburgh
Friday
7.30am Hike to Salisbury Crags
Had we been better organised and had more time and energy, we would have walked to Arthur's Seat, an ancient volcano that sits 251 metres above sea level with  stunning 360 degree views of the city. As we're not very organised, not feeling very energetic and very short on time, we enjoy the next best hike instead to Salisbury Crags. I can't get enough of the views of Hollyrood Palace.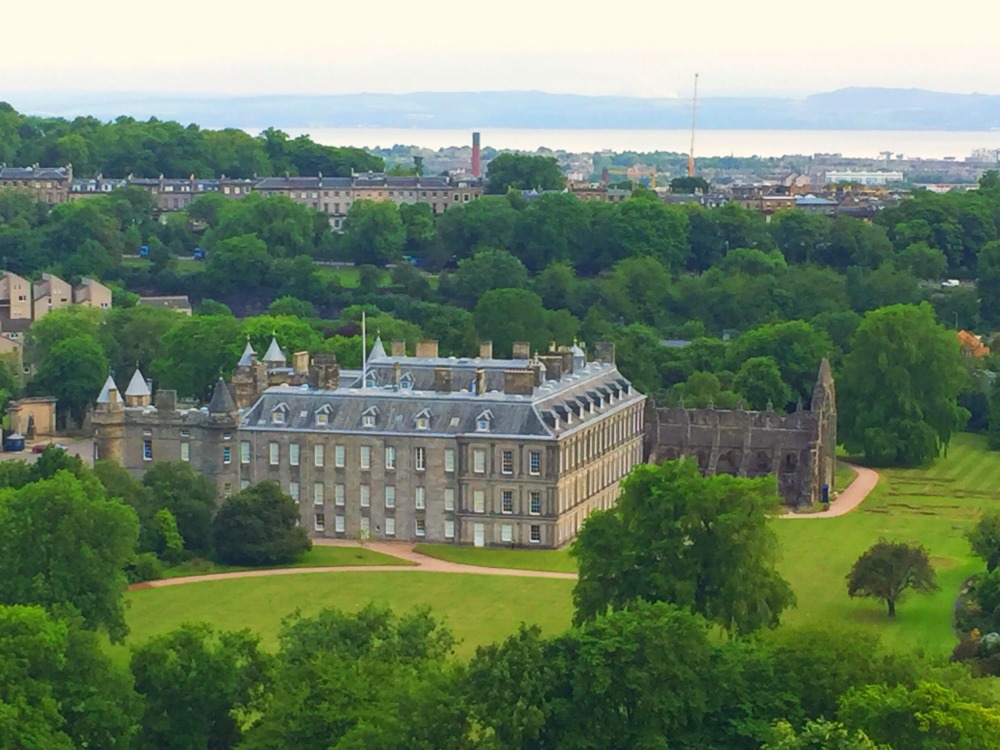 Situated just below Arthur's Seat, the walk to the Crags is a good alternative to Arthur's Seat, the hike being shorter and not quite as strenuous. It's quite a steep climb but the path is wide, although I'm pleased we're wearing appropriate shoes. It being so early, we have the whole hill to ourselves and the views over the city are spectacular. This is a walk worth getting up early for!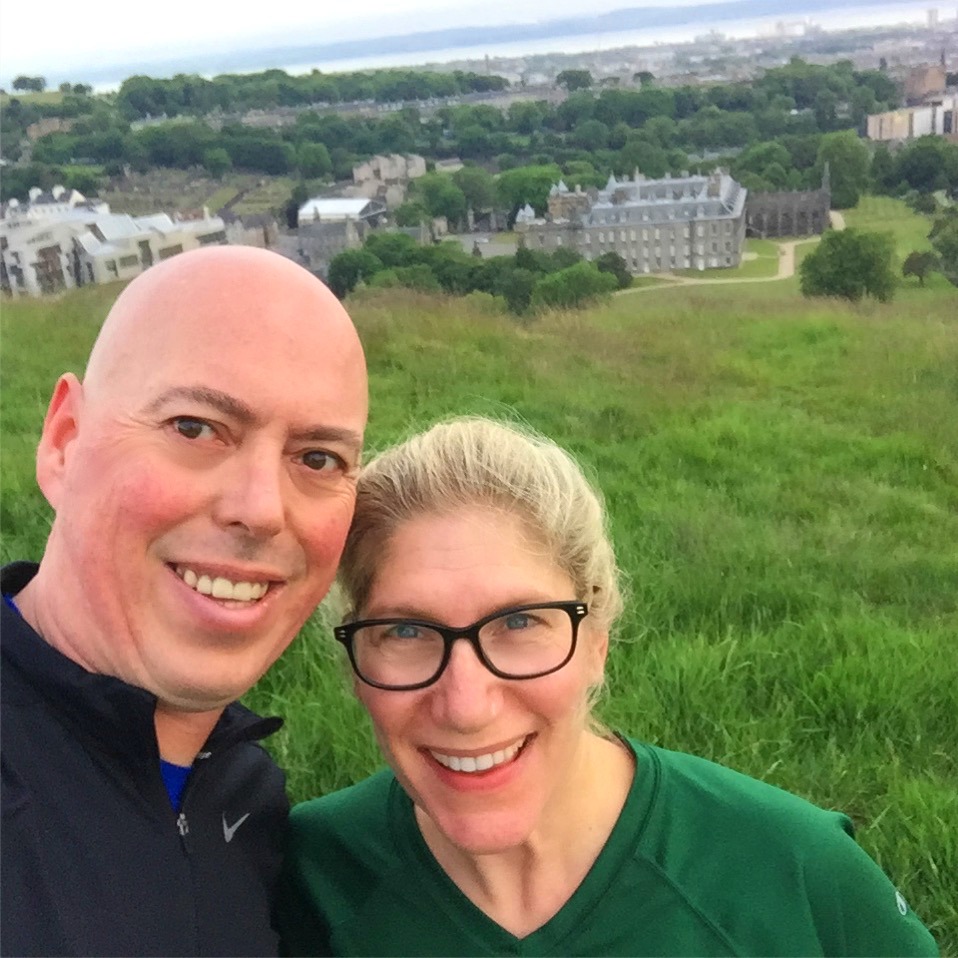 We're lucky enough to have a Nespresso machine in our Airbnb but sometimes only a shop bought coffee will do and this is one of those times. We've been eyeing off this cute little coffee shop at the end of our street since we arrived and we're pleased that we can finally squeeze in a visit. The space is cute and cosy, the coffee is decent and the cake selection is eclectically delicious with both vegan and gluten free options.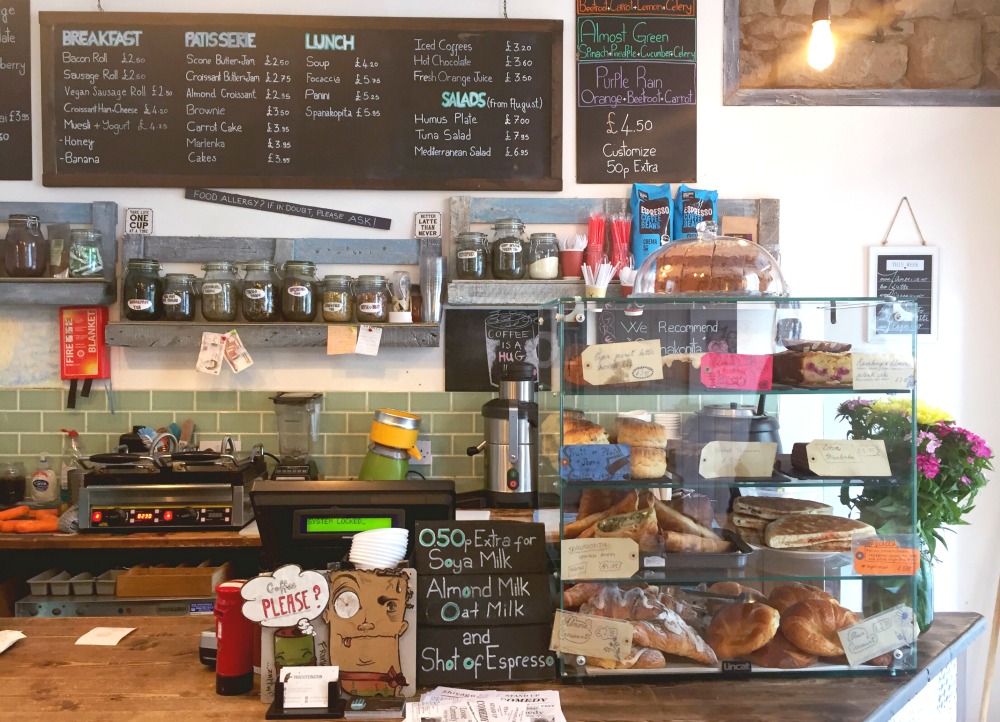 4 St Mary's Street, Edinburgh
I'm a wannabe minimalist and I don't buy souvenirs but I always make an exception for Christmas decorations and I like to buy at least one from every place of travel. I was quite ecstatic to spot this shop en route to Hollyrood this morning and make a last minute visit to purchase. These are the first Christmas decorations I've seen in the whole of Edinburgh and the selection is extensive and expensive. Photos are not allowed in the shop (bah humbug,) so here's a snap of my pick of the pops, a bagpipe playing Santa. I can't wait to see him in situ in Sydney!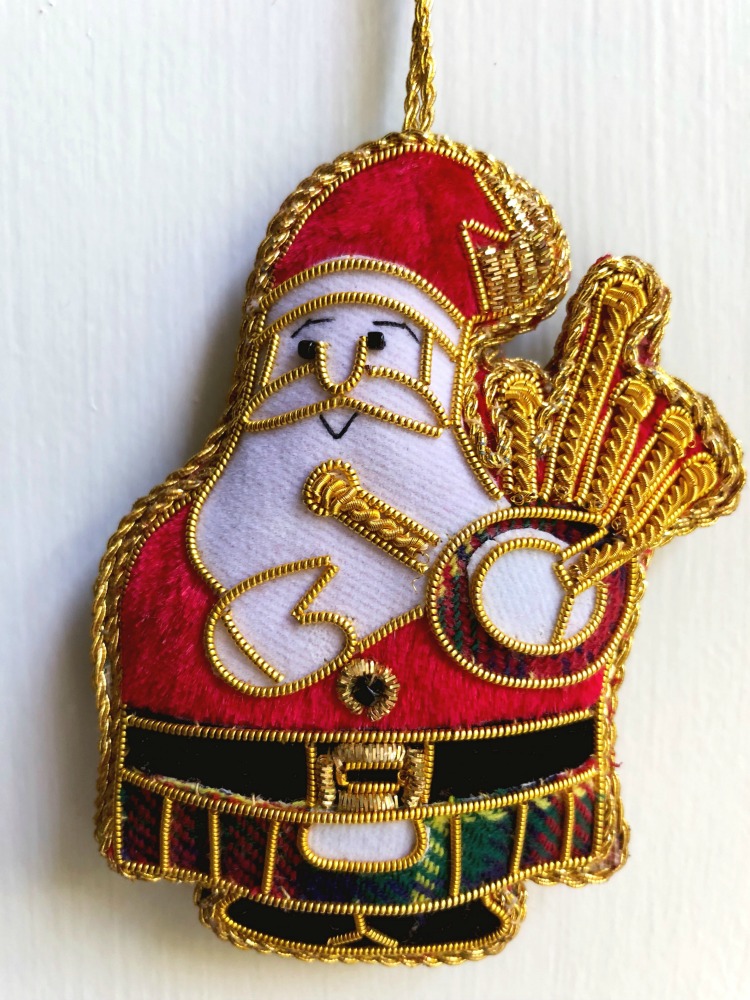 145 Canongate, Edinburgh
10.15am Buying all the baked goods at Mimi's Bakehouse
When I realise how close the famous Mimi's Bakehouse is to our place, I have to visit. We're about to spend 4.5 hours on a train and everyone knows train travel is hungry work so we invest in a cheese scone and a Daim Slice. Let's just say, the baked goods here are worth travelling to Edinburgh for! I'm still working out how I can recreate the Daim Slice at home. Watch this space!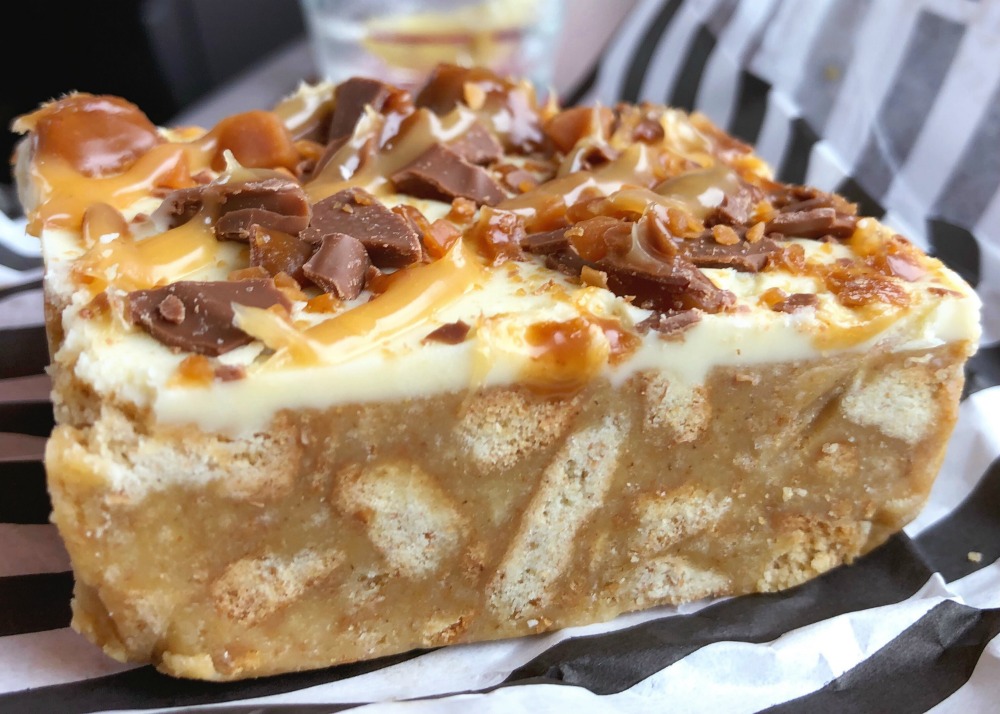 250 Canongate, Edinburgh
We've certainly enjoyed a slice of the action in Edinburgh but it's time to leave for our next adventure… Until next time Edinburgh, because there will be a next time!
So tell me, have you ever been to Edinburgh? Have you got anything to add to the list? Which of these would you include on your itinerary?
We were both guests of The Scotch Whisky Experience and I was a guest of Camera Obscura. All other admission fees, food, drinks and accommodation were thoroughly enjoyed and independently paid for. As always, all opinions are honest and my own.
Linking up with Kylie for IBOT.