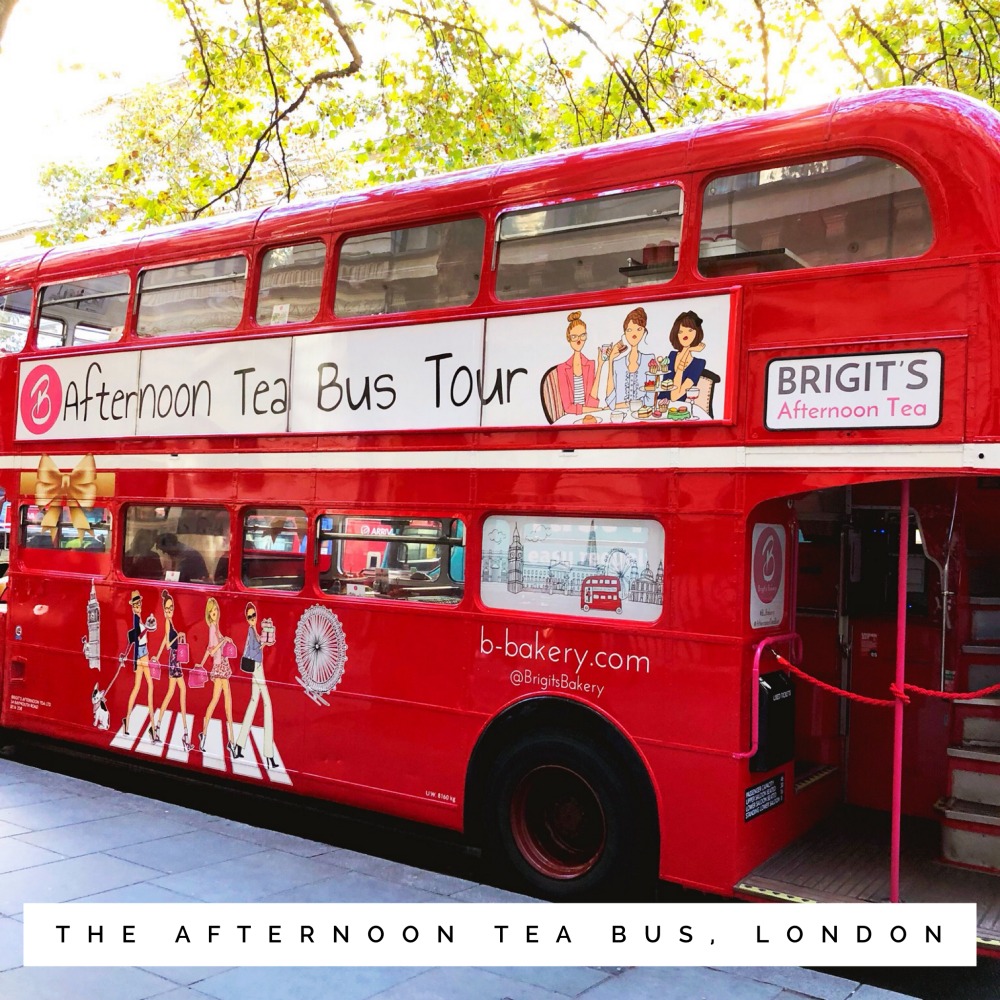 Even though I grew up and lived in London most of my adult life, I still get more than a little bit excited about a day "up town" especially now that I live a world away. Geography being what it is, my visits to London and catch ups with old friends are few and far between and for this reason I like to make them count. So when the planets align and I get to hang out with my best friend Sam in London, we combine our love of afternoon tea and the sights of London in one unforgettable experience – an Afternoon Tea Bus Tour! Yes, an afternoon tea bus tour is totally a thing and what a jolly fun and delicious thing it is too!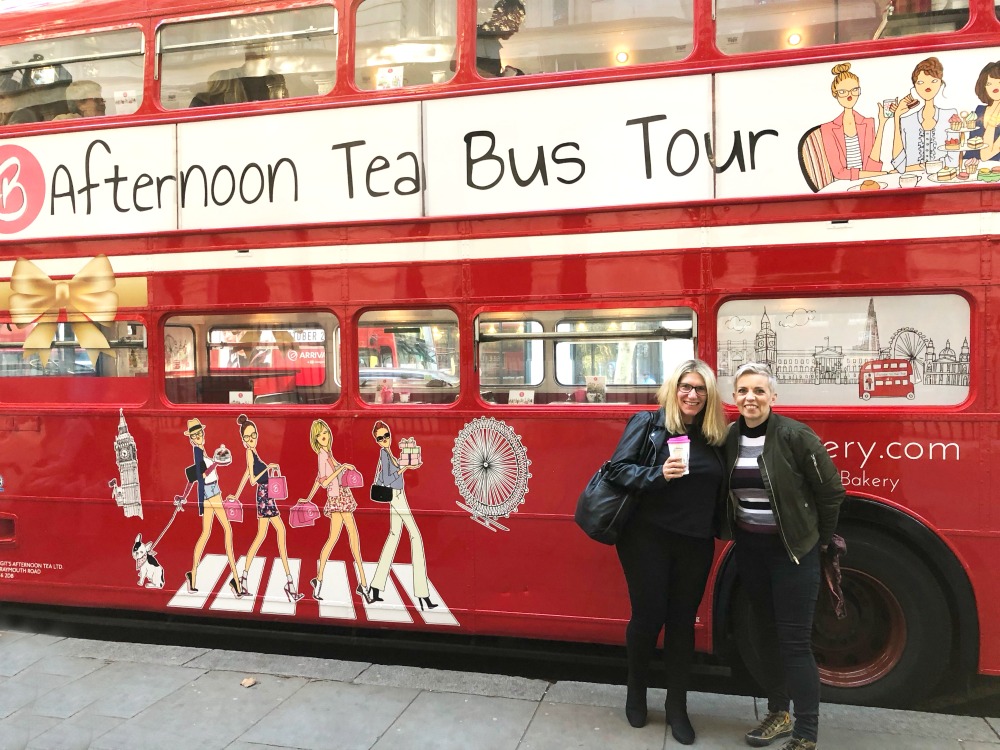 Actually Sam and I have been friends since we were 10 when we got allocated next door beds in our first dorm at boarding school. We've been friends (even though she's been scaring me with her spooky Girl's World doll) ever since. A lot has changed since our boarding school days but I'm pleased to say our friendship is not one of them. We still share the same name, birthdays a day apart and a lot of laughs.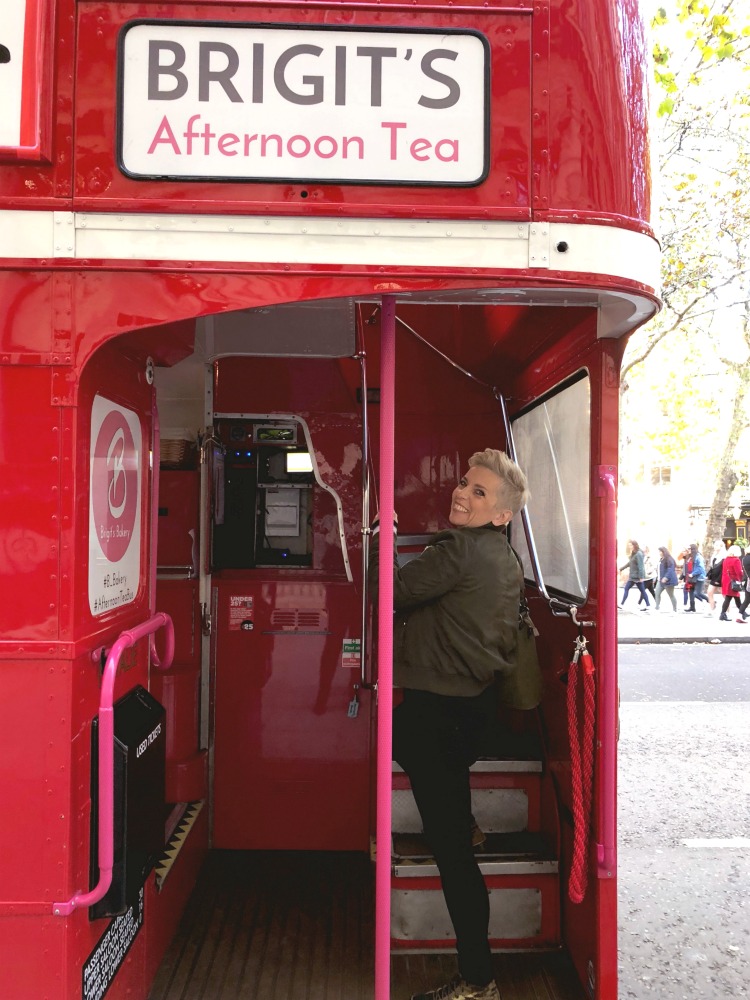 We're keen as mustard to get on board the afternoon tea bus and are ready and waiting at the bus stop just around the corner from Trafalgar Square. Just like a regular bus, the afternoon tea bus runs to a timetable so it's important to be on time or else you'll miss your ride!  It's no secret that I am not great with directions and would have trouble finding my way out of a paper bag but even I can locate the clearly labelled bus stop for the Afternoon Tea Tour (and not just because the small crowd of people is a bit of a giveaway.) Our hosts, Lea and Gabor give us a warm welcome and before long, we're all aboard. Ding, ding!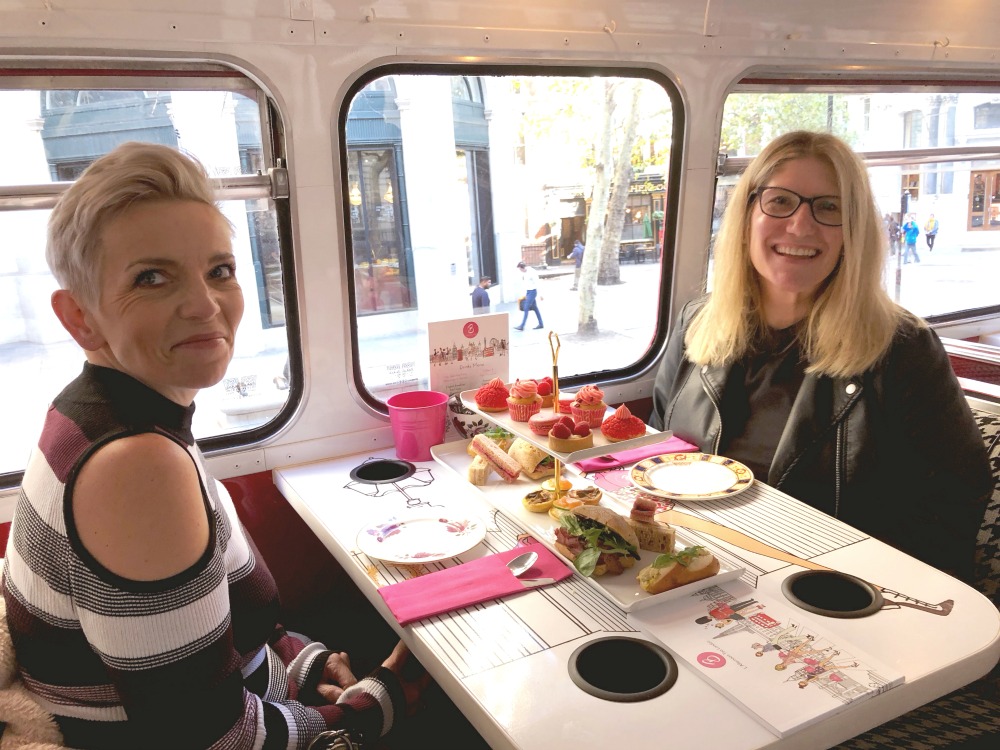 I'm a big fan of the old routemaster buses. I have fond childhood memories of  hopping on and off and I don't want to sound like a wingeing pom but really those new faux fangled routemaster buses  just don't cut it! This is a fully refurbished 1960's routemaster bus and although it's just like I remember on the outside, inside it's had an extreme makeover. It's bright, modern, fun and decorated with a funky French twist! We head upstairs for the best views, c'est magnifique!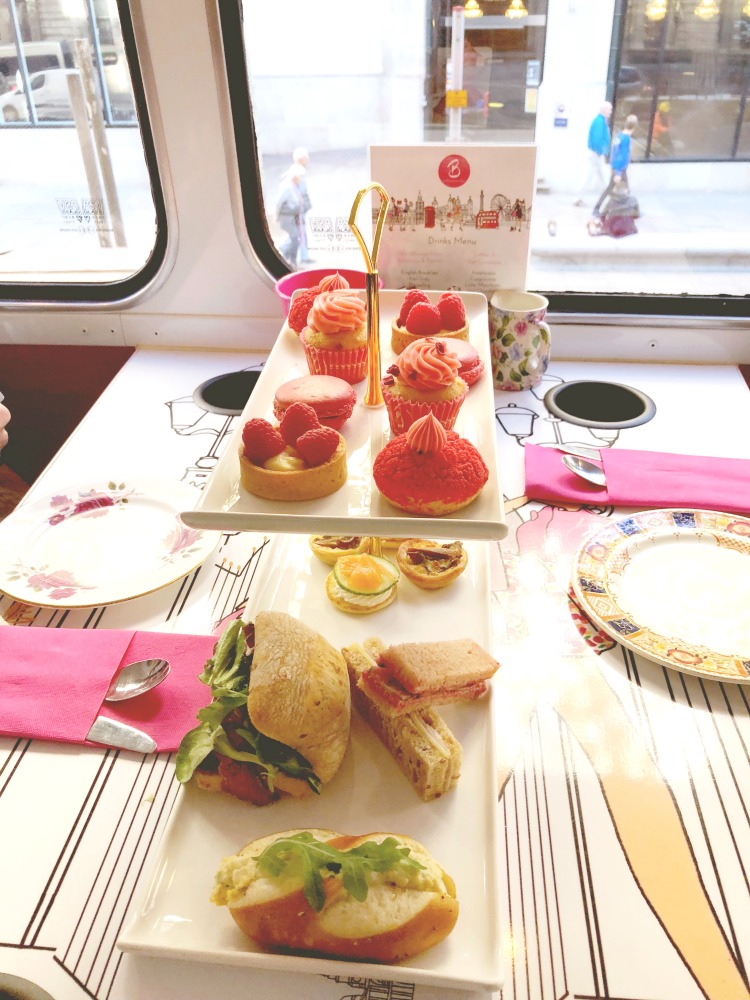 You might be forgiven for thinking that the pastry chefs at Brigit's Bakery have a penchant for pink. Maybe they do, but there's a very good reason for the pink themed pastries.  For  the month of October, Brigit's partnered with Breast Cancer Awareness to present a unique themed pink teatime experience to raise awareness and funds for breast cancer research. Brigit's serve over 5000 afternoon teas a month and donated £1 for every afternoon tea sold in the month of October!  That's a lot of cakes and a lot of cash! Sharing is caring, right?!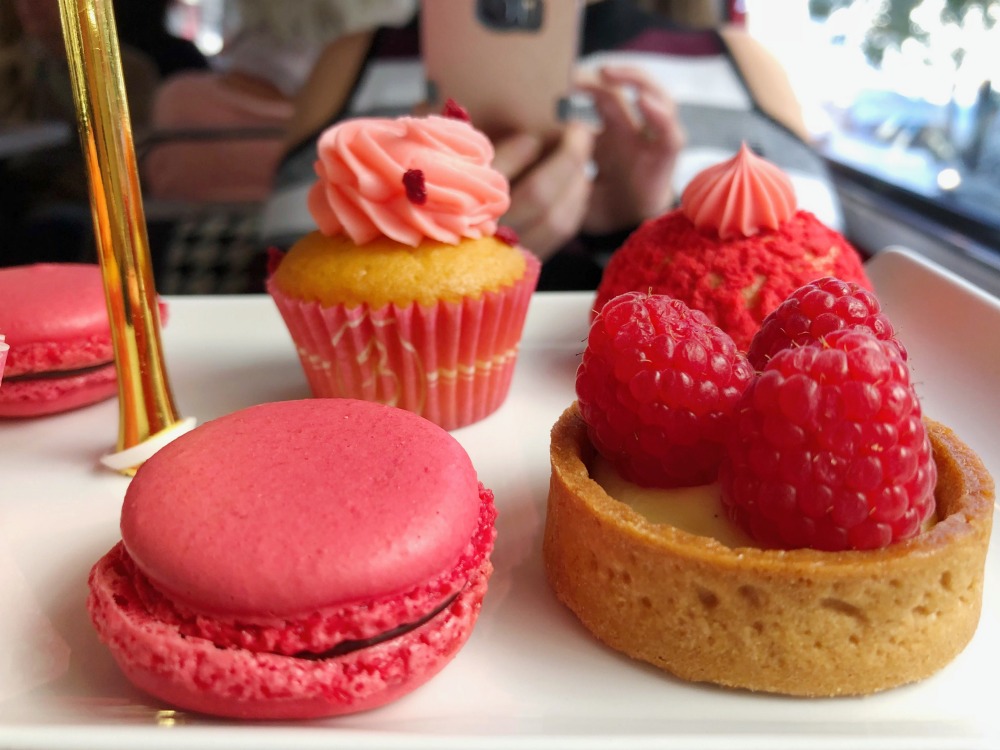 The baked goods on board are the real deal! All the treats are freshly baked in the morning at B's Bakery by the masterful French chefs. There's a tasty combination of savouries including the quintessential finger sandwiches, mini quiches and rolls.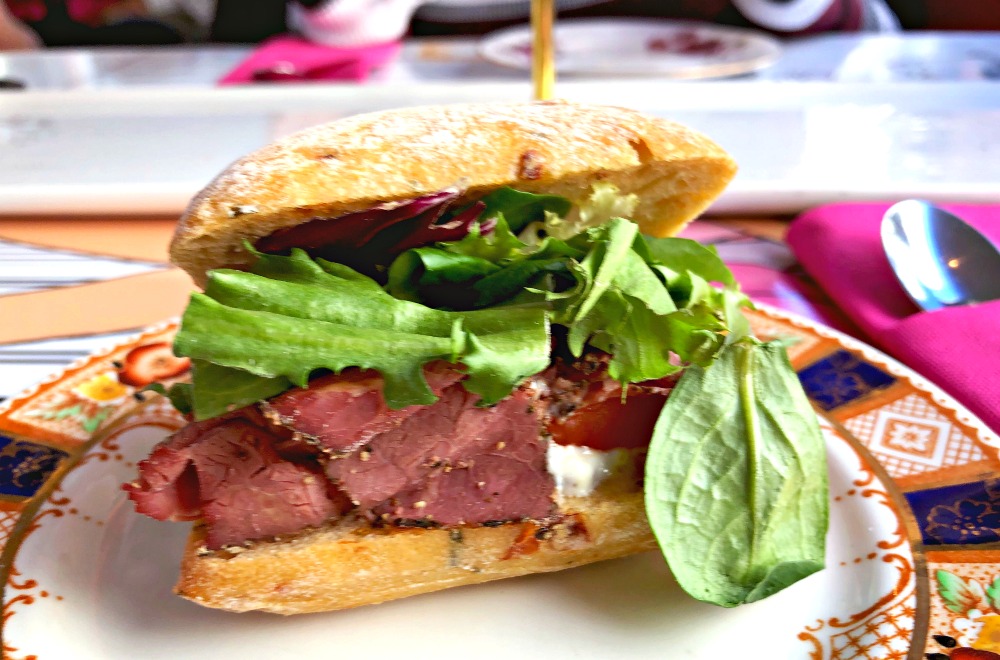 Then there's the pastries and cakes, themed pink for Breast Cancer Awareness Month.  The only thing that cuts corners on this tour is the bus!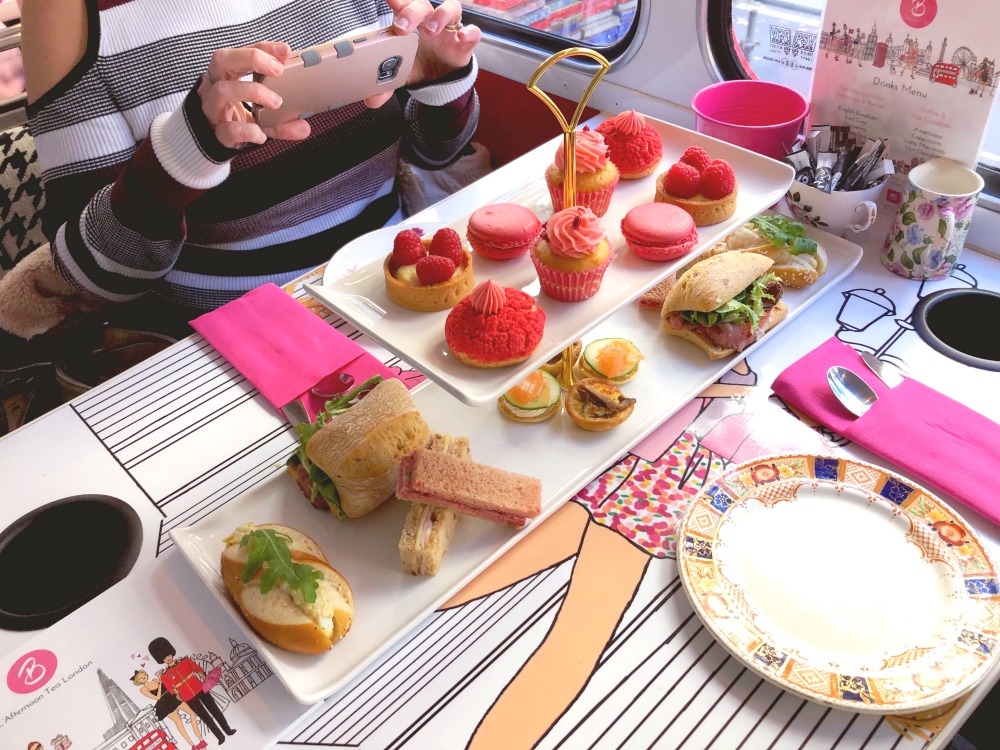 There's a perfect balance of sweet and savoury and the top layer is full of french fancies. There's a strawberry cupcake, a mini raspberry tart with creme patissiere, a strawberry macaron with chocolate ganache and to finish things off a choux bun filled with the most delicious sweet custard. We've added a glass of pre-ordered prosecco (£8) to our teatime extravaganza because bubbles and baked goods are a winning combination.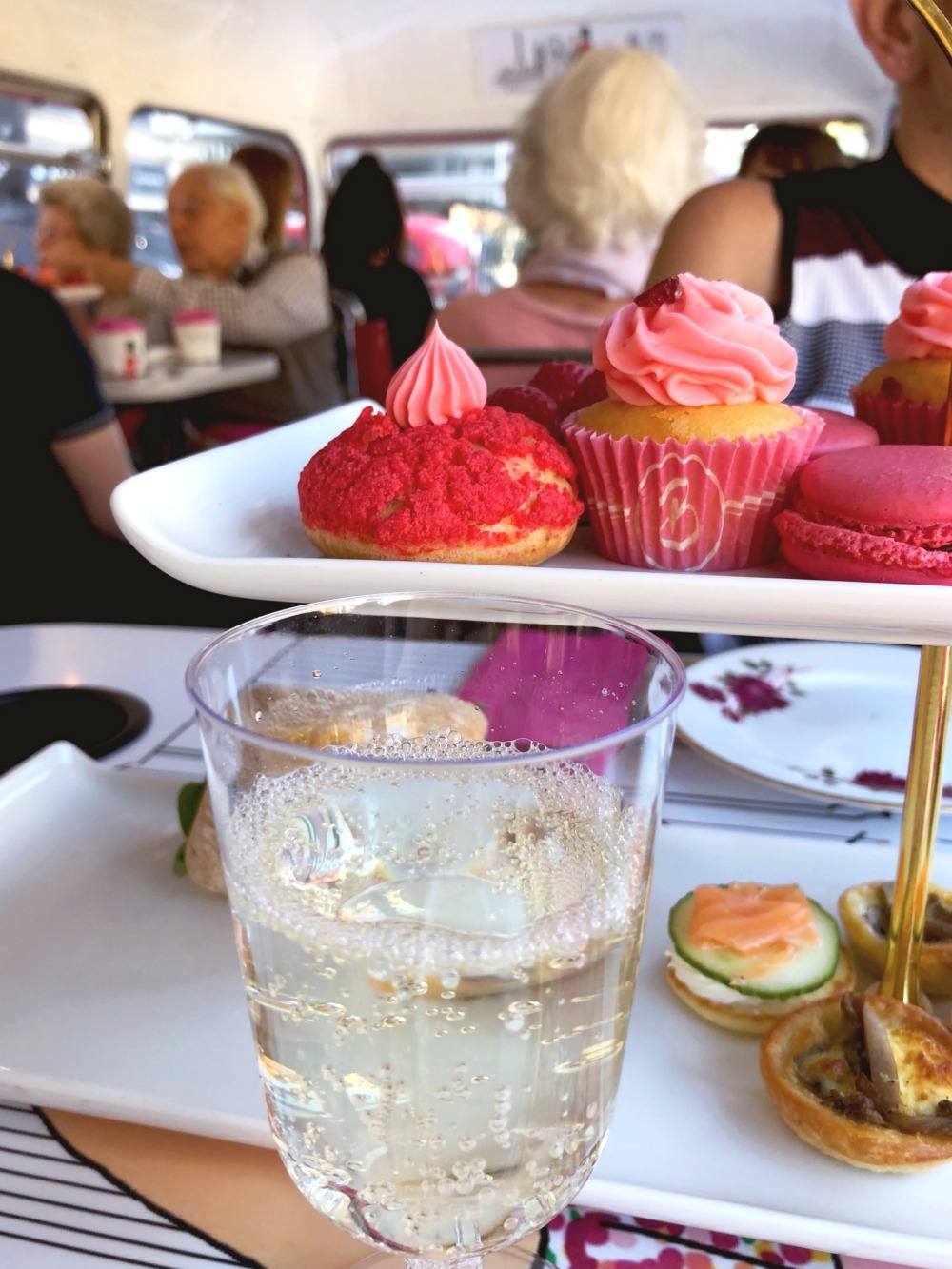 Of course afternoon tea on board a 1960's bus presents it's own unique health and safety issues. Although the plates and tea stands look like they're straight out of Downton, you can expect plastic glasses for the prosecco and a delightful keep cup  for your hot drinks (which as it's name suggest you can keep!) because no one wants to be wearing their hot drink. Safety thirst! (Sorry, I couldn't help myself!)
Safet-tea is paramount on board  so standing or moving around the bus during the tour is a big no-no. Choose hot chocolate, your favourite coffee or one of the teas from French tea experts Betjeman and Barton to quench your thirst although it would be prudent not to enjoy too many top ups as there are no toilets on board. Just be sure to go before you go if you know what I mean!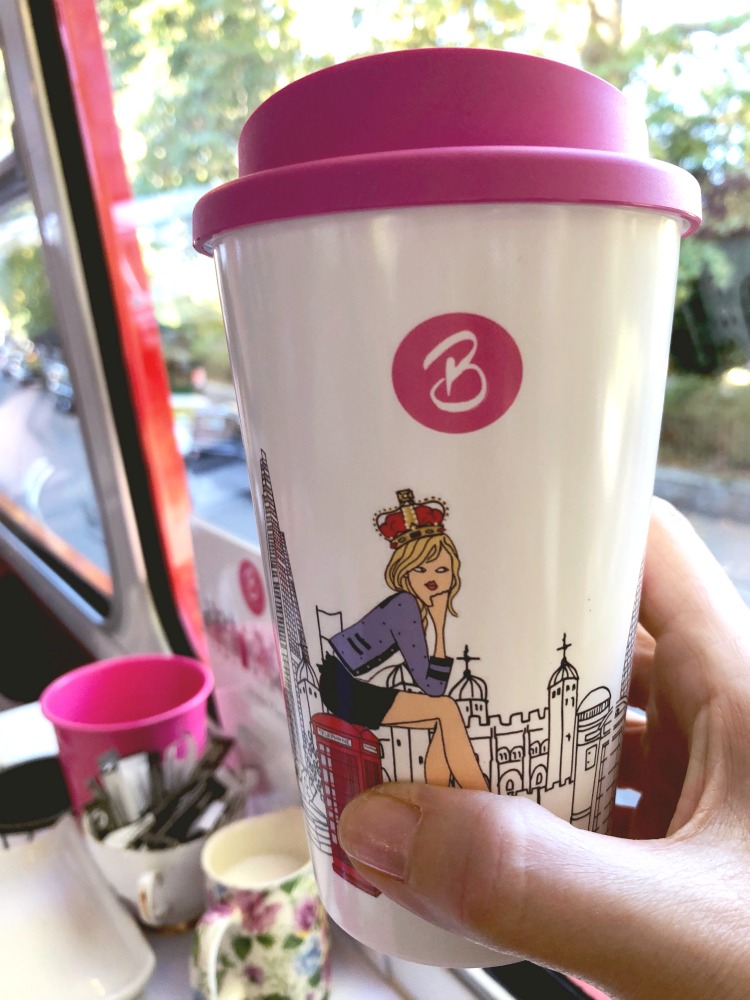 After eating our way through the cake stand with enthusiasm, Lea the hostess with the mostest brings round scones fresh and warm from the oven. Be still my scone loving heart!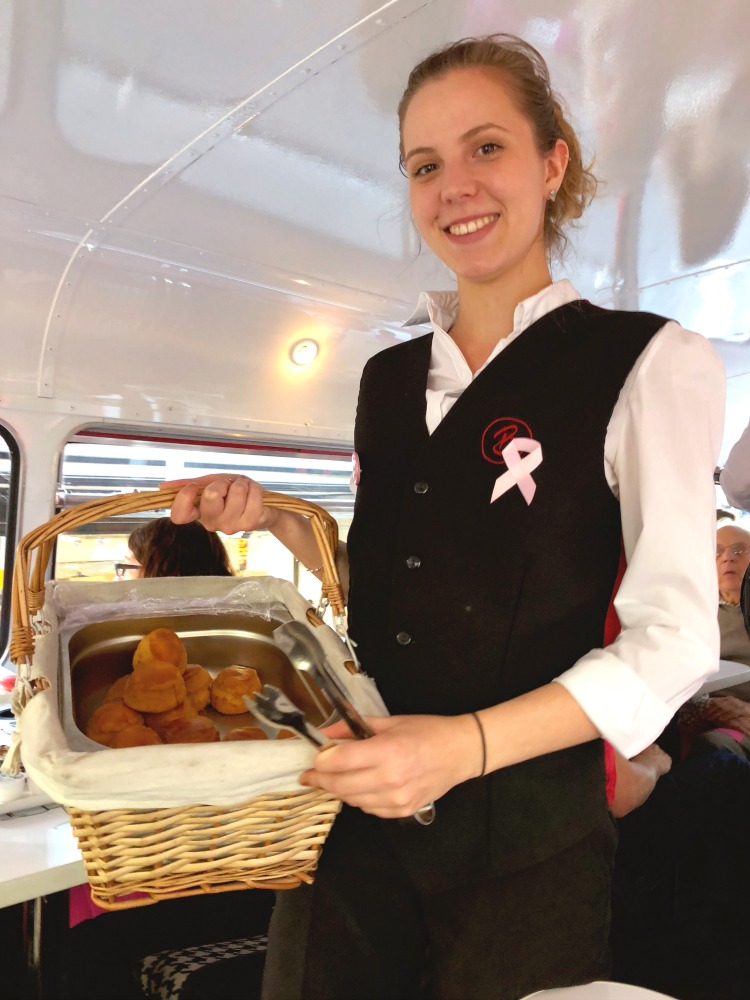 Of course, there's clotted cream and jam and lots of it. We're actually feeling rather full but there will be no scones left behind on our watch! By the by, don't worry if the vast array of deliciousness defeats you, your host will provide you with some beautiful boxes so you can take home your treats to enjoy later.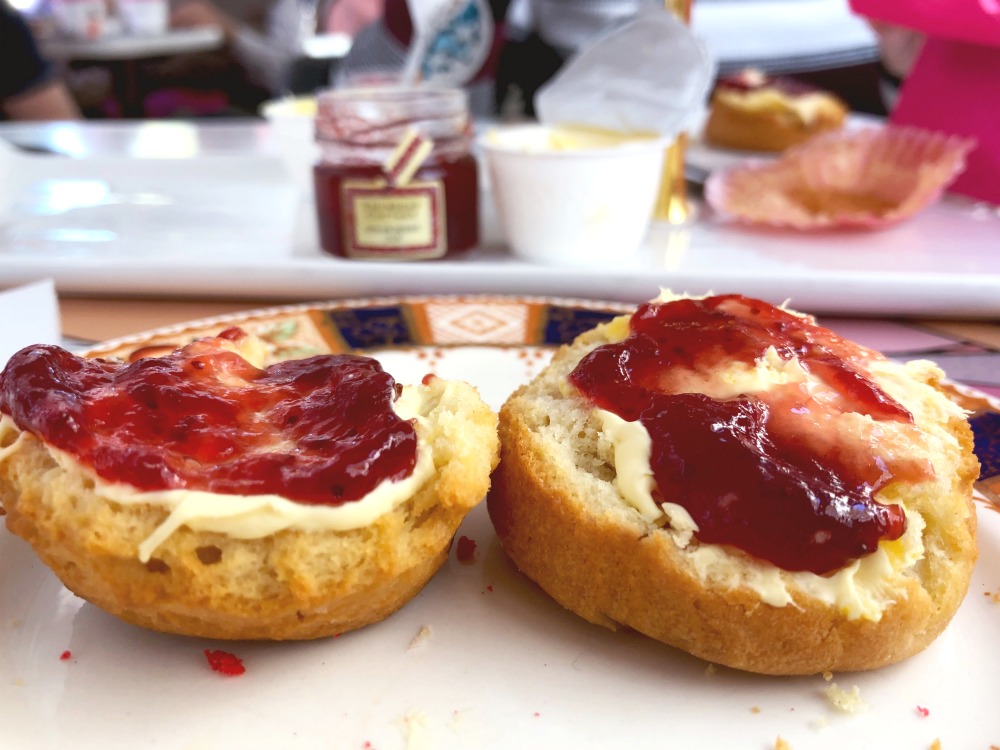 If you have specific dietary requirements, B's Bakery has you covered. As well as the traditional tea menu, there are vegetarian, vegan, halal and gluten-free options too so everyone can have their cake and eat it.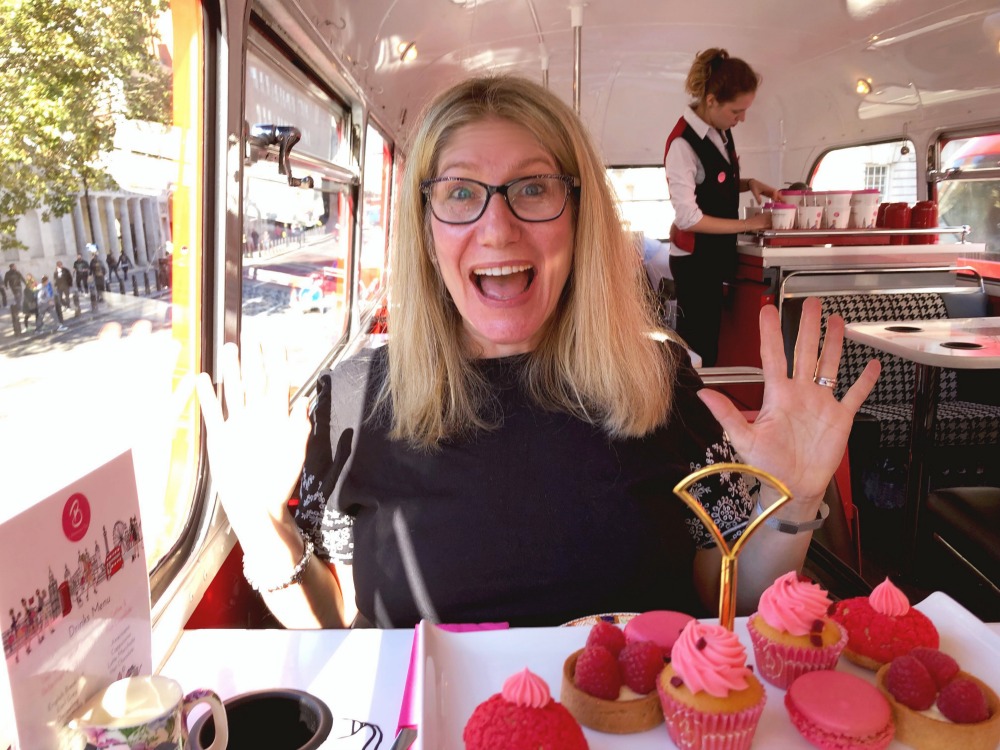 The tour takes about 90 minutes and we're grateful that the weather and traffic gods look favourably upon us. The tour captures the magnificence and history of the city and the route highlights a plethora of major landmarks including Houses of Parliament, Westminster Abbey, Buckingham Palace, Hyde Park Corner and Marble Arch to name but a few.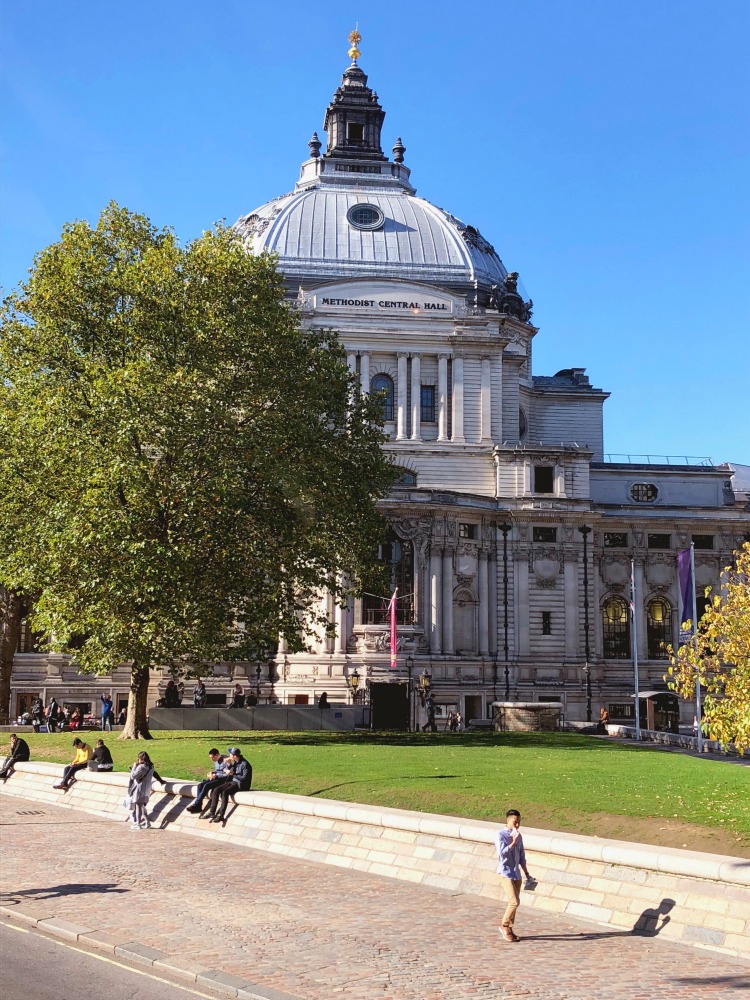 With the wheels on the bus going round and round and the teatime chats brewing nicely , it can sometimes be tricky to hear the recorded commentary but this does not detract from our experience one bit. The sights speak for themselves and we swot up on our London knowledge with the beautifully illustrated, info packed 70 page London guidebook. (Tip – it's £5 if you buy at booking and £10 if you buy on board.)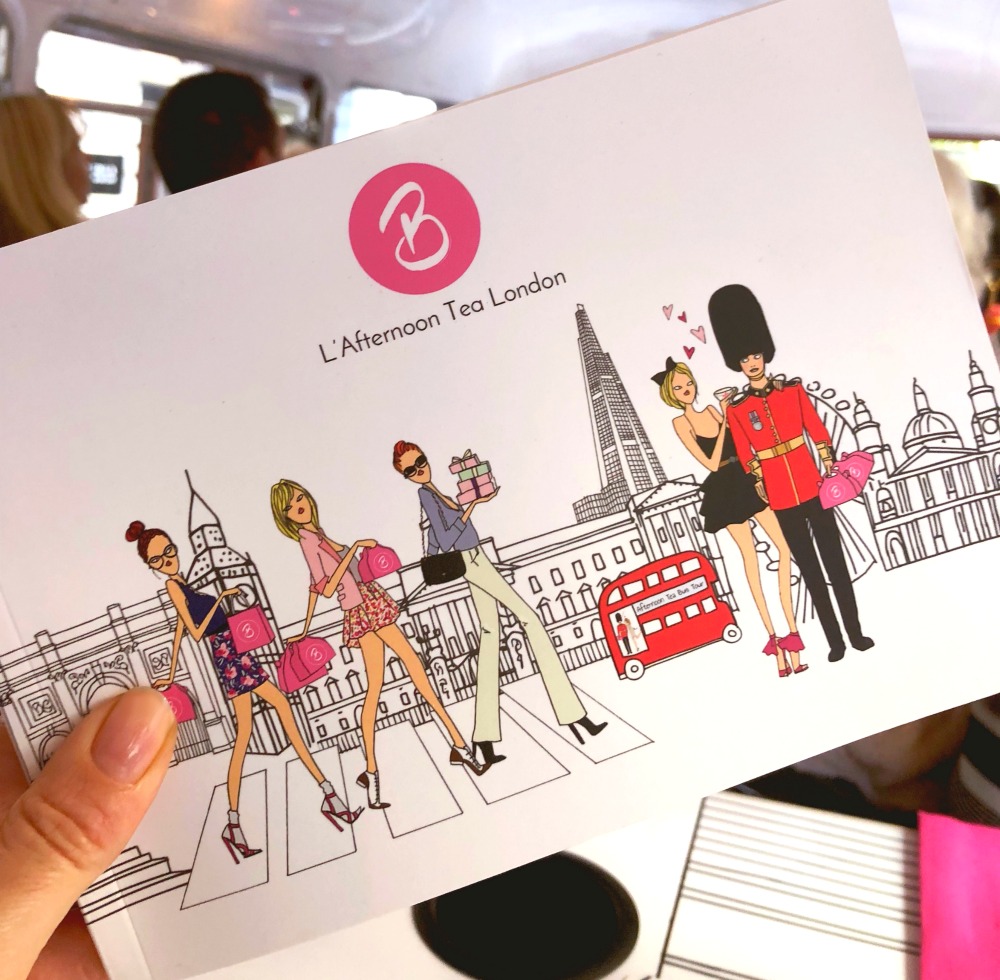 My tip is to get snapping at traffic lights or when the bus is stationary – which can happen quite often in London traffic. See there is always a flip side!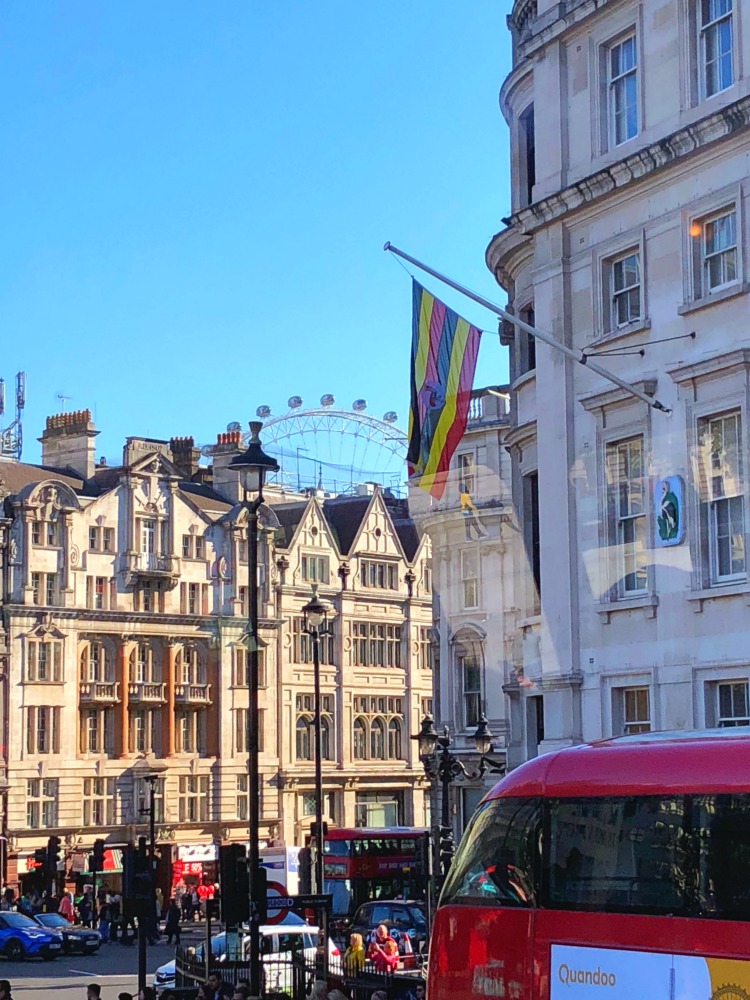 Talking of experiences, this is one I can't wait to repeat and is just one of many on offer from B Bakery. There's also a Gin Lover's Afternoon Tea and a tea tour for every occasion including St Patrick's Day, Easter, Halloween and Christmas. I can totally get on board with that!
Have you ever been on a routemaster bus? Which of these tealicious treats tickles your fancy? Which London attraction would you most like to see?
Need to know more?
Afternoon Tea Tours start from £45 per adult
Tours run daily from Victoria Coach Station and Northumberland Avenue
Book ahead to avoid disappointment
Find out more about Brigit's Bakery 
Sam and I enjoyed our afternoon tea bus tour as guests of B Bakery  but all opinions are honest and my own.