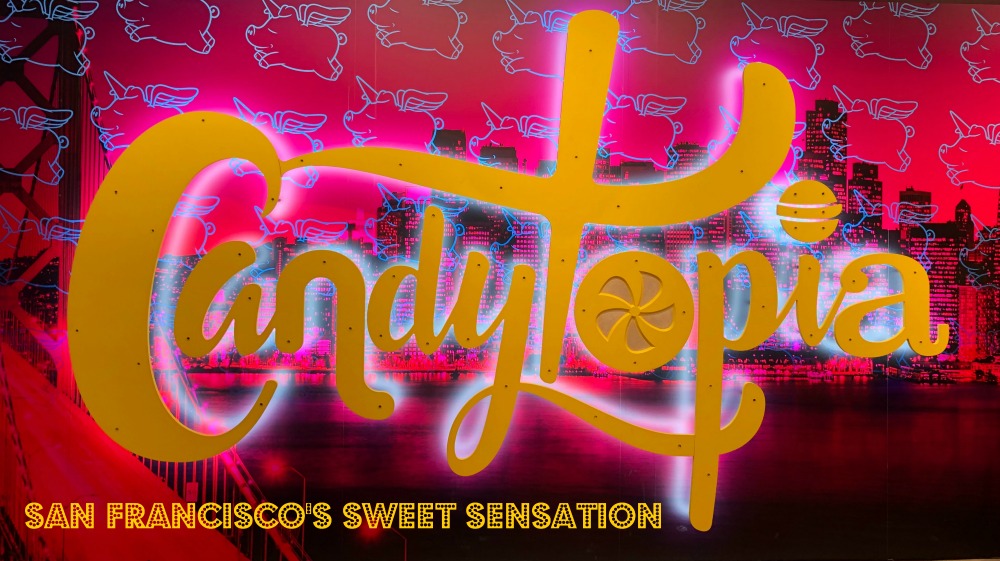 My friend Kat is such an enabler. As soon as she told me about the new interactive candy wonderland coming to San Francisco, I wanted to go. But as I live 7,420 miles away I knew the chances of that happening were less than slim. So when I got the opportunity to go on a last minute trip to San Francisco, you won't be surprised to find that my ticket to Candytopia ticket was the first thing I booked!
I was very sweet on the Museum of Ice Cream in San Francisco when I visited last year (I'm pleased to report it's still going strong,) and had a ball at Sugar Republic a few months back so I knew that this candy-centric interactive art installation was going to hit the sweet spot!
Candytopia is brought to life by Hollywood Candy Queen Jackie Sorkin, fabricator extraordinaire Zac Hartog and professional retailer John Goodman and what these three have created is a colossal, colourful sugarfest. It's basically my happy place.
Candytopia tickets are as special as Willy Wonka's golden ones. They must be purchased online and for a specific time and date. Arrive too late or without a ticket and you'll be left with a sour taste in your mouth.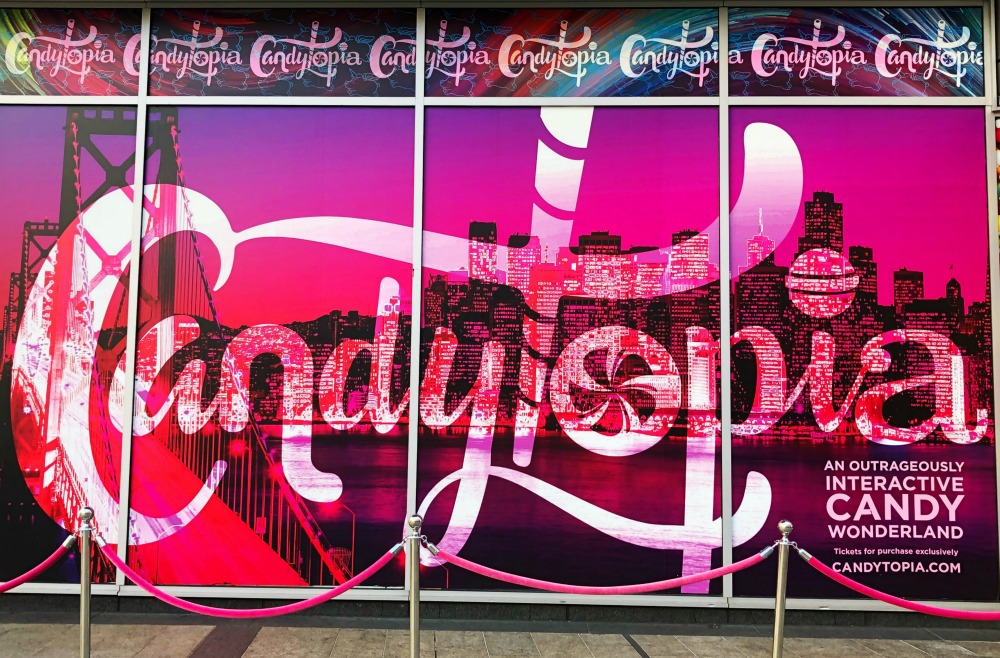 I arrive early on a Monday afternoon and find I'm not the only person travelling to Candytopia on my own. I stand in line with Cindy who as luck would have it, is as enthusiastic about candy as me, is keen to take reciprocal photos and has a daughter-in-law who lives in Melbourne. See, it's a small (and very delicious world) after all.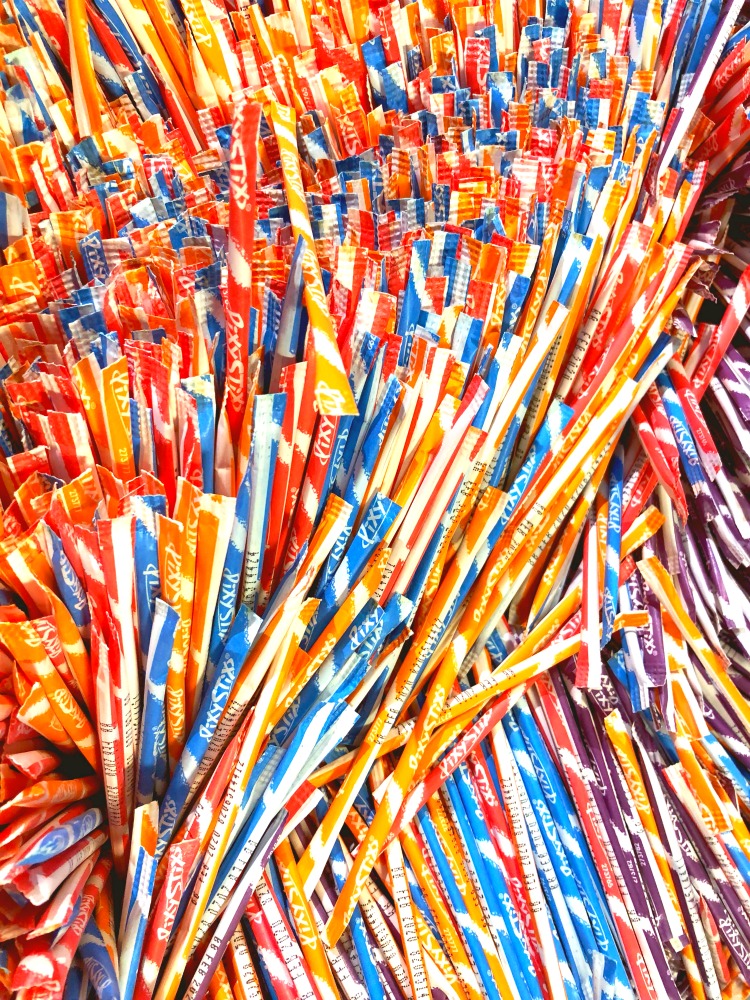 I am as enthusiastic about stuffing my face with the candy samples as I am about taking pictures and I'm not going to lie, I do a lot of taste testing. However, I think we have enough to work with so won't you join me on a virtual tour of Candytopia?
A dragon guards this kingdom of candy. He took 542 hours to create, weighs a beastly 200kg or thereabouts and is made up of 125,000 pieces of candy. Made up of cola bottles, peachie hearts and red licorice strings, I bet he tastes delicious!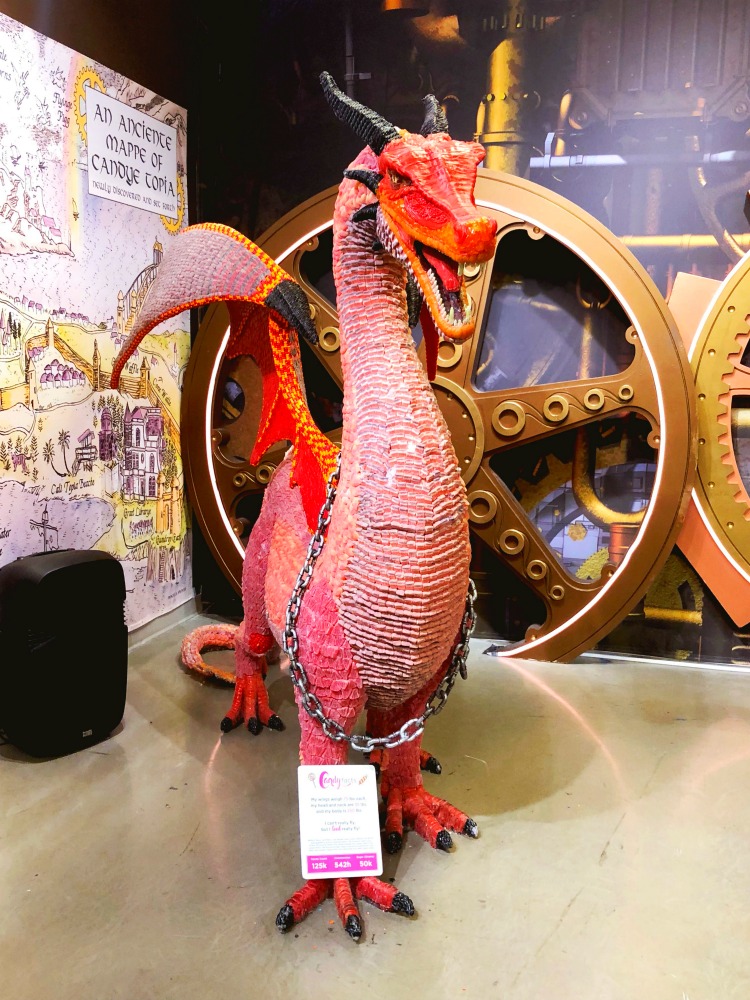 After letting off some steam and having a bit of a boogie which I'm not really keen on, and if you saw me dance you'd know why, the doors to the candy kingdom open and we find ourselves in a wood panelled library. I'd love to show you a picture of the library but really I only had eyes for the Black Cherry Knight – in shining and very delicious armour. Incidentally he only took 172 hours to make with a modest 21,000 pieces of candy featuring black cherry gummy bears, toasted marshmallow jelly beans and white gummy grapefruit to name but a few.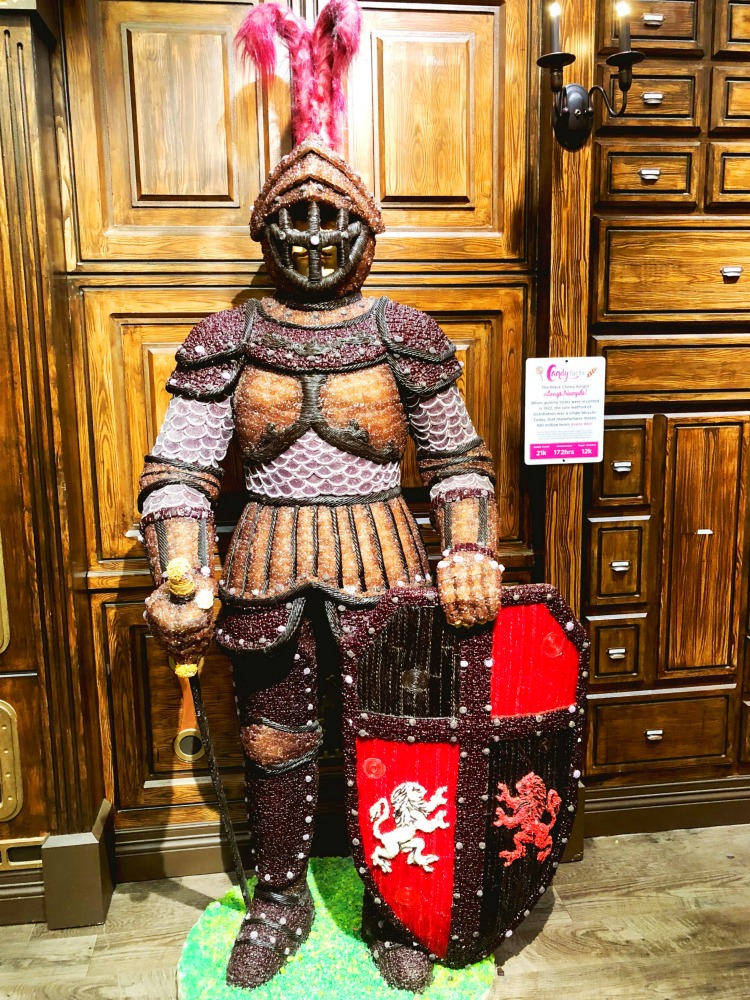 Seeing as it is almost Halloween, I take a special interest in Foxy here who is made up of 13,000 pieces of candy, mostly champagne bubbles, jelly bears and candy corn. After having a crash course in the laws of Candytopia land, we grab our chocolate lindt ball and are on our merry way. There aren't any golden tickets in Candytopia but there is a golden rule, that you can look at the candy, you can touch the candy but you can't eat the candy, not that you'd really want to. I'm sure the shellac adhesive and the mass handling is enough to put anyone off their lollies.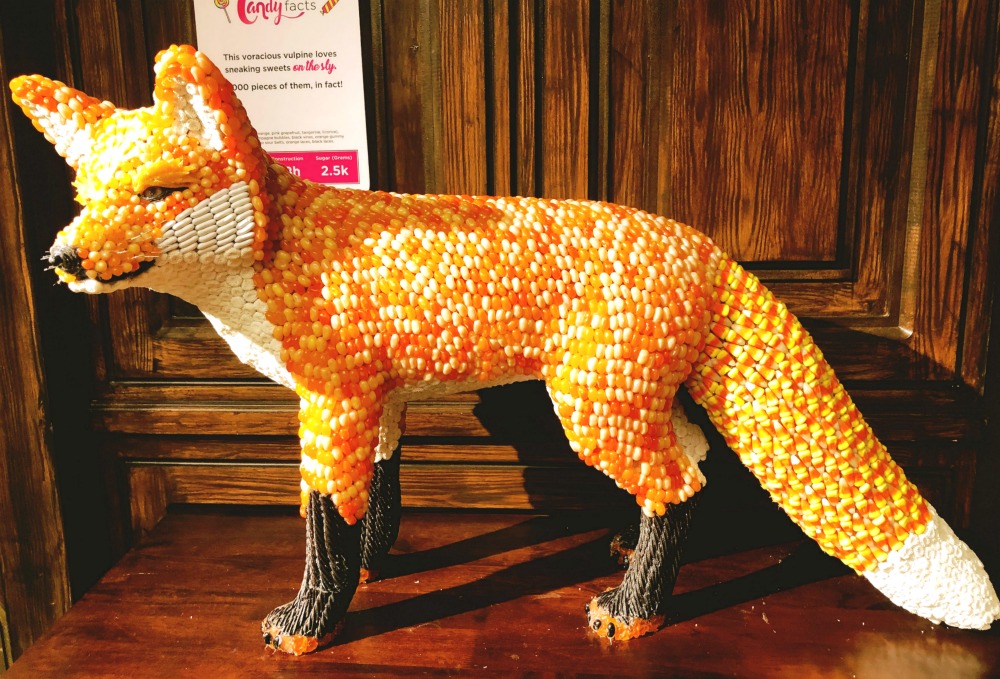 Next stop is the Giant Gum Machine but I only have eyes for the toadstools and animals made out of candy. My pictures here are few and far between because I'm too busy trying to get out of this ridiculously low swing. It's not a contraption for us old folks!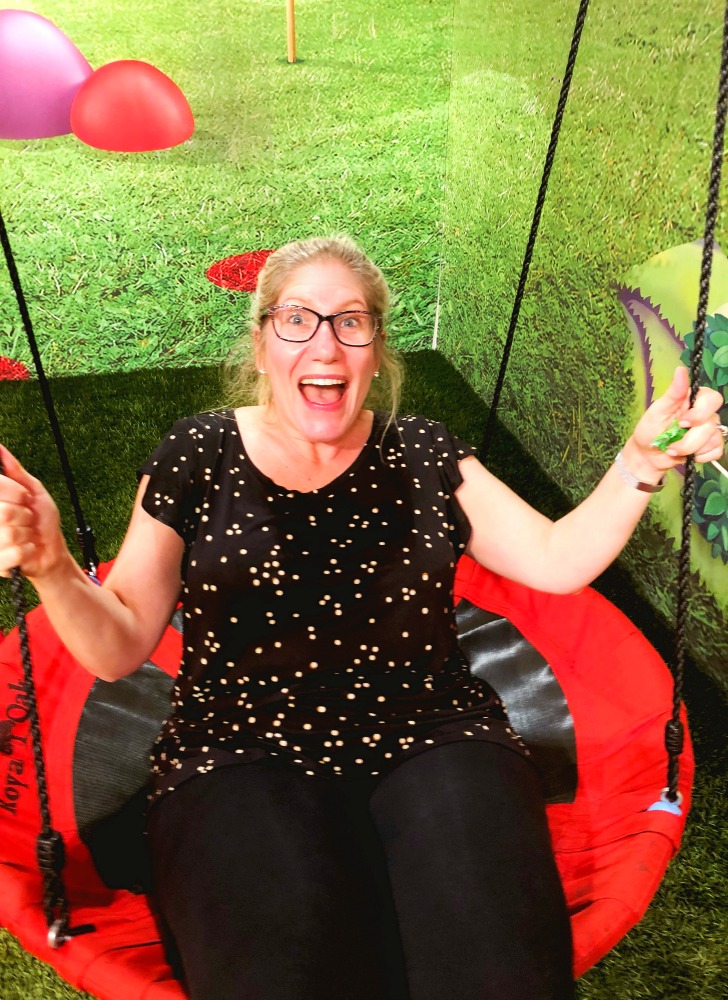 Let's move on to the art gallery, shall we? It's very San Fran-centric with candyfied portraits of Tony Bennet, Steve Jobs and the trophies of the Golden State Warriors. Thanks to Ticketmaster and their reluctance to let international visitors buy game day tickets, this might be the closest I get to the Warriors on this trip. Still, there's nothing like a bit of pop art and some C-Andy Warhol to cheer oneself up!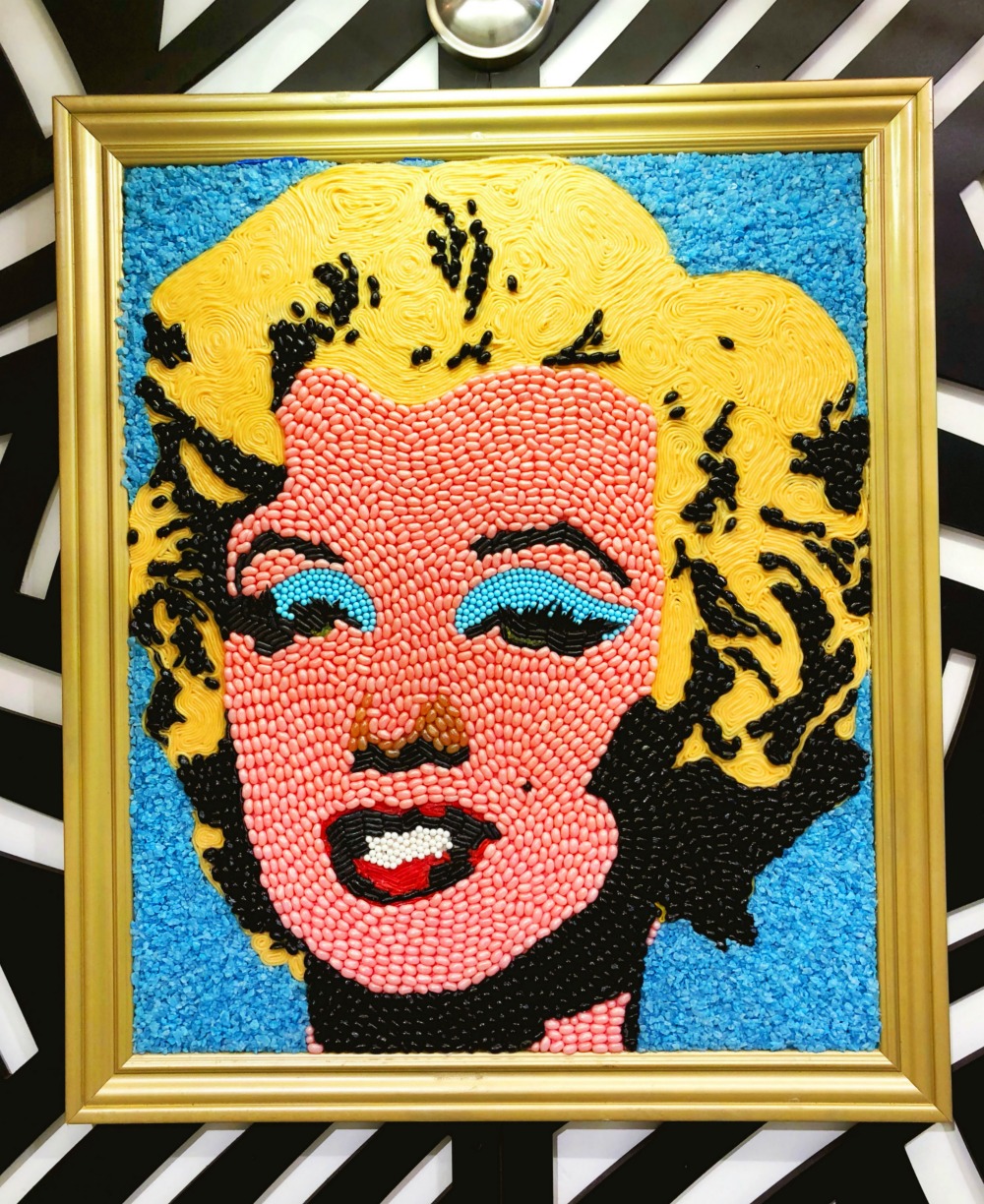 This picture took about 82 hours to make, 22 hours of which was spent doing Marilyn's hair because of course, it had to be picture perfect. The artists used blue bottles, yellow laces and mini red gummy bears and other types of lollies racking up a total of  3,8000 pieces. You won't be surprised to learn I didn't spend 22 hours (let alone 22 minutes) doing my hair for this photograph!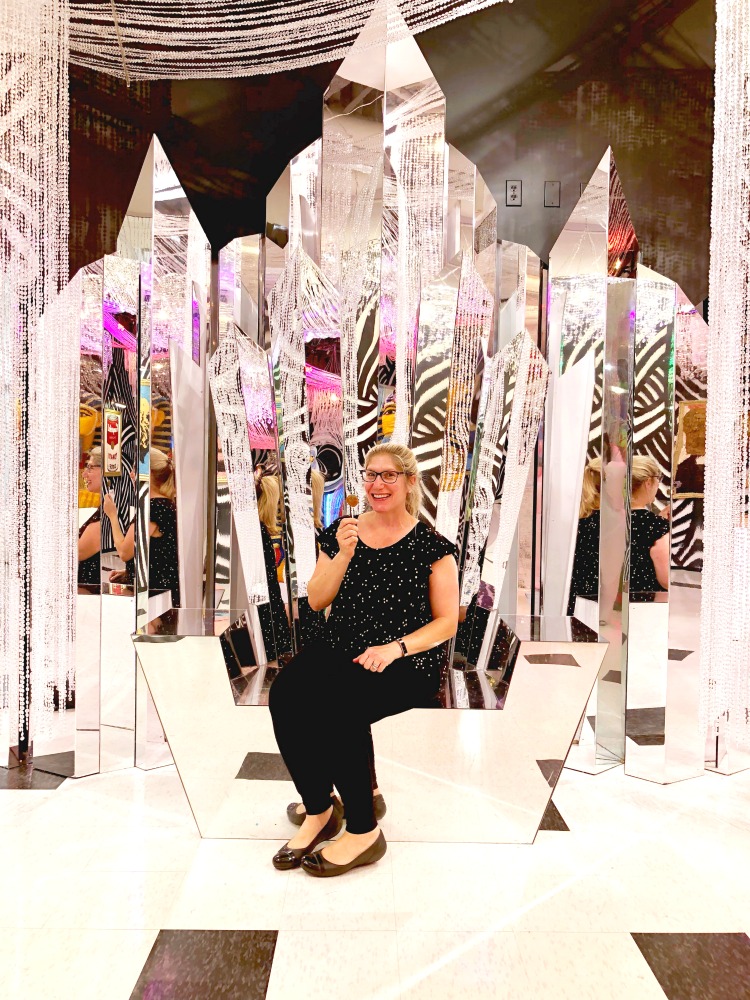 Before heading to Candy Town, I followed Kat's advice and logged on to  www.sru.sh  When you register your email address, you are sent a QR code which can be scanned at the photo booths around Candytopia and your photos get instantly emailed to you – like sweet magic! The photo gallery was the first opportunity to set my QR code to work and with some posing tips from the Candytopia crew, I got the sweet shot!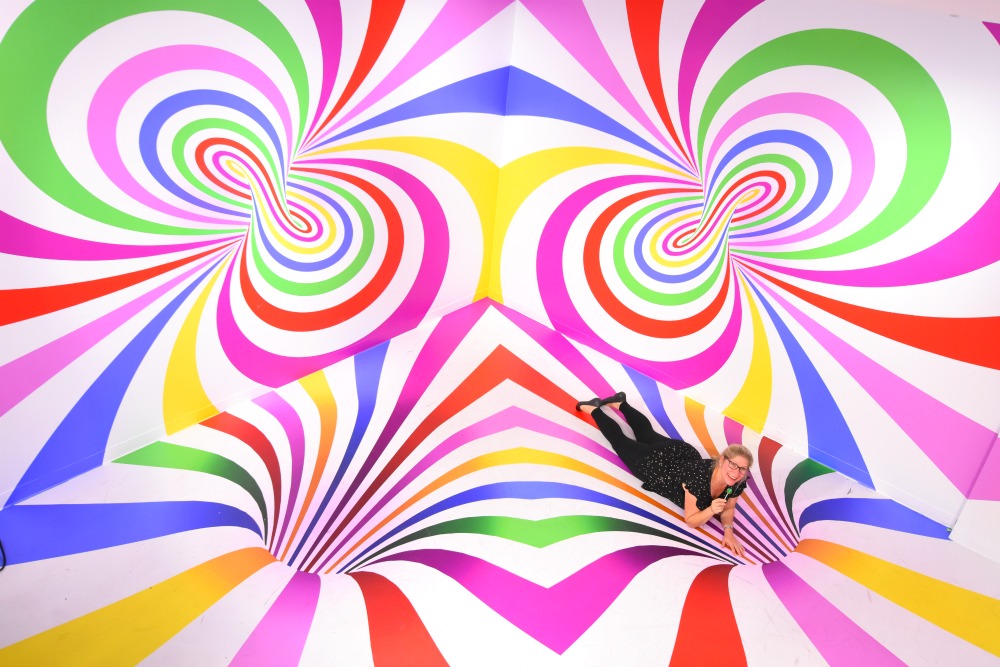 Under the sea was perhaps my favourite exhibit, I totally felt like an extra in 20,000 leagues under sea.  The detail was second to none in every piece form the shark to the starfish to the deep sea diver.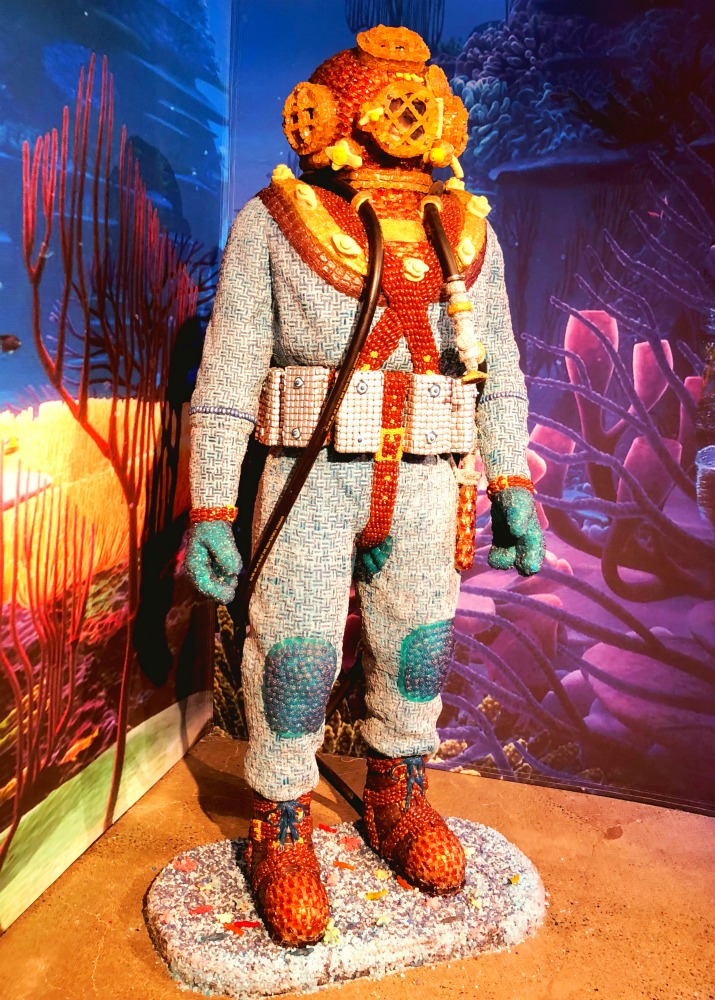 Now I don't know how much candy was used to make the deep sea diver and these sweetie seahorses, but let's just assume that it was a LOT!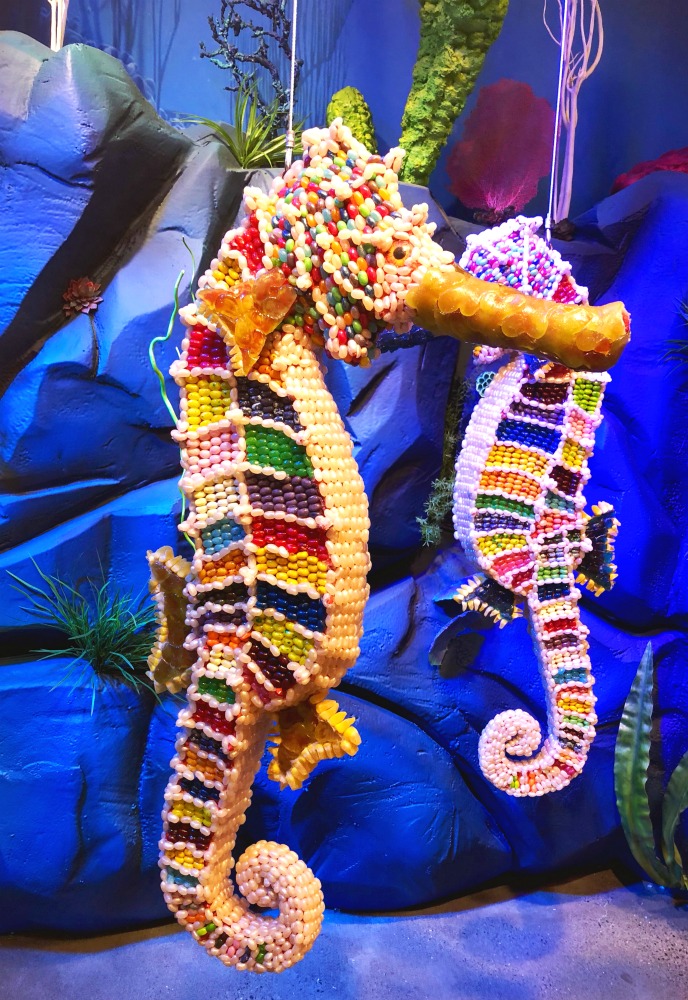 From under the sea we move to the place where unicorns exist and pigs fly. The pigs also fart confetti and as this pic shows you can definitely have too much of a good thing. I'll be shaking confetti out of my hair for days to come!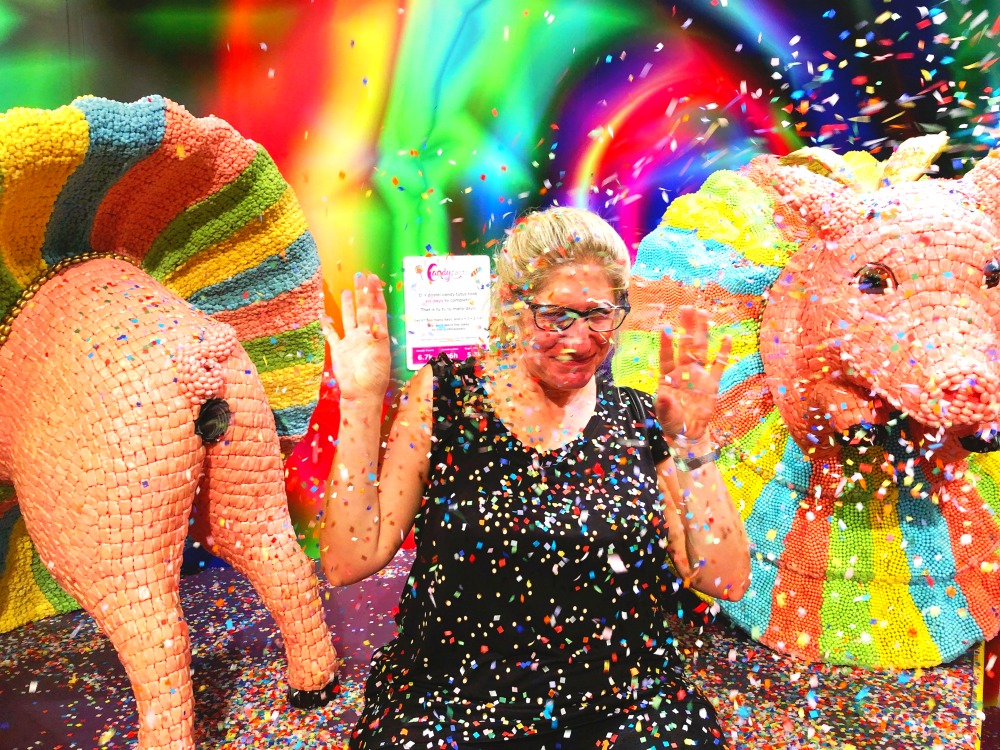 We then enter the sweet side of San Francisco  and I get a bit of deja vu when I come face to face with wax work Robin. I'd only been at Mrs Doubtfire's place that morning although I'm pleased he's immortalised in his Mork and Mindy phase, my personal favourite.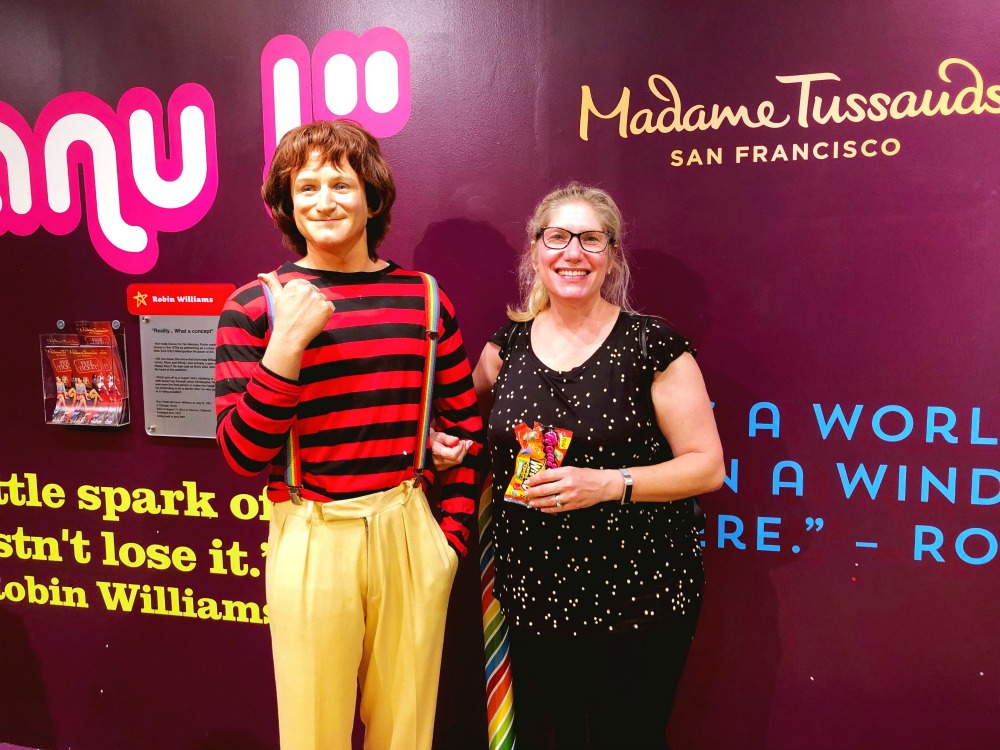 I get a thorough workout in the marshmallow pit while my new friend Cindy puts my camera through it's paces. Thanks Cindy! Side note, I'm very glad I put deodrant on!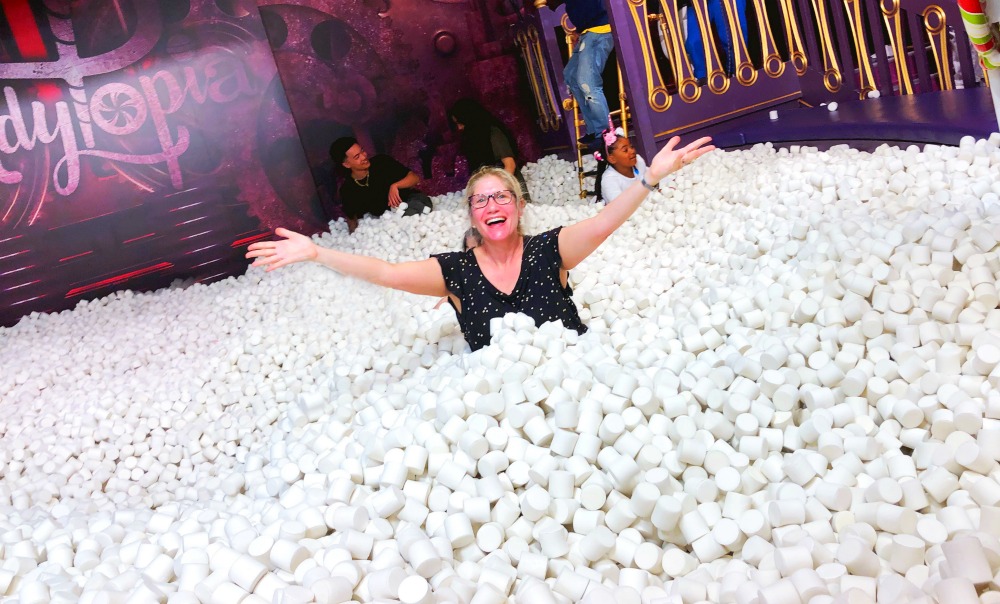 Cindy and I wax lyrical about this cityscape – the attention to detail is second to none and neither of us can resist the San Franciscan see saw!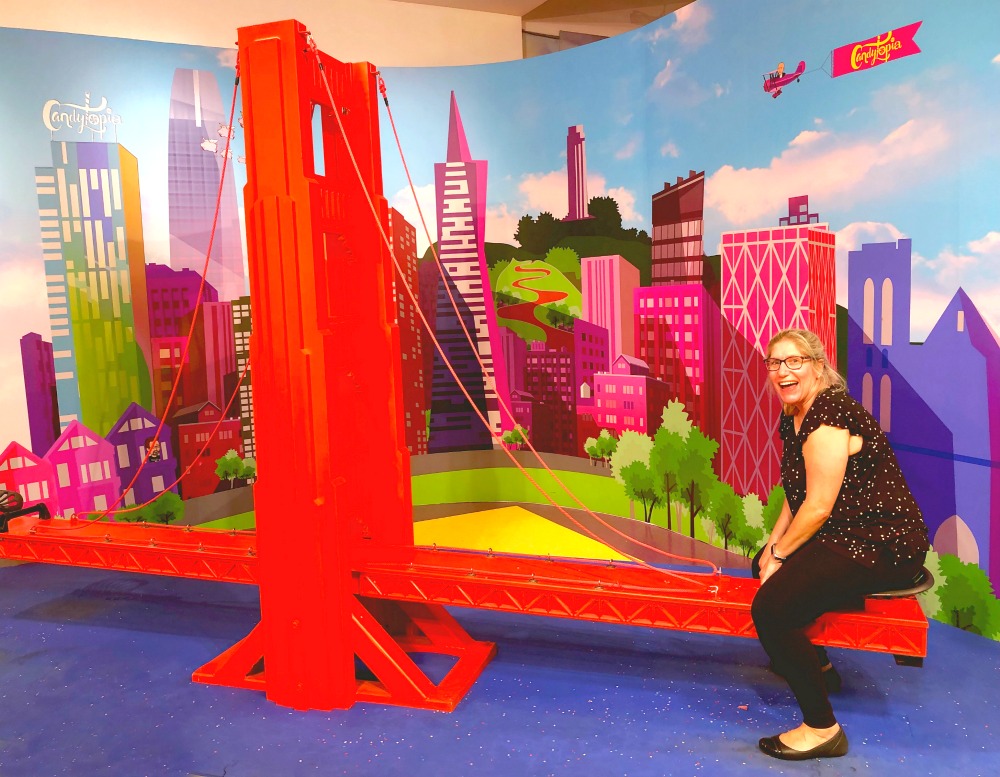 There is just time to take a sneak peek in the Candytopia store. With so many sweet temptations (cheesecake taffy anyone?) I am sorely tempted but I'm a minimalist at heart. Lucky then that consumables don't count, because Cindy tells me that these champagne teddies are  the real deal and I take some home with me which wraps my visit up really rather sweetly!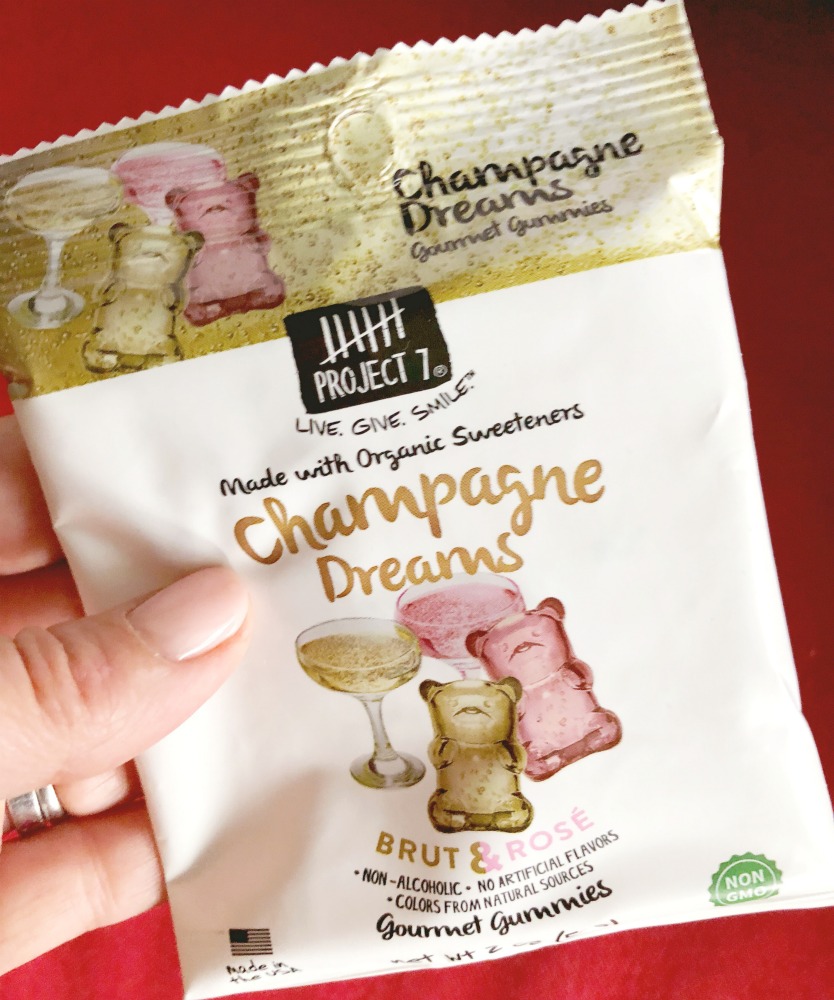 Know before you go – Candytopia
Where 767B Market Street, San Francisco
Tickets at www.candytopia.com/sanfrancisco Tickets are currently on sale until Sunday January 6 2019
Prices Adults $34     Children $26     Under 3s Free
This post is not  sponsored in any way. My ticket was independently paid for and all opinions are honest and my own.