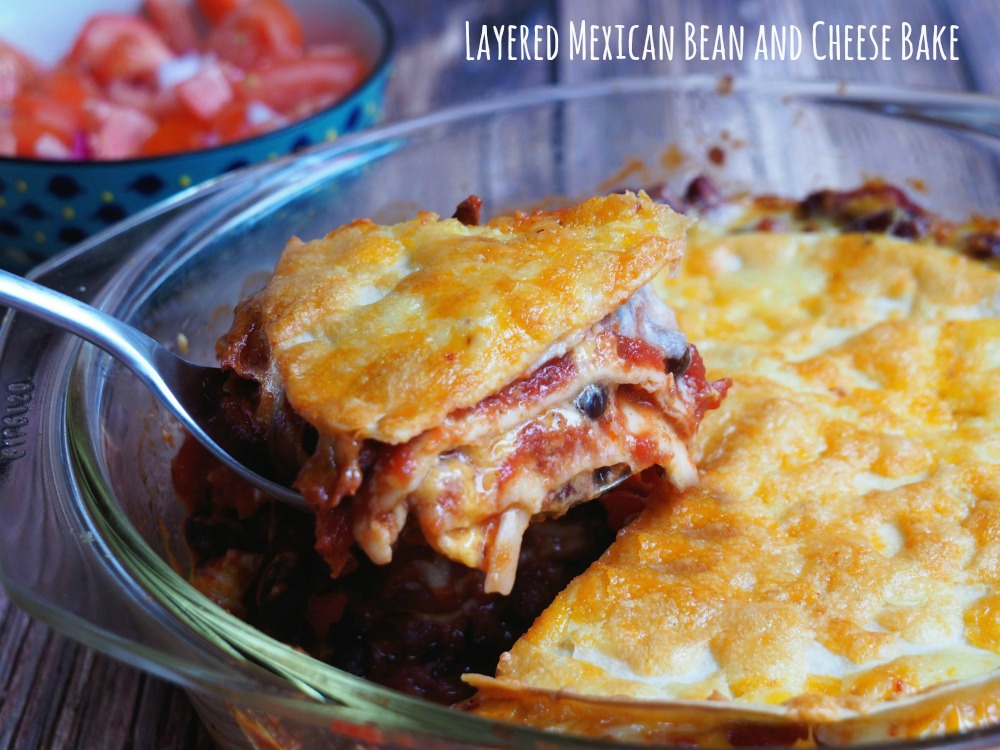 This Mexican inspired vegetarian meal is cheap, easy and super delicious, and is just perfect for Meatless Monday!
I have this theory that ugliest food tastes the best and this recipe (and the photography) totally backs that up! Actually, we love this so much it's been on high rotation at our place for over a year, because it's consistently delicious (and we can't get enough of it,) and it's consistently unphotogenic (and I can't get a good photo of it!) Notice how I blame the food and not my photography skills! Anyhoo, I couldn't wait anymore for the elusive perfect food photo because this recipe is just too good to share!
There's so much to love about this, it's quick, it's easy, it's cheap and it's packed full of pantry staples.  I make my own taco seasoning in the Thermomix, but  if it's easier for you,  just grab store bought seasoning and use as much as you fancy. The quantities for the homemade seasoning in this recipe can easily be halved and you'll still have plenty over. For a much milder flavour, skip the taco seasoning altogether and just add your favourite herbs and/or spices.
Talking of making additions and swaps, if you're a carnivore, minced meat would go great in this bake, just fry it off, before you start on the beans and spices. Similarly, if you don't have cheddar cheese, you can use grated mozzarella, or even a delicious mix of both.
This will feed a crowd, quickly, cheaply and easily but if you want to really seal the deal, serve it with this yummy Mexican Tomato Salad. You won't regret it!
But tell me, do you think ugly food tastes the best? Do you think spicy is nicey?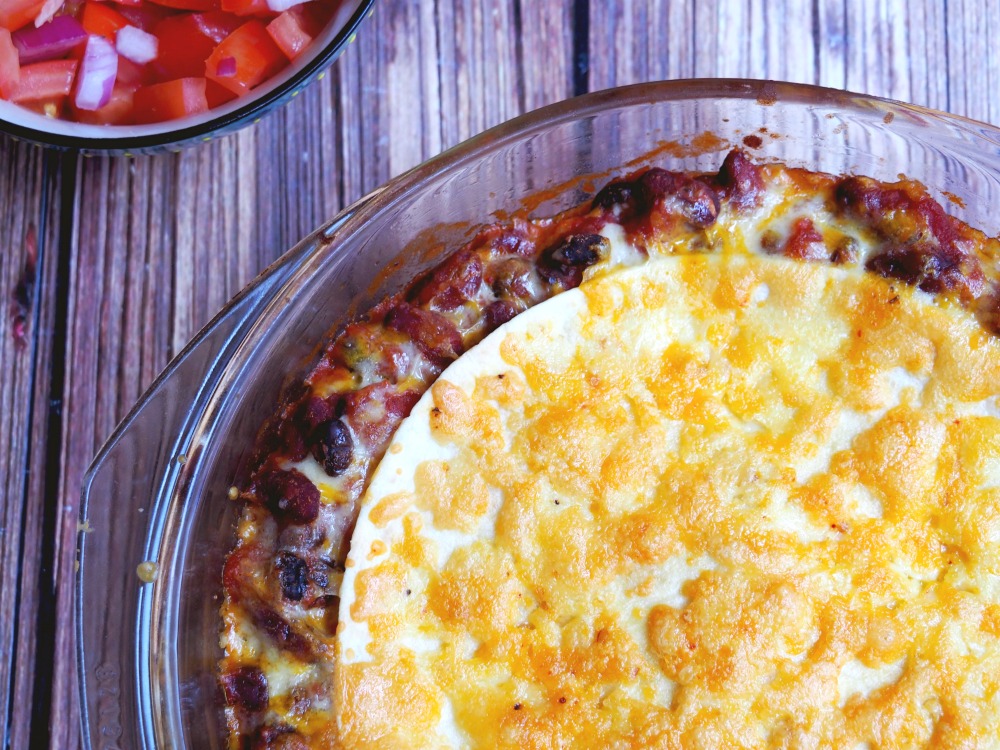 Ingredients
FOR THE TACO SEASONING (easily halved)
1 tablespoon oregano
1 tablespoon paprika
1 tablespoon cumin
1 tablespoon marjoram
1 teaspoon peppercorns (or black pepper)
1 tablespoon onion powder
1/2 tablespoon rock salt (or salt)
1/2 tablespoon garlic powder
1/2 tablespoon chilli flakes
FOR THE BAKE
1 x 400g can black beans, rinsed and drained
1 x 400g kidney beans, rinsed and drained
2 – 3 tablespoons taco seasoning
2 x 400g cans chopped tomatoes
3 tortillas, plus extra to serve
180g cheddar cheese, grated (or a mix of Cheddar and spicy cheese)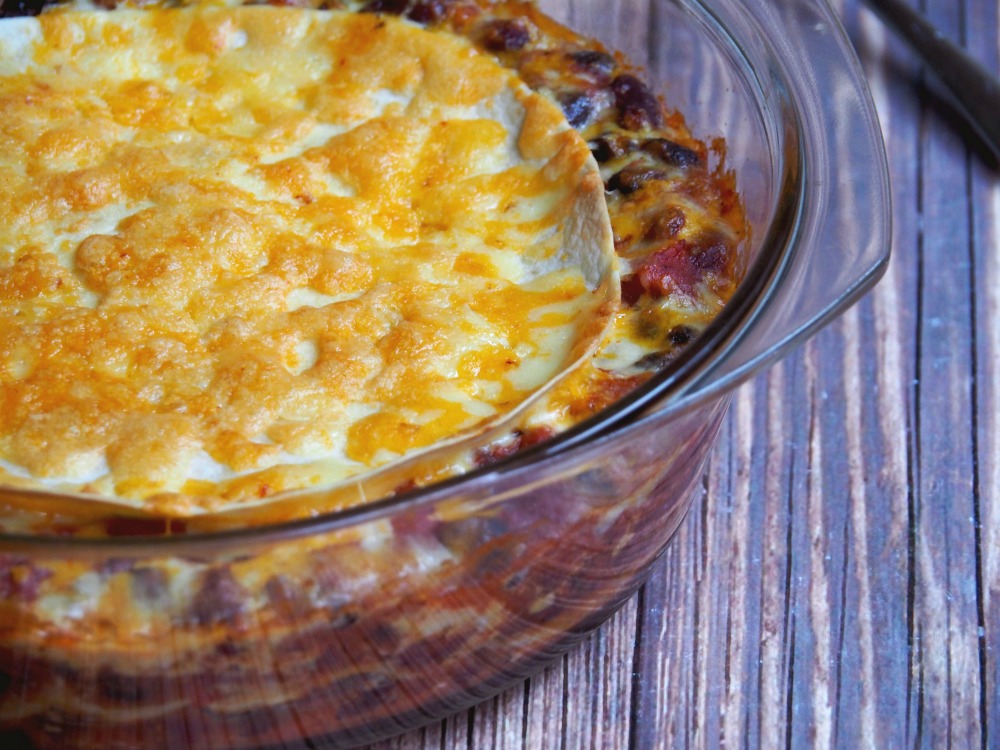 How to 
Make the taco seasoning. If using rock salt and peppercorns, grind all the ingredients in the Thermomix for 30 seconds  on speed 9. If not, simply mix all the ingredients in a bowl.
Preheat oven to 180C/160C fan-forced and lightly grease a round casserole dish.
Heat a non stick frying pan, add the beans and taco seasoning and stir for a minute or two until fragrant. Then add the tomatoes and simmer on a low heat for about 10 minutes.
To layer the bake, spread one third of the bean mixture over the base of the dish, sprinkle over 3-4 tablespoons of cheese and top with a tortilla. Repeat two more times, finishing with a tortilla.
Sprinkle over the remaining cheese and bake for about 15 minutes until tortillas are crisp and golden. Serve with Mexican Tomato Salad.