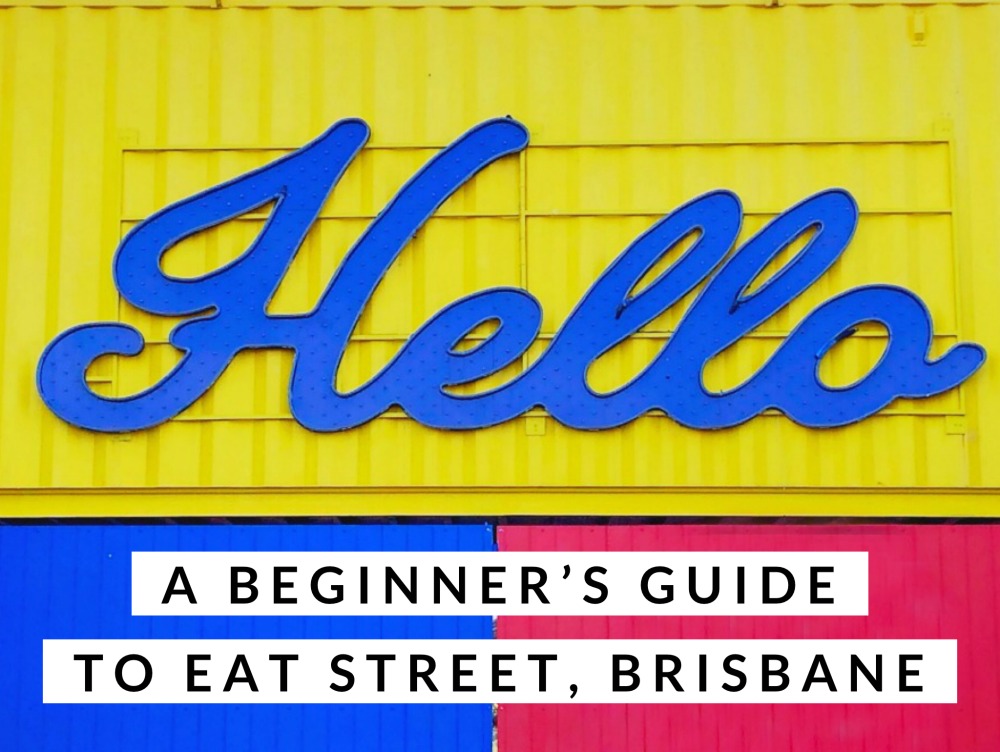 Once a former shipping container wharf, Brisbane's Eat Street is now a must-visit unique and delicious destination. Among the brightly coloured shipping containers you'll find a mouth watering array of international food, sweet treats and booze, brilliant live music, 180 degree river views and a fun and friendly atmosphere.
Whether you're an Eat Street first timer or old timer here are my Top Ten tips to make the most of your visit.
For the scenic route, take the ferry
If you want to drive, there are over 1200 free car spaces but a ride up the river on the CityCat is hard to beat. It's definitely a boat ride with a view and bonus, the Northshore Hamilton Ferry stop is just a leisurely 2 minute walk away from the Eat Street entrance!
Arrive early
Even if you don't want to eat early, arrive early to check out Eat Street in it's entirety before all the crowds descend. It's really quite a treat having the whole place (almost) to yourself.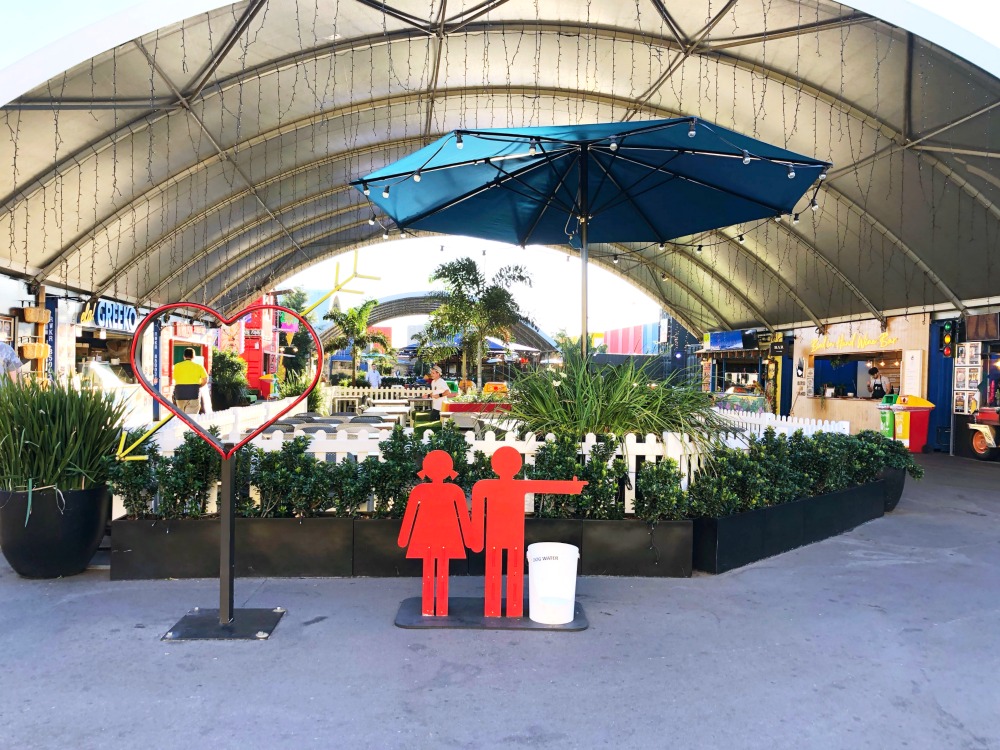 Bring some change for the entrance fee
There's a $3 entrance fee per person but kids aged 3-12 are free. Carers who accompany a person with disability are also free.
Spy before you buy
There really is such a smorgasboard of deliciousness at Eat Street it can be hard to know where to start. Spend some time walking around when you arrive so you can see everything that's on offer. No one wants to have eater's regret!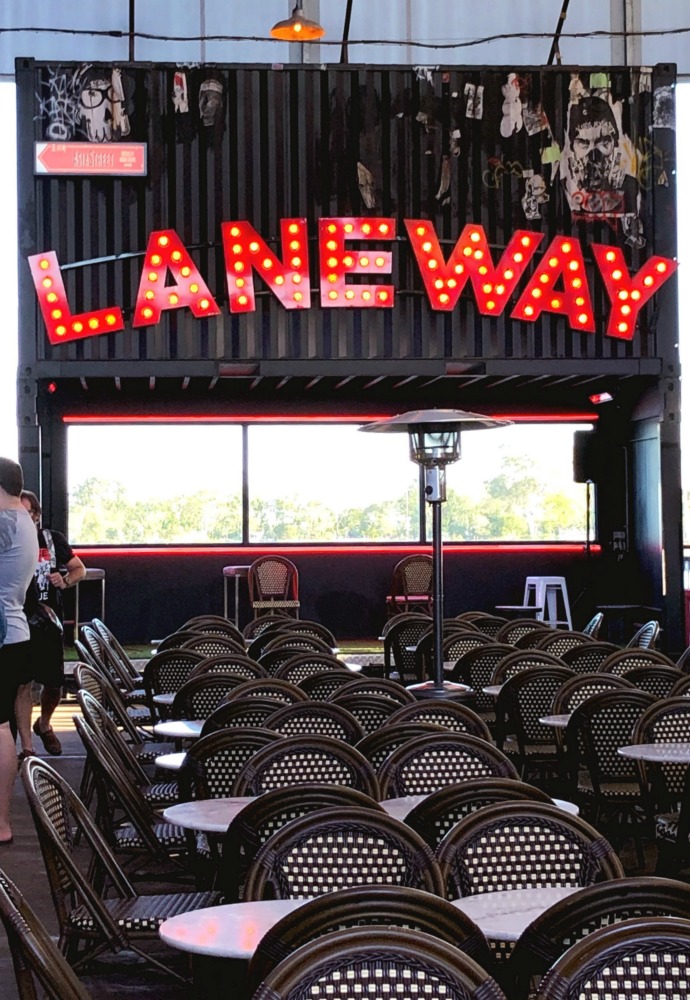 Bring cash and cards
Although some vendors accept cards, many are cash only. There are ATMs on site but they can get busy and as you come to Eat Street to eat and not to queue, it's a good idea to bring cash with you. Most items are priced between $10-15 so plan ahead and budget accordingly.
Take a refillable water bottle
There are water stations on site, so you can save the planet and your pennies by bringing your own water bottle. Do not BYO booze though, that's a big no-no.
Bring your Dog
Eat Street is a dog friendly destination. Just be sure your pooch likes people, is kept on a short lead and can be picked up in really busy areas. There are some pet free zones though, including private function areas and those with artificial grass.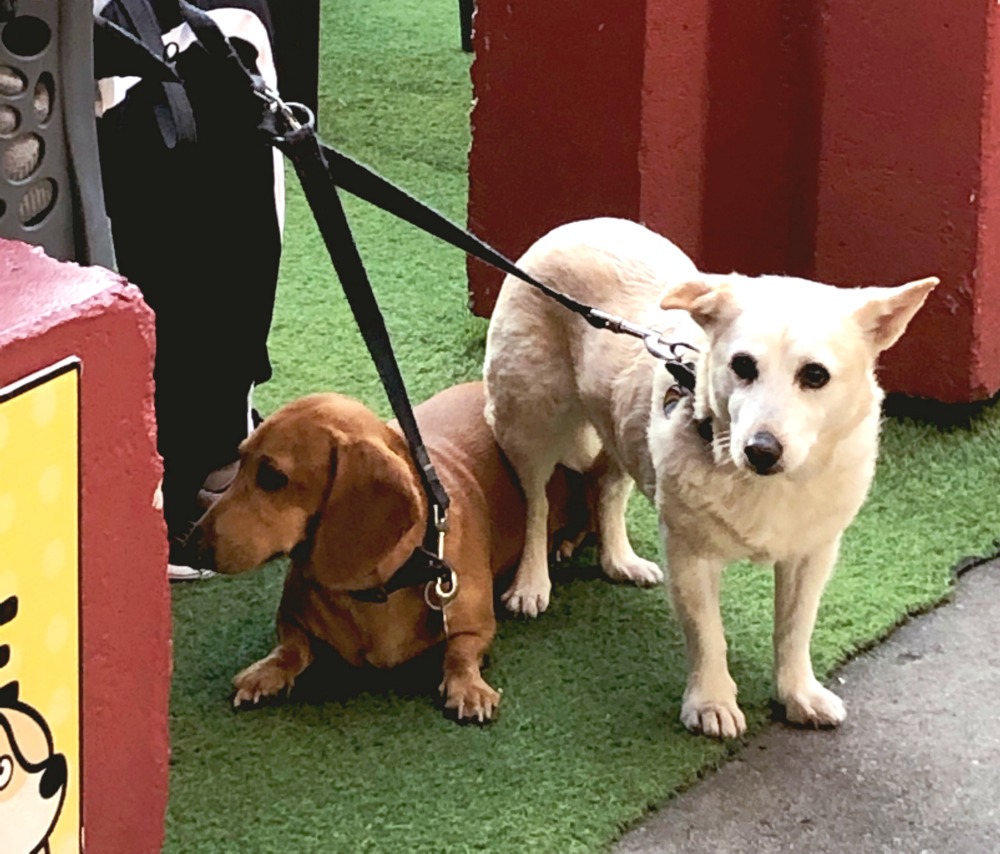 Pace Yourself
Take your time eating, drinking and enjoying the atmosphere. No one wants to eat too much too soon and peak too early!
Share Meals With Friends
Sharing is caring, right? Sharing dishes with a group of friends has to be the most fun way to make the most of, and eat the most of Eat Street. The more of you there are, the more dishes you can try!
Save Room for Dessert
If you have sweet teeth (or even if you don't,) do save some room for dessert because the sweet treats here are next level – from fairy floss to honey puffs and chocolate fountains to doughnut fries, Eat Street is all your sweet dreams come true.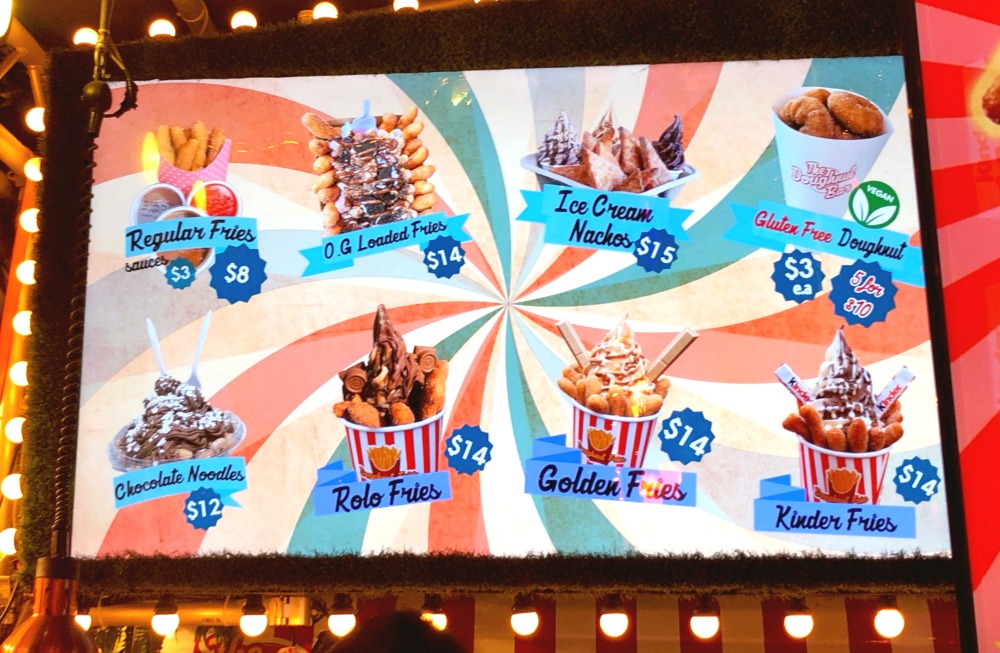 Of course, getting to Eat Street is the easy part, it's deciding what to eat that makes it tricky! But don't worry, I've taken one for the team and have done lots of edible research… You're welcome!
What to eat…
Kiosk 77, East Wharf
We had heard great things about the yiros here, so it's not a case of if we'll try but what we'll try. There's a choice of chicken, lamb, wagyu beef or halloumi but in the end we hedge our bets with the lamb ($15) and add some haloumi ($3) for good measure.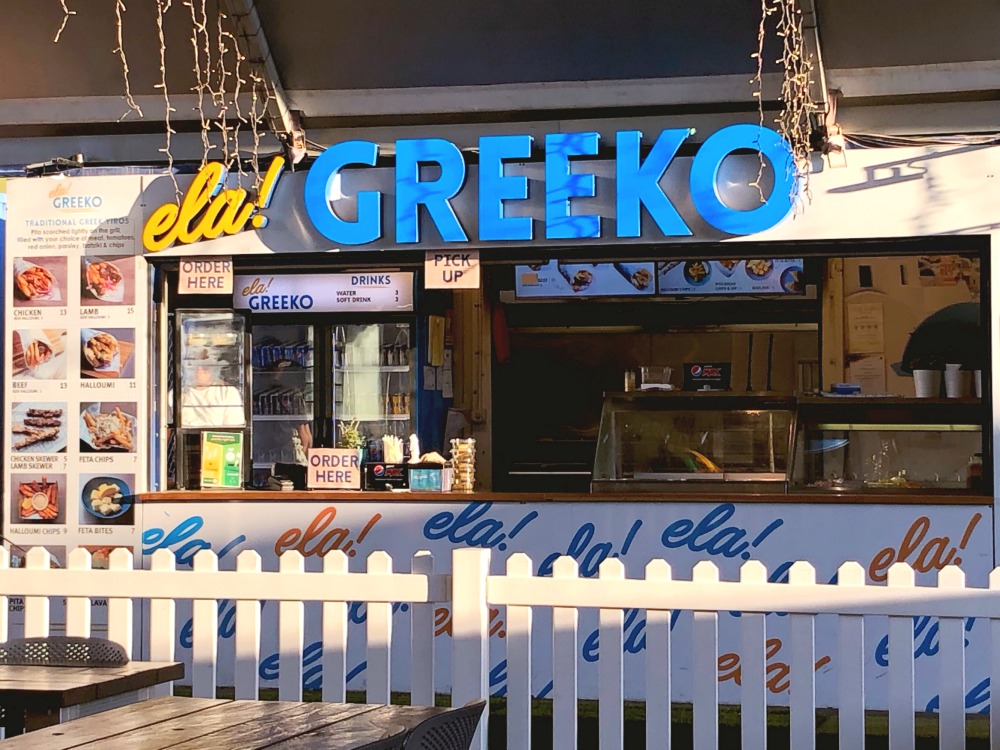 It's a very generous portion, the meat is tender and the chips are hot and crunchy. Our only regret is not having room for the feta fries!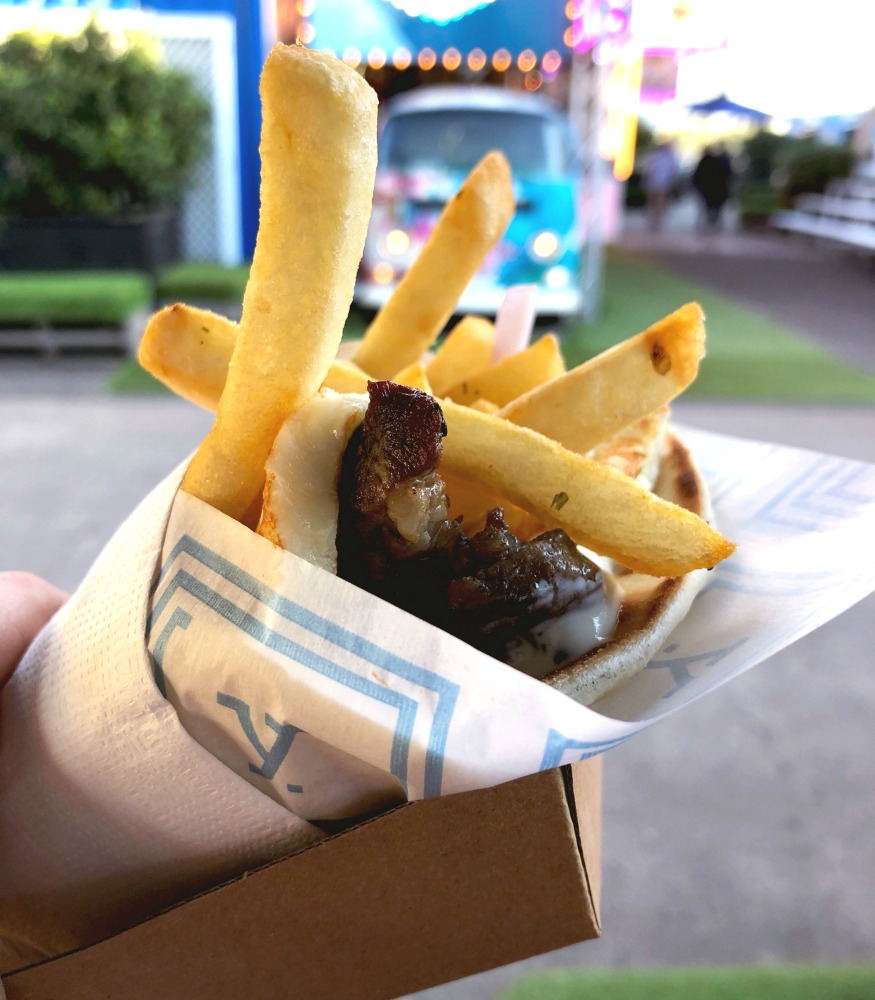 Kiosk 20, Laneway
As it's name suggests, this place specialises in chicken and pork but although there's a decent selection of wings and things, we only have eyes for the pork belly. There's a choice of a Pork Belly Burger and the Signature Crispy Pork Belly ($15), of which we choose the latter, because the menu had us at crispy!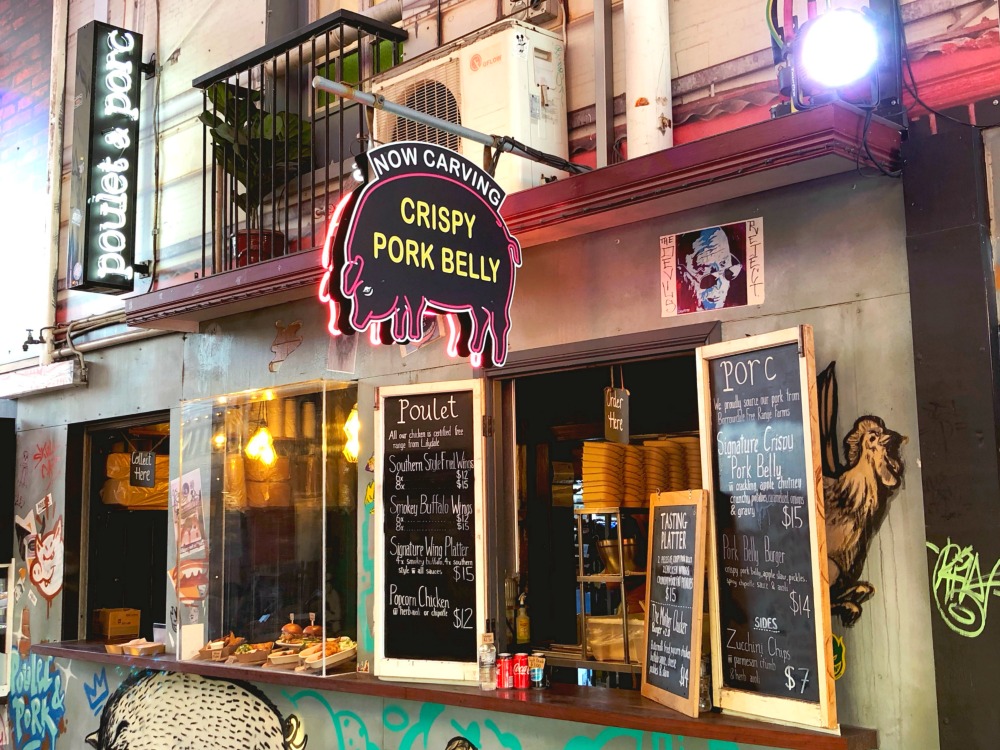 The pork belly is as promised, crispy, delicious and complete with crackling and it's served with a tasty apple chutney, crunchy potatoes, caramelised onions and the quintessential gravy. Get in my belly, pork belly!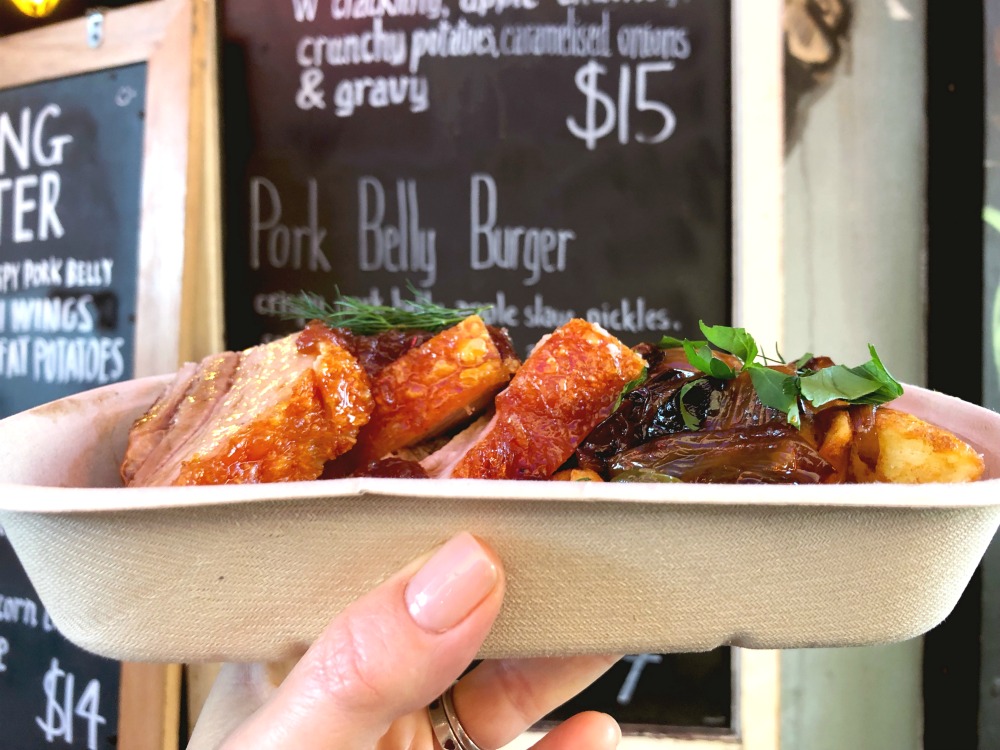 Kiosk 75, East Wharf
This place has a delicious looking and varied Japanese menu specialising in takoyaki, gyoza and chicken karaage but I only have eyes for the gyoza. Like so much of the food at Eat Street, my pork gyoza are freshly cooked, so I take my buzzer to my table and wait patiently.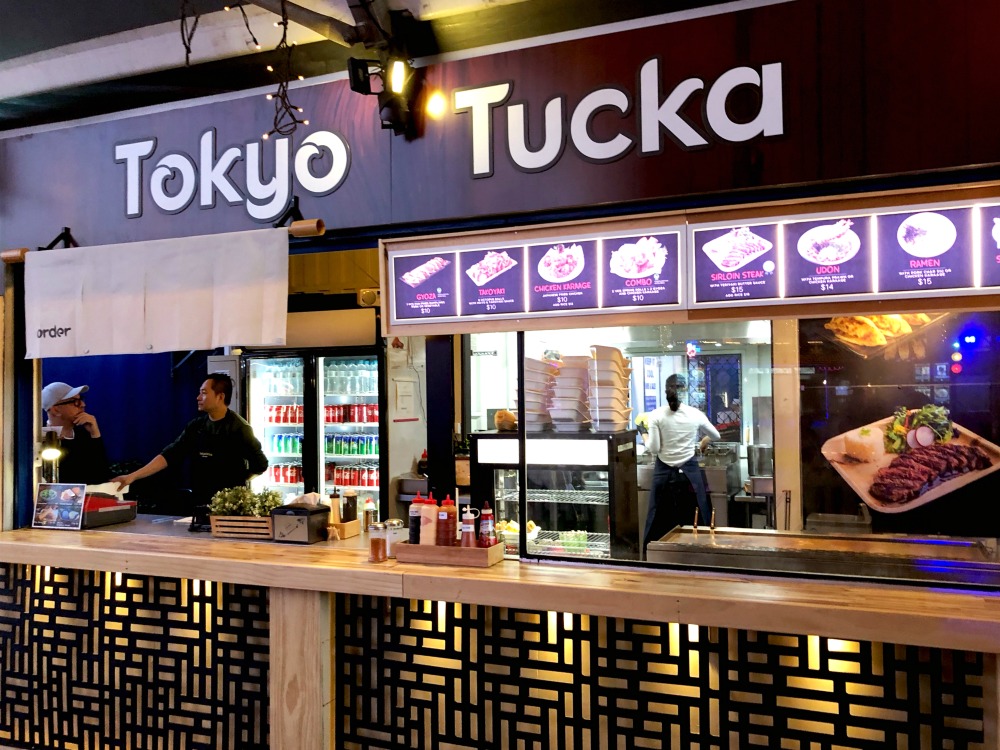 The gyoza are hot, plump and tasty and are served with some tangy soy sauce on the side. ($10.) If you like your dumplings meat free, there's a vegetarian/vegan option too!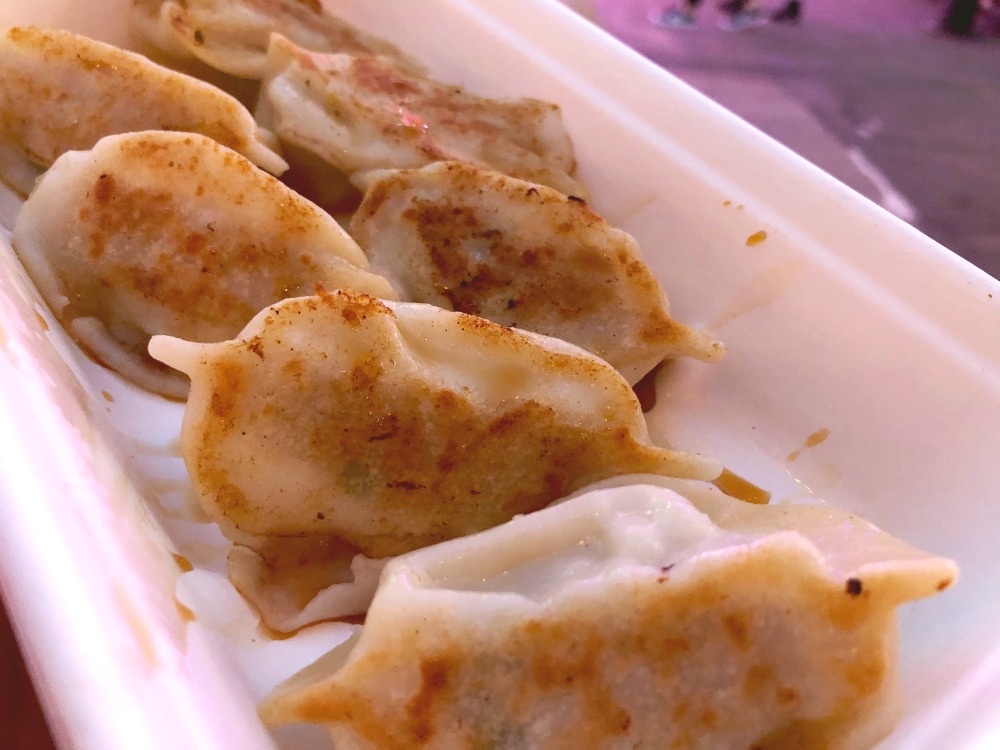 Kiosk 72, Main Deck
We see someone eating fried chicken at East Wharf and it looks so good, I have to ask them where they got it. It's from Rogue Spice Fried Chicken and we can't get to the kiosk quick enough. There's a big queue but the chicken is worth the wait.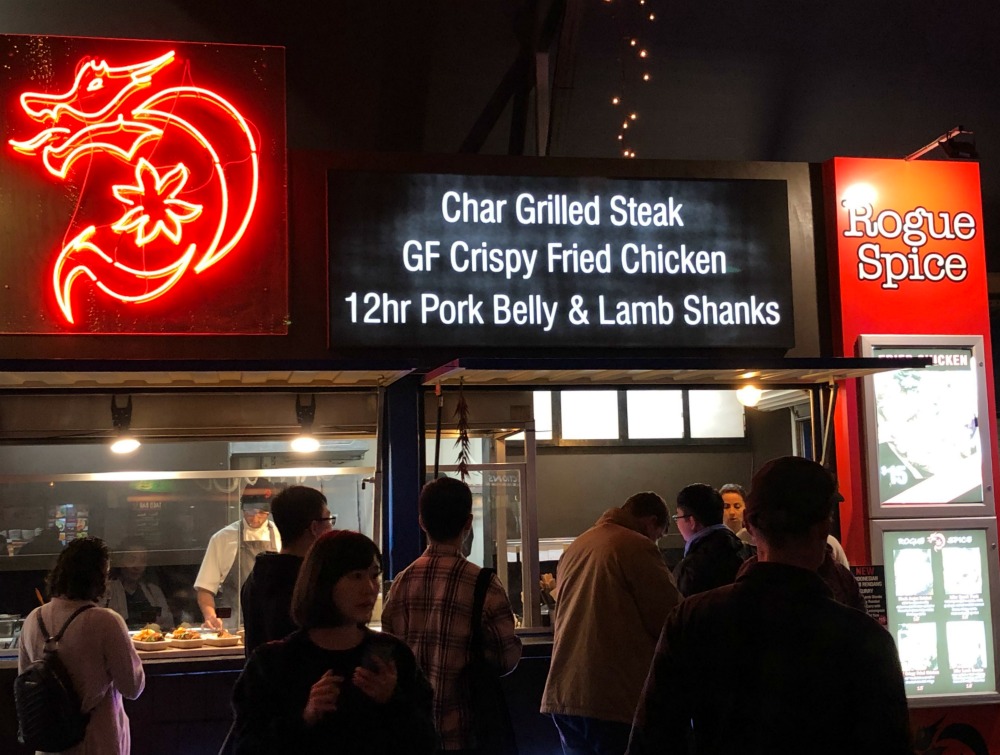 Like all the things we try at Eat Street, it's freshly cooked. If you're gluten free, this is a great option. There are 4 juicy bits of chicken in the serve ($15), each one crispy and delicious and the sambal mayo is the perfect accompaniment.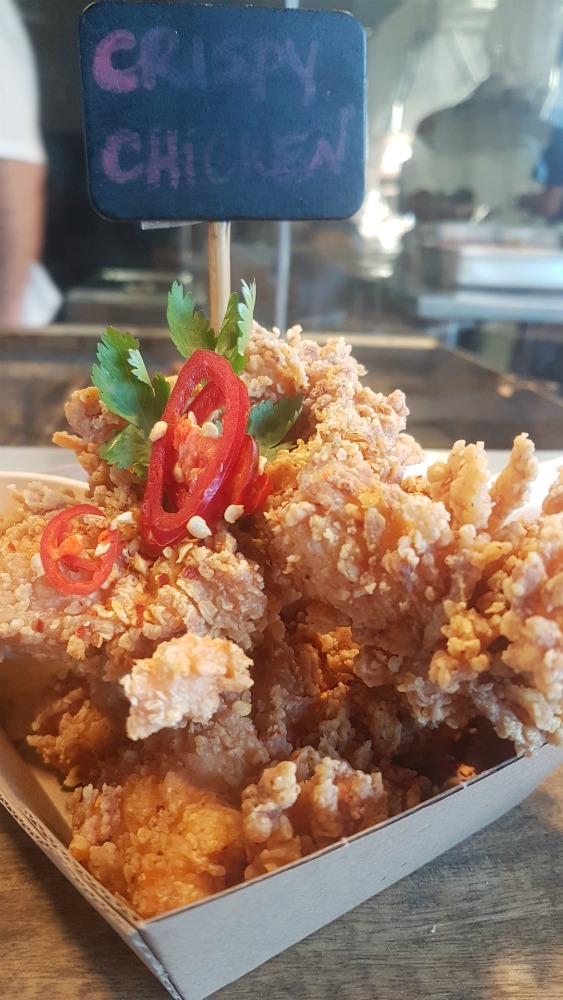 Kombi Alley
Don't miss a visit to Kombi Alley where you'll find the most outrageous sweet treats and more neon than you can shake a stick at! Although the Doughnut Bar is top of my Eat Street wish list, I show incredible restraint and save the best til last. The speciality here is the Doughnut Fries although they serve regular and vegan/gluten free doughnuts too.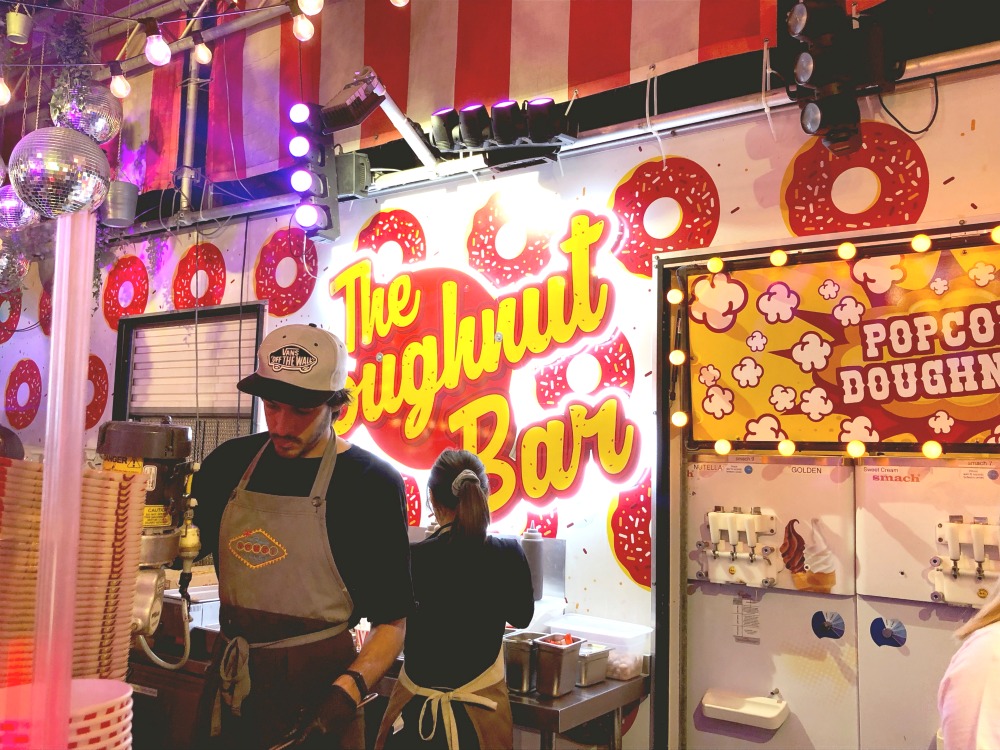 In the name of research, we order the Golden Fries ($14,) signature Doughnut Fries topped with soft caramel gelato, salted caramel pearls, premium white chocolate and caramel fudge. In theory, we are each going to try just one or two of the fries but in reality, it tastes so darn good that we polish it off. Oopsie!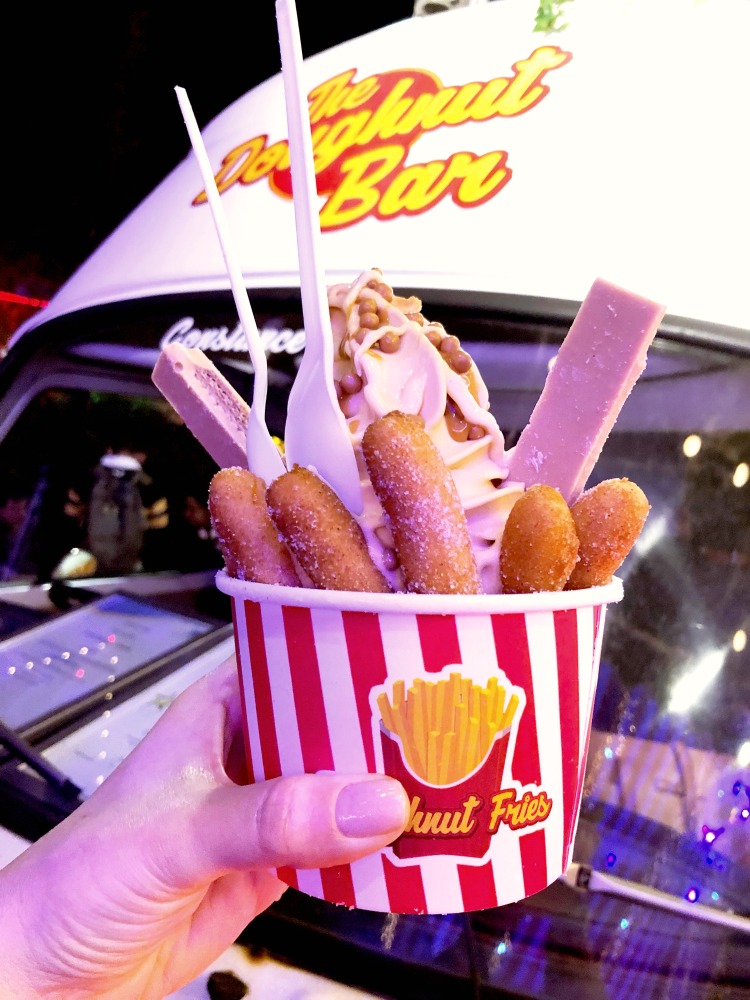 Marketplace
My only regret is that I have no stomach space for Professor Fairy Floss' crazy candy creations because I've heard such great things about them and I would love nothing better than to eat a fairy floss bigger than my head! At over 1 metre tall, the Tallboy ($14) is tall by name and tall by nature, it's fairy extra! Don't miss it!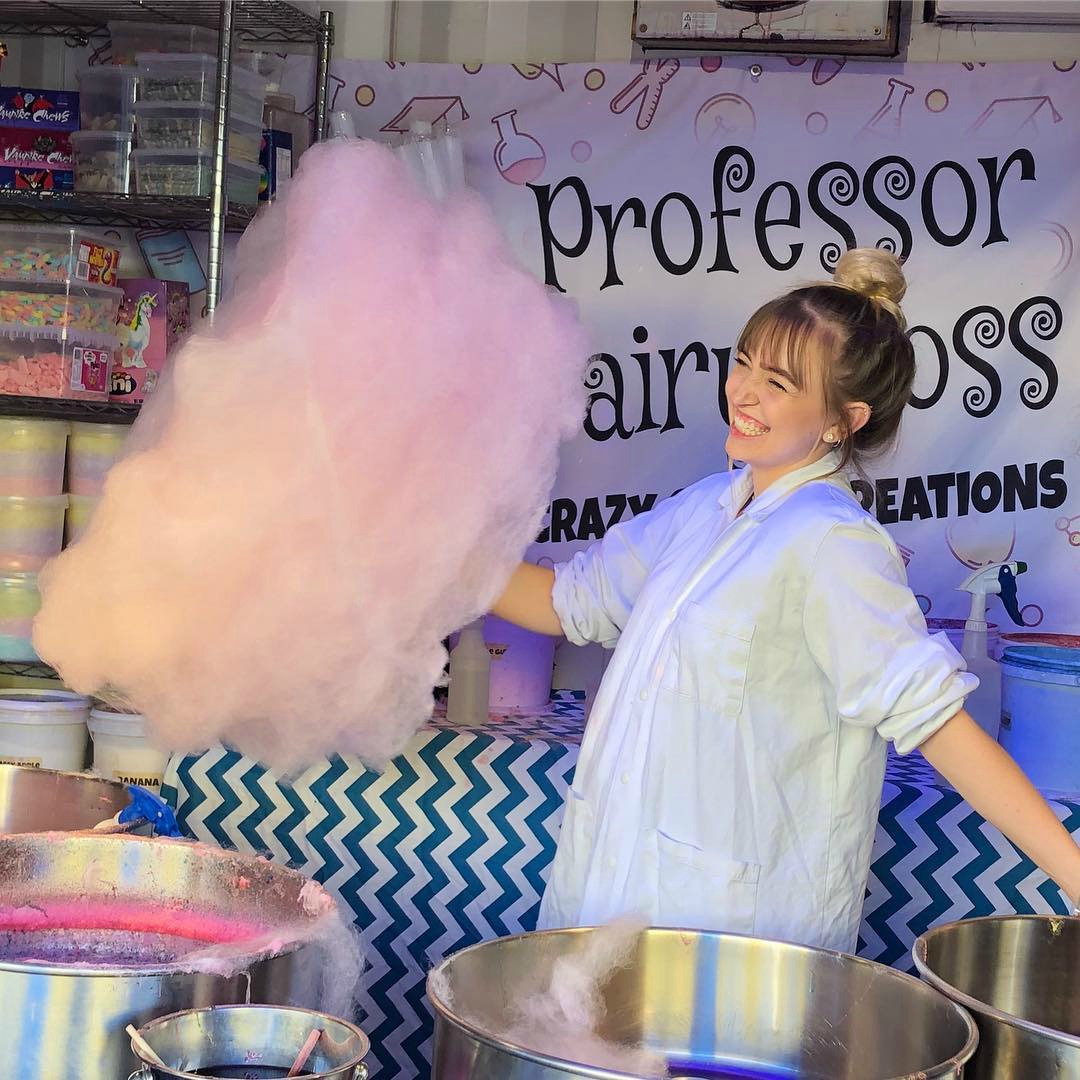 If you're feeling thirsty…
Bird in Hand Winery Bar
Here you'll find fine wines from this Adelaide winery and a selection of cheese and nibbles to go with it. Our large glasses of Pinot Rose set us back $13 and are most pleasing.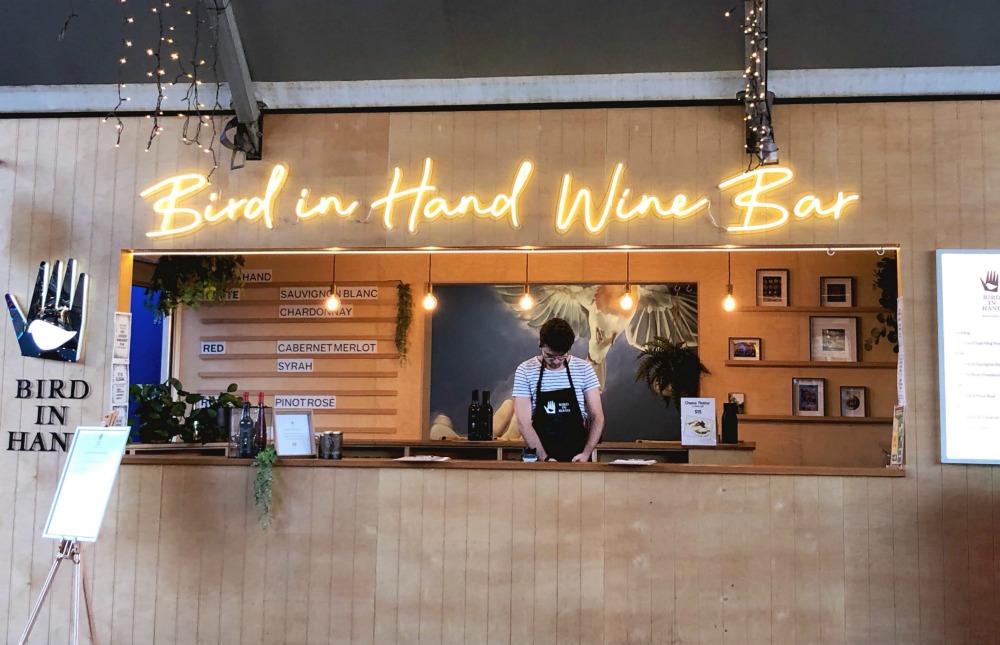 Monkey Shoulder Cocktail Bar
I don't know if this really is the world's smallest bar (although it is rather cosy,) but I do know that it serves some amazing cocktails at just $12 a pop. We both try the Old Fashioned (Monkey Shoulder, simple syrup and bitters) and those cocktails really hit the spot!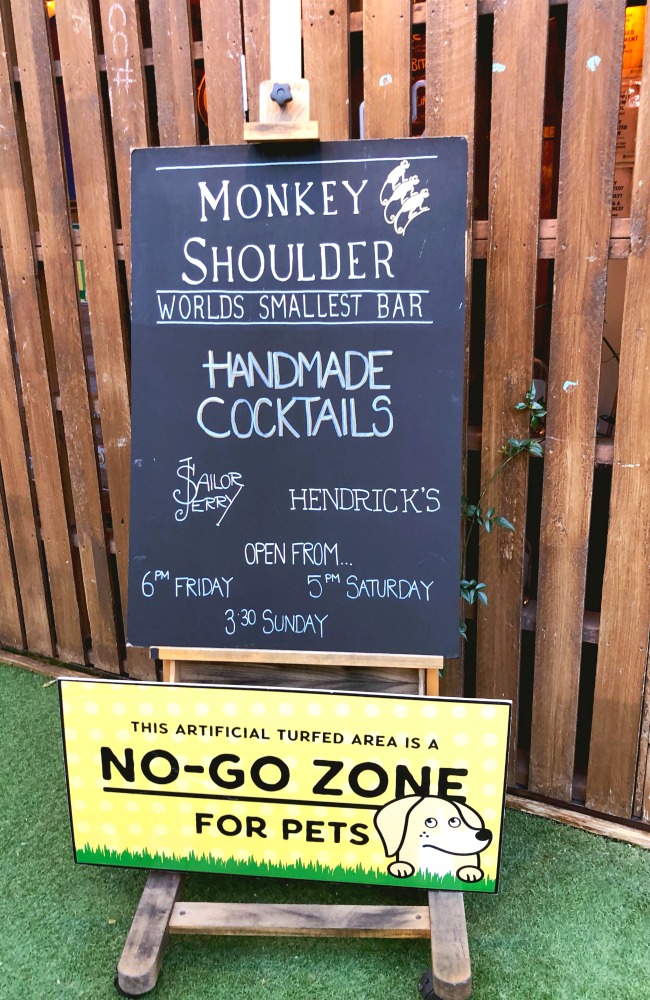 If you're still thirsty, there are a few other bars to explore and lots of non-alcoholic options too, including Ginger Beer, mocktails and there's even an organic teahouse.
If you went to Eat Street, what would you eat first? And if you've been, what should I add to my list for next time? Because there will be a next time!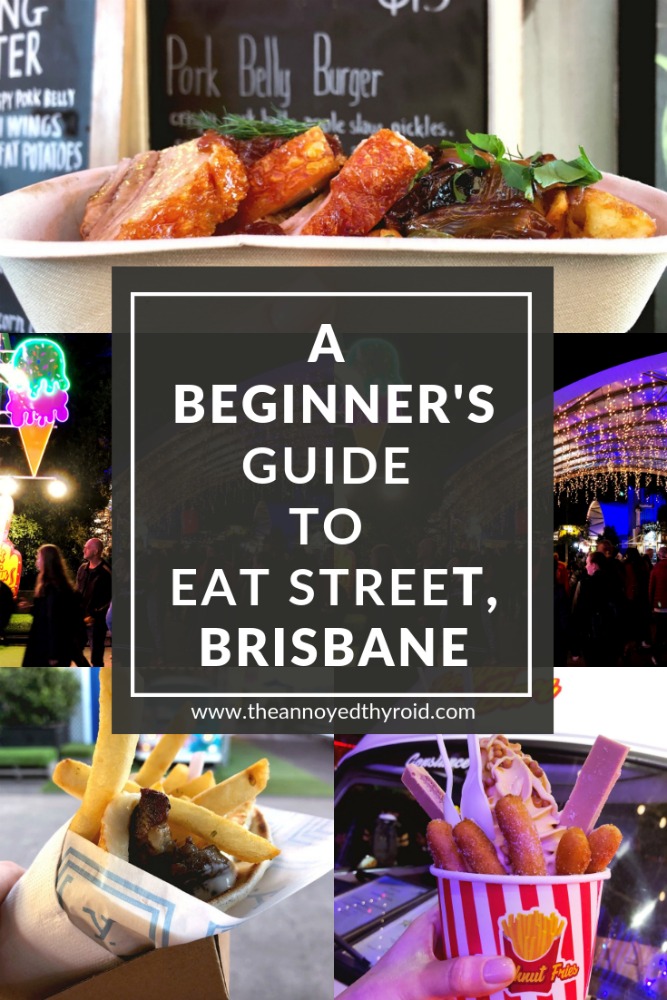 All food, drinks and entrance fees were independently paid for and all opinions are honest and my own.
Linking up with Denyse for Life This Week