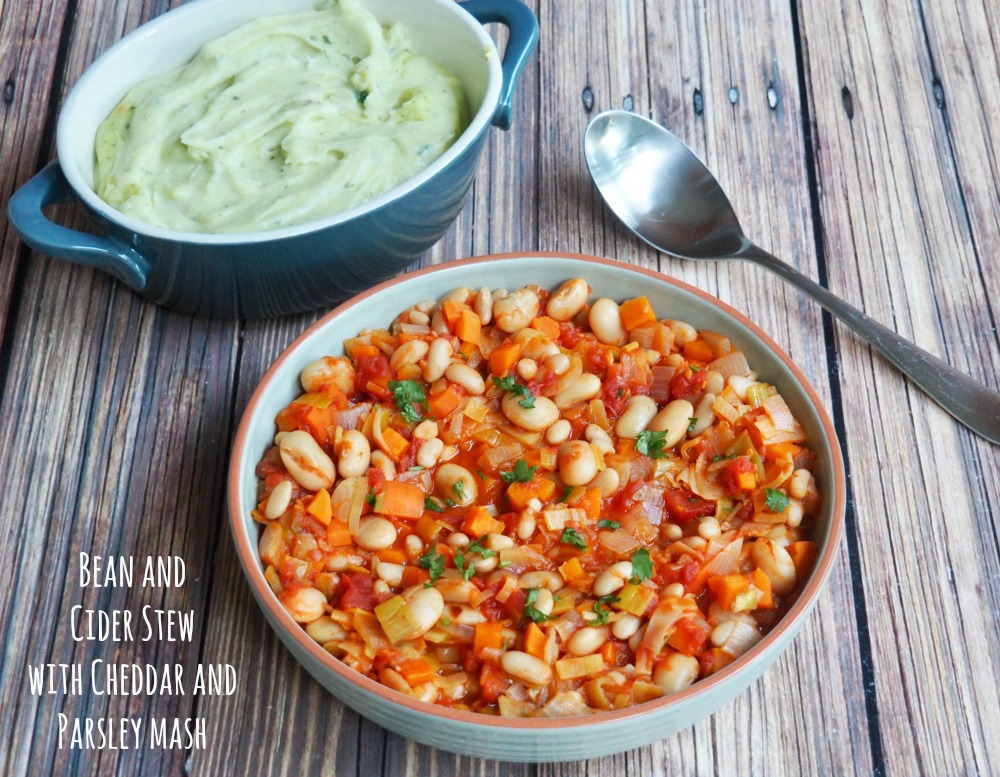 Packed with beans and veggies this budget friendly Bean and Cider Stew is full of colour and flavour.
I always keep a stash of canned beans in the pantry and I'm always looking for delicious new ways to use them and our recent visit to Bilpin Cider was just the incentive I needed.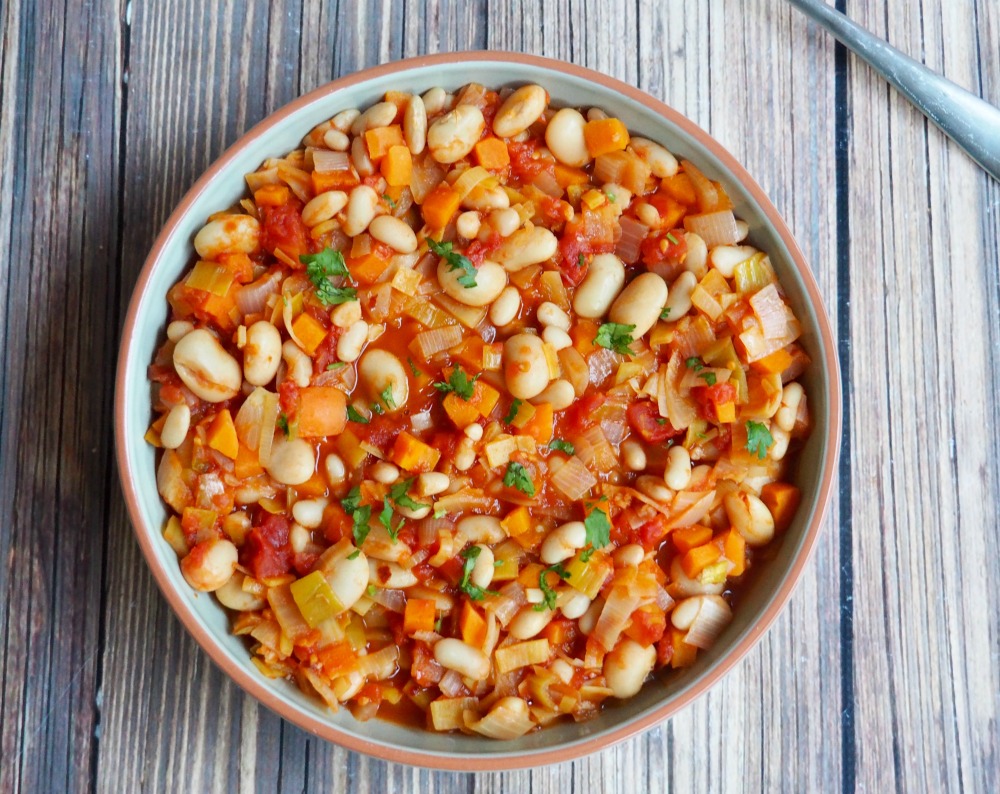 The main reason we went to Bilpin Cider was for a furmily reunion to catch up with Teddy Roosevelt's brother and sisters and their pawrents but of course, the delicious cider was a huge draw card!
I had a tasting paddle and although I left empty handed of cider and full handed with dog, I was thrilled to find Bilpin Cider at my local bottle shop. Of course, I bought the cider knowing full well that the recipe only called for part of the bottle and was happy in the knowledge that I could drink the rest!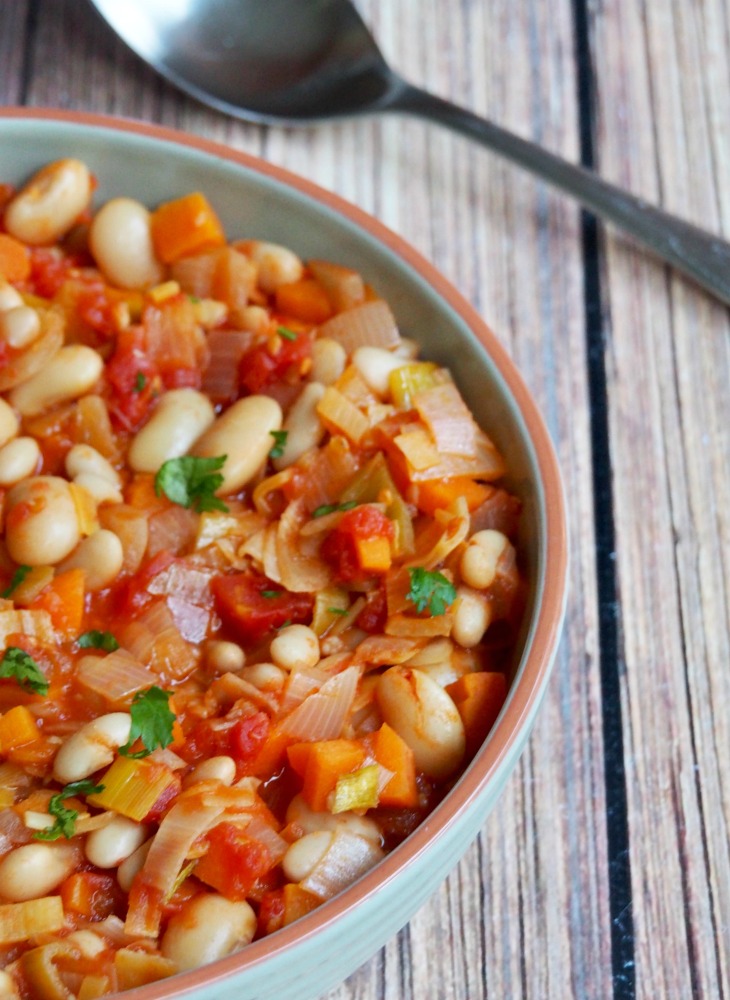 In case you're wondering the cider does not make this dish taste boozy but it does give it a super delicious flavour although for an alcohol free version, skip the cider and add a little more vegetable stock.
This dish is super versatile in terms of the beans and veggies too. I like to use butter beans because they're big and chunky and add a lot of texture but honestly, you can use whatever you have to hand.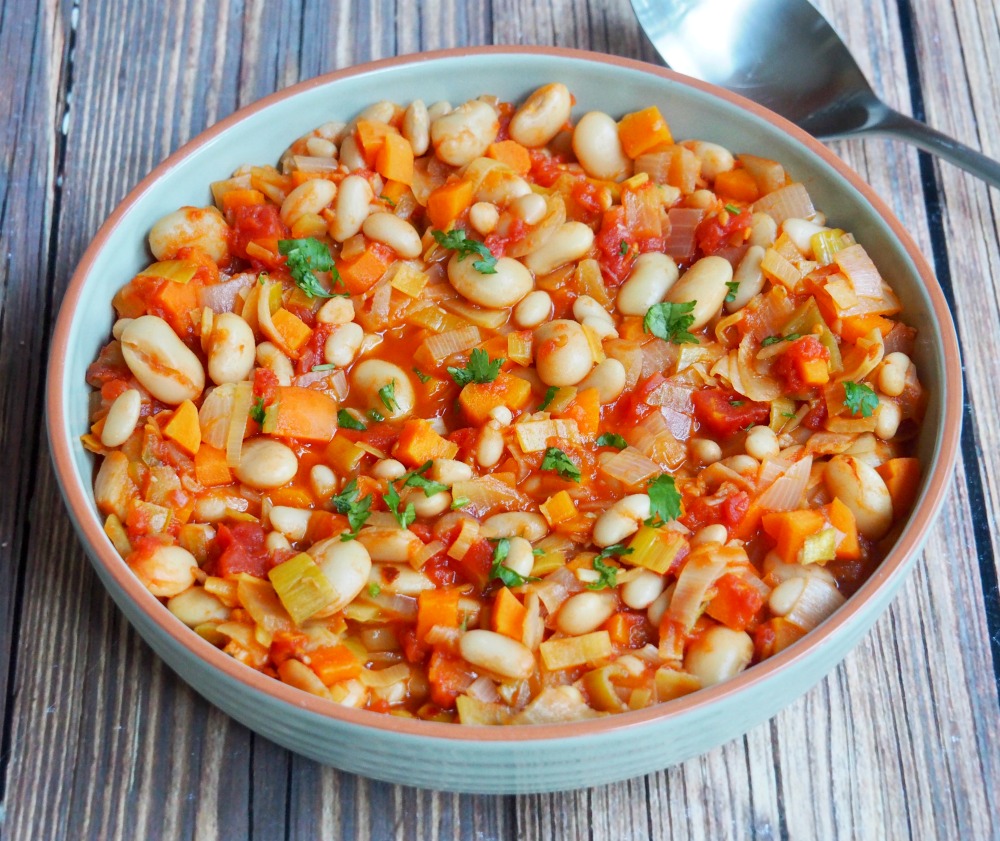 Similarly, if you like a bit of meat with your veg, chop some sausages into chunks, fry them off for a few minutes and then chuck them into the stew to simmer. You won't regret it.
The mash isn't mandatory but it's so delicious you won't want to miss it. We like to scatter the cheese on top for a crispy, cheesy finish but if you're pushed for time, mix it into the mash with the butter.
Do you hoard anything in your pantry? What would you serve with this dish?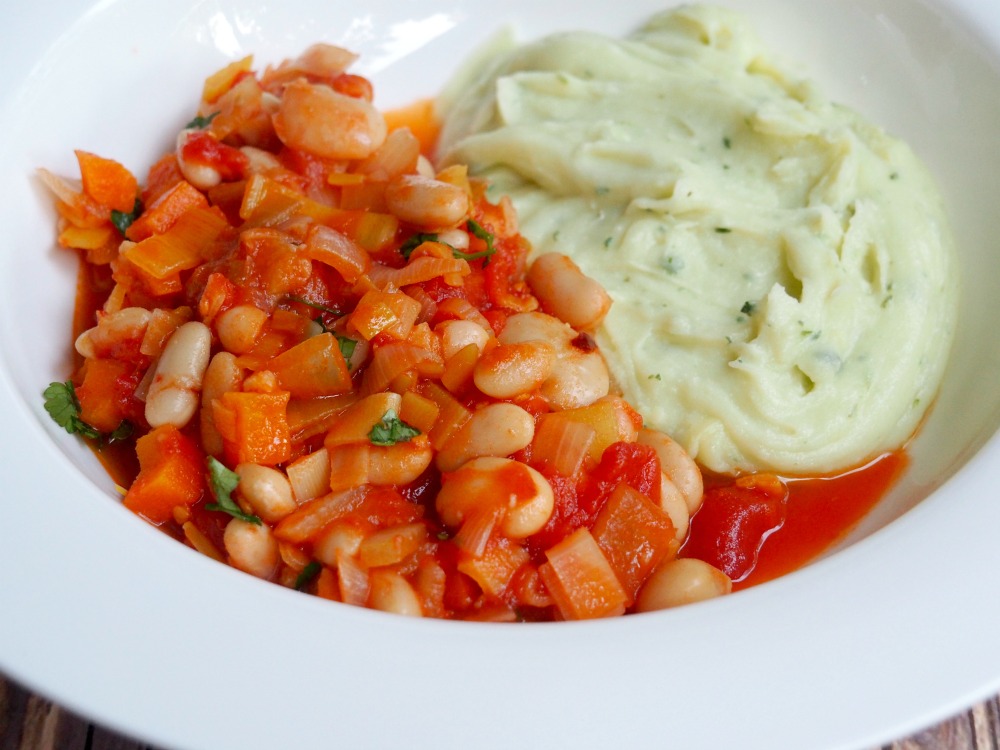 Ingredients
FOR THE STEW
1 tablespoon oil
1 onion, finely chopped
2 cloves garlic, crushed
2 carrots, finely chopped
1 leek, chopped
pinch chilli flakes (optional)
1 tablespoon tomato paste
1 x 400g tin chopped tomatoes
1 x 400g tin cannellini beans
1 x 400g tin butter beans
200ml dry cider
250ml vegetable stock
FOR THE CHEDDAR AND PARSLEY MASH
1kg potatoes, chopped
250g milk (ONLY FOR THERMOMIX)
25g butter
handful chopped parsley
100g mature cheddar, grated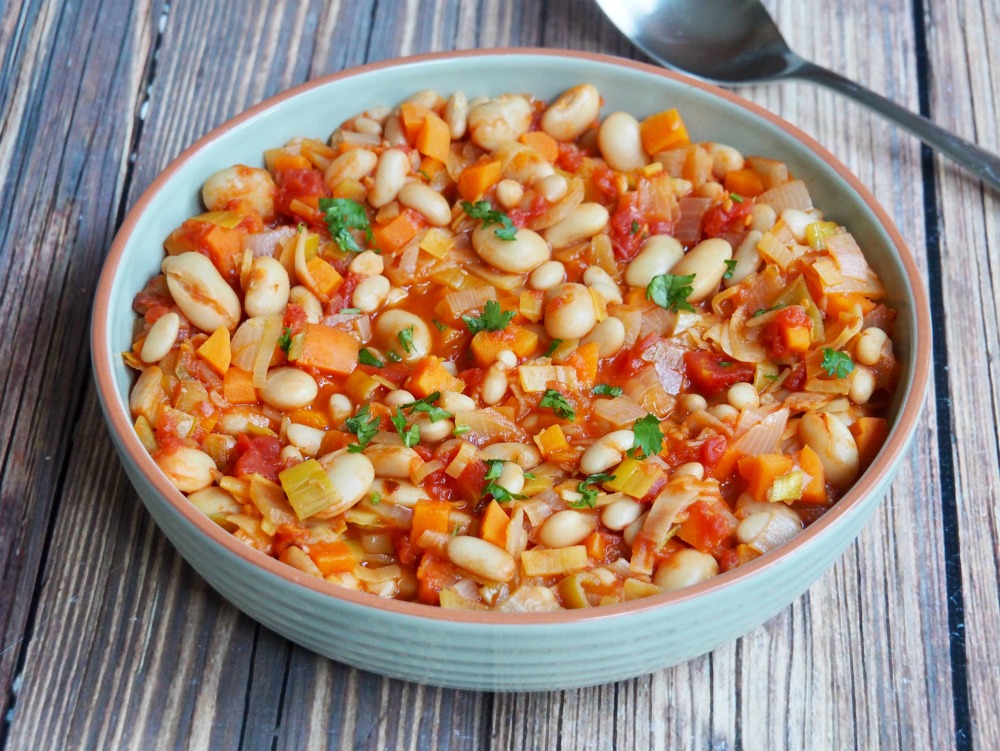 How to – Bean Stew
Heat the oil in a large frying pan and cook the onion, garlic, carrots and leek until soft but not coloured. Add the chilli flakes if using, and stir until fragrant.
Add the remaining ingredients, bring to the boil and then simmer for 15-20 minutes until the veggies are tender and the stew has thickened. If the liquid is evaporating too quickly, add a little water while the stew is simmering.
Meanwhile make the cheddar and parsley mash and serve with the stew.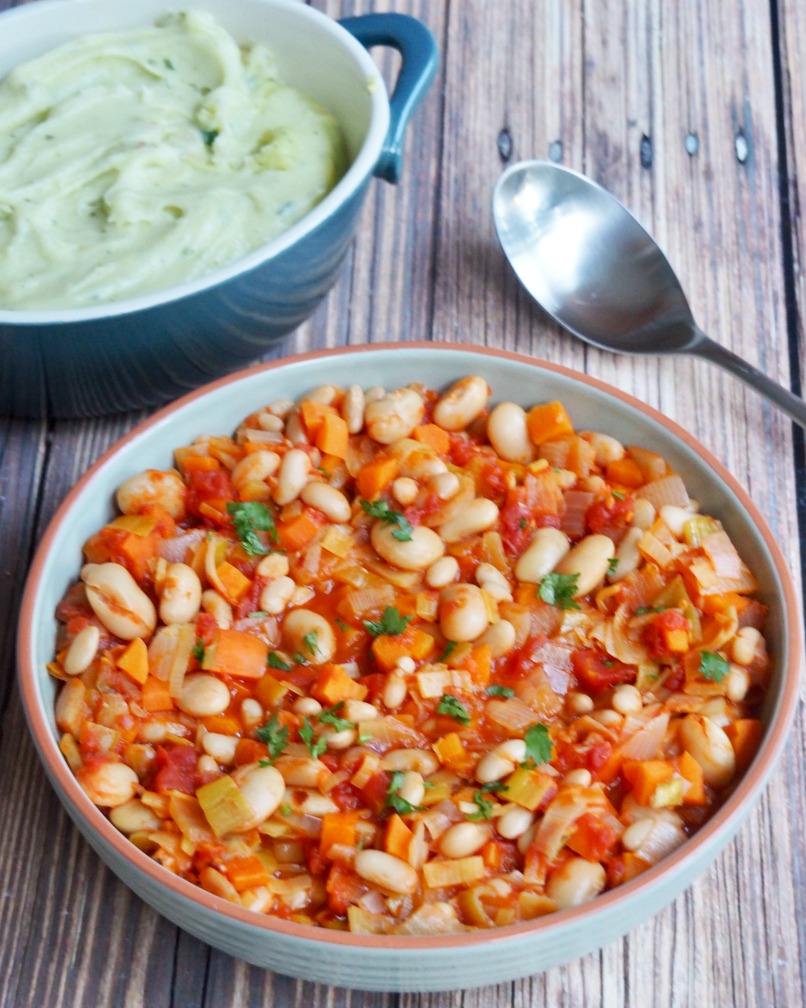 How to – Cheddar and Parsley Mash
STOVETOP
Cook the potatoes in boiling salted water for about 15 minutes
Drain, return to the pan, with a splash of milk and the butter, mash and parsley.
Season and place in a heatproof dish, top with cheese and pop under the grill until cheese is golden and crisp.
THERMOMIX
Place potatoes in TM bowl and add 250g milk and 1 teaspoon of salt.
Cook for 20 minutes at 100C on speed 1.
Check potatoes are cooked, insert the butterfly and add the butter, parsley. Mix for 30 seconds on speed 4.
eason and place in a heatproof dish, top with cheese and pop under the grill until cheese is golden and crisp.