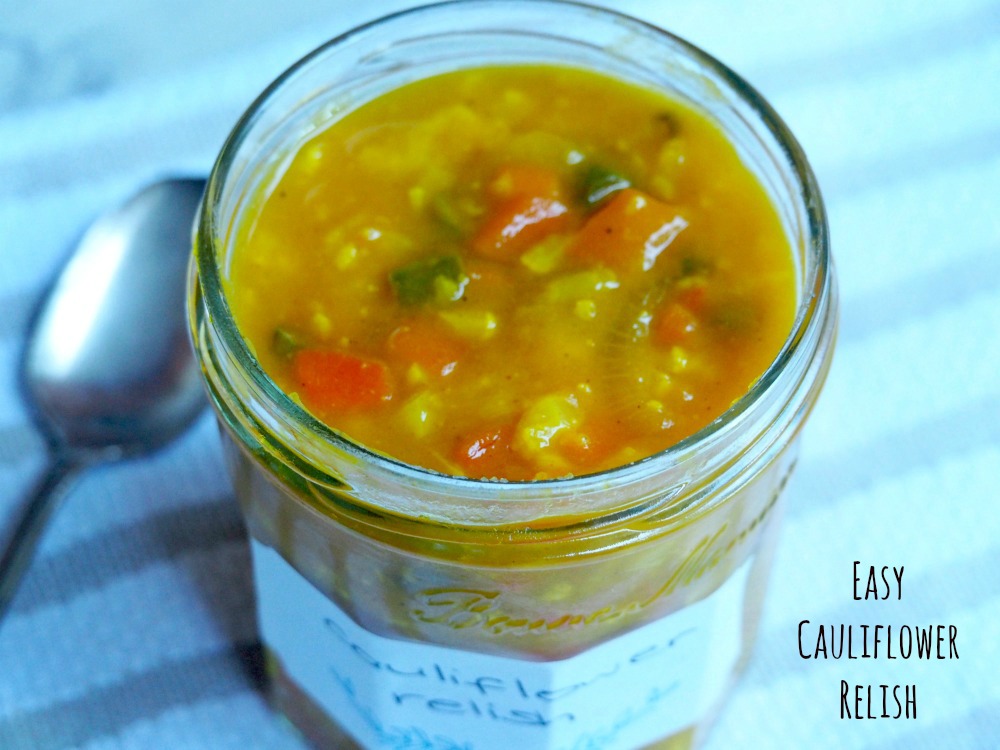 This sweet and lightly spiced Cauliflower Relish is so easy to make and delicious to eat.
You might remember Luce from her from her famous Pumpkin Dip and Turkish Breadsticks and like that recipe, this one is a cracker! Technically, this relish is her sister-in-law Susan's recipe but let's not split hairs.
A few weeks ago, Luce returned from the family farm with the most delicious haul of farm fresh fruit and veggies. Luce has a specific post-farm routine, she shares some of her bounty with me and then she heads upstairs where she preserves all the farm fresh goodness in various ways.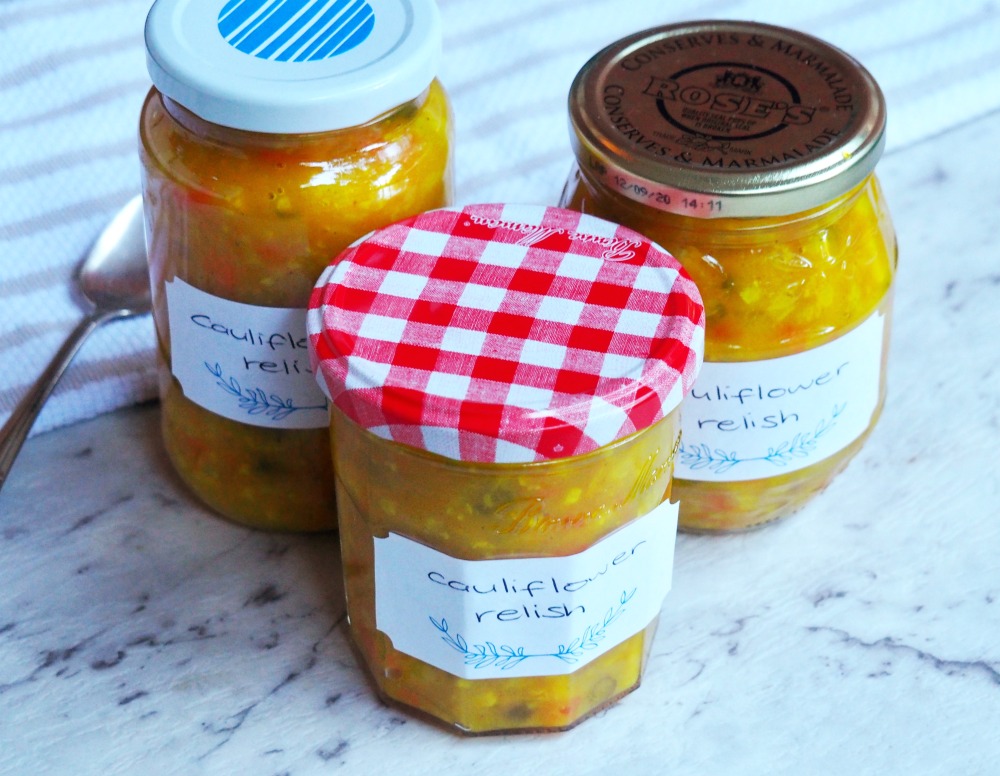 I watch and learn all Luce's tips and tricks – some of my favourites including slicing and freezing limes so that they can be dropped into a soda water or a gin and tonic at a moment's notice. I also squeeze all the juice out of the lemons and freeze into ice cube trays which is great for cooking and also to add to some sparkling water for a lovely, lemony drink.
After her last visit, she produced a batch of this delicious relish and we were so obsessed with it that I begged her to share and show me the recipe. It's a bit like a British picalilli only a little less tart and sweeter with curry mustard notes. It's great slathered on a ham sandwich, eaten with cold meats, my Vegetarian Sausage Rolls or if you're a heathen like me, you might even enjoy it straight from the jar.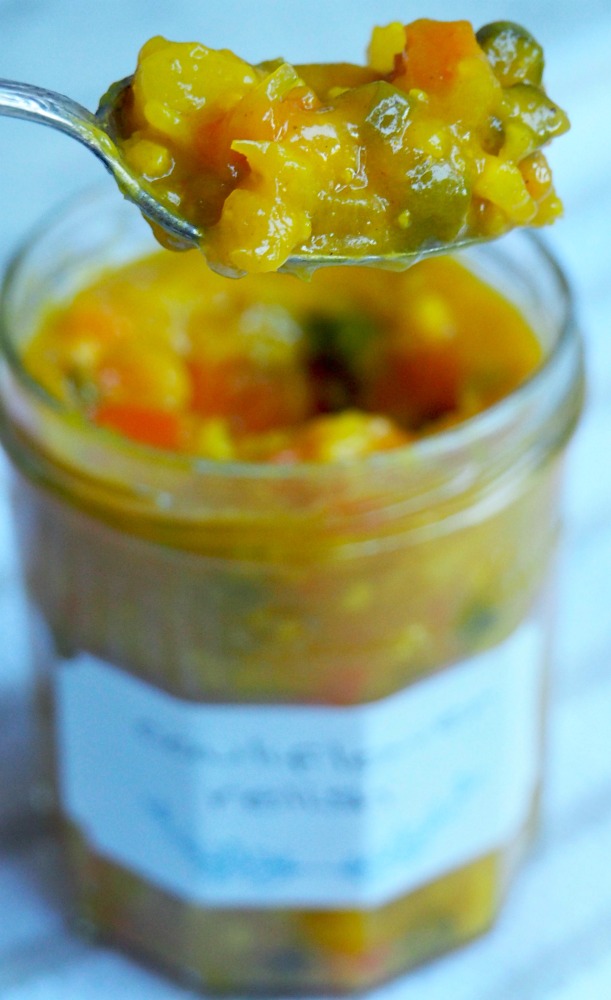 Now that I know how easy it is, I see a lot of relish making in my future. The most important thing to remember is to cut the veggies super fine so that it spreads easily. If the veggies are too chunky, not only will they take longer to cook, it will make your sanga all lumpy. Looking at the relish, you can see how finely the veggies have been chopped.
Although this relish is super quick and easy to make, bear in mind that the veggies need to be soaked in salt overnight so be sure to factor that in your schedule.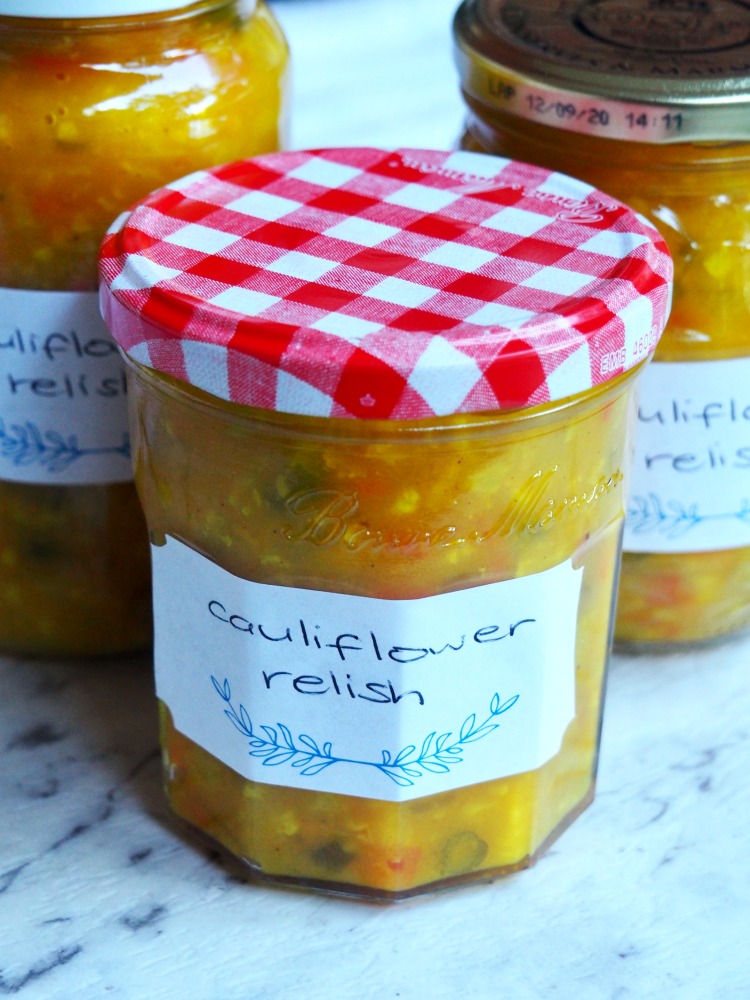 Talking of cooking time, I like to cook the veggies until they're just tender which gives the relish a little bit of bite. If you prefer your relish more mushy than crunchy, then cook the veggies for a little longer. Either way you won't regret it.
This relish makes a great gift, although to be honest, it's so tasty, it will break your heart to give it away!
Have you got any time saving preserving tips? How would you eat your relish?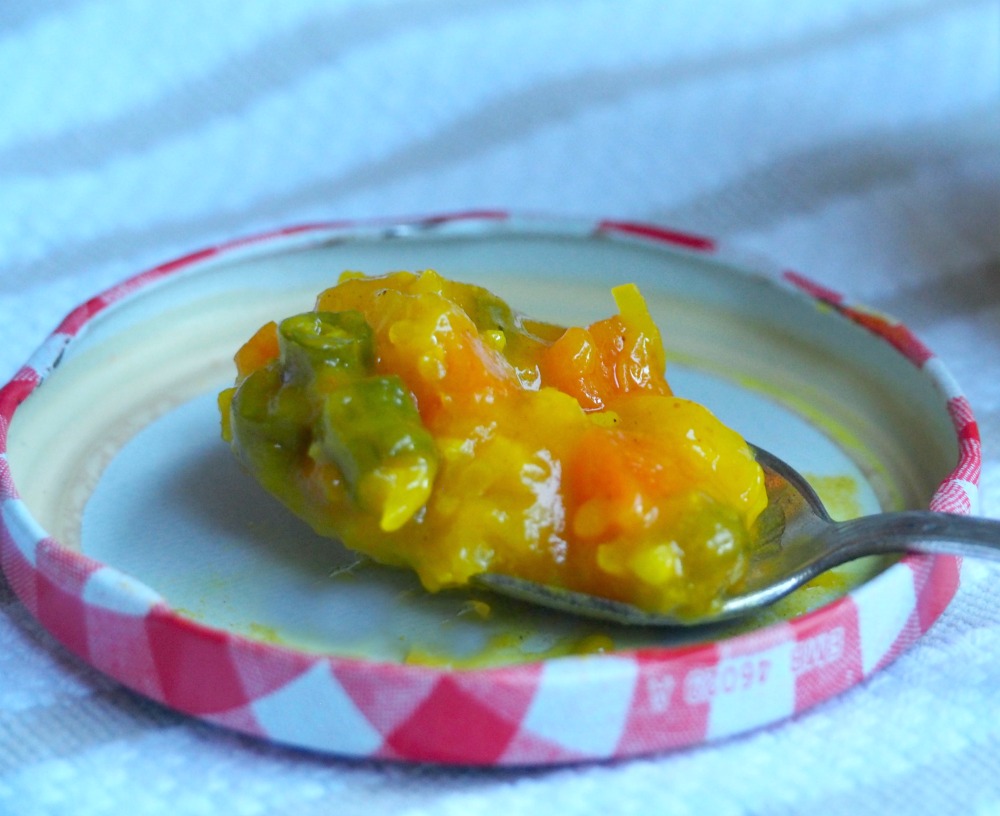 Makes 6 – 8 medium jars
Ingredients
1 large cauliflower, green leaves removed (approx 700g) chopped finely
225g onions, chopped finely
225g carrots, chopped finely
225g green beans, trimmed and finely chopped
1/2 cup salt
580g white sugar
3.5 cups (875ml) white vinegar
1 tablespoon turmeric
1/2 teaspoon curry powder
1/2 teaspoon mixed spice
1.5 dessertspoon mustard powder
135g plain flour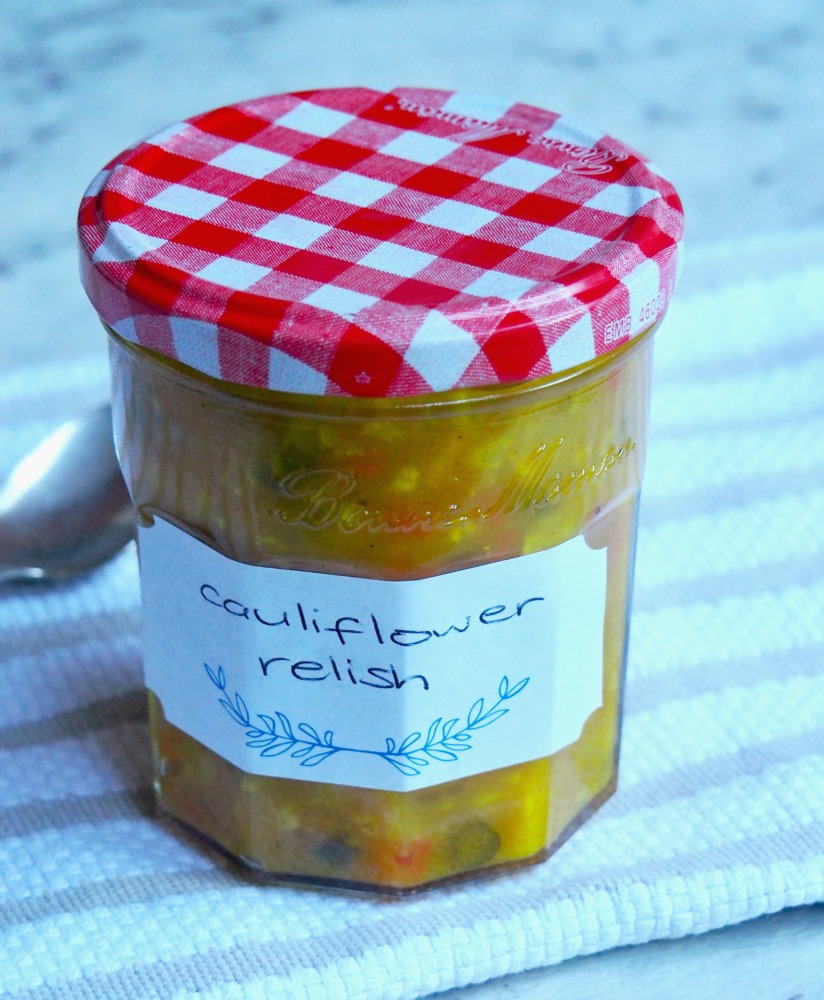 How to
Chop all the vegetables very finely, cover with salt and toss together. Place the veggies in a large pan and add enough cold water to cover the veggies and soak overnight.
In the morning, bring the veggie mixture to the boil until the vegetables are cooked to your liking. Keep an eye on it because it could take just a couple of of minutes, then drain.
Meanwhile, in a medium size bowl, add the spices and flour and enough cold water to make a paste. The mixture should drop easily off the back of a spoon.
Return the drained veggies to the pan, add the vinegar and sugar and bring to the boil
Add the paste to the pan of veggies and bring to the boil before simmering for a few minutes, stirring continuously. The pickle is ready when the mixture starts to thicken.
Place into warm sterilsed jars and seal.