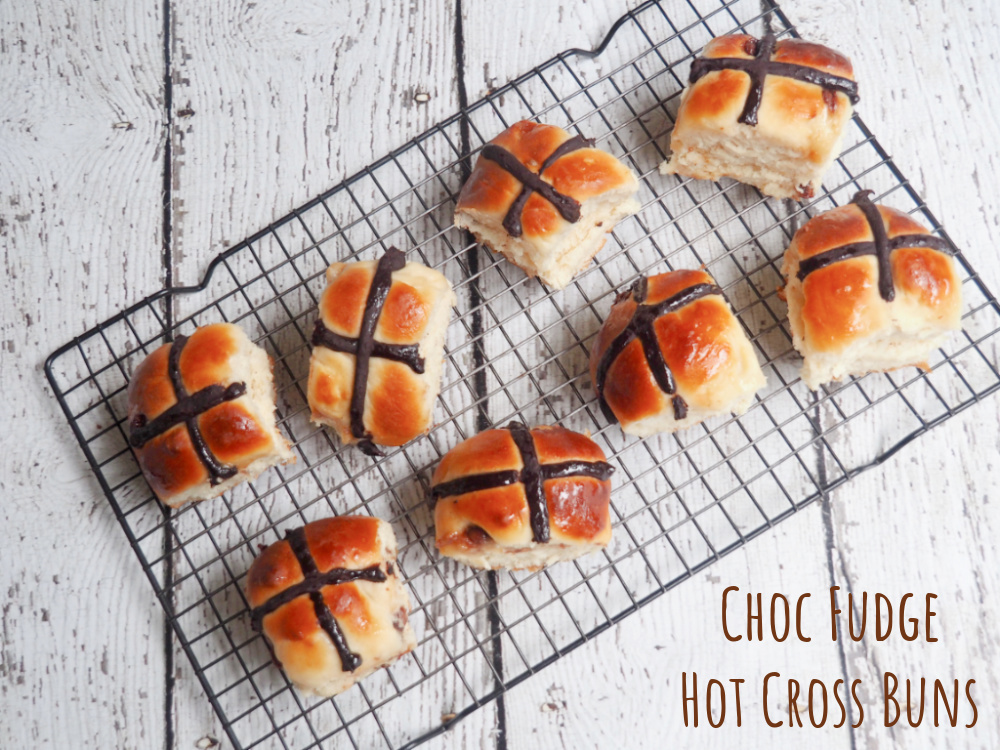 Make Easter egg-stra special this year with these caramel and choc chip hot cross buns.
I have been obsessed with the choc fudge hot cross bun combo for a year now since I first tried Marks and Spencer salted caramel and choc chip hot cross buns when I was in the UK last year… Remember in the good old days when we could still travel?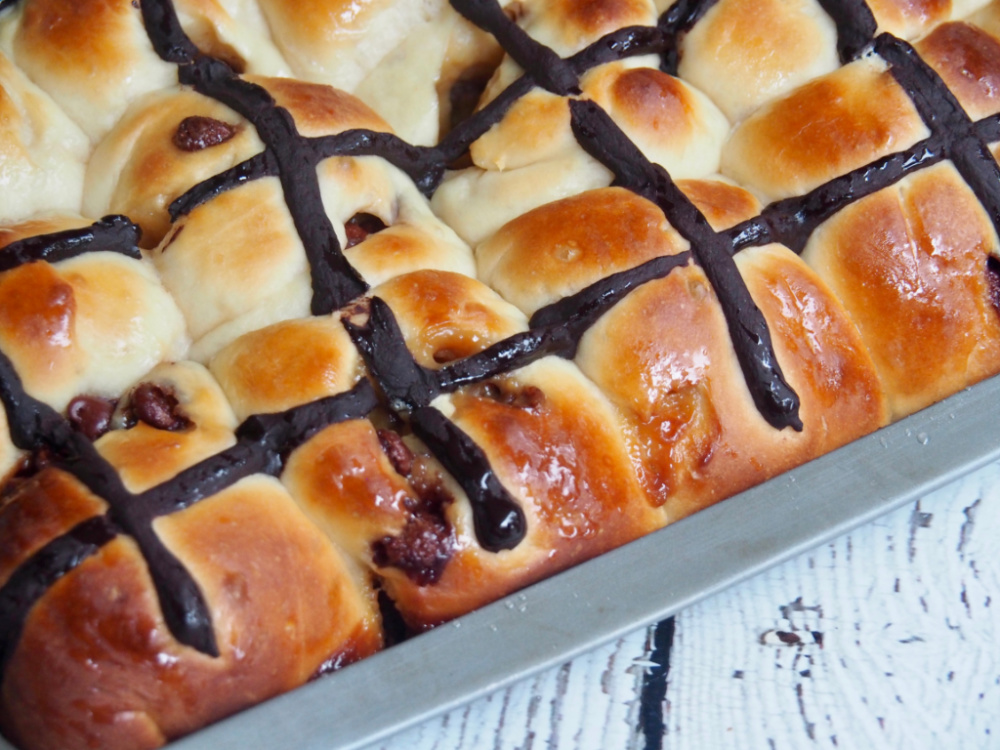 I was actually so obsessed with those hot cross buns that they became my staple diet while I was in the motherland. I was determined to re-create the hot cross bun deliciousness when I got back down under but then COVID came and all the yeast and flour flew off the shelves and well, you know what they say about best laid plans.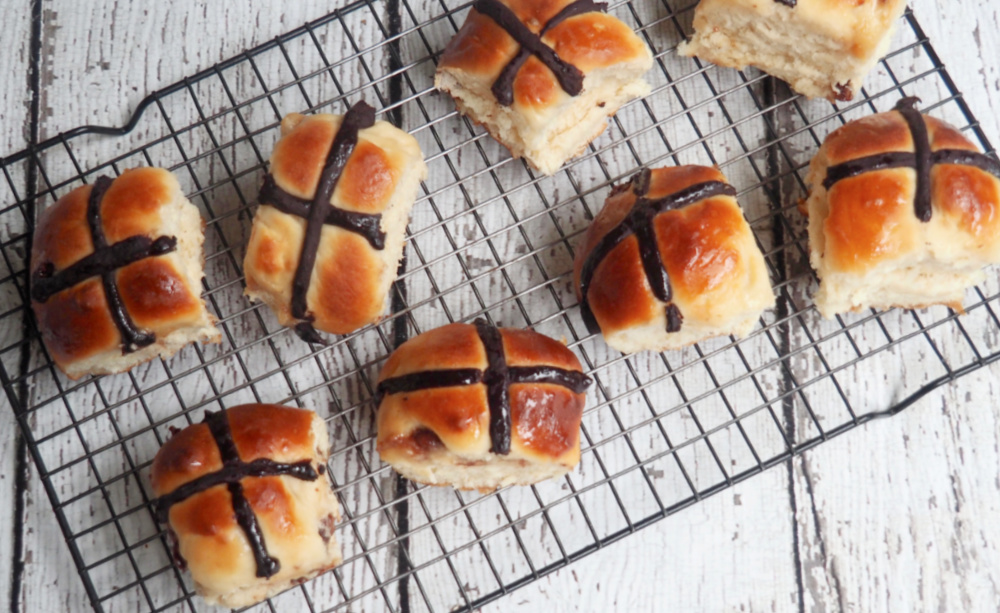 Then, just as the baking aisles were fully stocked again, my baking mojo did a runner so the hot cross bun idea was shelved again.
That was until last week, when the big rain came and I thought I would need to build an ark but decided to make some hot cross buns while I waited. It took three attempts to try and test the recipe until I got it hot cross perfect. It's been a real labour of love and a delicious one at that!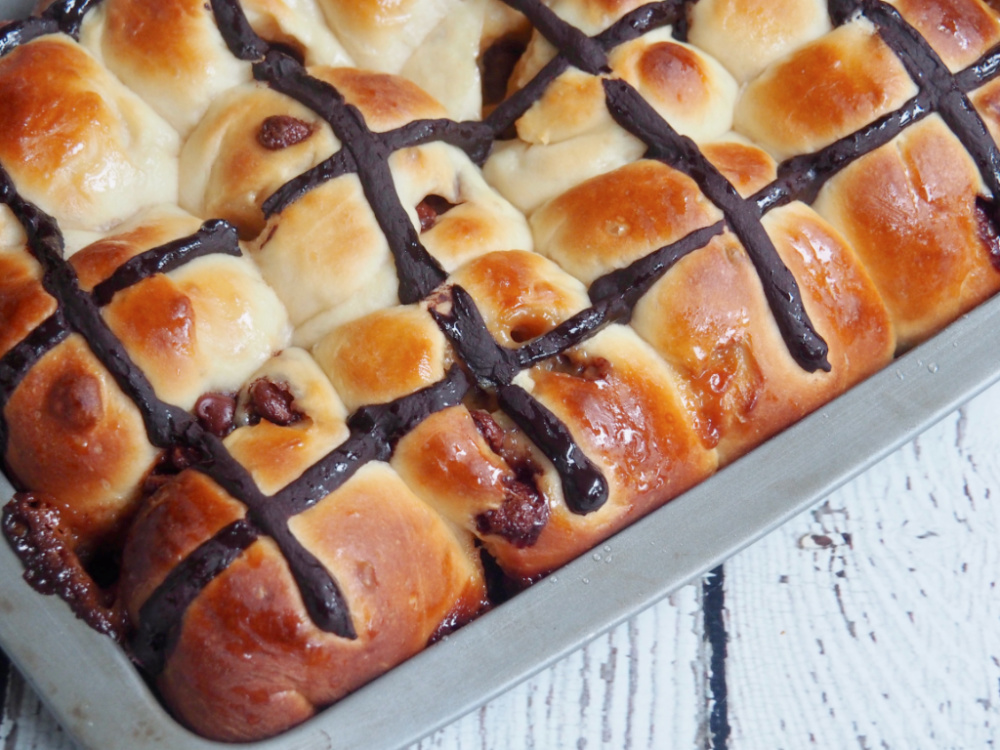 I have to be honest, I was so busy perfecting this recipe in the Thermomix, that I didn't get time to test it without one. That said, I think this would work really well without a Thermomix plus you get a bonus bicep workout with all that kneading!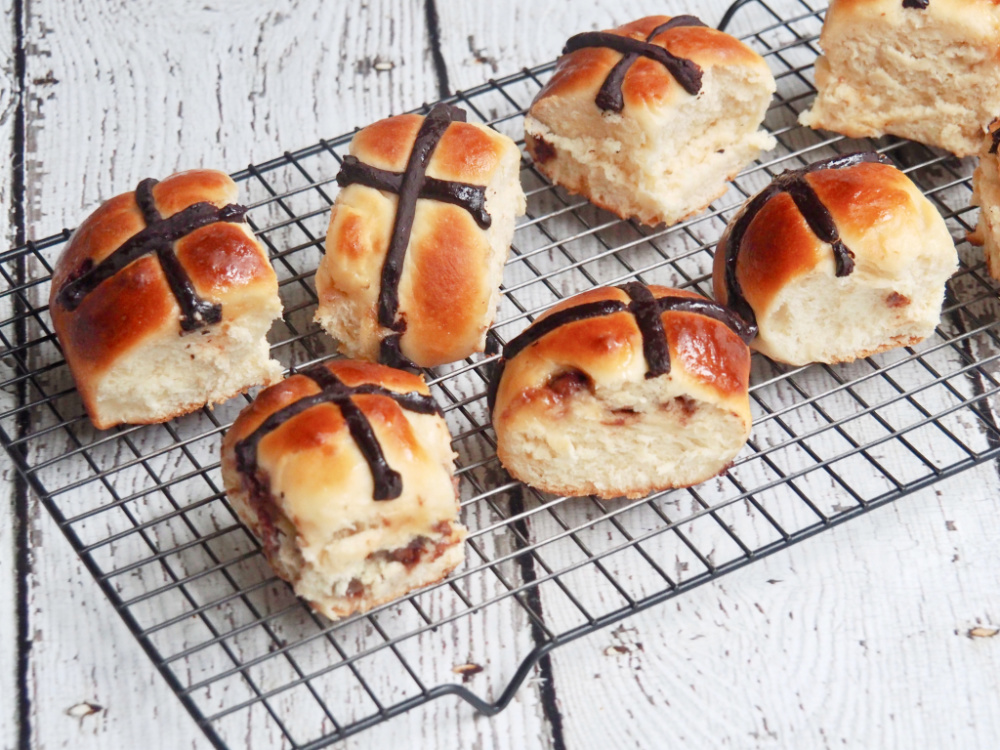 I've been a bit unconventional adding the fudge and choc chips "by hand," but I found when I added the fillings to the thermie, the chocolate either melted or the blades got stuck. Rolling the dough with the choc chips and fudge makes for a more uniform filling and a more uniform bun, not that you'd know it from looking at my rustic buns!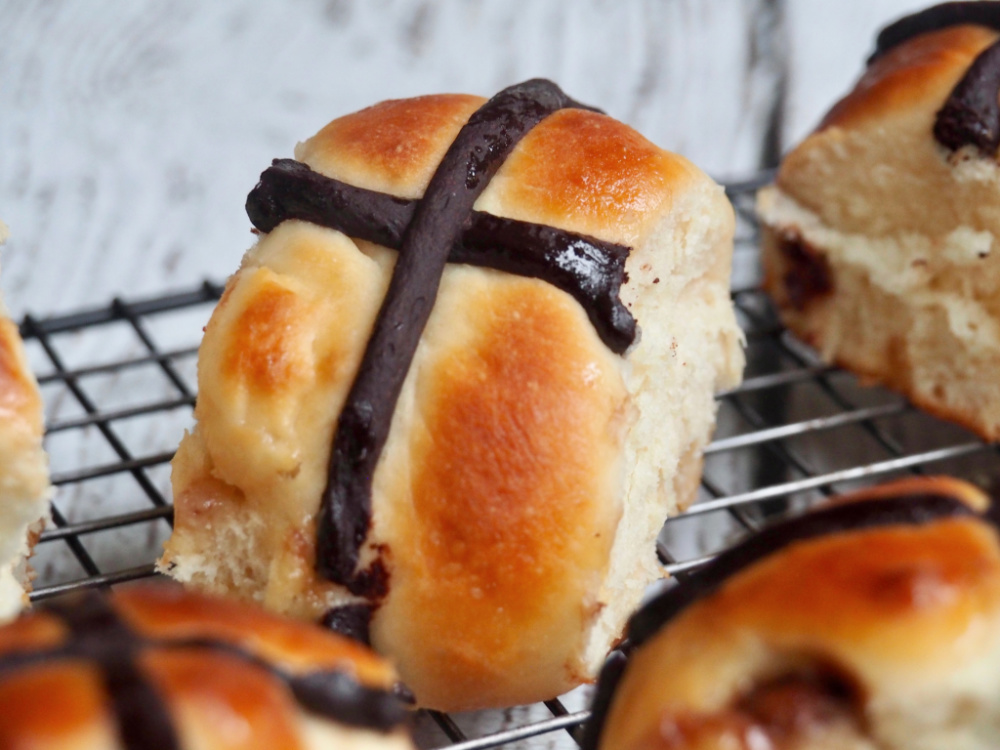 Now you know I'm a basic baker and my buns look very rustic but I promise you the taste so much better than they look. In fact my neighbour, Luce, the most honest but brutal taste tester of them all, said she'd give these 20 out of 10. I sent her up with a pack of 4 and she said they were so good, she ate one going up in the lift and she only lives on the 6th floor! Yep, I promise you friends they are so good!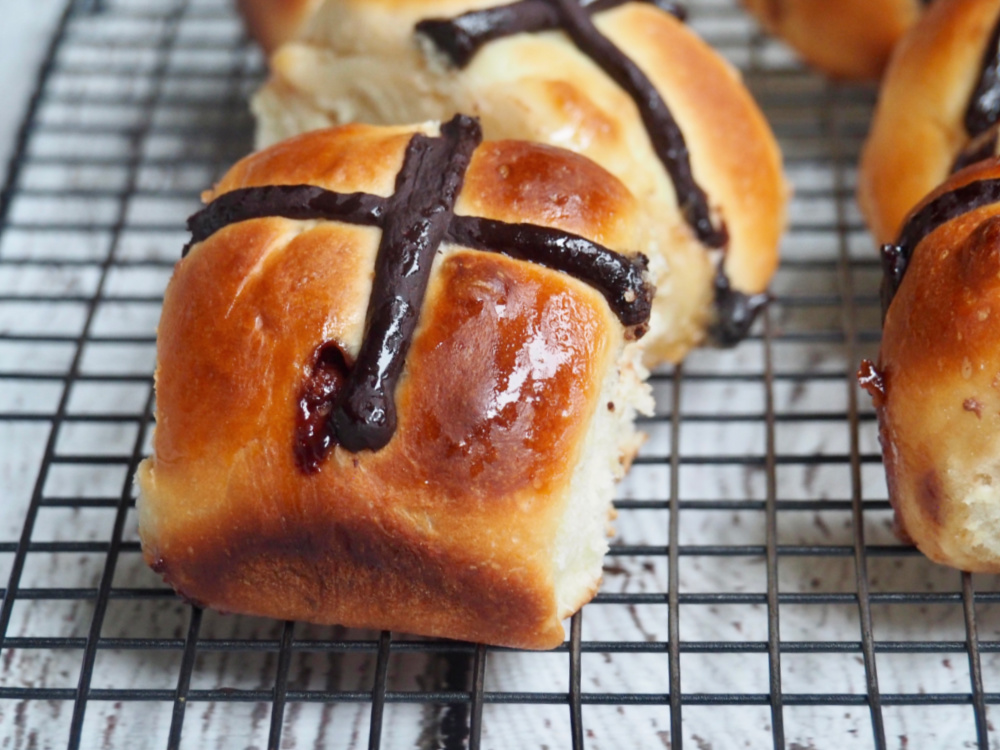 Once you've made your own hot cross buns, you won't go back to shop bought. And homemade is so easy, the hardest part is waiting for the dough to rise so all you really need is some patience and a bit of elbow grease! These are so soft, so pillowy and so full of chocolately fudgey delicious that it's impossible to stop at just one!
If you want fresh buns in the morning, you can leave the buns to slow prove in the fridge over night. In the morning pull it out of the fridge, let the dough sit on the bench for 45-60 minutes to come to room temperature and then pop into the oven and bake as normal. I can't think of a more delicious way to start the day.
They're light, fluffy and packed full of fudge and choc chips, can you think of anything better!
Are you a fan of hot cross buns? Have you ever recreated something you've eaten from a shop or in a restaurant?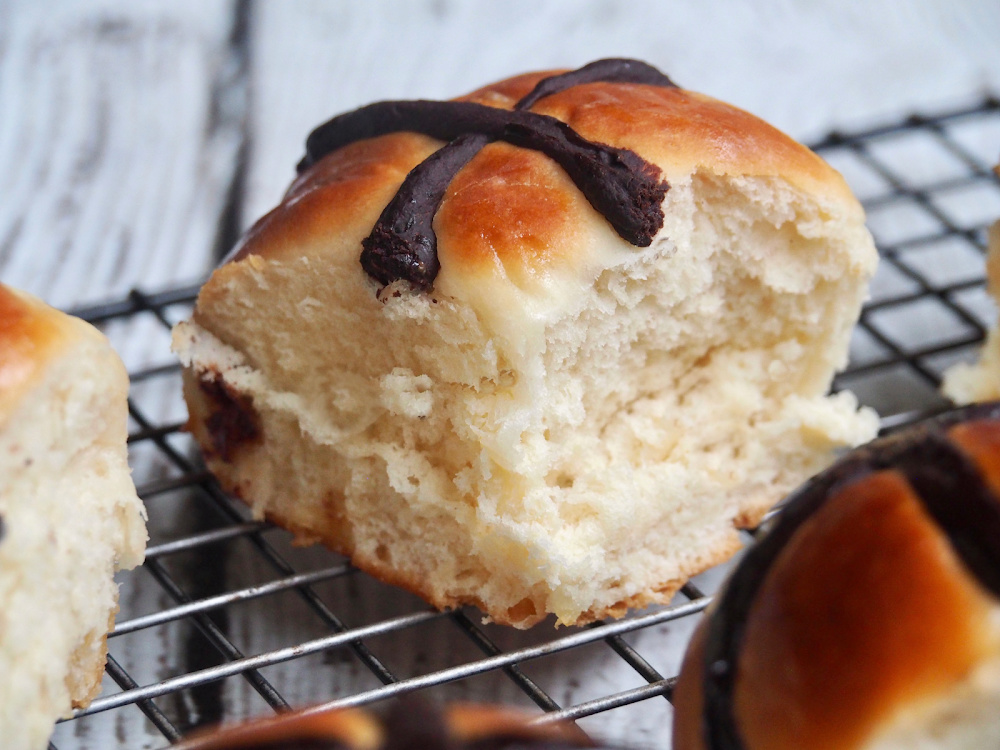 Makes 16 buns
Ingredients
2 teaspoons dry/instant yeast
620g bakers flour
50g sugar
380g milk
1.5 teaspoon of salt
1 teaspoon cinnamon
60g butter
1 egg
100g fudge, chopped
180g milk or dark choc chips
FOR THE CROSSES
60g plain flour
30g cocoa powder
1 teaspoon olive oi
a pinch of salt
100g water
FOR THE GLAZE
2 tablespoons water
2 tablespoons sugar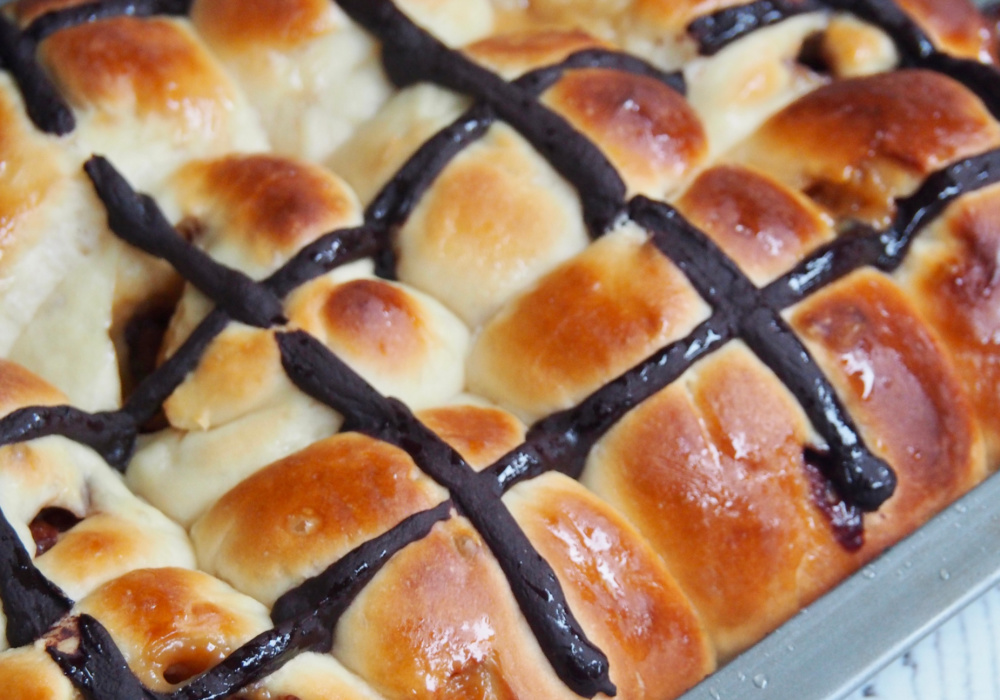 How to – Thermomix
Lightly grease a large baking dish.
Measure flour, sugar, salt, cinnamon and butter into TM bowl and mix for5 seconds on speed 8. Set aside.
Add milk to TM bowl and heat for 2.5 minutes at37 degrees on speed 1or until temperature is reached.
Add yeast and 1 teaspoon of sugar to the warmed milk and mix for 5 seconds on speed 3. Leave to sit in the bowl for about 10-15 minutes until it becomes frothy.
Add the flour mix and the egg to the TM bowl and mix for 10-15 seconds on speed 7 or until all the ingredients are combined.
Knead for 3 minutes on dough setting.
Set the dough aside in a large, clean bowl and cover with plastic wrap or a clean cloth. Stand the bowl in a warm place until the dough doubles in size. Depending on the weather it can take anything from 40-60 minutes.
Punch down dough and knead well. Put it back in the bowl and knead on dough setting for 2 minutes.
Transfer the dough to a lightly floured surface, punch the centre of the dough down with your fist and knead for a minute or so by hand, until smooth.
Press out to a rectangular shape about 1 cm thick. Sprinkle with the fudge and choc chips and roll up, pressing the edges together a bit to stop the fudge and choc chips from falling out.
Cut the dough into 16 equal portions. The dough will be quite sticky so lightly grease your hands with some olive oil. Roll each portion into a ball, encasing the fudge and choc chips inside and place close together on the greased baking dish. If you're making the buns for the morning, at this stage, they can be left to prove in the fridge overnight.
Preheat oven to 200C.
Stand the buns in a warm place to prove for a further 20-30 minutes or until the buns are about 1.5 times their original size.
To make the crosses, put the flour, cocoa, salt, olive oil and water in the TM bowl and mix for 20 seconds on speed 4. Scrape down the sides and mix for another 20 seconds on speed 4.
Pipe crosses on to the buns, pop into the oven and bake for 20 minutes or until golden brown.
To make the syrup, put the sugar and water in TM bowl for 2 minutes at 100C on speed 4.
Brush the syrup over the top of the warm buns, taking care not to touch any choc chips otherwise they'll 'bleed' chocolate!
Allow to cool slightly before transferring to a wire rack to cool completely.