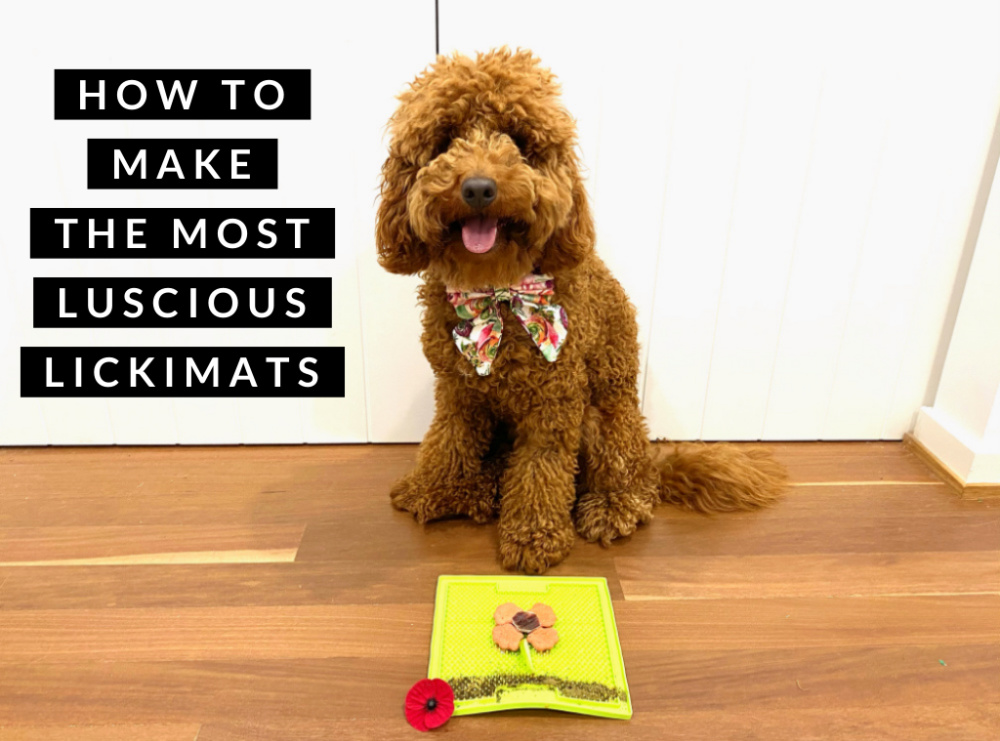 A lickimat is a grooved mat and as it's name suggests, it encourages your pet to lick. In this easy guide, we'll cover what they are, how to use them, why they're so pawsome and share some absolutely furbulous recipe ideas!
What is a Lickimat?
A lickimat is the pawfect way to serve up some enrichment to your pet with the minimum of mess. By simply spreading the treat over the surface of the lickimat, you create a tasty fun game for your dog (or cat) as they seek out every last delicious morsel with their tongue. You can freeze treats in summer for more refreshing and longer lasting entertainment too.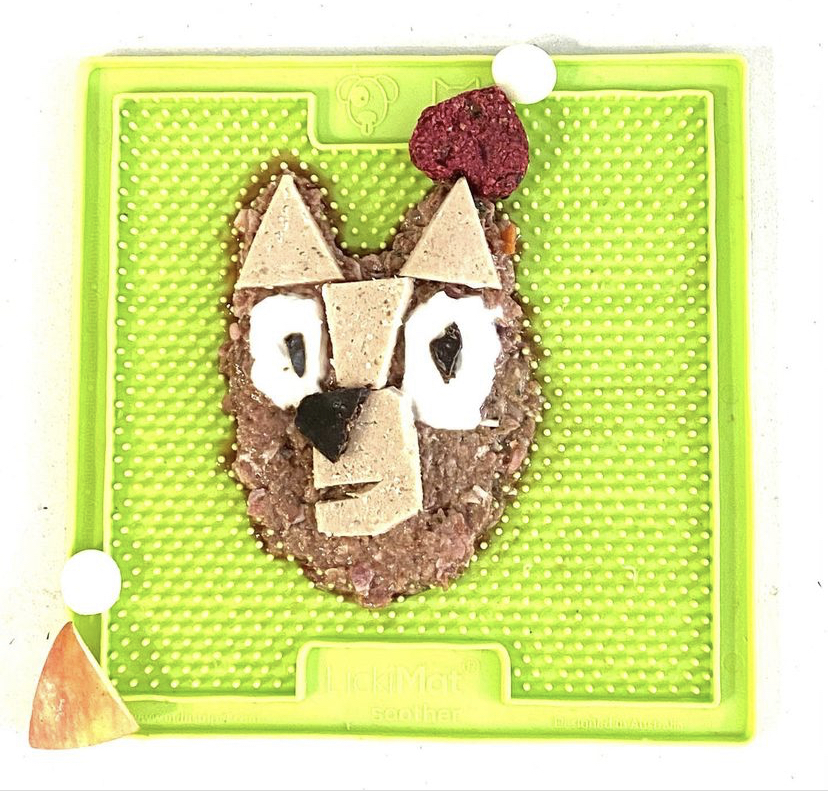 Christmas Bluey Lickimat: Face- Big Dog Lamb Meat and Prime 100 roll, eyes – yoghurt and liver treat, nose – liver treat, santa hat – beetroot treat and yoghurt drop.
Introducing Sally and Gizmo
My attempts to prepare lickimats have been pedestrian to say the least so today, I'm deferring to Sally – mum to Gizmo the Spoodle and Queen of the Lickimat – whose lickimat designs are so delicious and creative, it's no wonder they're taking Instagram by storm! I've got the Lickimat questions and Sally has the answers!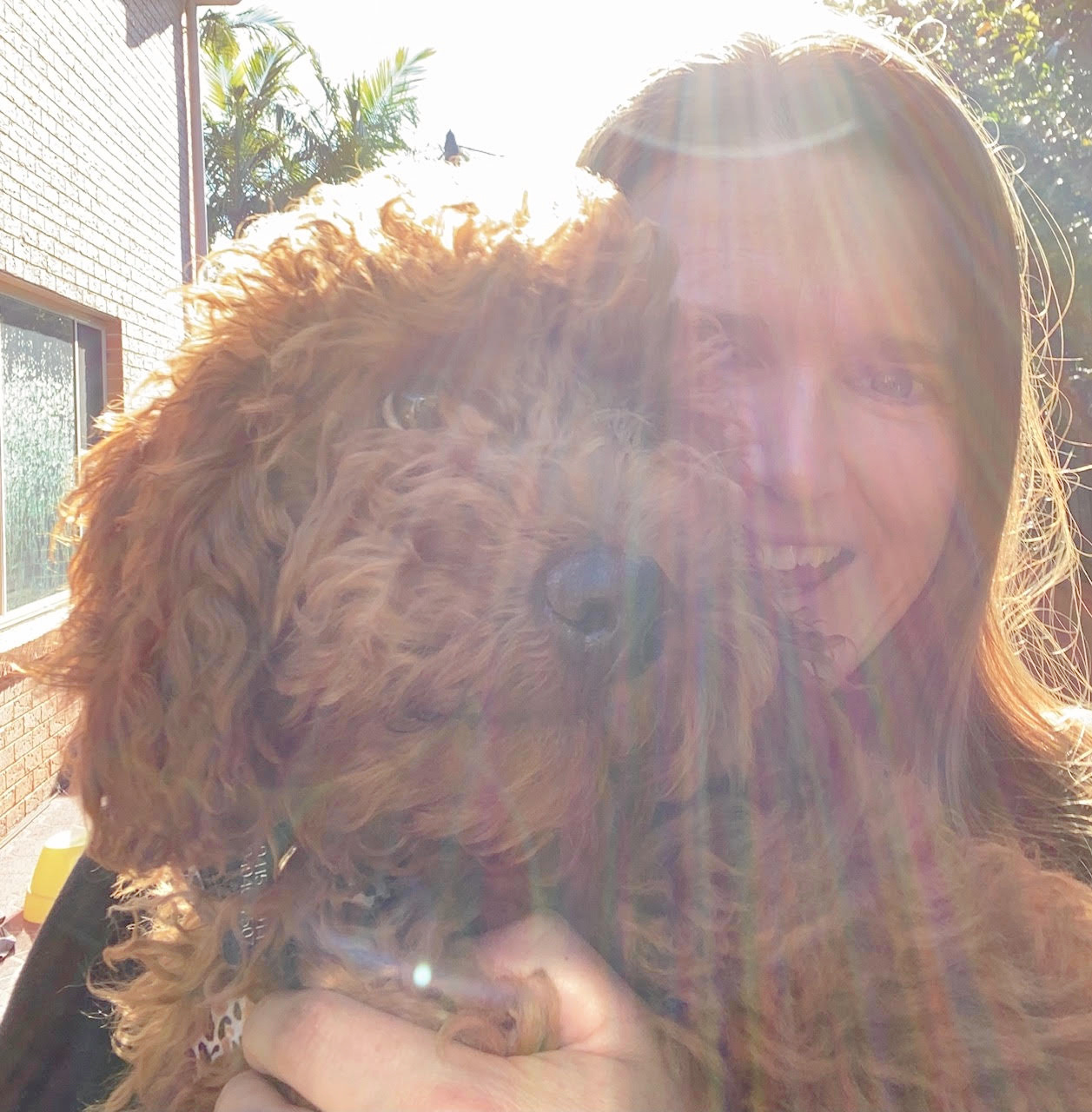 How and why did you start creating such imaginative designs on your lickimats?
Lickimat had a competition for Halloween last year called Lickoween so I made a spider in a web and then I just kept creating, mostly for special times of year like Christmas and Easter and so on. I search Google and Pinterest for themed food ideas.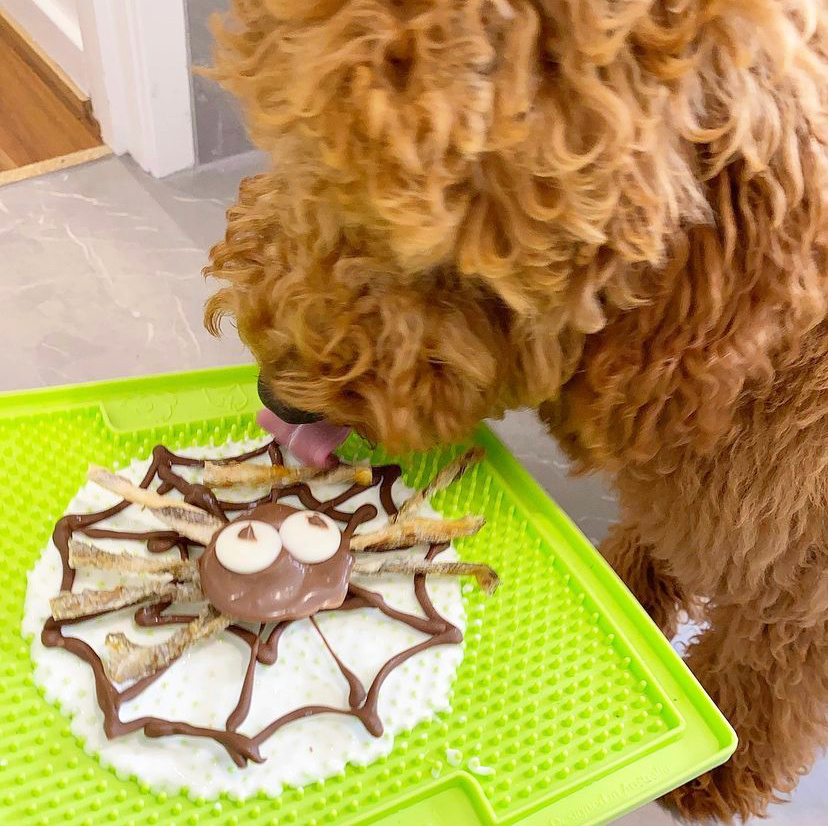 Halloween Lickimat: Background – yoghurt, web and spider body – carob drops melted, spider eyes – vanilla yoghurt drops, hairy legs – fish skins.
There are a range of Lickimats on the market, which one do you recommend?
I prefer working on the Lickimat Soother as it is a good flat surface to work on especially when using yoghurt, peanut butter or raw meat as the basis. Having to work for the food by licking slows the eating process down and licking also calms and soothes your pet and reduces anxiety, boredom and destructive behaviour.
Although Lickimats are a great way to keep your pup occupied when you're not at home, always supervise your pet when first introducing them to the Lickimat and if your pup is a champion chewer, consider a Lickimat Tuff as it's virtually indestructible.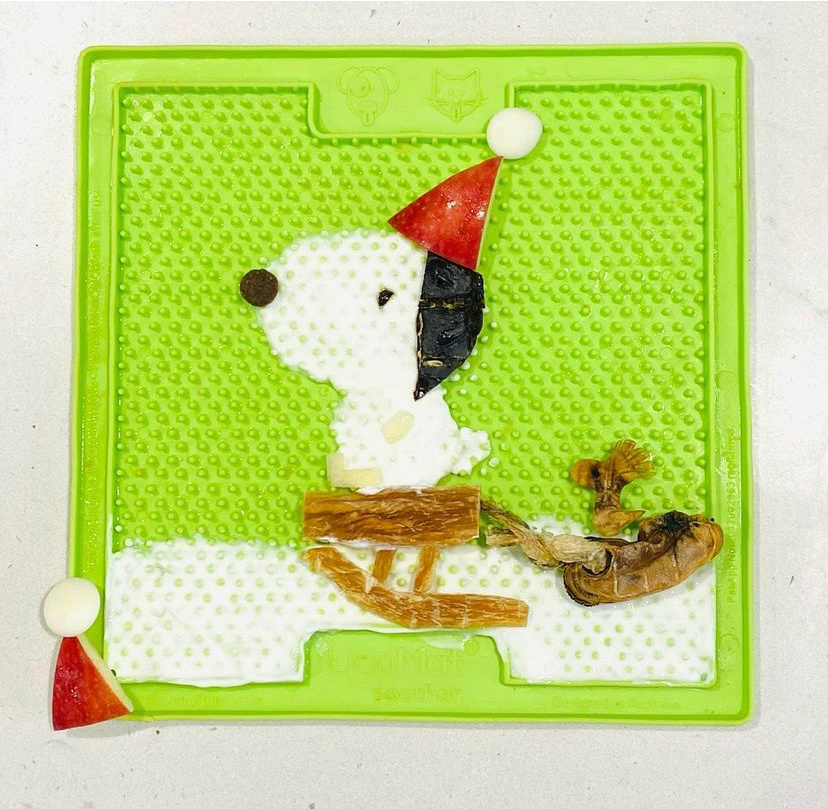 Christmas Snoopy Lickimat: Snoopy and Snow – yoghurt, ear and eyes – beef liver treat, hats, arm and leg – yoghurt drop, nose – kibble, sleigh – chicken breast jerky, Woodstock – banana button, Woodstock's sleigh – green lipped mussel and a fish skin twist
Are Lickimats just for treats or do you feed meals on them too?
If I can I will incorporate breakfast or dinner into an idea for a mat using a combination of Big Dog raw meat and meatballs, Prime Roll and kibble.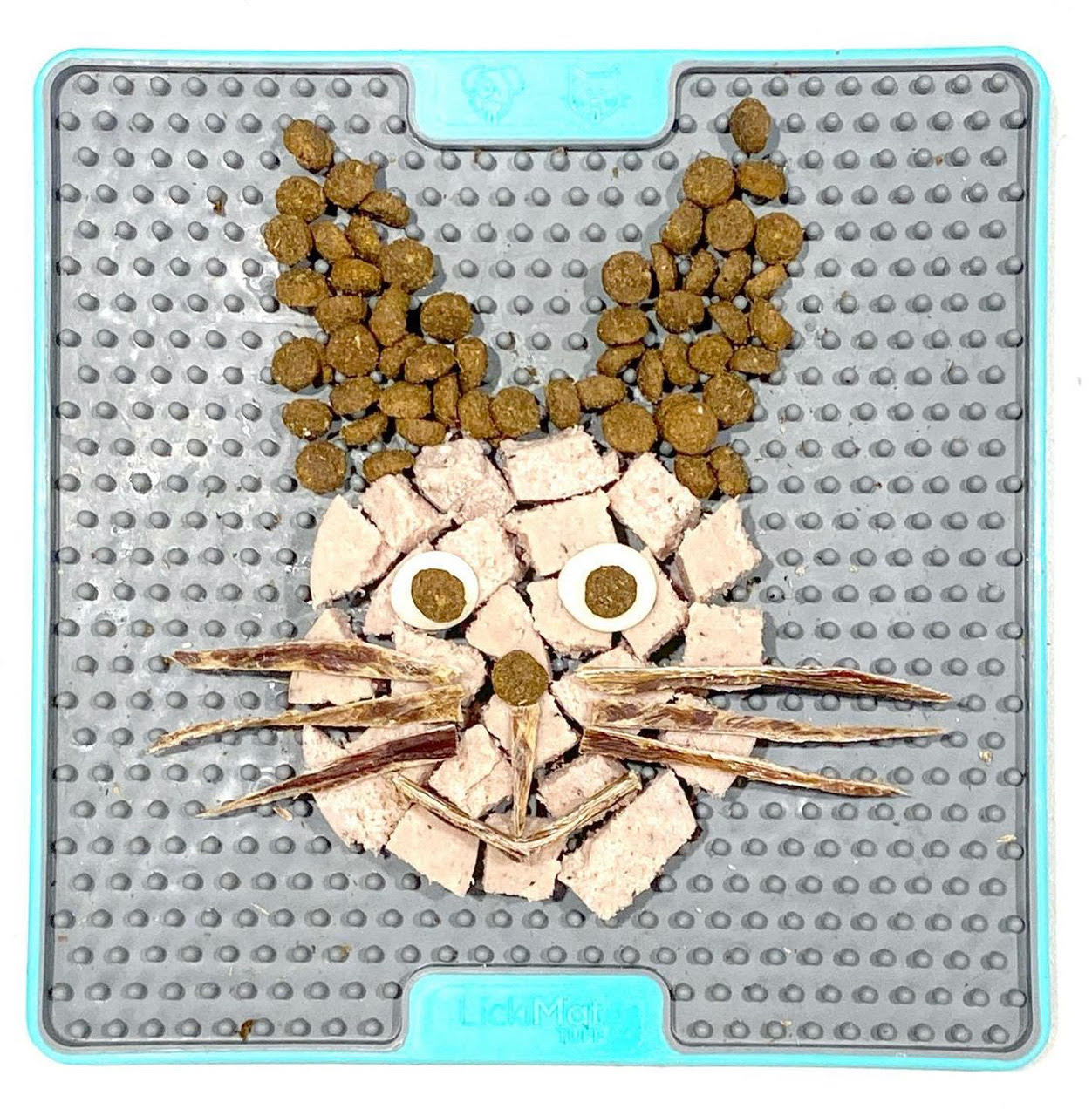 Bunny: ears – kibble, face – prime roll, eyes – yoghurt drops and kibble, whiskers – Furry Treats Co Chewy Moo Jerky.
When I make a themed lickimat I give it to Gizmo when I'm going to be out for long periods of time. I alternate between giving him a Lickimat with different treats to lick, sniff and other enrichment toys. I don't make themed mats all the time only for special occasions!
FYI Gizmo is 10.5kg and will rarely eat the entire lickimat in one sitting but will graze on it throughout the day.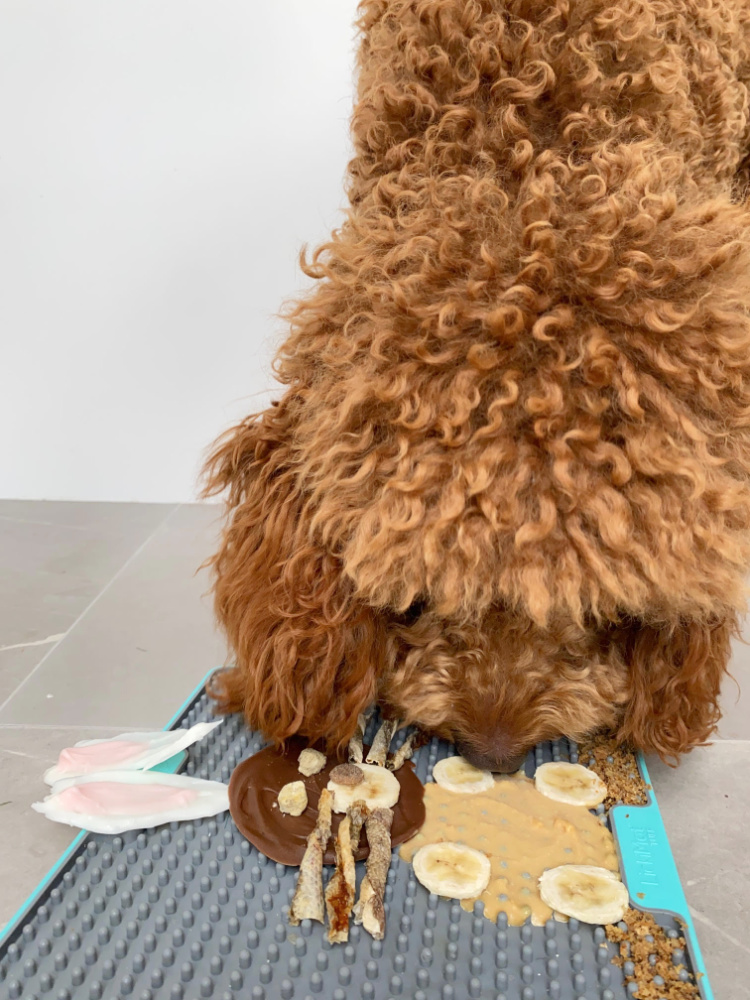 Easter Bunny: face and ears – carob and vanilla yoghurt drops (melted) body – peanut butter, paws and mouth – banana, eyes – lamb tripe booster, nose – kibble, whiskers – fish skin twists, ground – chicken sprinkle
What ingredients would you consider lickimat essentials?
Yoghurt makes a great base for any design. It can be frozen making it extra refreshing and add an extra challenge for your pup. Be sure to choose a yoghurt that has lots of live cultures like full fat plain Greek yoghurt which also has lower levels of lactose than other plain yoghurts. Avoid yoghurt with any added sweeteners that are either natural or artificial.
Peanut butter can also be frozen and makes a delicious base for any lickimat. When it comes to peanut butter, do check the ingredients to be sure it doesn't contain xylitol, a sweetener which is toxic for dogs.
Yoghurt and carob drops are so handy because they can be used as they are or melted to create all kinds of shapes and designs.
Jerky is also a very versatile treat as it can be cut into different shapes.
Basically, any treats can be used to decorate the mats and you can usually base your design on whatever you have at hand.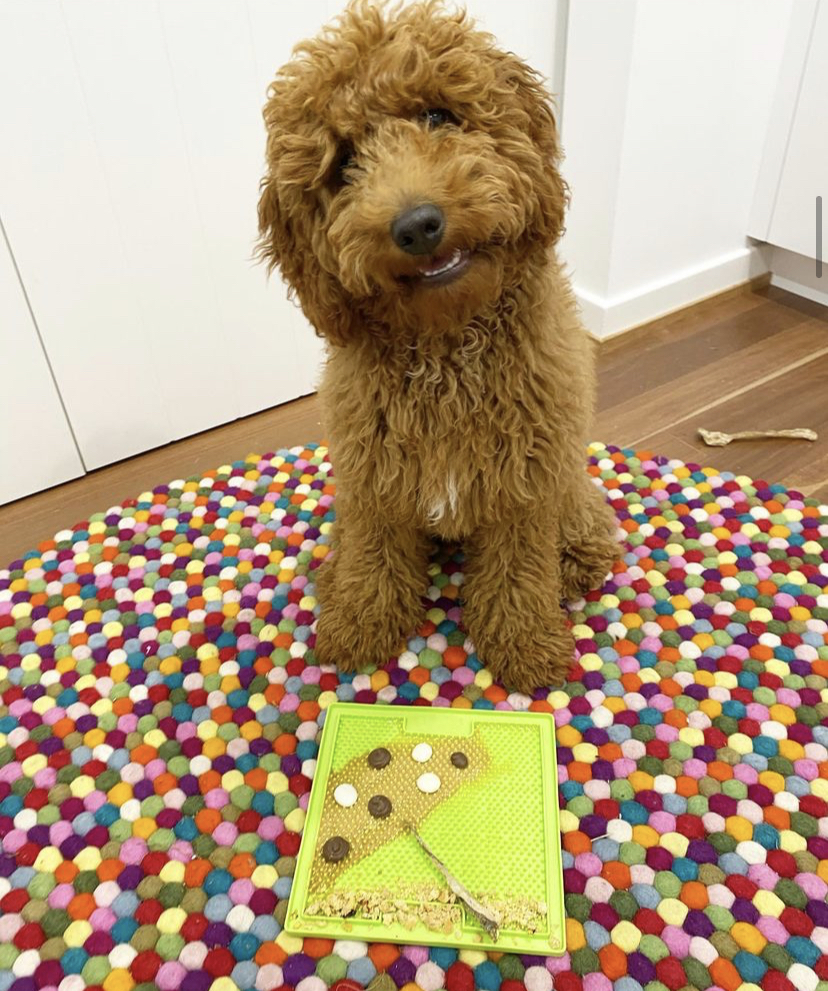 Beach Umbrella Lickimat: Umbrella – peanut butter, polka dots – yoghurt and carob drop, umbrella pole – fish skin twists, sand – crumbled up dog cookies
How to make a Miss Piggy Lickimat
Gizmo is a huge Miss Piggy fan! Check out Sally's step by step guide to make his heroine in Lickimat form!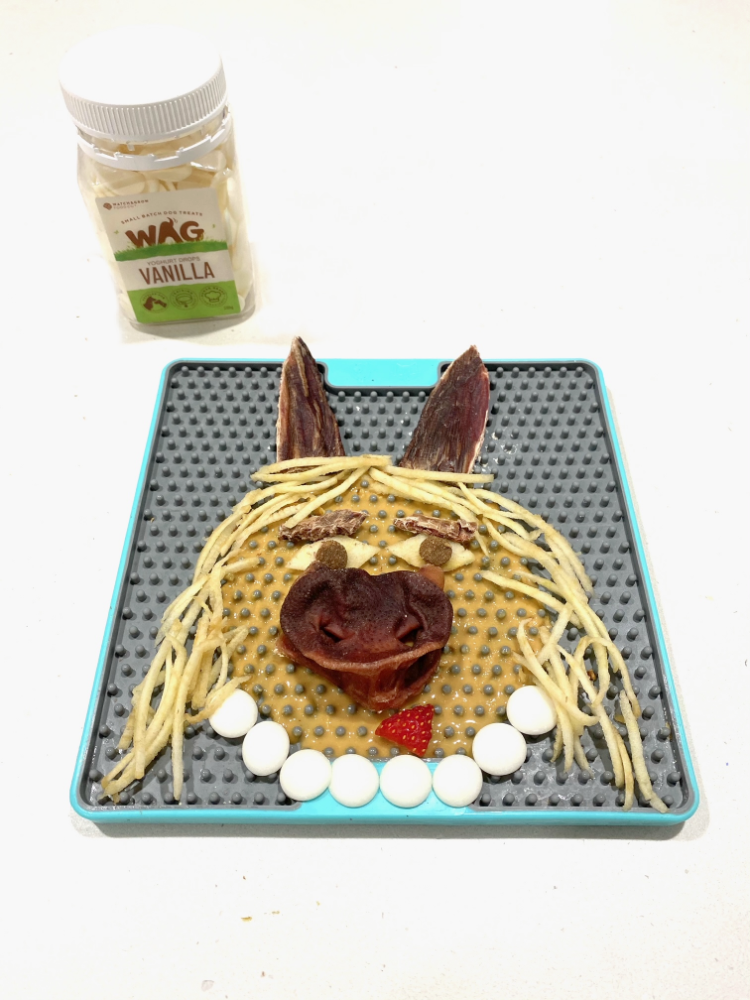 You will need
Mimi and Munch's peanut butter (or PB of choice)
1 x apple
2 pieces of kibble or dry, round shaped treat
1 strip of Furry Treats Co Moo Jerky (or jerky of choice)
1/2 strawberry
How to
Step 1: Spread Mimi & Munch Bambi's Butter peanut butter on the Lickimat in a circle.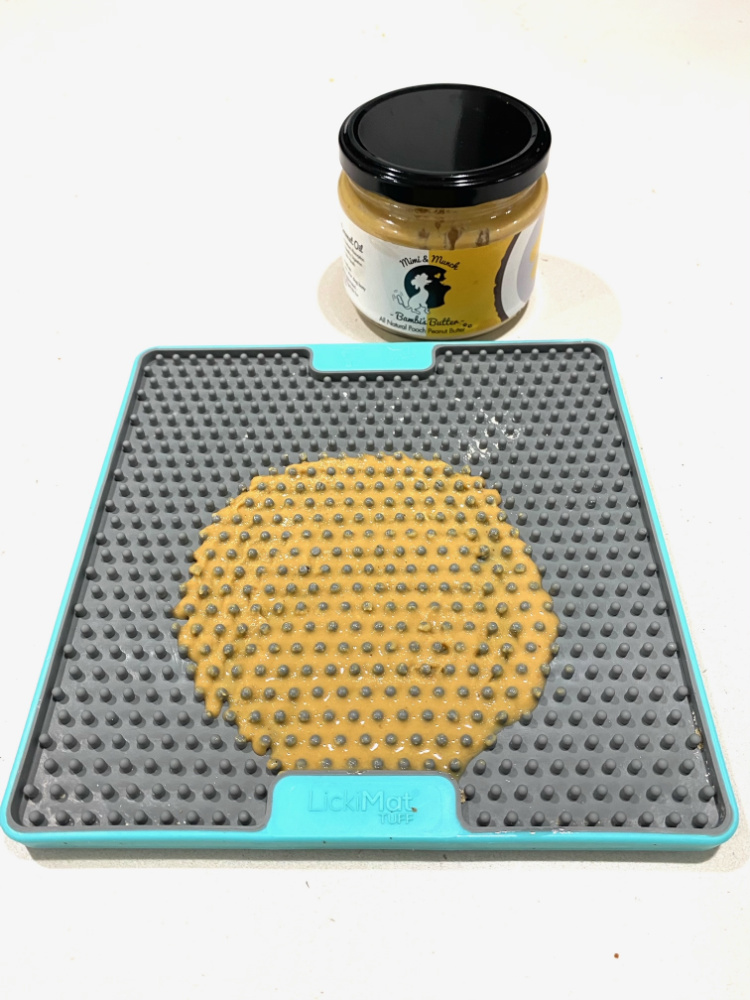 Step 2: Add a pig snout for the nose and use a julienne peeler or a grated apple to create the hair.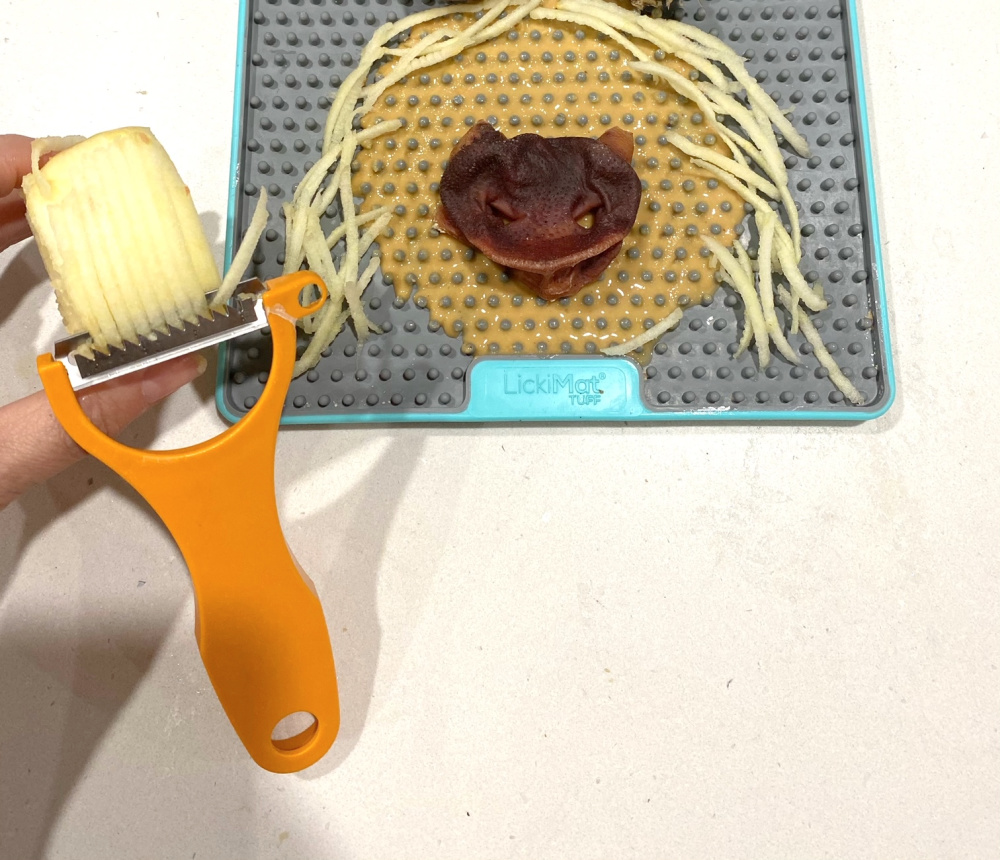 Step 3: Cut the eye shapes out of apple and use kibble for the eyeballs. Then cut Furry Treats Co Chewy Moo Jerky (or jerky of choice) into ears and eyelashes.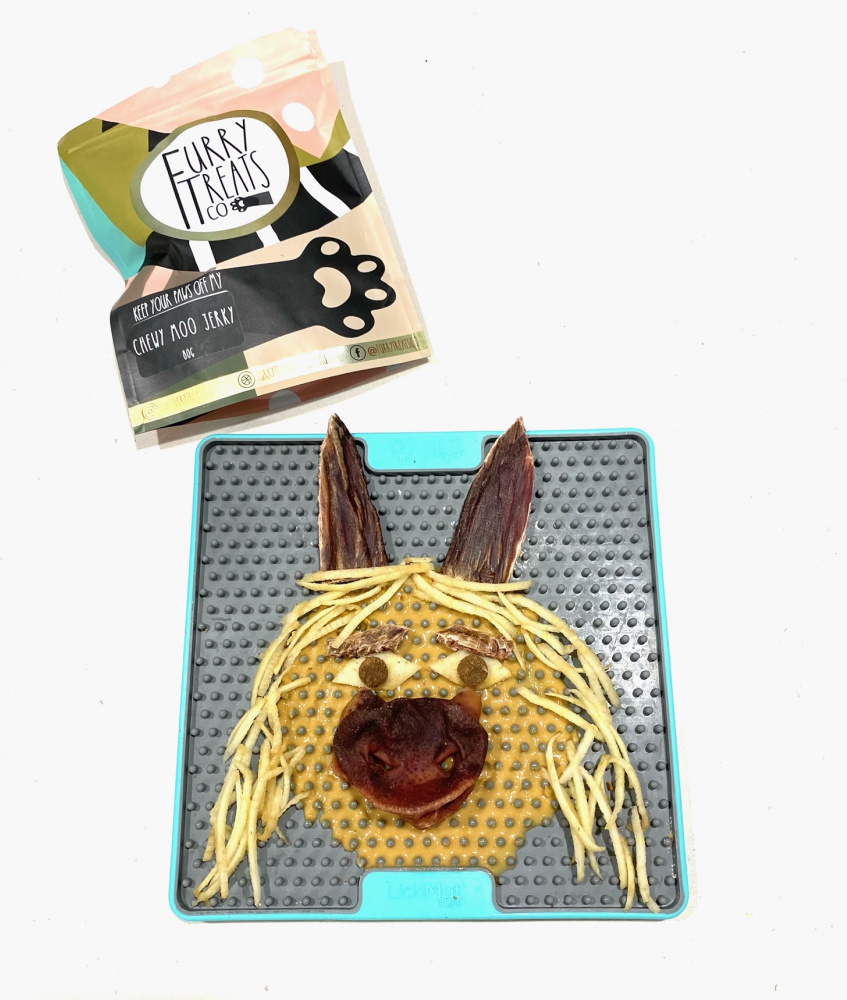 Step 4:Cut up a fresh strawberry for the mouth and add some Get Wag Vanilla drops for Miss Piggy's Pearl necklace to complete the look.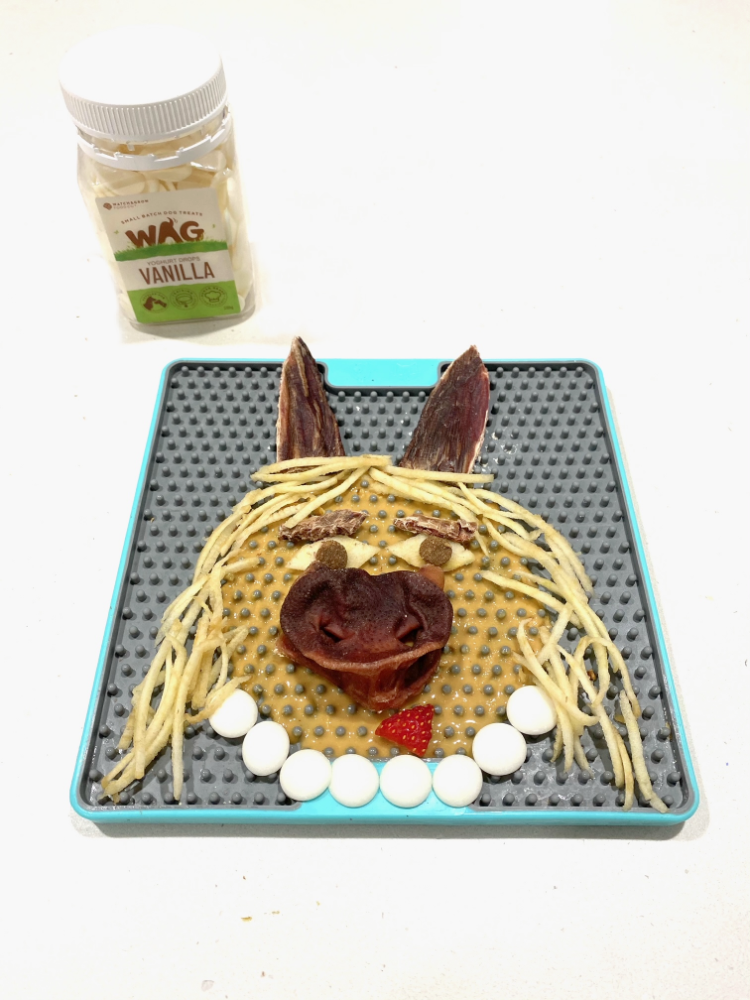 I'm so grateful to Sally for so kindly sharing her top tips. There are no affiliate links in this post but if you want to get a cheeky discount at some of Gizmo's favourite treat stores, use his discount codes.
GIZM010 at Furry Treats Co
GIZMO33 at Mimi and Munch
Note that neither Sally nor I are licensed or certified Veterinarians or Animal Nutritionists.
If you have any questions concerning your pet's diet and specific needs, you should consult and discuss with your vet. This post is not sponsored in any way. We are sharing products that our pups eat and enjoy.