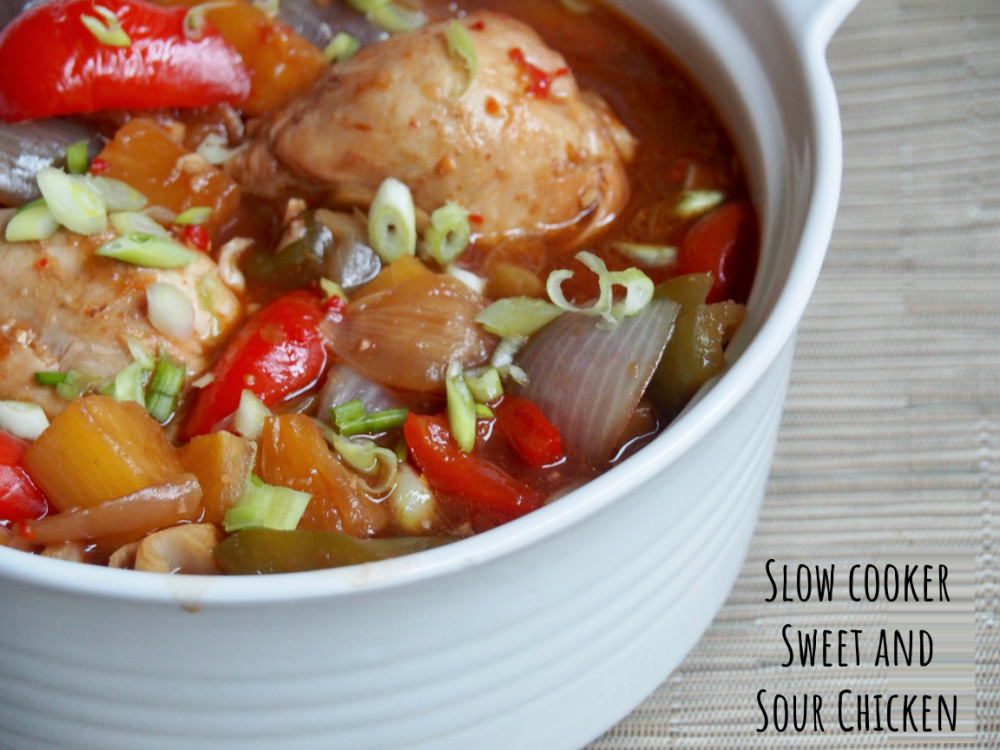 This slow cooker Sweet and Sour Chicken is a winner, winner, chicken dinner!
As slow cooker recipes go, this one is quite speedy as it requires minimum prep and just 4 hours cooking time. Pop it in the slow cooker after lunch and dinner will be ready in no time!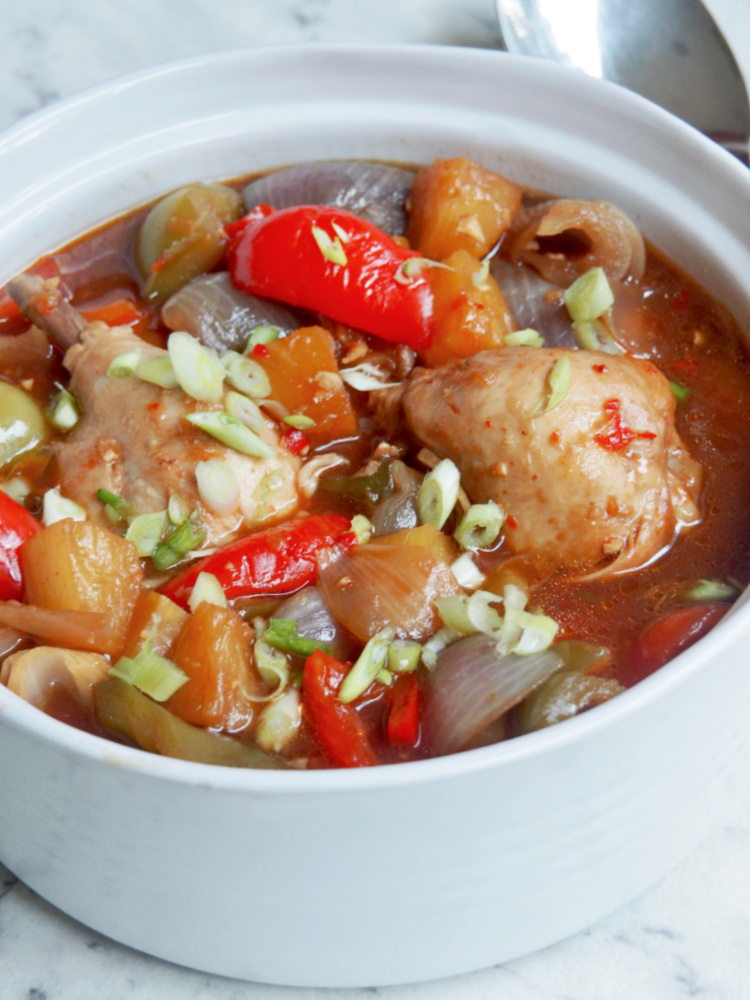 Growing up in the UK, the Chinese food I enjoyed was definitely Chinese food made for British palates, although of course I didn't know it then!
If you ordered sweet and sour chicken from my childhood Chinese restaurant, you'd have received fried batter balls with a little bit of chicken inside and a sweet sticky sauce to pour over or dip in, as desired.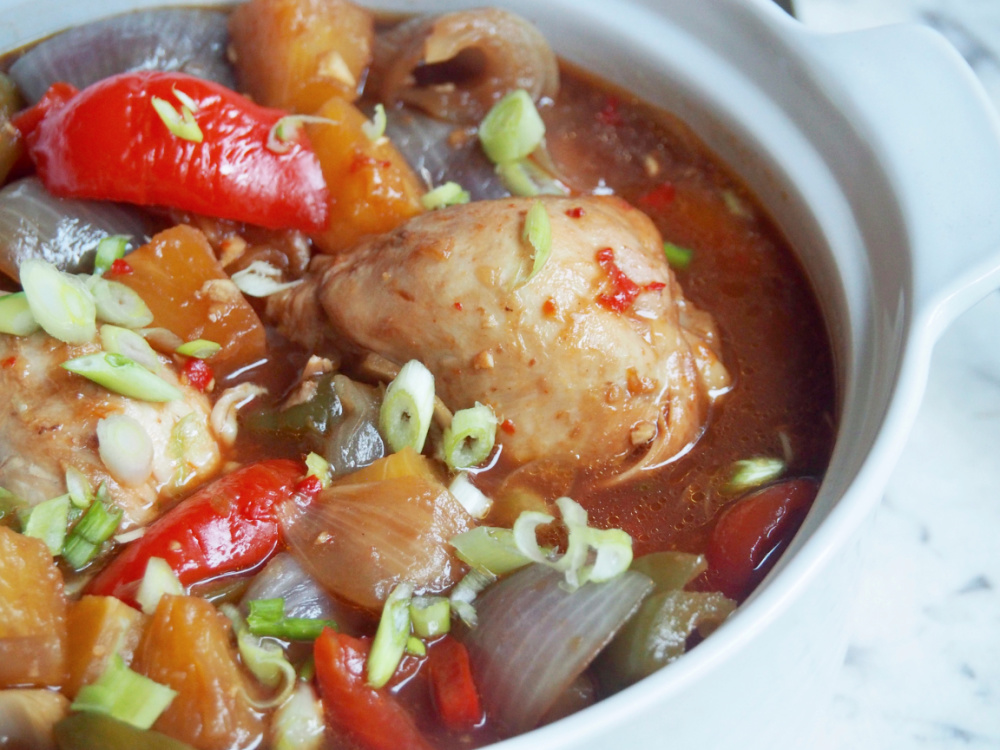 On one of my and David's first overseas adventures, we travelled to Singapore and went for dinner to a 'real' Chinese restaurant where incidentally, we were the only western diners.
Instead of asking us what we wanted, the host told us we wanted sweet and sour to which we replied no, we'd rather see the menu. After an extensive perusal of the menu and sticky beaking at what other diners were eating, we decided that we did in fact want sweet and sour after all!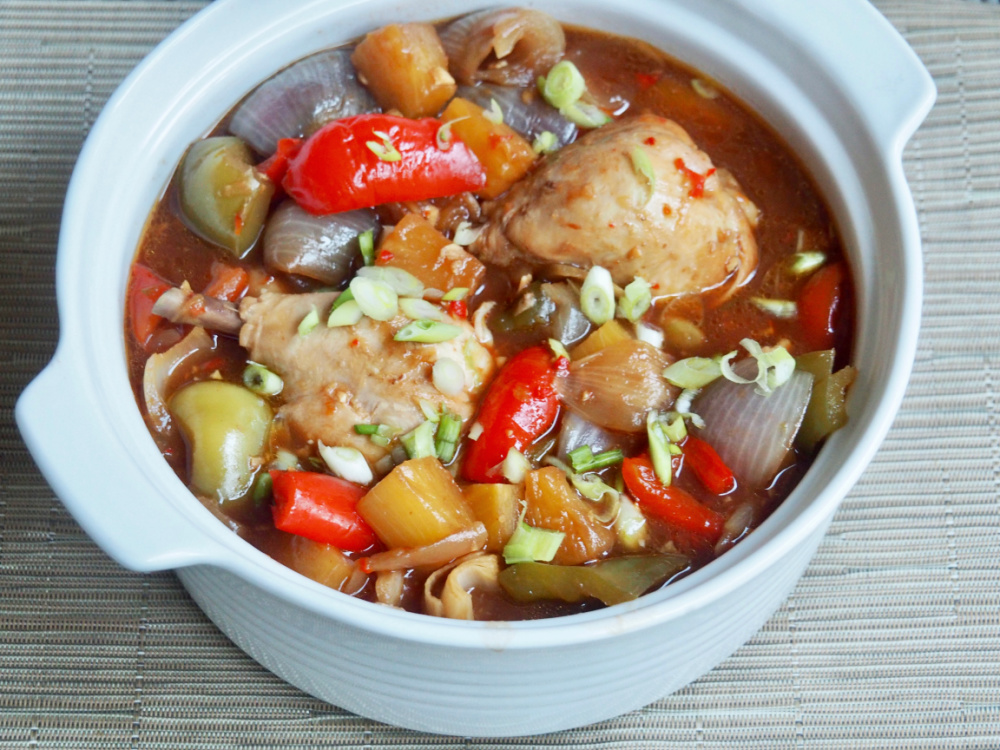 I should add that the Singapore sweet and sour was nothing like the UK version and similarly, this recipe is a lot more evolved and dare I say a lot more delicious than the restaurant dish of UK yesteryear. Think moist chicken and veggies in a wonderfully balanced sweet and sour sauce.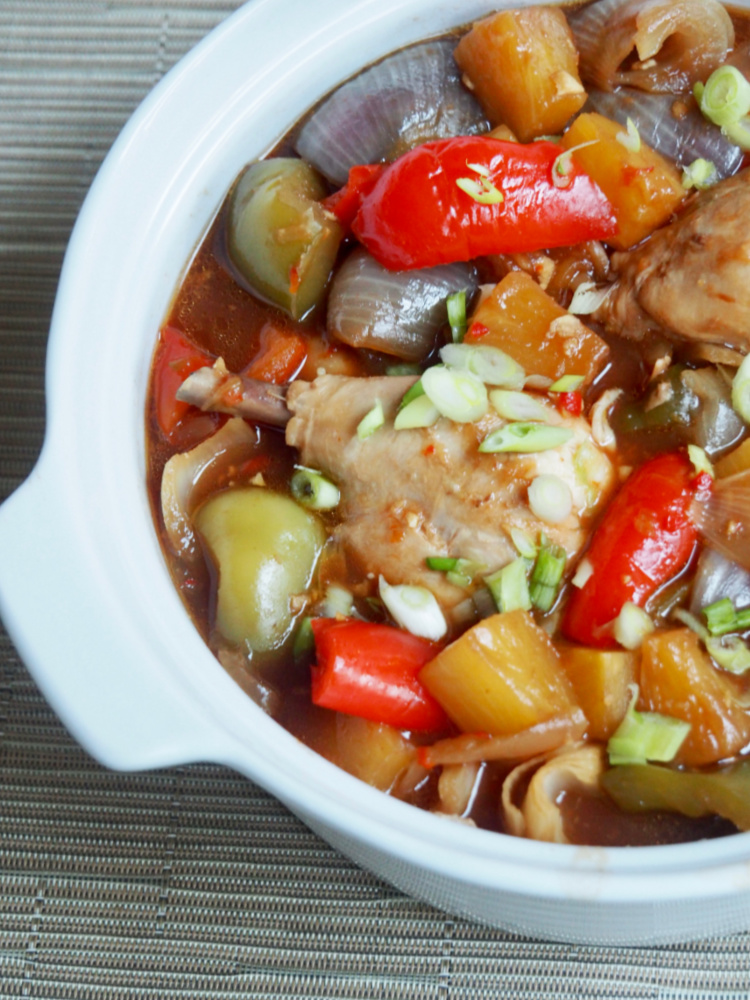 Talking of sauce, this dish is super saucy, it's almost stew like and so moreish that you'll have to hold yourself back from licking the bowl clean!
You can actually use whatever cut of chicken you like for this recipe but it's best to use chicken on the bone for a more moist result. Chicken on the bone is a bone of contention at our place (excuse the pun) because David does not care for it at all but even he enjoyed this.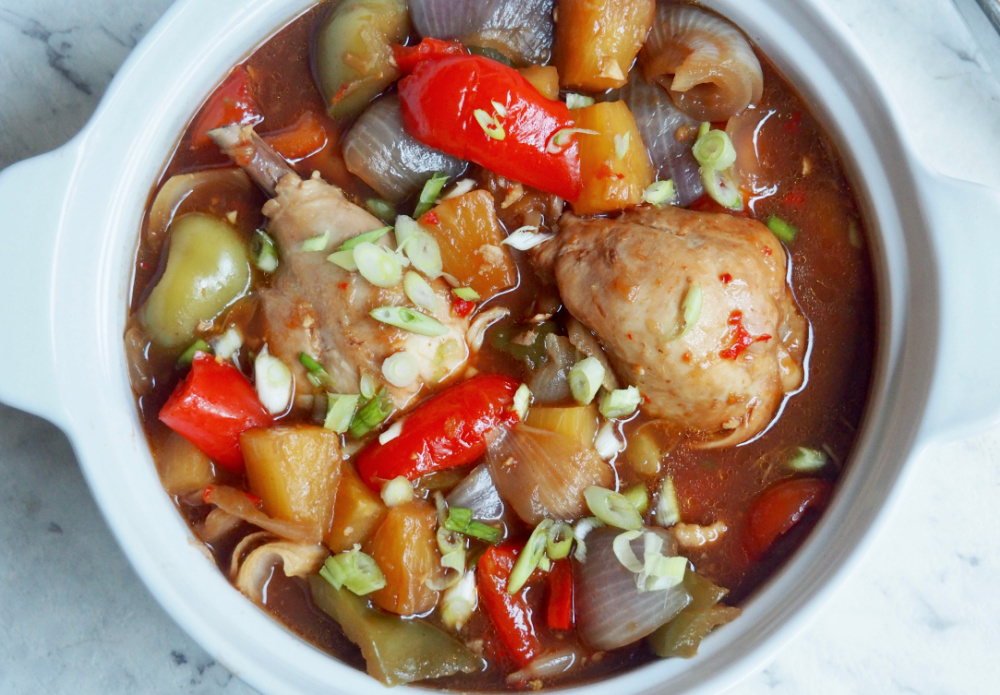 Not only is this dish family friendly, it's also freezer friendly too – just pop into freezer proof containers at the end of stage 3 and away you go.
What's your favourite cut of chicken? Have you recreated a favourite restaurant dish at home?
Ingredients
1 tablespoon vegetable oil
8 chicken lovely legs (or any cut on the bone)
2 red onions, cut into wedges
1/2 cup (125ml) soy sauce
1/2 cup passata
2 tablespoons brown sugar
2 tablespoons white vinegar
1 fresh long red chilli, chopped finely
2 cloves garlic, crushed
1 large red capsicum, roughly chopped
1 large green capsicum, roughly chopped
1 x 432g tin pineapple chunks in juice
2 tablespoons cornflour
2 tablespoons water
2 spring onions, chopped finely to garnish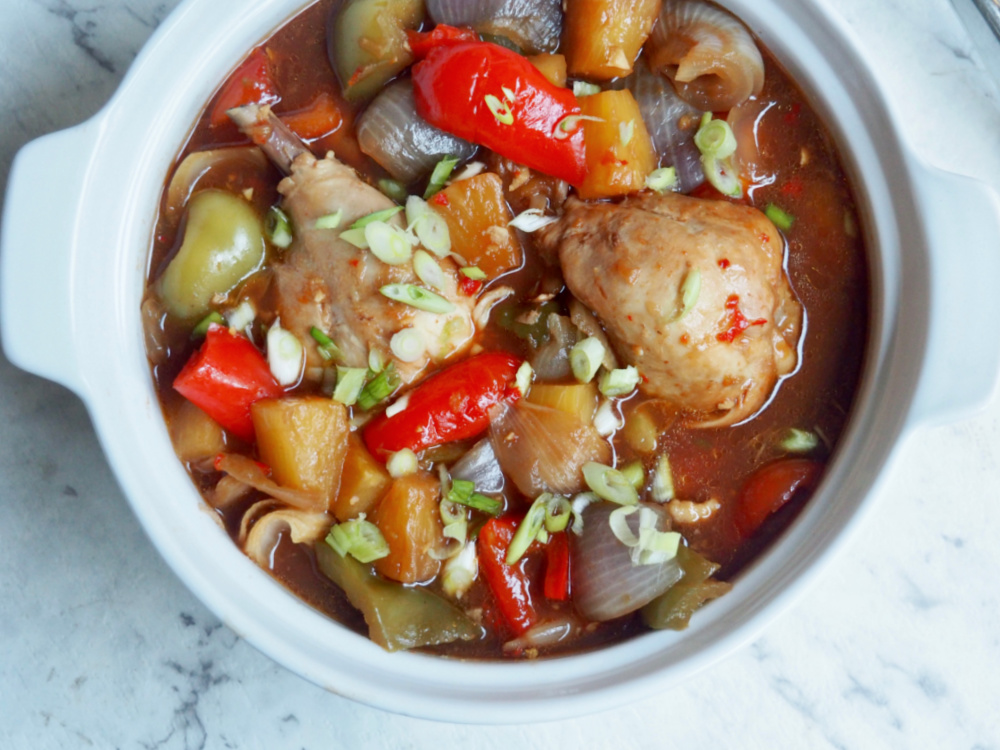 How to
Heat the oil in a large frying pan and cook the chicken in batches until browned. Transfer to slow cooker.
Add the onion, sauces, sugar, vinegar, chilli, garlic, capsicum, half the pineapple and all of the juice. Stir gently and cook on LOW for 4 hours.
Blend the cornflour with the water and mix until smooth Gently remove the chicken from the slow cooker and cover to keep warm. Add the cornflour mixture to the slow cooker and cook for 10-15 minutes on HIGH with the lid off until the sauce thickens. Season to taste.
Serve the chicken with the sauce and sprinkle with spring onion.