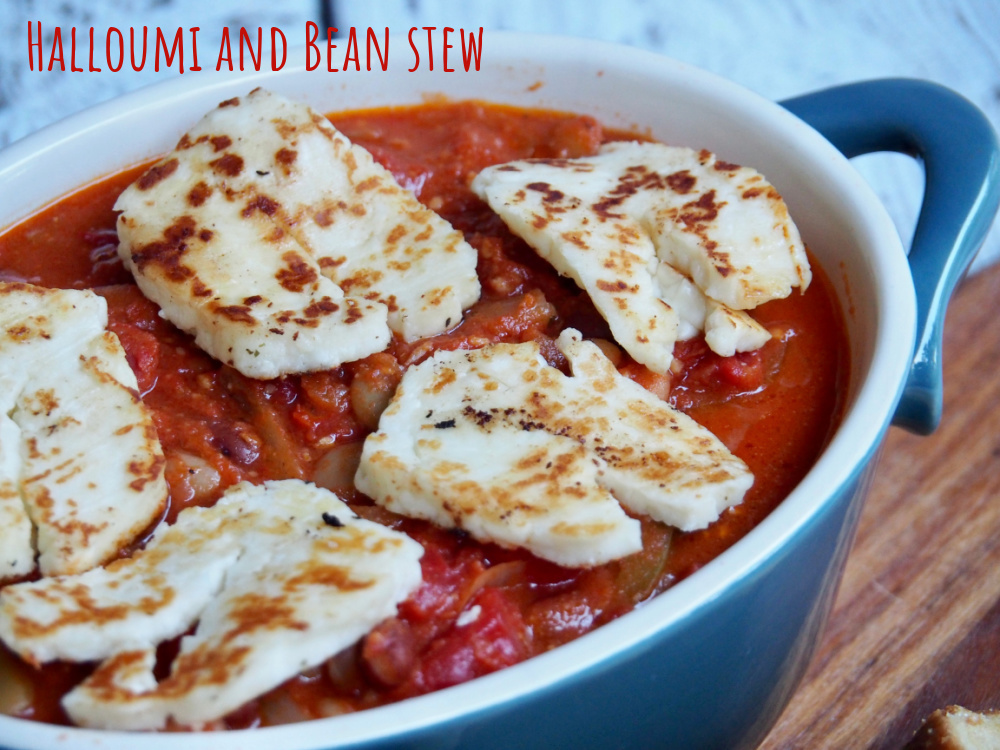 Whip up this budget friendly, quick and easy vegetarian stew with garlic bread in just under half an hour.
This tomato based vegetarian stew makes a marvellous and moreish midweek meal and it's a most delicious winter warmer.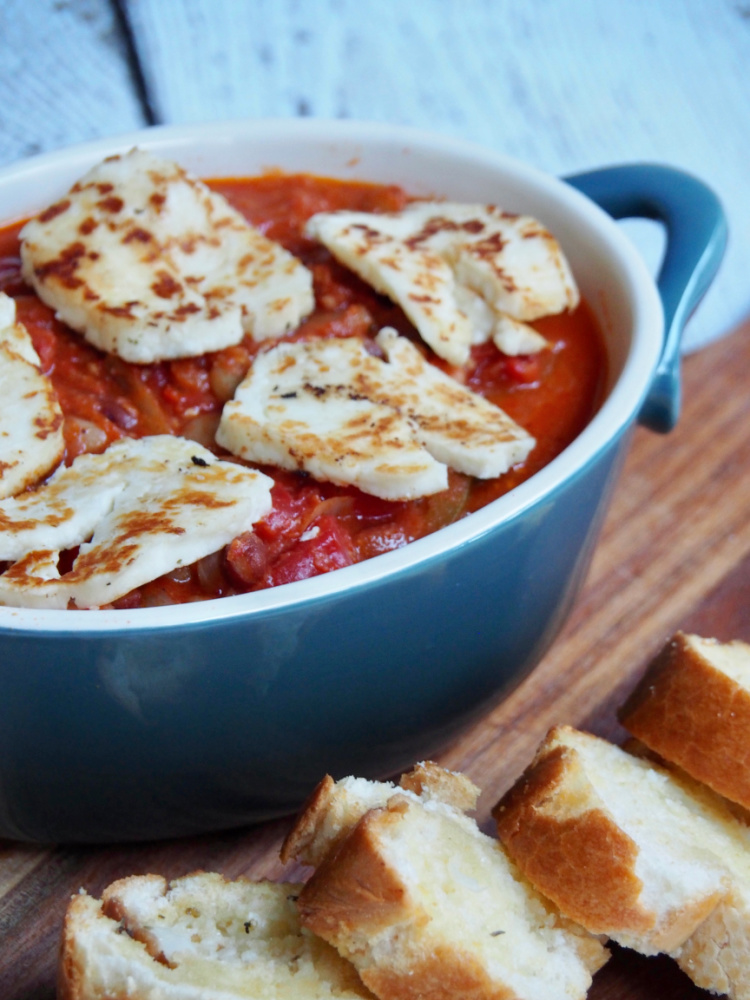 We're huge fans of halloumi and often eat it with salad in summer but the cold weather we had over winter demanded something hotter and heartier and this stew certainly delivered.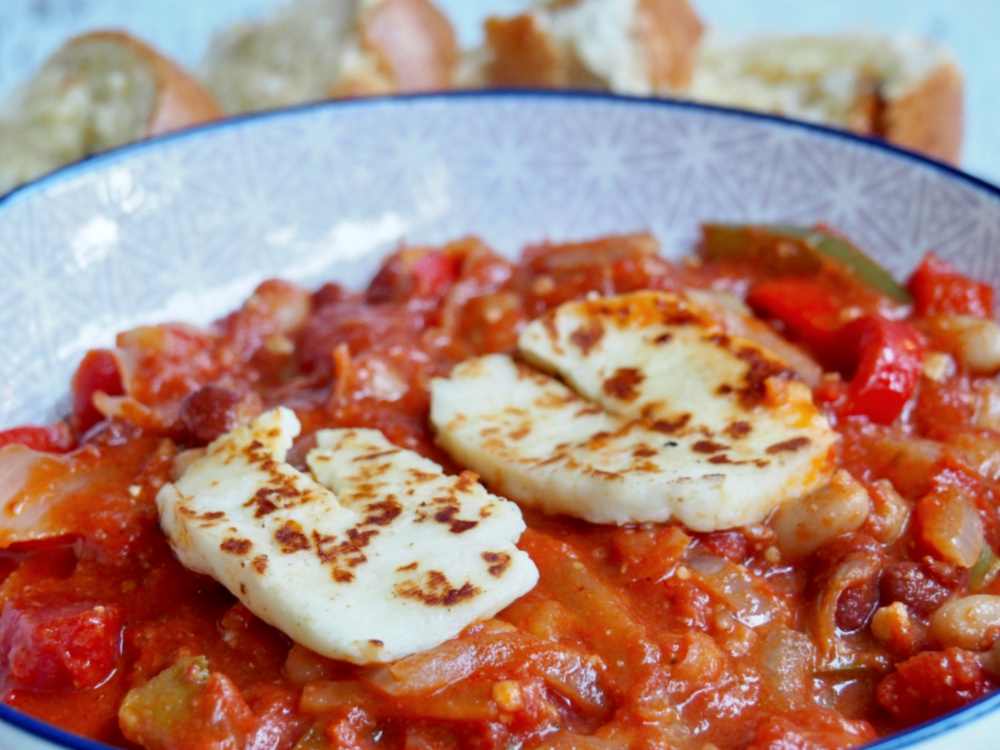 The stew itself is not just hearty and healthy, it's versatile too, if you don't have any mixed beans, chickpeas or kidney beans will also work well.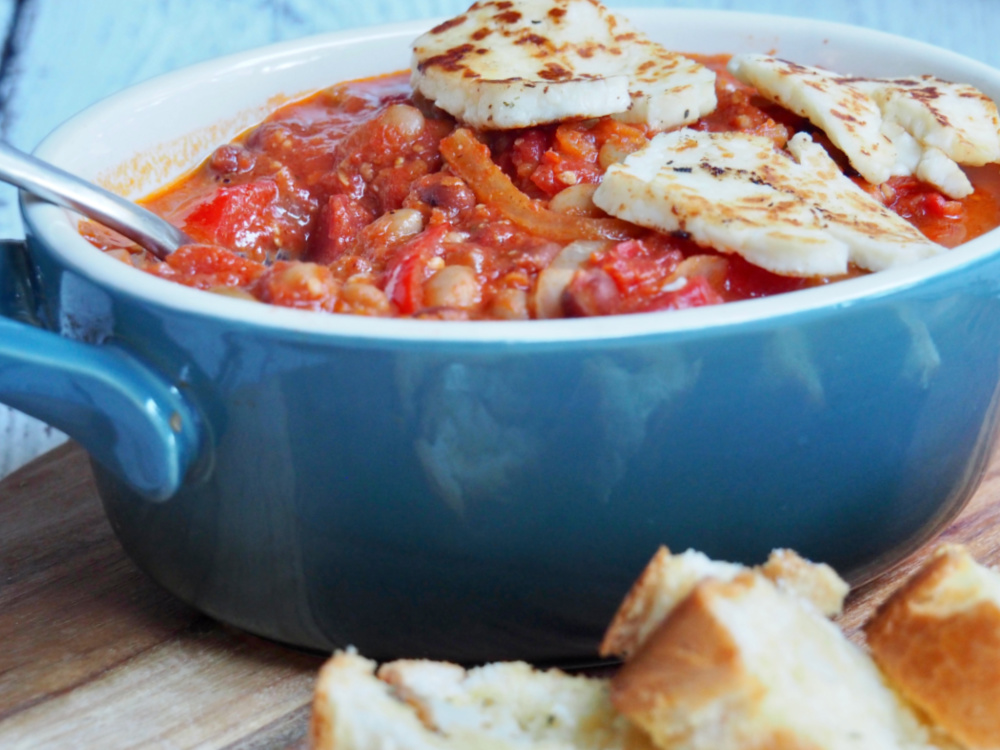 Of course, the garlic bread is entirely optional but I highly recommend because you do not want to leave any of the flavoursome juices unmopped!
If you're tight for time, shop bought garlic bread will suffice but if you have a spare 5 minutes, I highly recommend you give my homemade garlic bread a go, it's so quick and easy and totally delicious.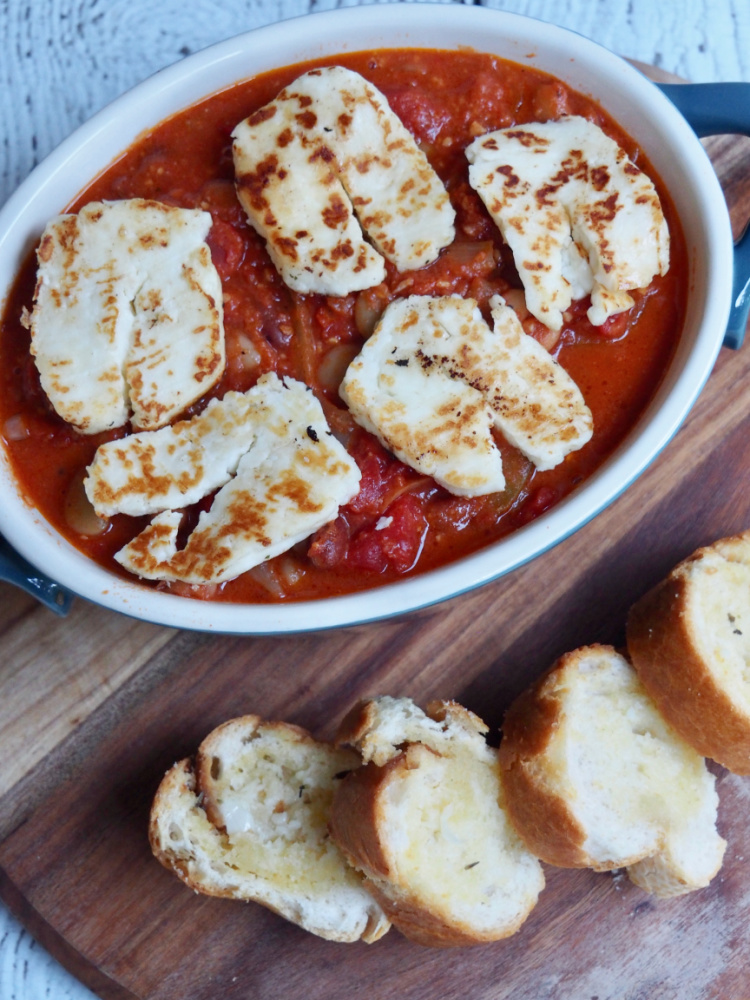 In fact, it's a recipe I've been making for over 30 years since I first went away to university – gosh, that makes me feel old – which is a long time but actually feels like yesterday!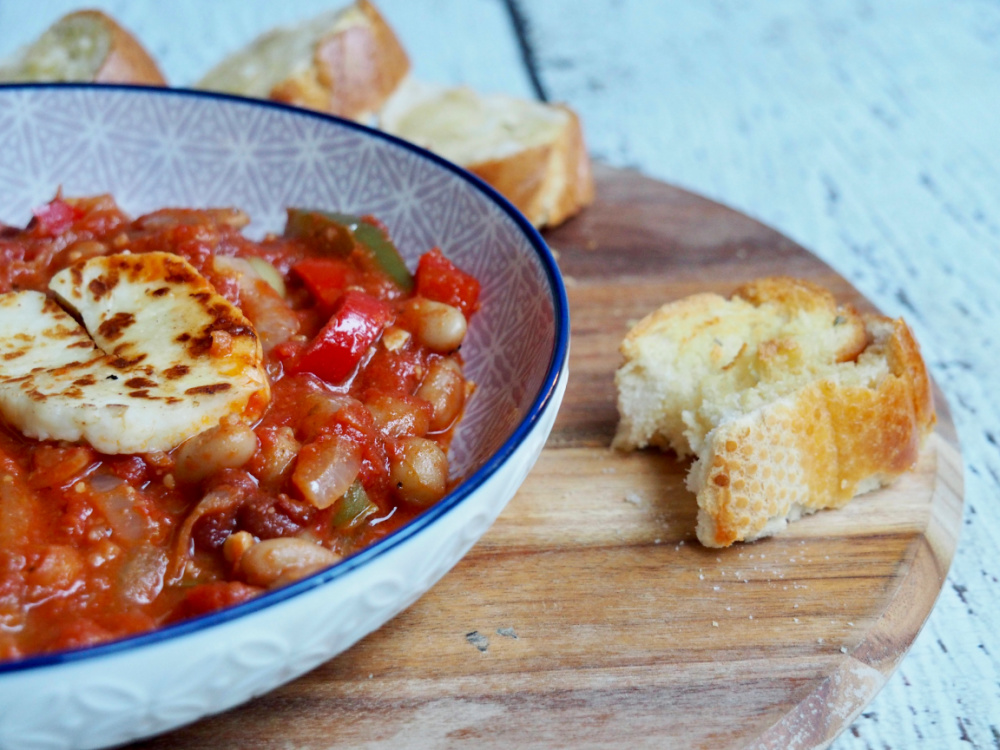 Suffice to say, this recipe never gets old and a little loaf is just perfect with this halloumi topped stew. Everything is better with halloumi and garlic bread too!
Have you got a recipe that's an oldie but a goodie? Do you love halloumi too?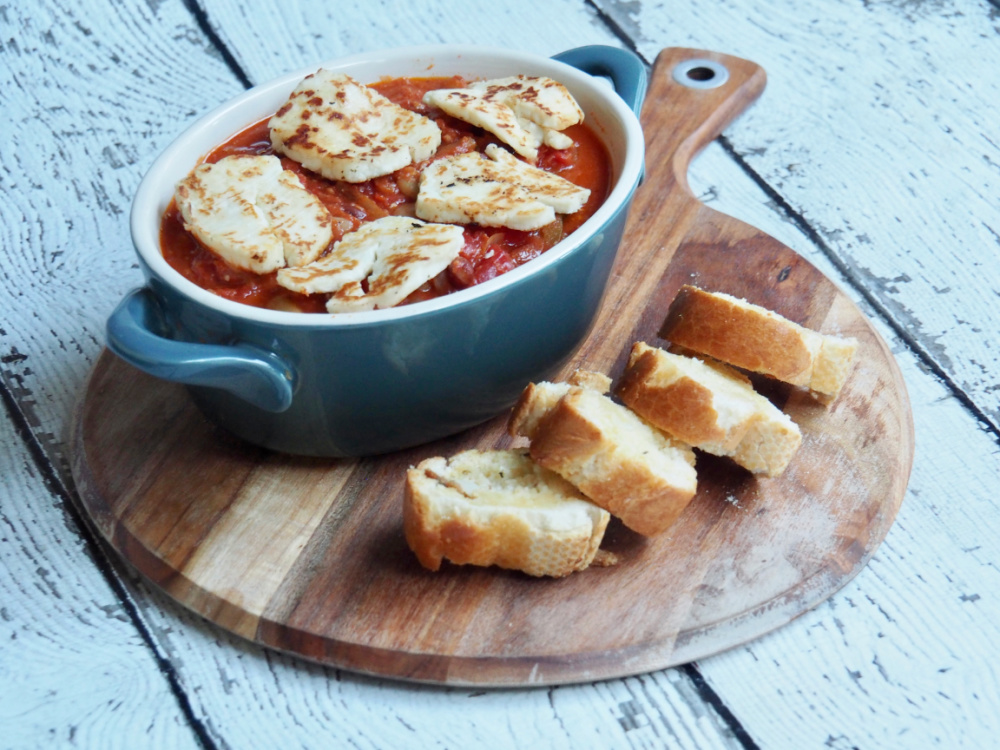 Serves 2 generously
Ingredients
2 tablespoons olive oil
1 brown onion, thinly sliced
1 red capscium, thinly sliced
1 green capsicum, thinly sliced
2 garlic cloves, crushed
3 tablespoon sundried tomato paste
1 teaspoon ground coriander
1/2 teaspoon oregano
1 teaspoon paprika
pinch chilli flakes
1 x 400g can mixed beans
1 x 400g can chopped tomatoes
125g halloumi cheese, thickly sliced
FOR THE GARLIC BREAD
1 small french stick
100g softened butter
2 fat cloves garlic, crushed
generous pinch dried mixed herbs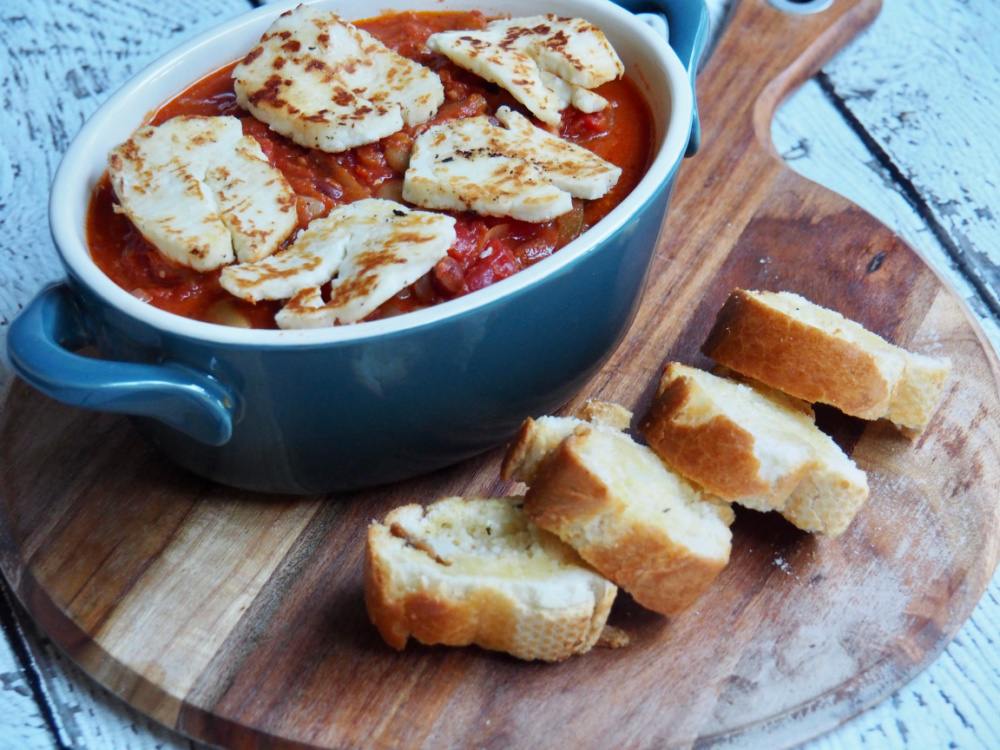 How to
First make the garlic bread. Preheat the oven to 200C.
Mix the butter, garlic and herbs in a small bowl. Slice the loaf at 2cm intervals and cut within 1cm of the base.
Open up the cuts and spread with the garlic butter. Spread a little more butter over the top of the loaf.
Wrap the loaf in foil and cook for 20-30 minutes.
While the loaf is cooking, heat the oil in a large frying pan and cook the onion, capsicum and a pinch of salt for about 10 minutes or until softened.
Add the garlic, pesto and spices and cook for 1 minute until fragrant.
Tip in the beans, chopped tomatoes and 1/2 can water, then bring to a simmer and cook, uncovered for about 10 minutes.
In a separate pan, fry the halloumi until golden brown on each side.
Place the stew in bowls and top with the halloumi slices. Serve with garlic bread.