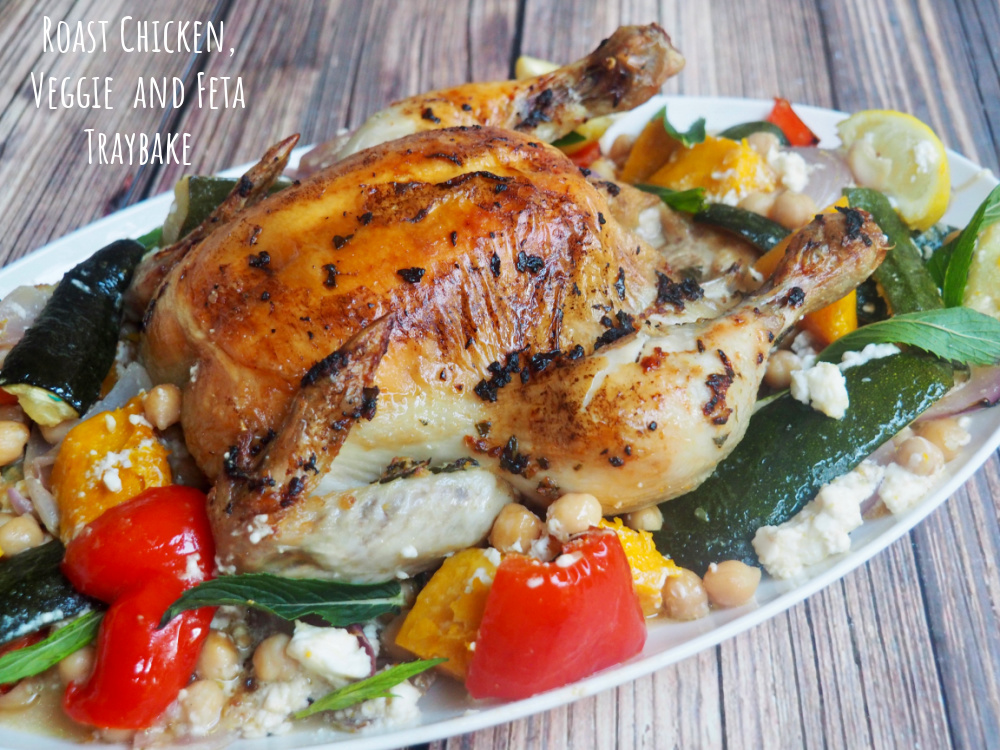 This one tray wonder is such an easy and delicious way to serve a roast chicken dinner.
Everyone will love this delicious roast chicken cooked with veggies and finished with feta – it's a total flavour sensation!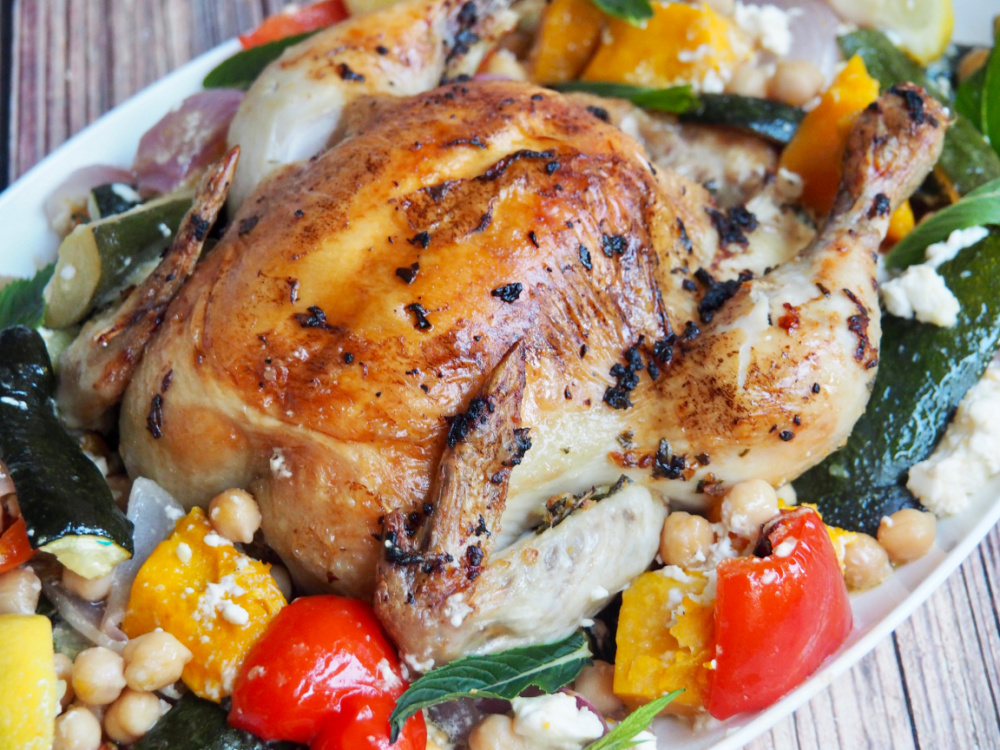 Some bloggers plan their content months ahead but I'm not one of those bloggers. These days I'm rushing around a a day or two before I publish trying to put my post together.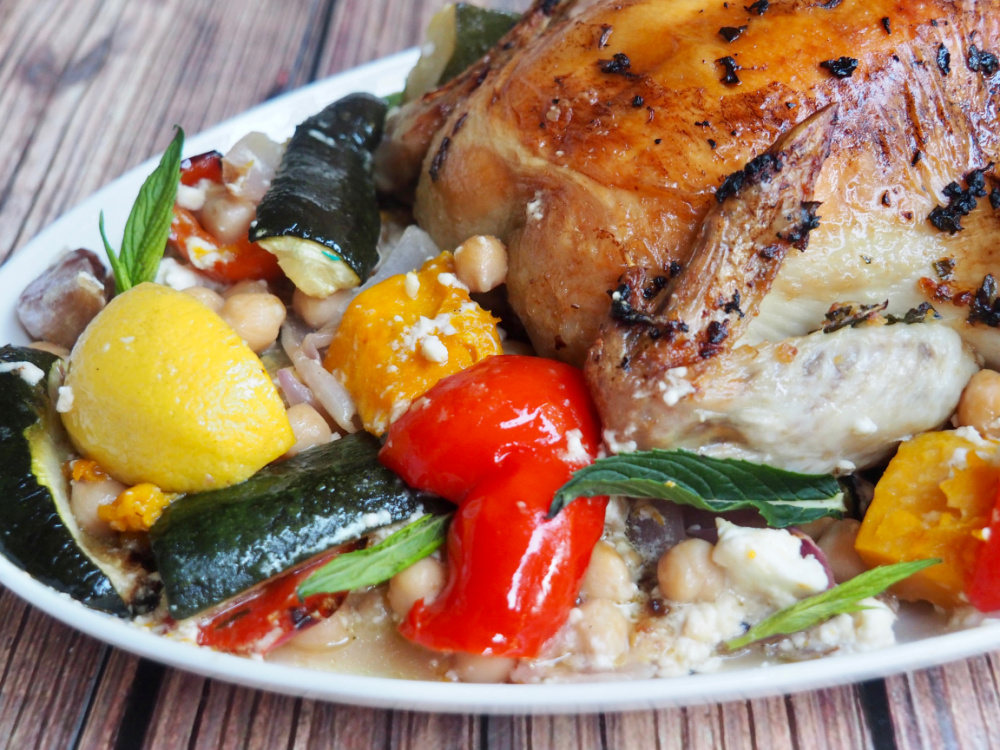 When it comes to blogging, I'm definitely not a planner but more a flyer (as in by the seat of my pants) and these days you can pretty much guarantee that what I blog is what we've been eating. That's definitely the case with this winner, winner chicken dinner!
I love that it's so easy to throw together and requires minimal prep yet it's a dish that yields maximum yum. It's also super versatile, use whatever veggies or pulses you have to hand.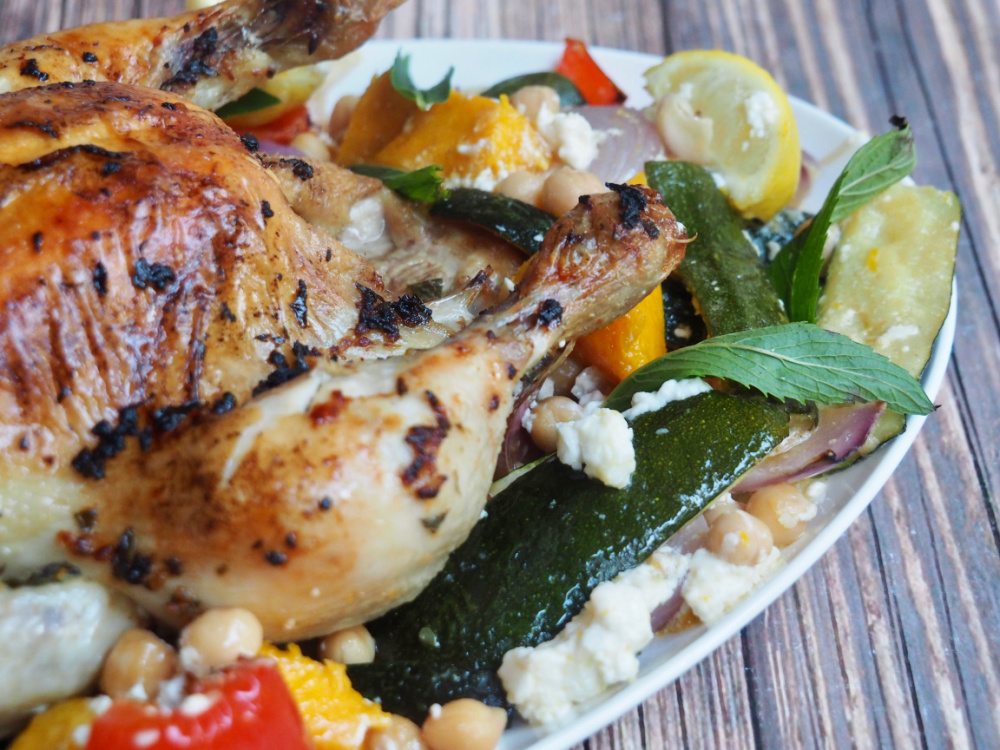 Sometimes I skip the pulses altogether and chuck a tray of roasties into the oven and I always try and serve it with crusty bread because believe me, you don't want to leave any of those juices behind.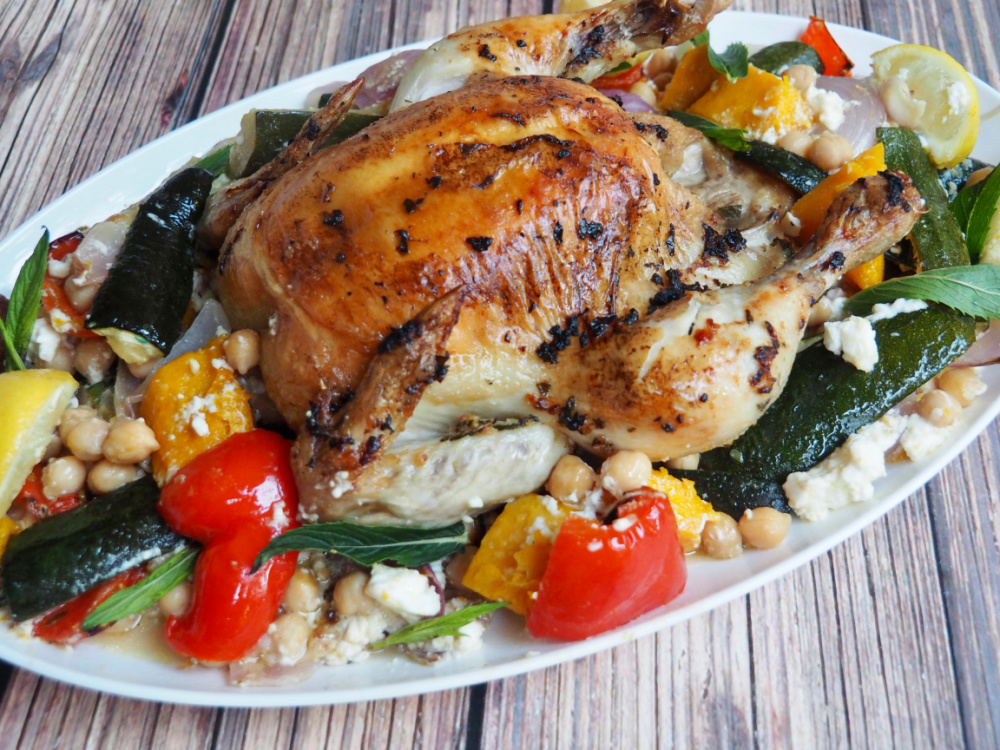 While this roast chook isn't going to win any beauty contests, it could definitely take out a trophy for taste – with the garlic, lemon and herbs, it's just so full of flavour!
What have you been eating lately? Are you partial to a roast chicken too?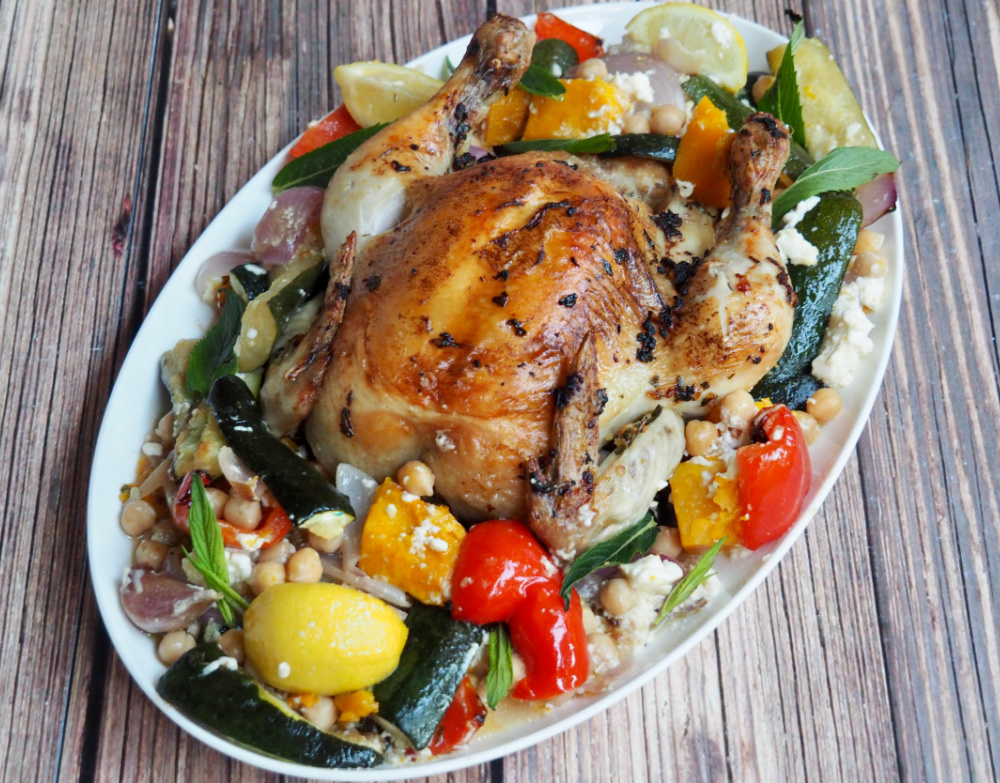 Serves 4
Ingredients
1 garlic bulb, separated into cloves, 3 crushed and the remainder left whole
1/2 teaspoon dried oregano
2 lemons, juice 1, the other cut into wedges
4 tablespoons olive oil
1 chicken (about 1.6kg)
300g-500g pumpkin, peeled, seeded and chopped into chunks
3 small red onions, cut into wedges
4 large zucchini, cut into wedges
2 red capsicums, deseeded and chopped into chunks
3 tablespoons chopped mint, plus a few sprigs to serve
200g pack feta, crumbled into chunks
400g can chickpeas, drained (optional)
crusty bread, to serve (optional)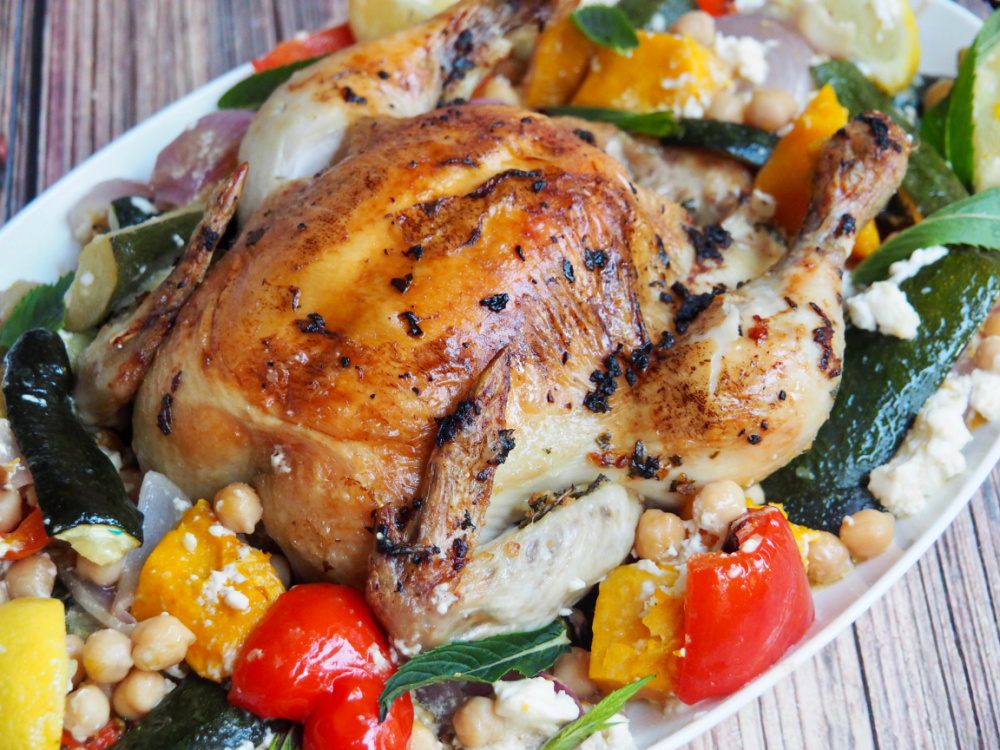 How to
Heat oven to 200C /180C fan-forced. Make a dressing by mixing the crushed garlic, oregano, lemon juice and 3 tablespoons of the olive oil. Season.
Make a few slashes in each chicken leg. Then put the chicken in a large roasting tin and rub with 2 tablespoons of the dressing. Stuff the squeezed lemon shells inside the body cavity and roast for 30 minutes.
Meanwhile, tip the pumpkin, onions, capsicum, zucchini and whole garlic cloves into a large bowl and toss with the remaining oil and some seasoning. After 30 minutes, put all the veggies, around the chicken, drizzle with half the left over dressing and roast for one hour.
Remove the chicken from the oven and put on a large platter. Cover it with foil and leave to rest. Check the roasting tin and if there is a lot of fat, skim it off, keeping the juices in the tin. Stir the lemon wedges, mint, feta and chickpeas, if using, through the veggies and juices, then return to the oven for another 10 minutes to heat through.
Pile the veggie mixture around the chicken and scatter with mint leaves.
This one-pan wonder is a meal in itself, but should you desire a little extra sustinence, serve it up with some crusty bread to mop up the delicious juices.
Other info
Prep Time: 20 minutes Cooking Time: 1 1/2 hours