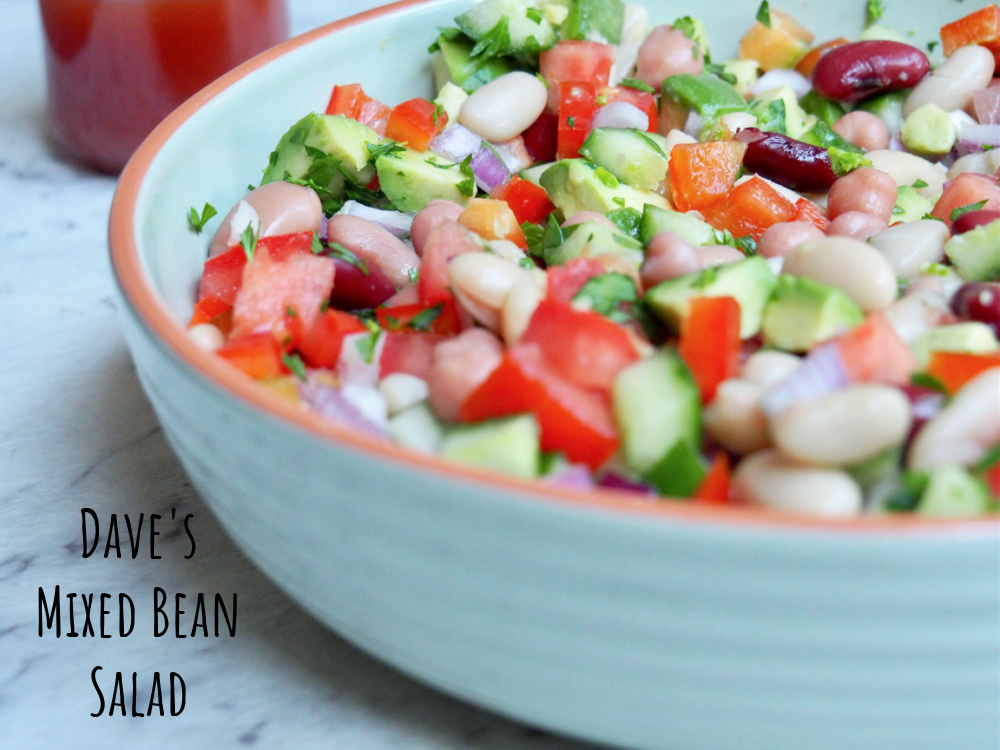 This easy but delicious mixed bean salad is perfect for picnics, barbecues and makes a great side at the dinner table too!
No sooner had I arrived in quarantine than my dear friend Judy and her husband Dave dropped off the most delightful care package – fresh flowers which made my room look and smell divine and the ingredients for this delicious bean salad!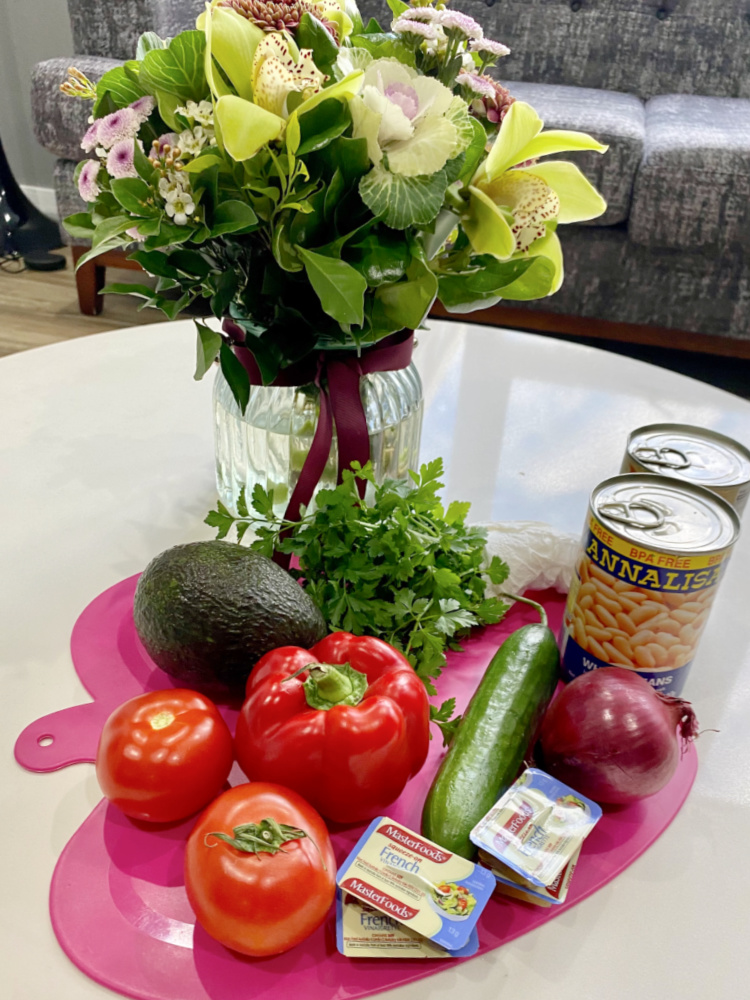 After 24 hours of quarantine food, I had already decided to opt out of the health hotel menu and this salad was exactly what the doctor ordered – easy and quick to make and fresh and delicious to eat!
Dave is retired now but used to travel a lot for work. He enjoyed this recipe when he was on his own working in Far North Queensland but the origins of this salad are much more exotic than that!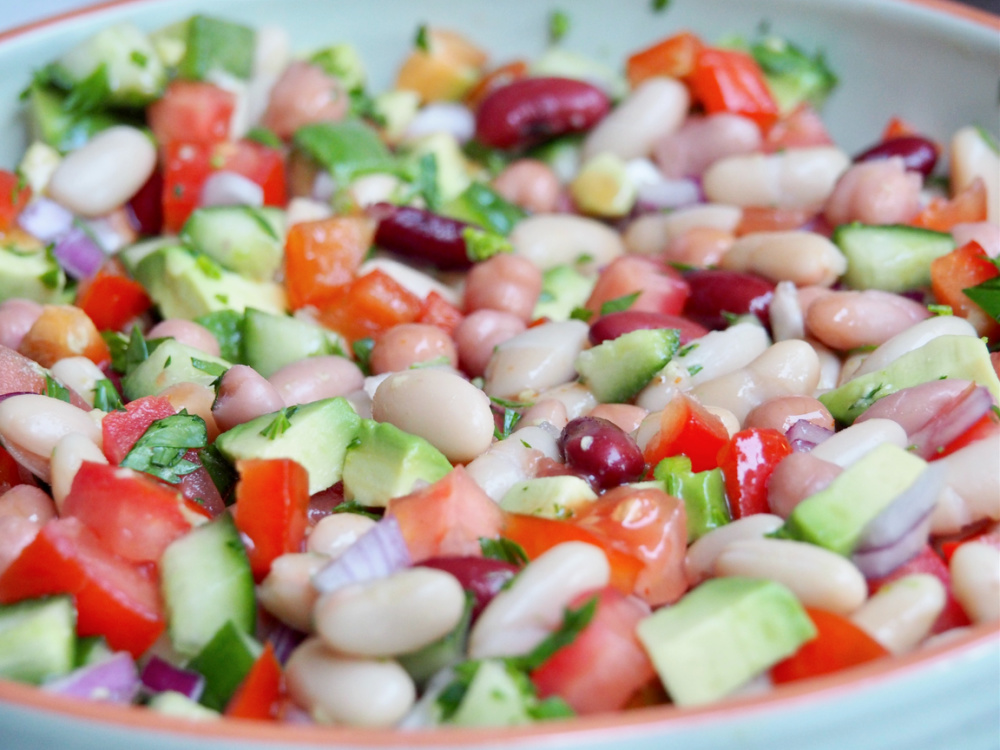 He first invented this salad when he was working in Kazakhstan where fresh meat and fish were really expensive and not very good quality. The meat and fish would be laid out on trestle tables in the market hall with a picture indicating what variety it was – not very appealing.
Fresh vegetables were however, great quality so looking for another source of protein and finding tinned beans, Dave started experimenting from there and he's never looked back!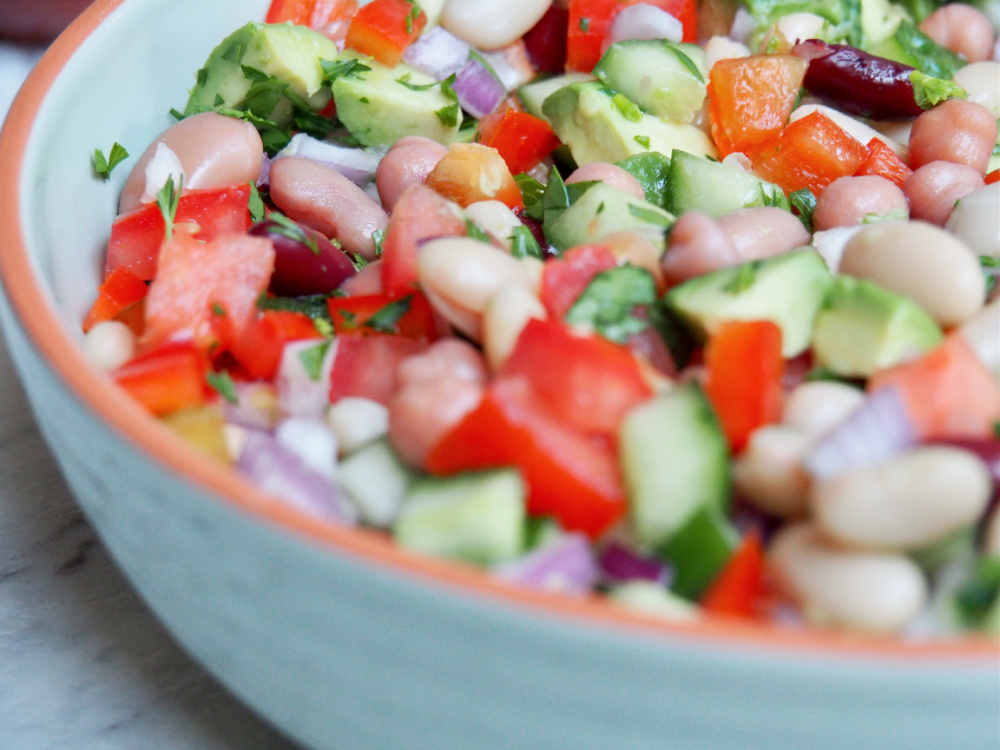 This salad is so quick and easy and it's perfect for any situation where you don't have a lot of kitchen faculties or utensils. All you need is a sharp knife and a chopping board to make this salad. It's the quarantine food, quaranteamers dream of!
This salad is super versatile, I like to stick to Judy's original ingredients although Judy tells me, she just gave me whatever was left in the fridge. Truth be told, you can use any beans or pulses you like but I like to use at least one tin of mixed beans to give it some variety.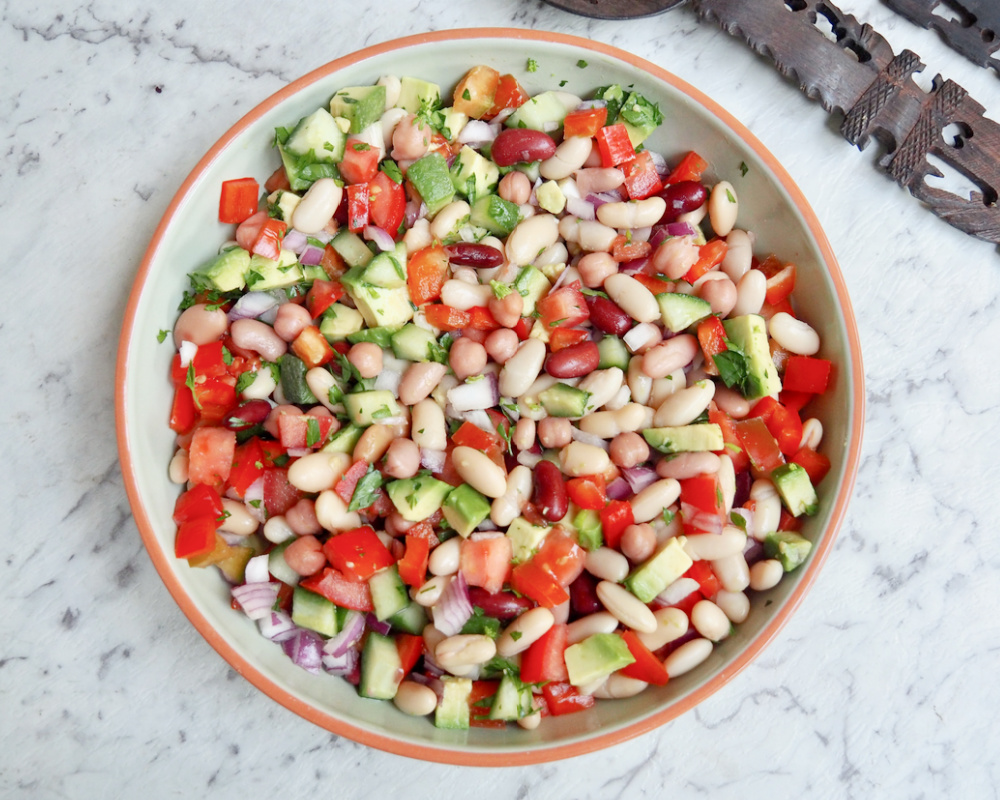 You can also afford to be flexible with the veggies and the herbs, I usually use parsley but I also think coriander would go great if it's your jam (I know it's a very divisive herb!)
Judy and Dave thoughtfully provided me with some little sachets of French vinaigrette to dress the salad but Dave usually likes his dressing on the hotter side by adding some spicy red sauce. You can use any spicy sauce here and how much you use will largely depend on how hot your sauce is!
This salad will taste great with any/your favourite dressing or even just a squeeze of lemon or lime.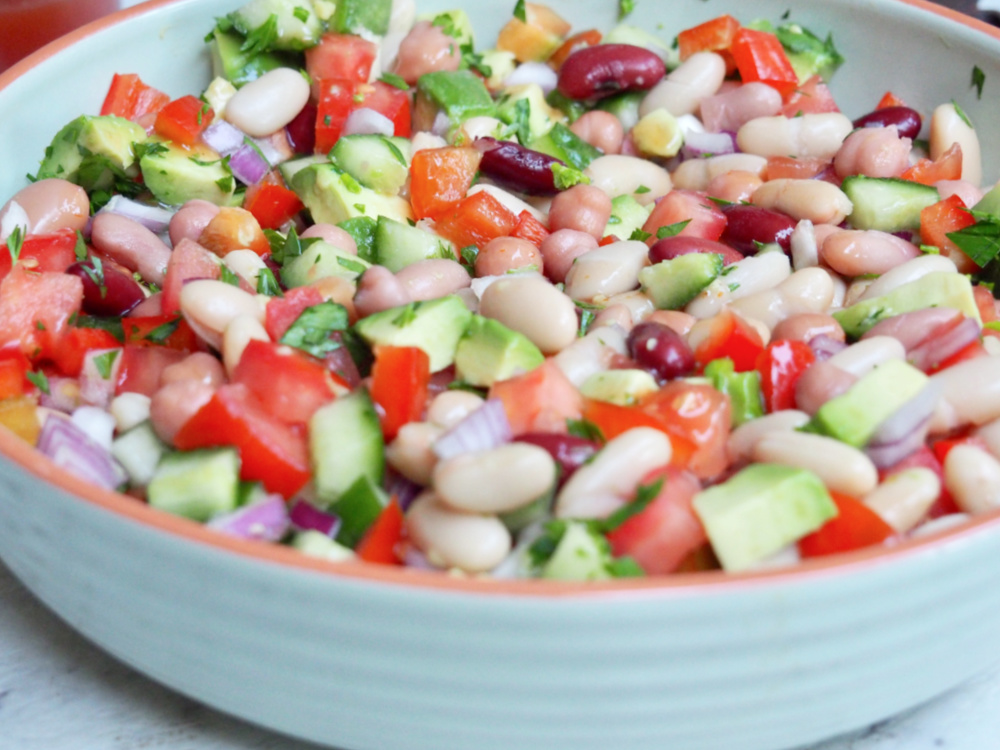 These days this salad appears regularly on our meal planner, sometimes we add some tuna or shredded chicken to make a yummy lunch bowl and sometimes we serve it as a side at dinner.
Dave may have discovered this salad while working and introduced it to me in quarantine but I promise you, this salad is for life, not just for hotel stays!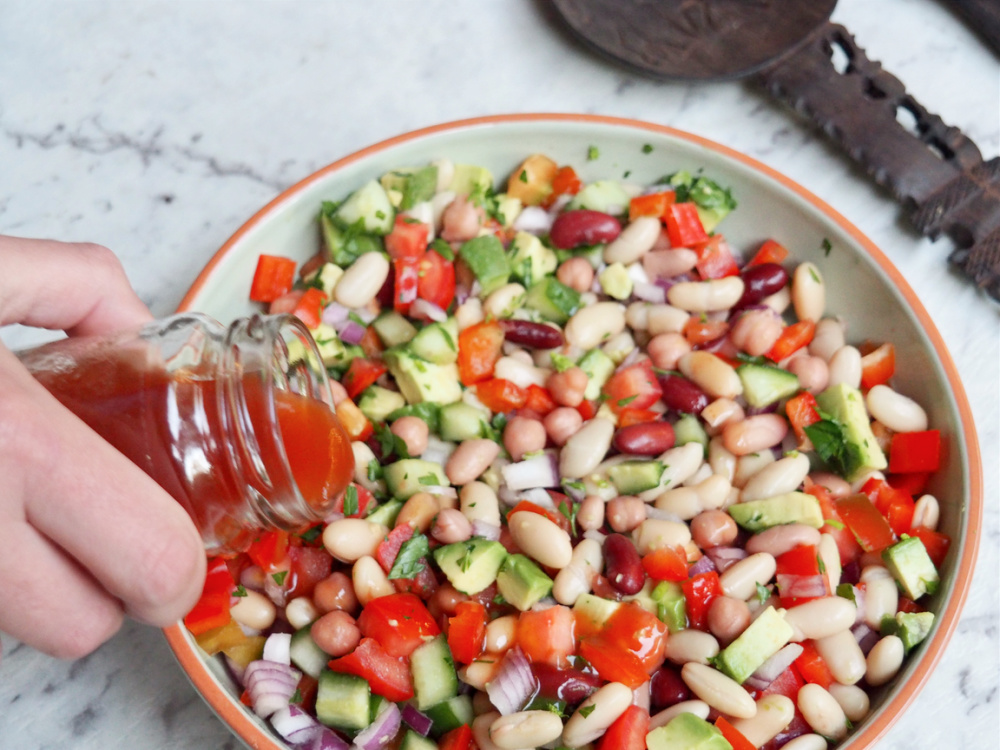 Ingredients
1 x 400g mixed beans
1 x 400g cannellini beans
2 tomatoes, chopped finely
1 Lebanese cucumber, deseeded and chopped finely
1 red capsicum, chopped finely
1 red onion, chopped finely
1 avocado, chopped finely
1 small bunch parsely, finely chopped
FOR THE DRESSING
3 tablespoons olive oil
1 tablespoon white balsamic vinegar
1 tablespoon hot sauce (depending on how hot the sauce is!)
salt and pepper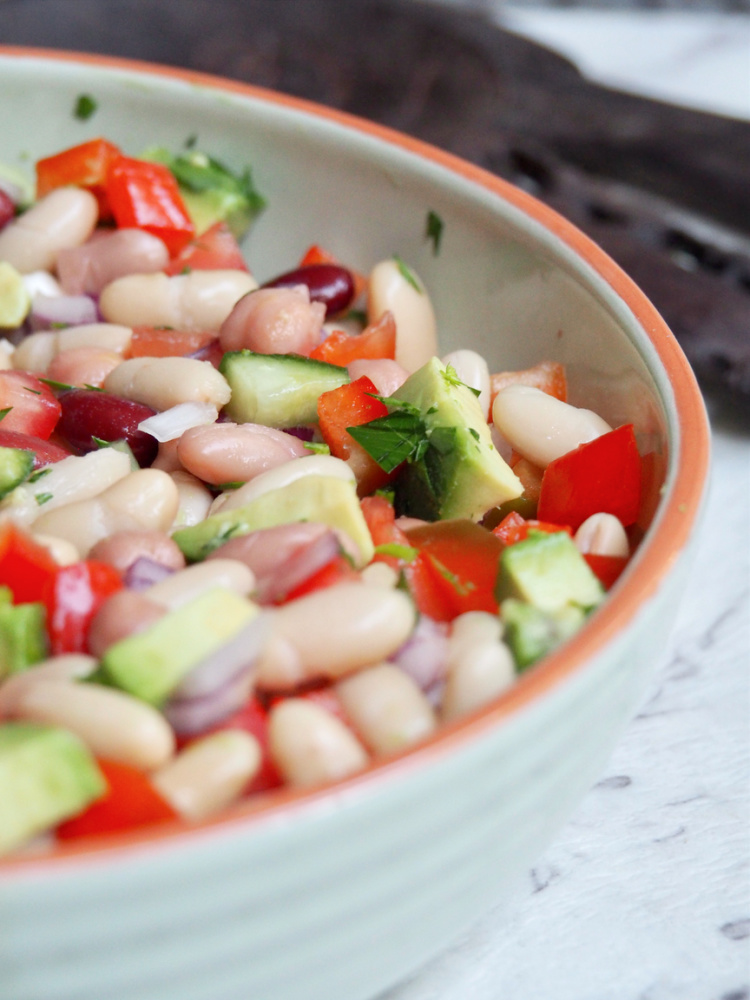 How to
Drain and rinse beans and place in large bowl.
Add chopped veggies and parsley.
Mix the dressing ingredients together and season to taste.
Pour the dressing over the salad and gently toss together.