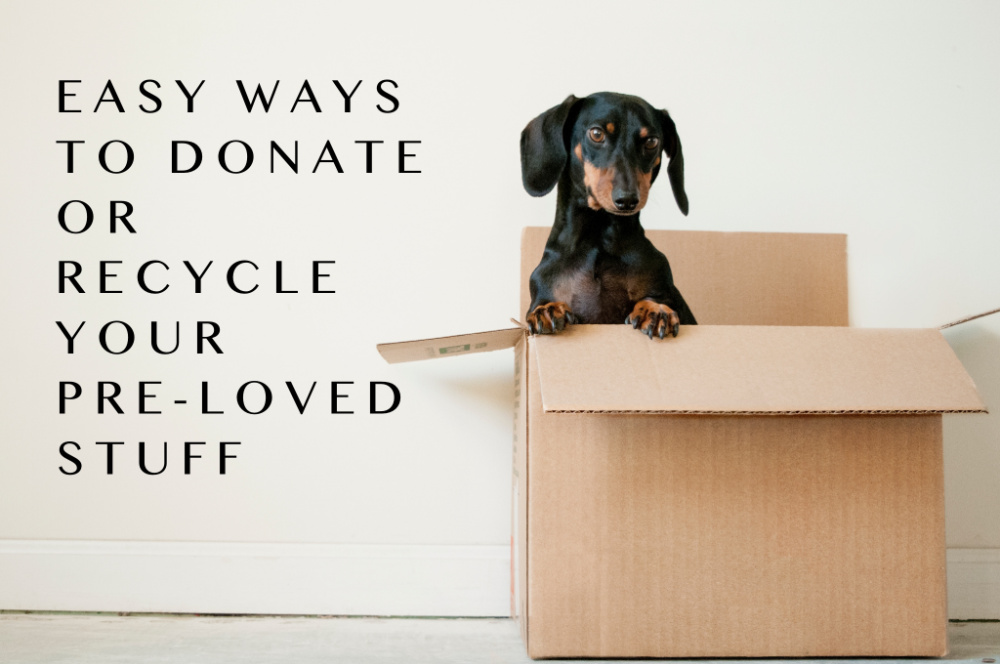 If you're spring cleaning, moving or just having a clear out and you don't need/want to sell things, giving away your pre loved stuff is the best form of recycling.
Before you head for the trash can, think about responsible recycling. Donating your pre-loved goods gives them a new lease of life, gives back to your those who need it most in your community and reduces landfill and the impact on the environment. It's a win, win!
It's worth remembering though that the old adage about one person's trash being another person's treasure is not exactly true. The general rule of thumb is that if the item is in good enough condition to gift to a friend, it's good enough to donate. If an item is damaged or in poor condition, bin it, don't give it!
If you want to declutter safely and responsibly, here are just some of the ways you can do it.
How and Where to Donate
Facebook Marketplace and Gumtree
I didn't know that you could list free items on Marketplace and Gumtree but once I did I was unstoppable. The advantage of using Marketplace and Gumtree is that both platforms have a huge reach and they're are lots of eyesies on your prizes!
Just be sure to include the word 'FREE' in the title/description of your item and it will likely fly out the door. It can be a jungle out there on Marketplace but experience has proved that when an item is free, "buyers" are keen as mustard and will not mess you around.
Virtual Street Pantry
This is a group that says a hard "no" to food waste! If you have food you don't want or need, your local virtual street pantry is the place to go. Even if items are opened and/or a little out of date, they're still likely to find a good home.
It's a great way to eliminate food waste and also helps those doing it tough put nutritious and delicious meals on the table. Find your virtual street pantry on Facebook and if you can't find one locally, why not start your own?!
Op/Charity shops
It's a good idea to phone ahead and check that your local charity shop is accepting donations and/or if there's anything specific that they don't want/need. Whatever you do, don't be that person that dumps outside the shop outside of hours. That just makes the volunteers so much extra work.
Facebook "Free Stuff" Groups
Different from regular Facebook Marketplace, these groups are dedicated to low-waste living and saving items from landfill. Search for your local group using the words 'free stuff' and 'freecycle' and you're good to go.
Freecycle
This is a great community minded platform to find/offer goods for free. We've shared things as random as a few old bricks to outdoor furniture via Freecycle. People are polite, friendly and don't mess around. From experience, I find smaller items move faster as they are easy to collect.
Local Facebook/Community groups
Community Facebook groups are my new obsession. They're a hive of information – from finding a tradie to finding a recipe and pretty much everything inbetween. Plus they're a great source of information on the local area.
They're also a great way to offer your pre-loved items to your nearly neighbours but just be sure to check the group rules as some groups only approve posts in a thread dedicated to second hand goods.
Charities – Lifeline, Vinnies, Salvation Army
If you have larger furniture items and white goods, you can donate to charities who will often be able to collect. However, this largely depends on what they need and you may have to book some time ahead for collection.
Local Refugee Centre/Asylum Seekers Charities
Donating your unwanted goods to a local refugee/asylum seeker organisation can really make a difference to a family in need. However, centres like this don't usually have a lot of storage so it's best to ask close to your move and see if you have what they need.
Givit
Givit is a non-profit organisation that connects donors and community organisations to make sure people and communities get what they need and when they need it. Right now, it's doing stellar work supporting the flood affected communities of Queensland and New South Wales.
Want to donate specific items? Here's how?
Bras
Support the Girls are all about empowering women and to do that they give them quality bras. The charity accepts brand new bras or pre-loved bras in good condition. The rule of thumb is that if the bra is in good enough condition that you would like to receive the bra and wear it, they'll take it. You can send in donations or find a local drop off point.
Support the Girls also accepts brand new undies, unopened toiletries (full size and samples) and sealed packets of menstrual products.
Hotel toiletries
There are a number of ways to donate your unwanted samples and hotel toiletries. Local homeless and women's shelters will be happy to take them off your hands, they are also appreciated on maternity and oncology wards.
You can also donate the toiletries to Every Little Bit Helps (ELBH) at one of the drop off points nationwide. They pack and redistribute the goods to support the homeless, asylum seekers and victims of domestic violence.
Towels and Blankets
Vets and animal rescues will usually be happy to take towels and blankets off your hands.
Professional Attire
You can donate your gently used nearly new work get up to Dress For Success, a charity that empowers disadvantaged women to achieve economic success by providing support, professional attire and development tools. Although the donation requirements are quite specific, this is a great way to empower women in your community.
Technology and Stationery
Officeworks offer free and easy recycling in-store. You can drop off printer and ink cartridges, mobile phones, batteries and even pens and markers!
Had a good clear out recently? Have you got anything to add to the list?
Linking up with Denyse for Life This Month