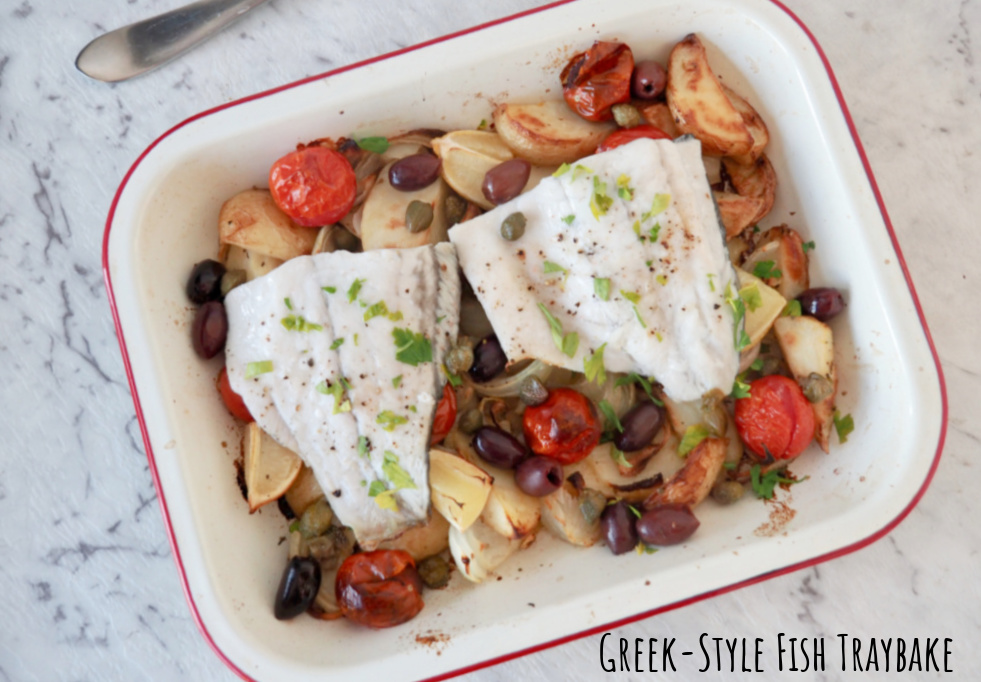 In this tasty traybake, fish is roasted with potatoes, onions, tomatoes and herbs for an easy, healthy and gluten-free midweek meal.
A few weeks ago, the buttons on my old but trusty Thermomix stopped working and my Thermomix had to go in for a service. First world problems I know but I honestly didn't know how I would cope. Although I regularly cook "conventionally," it's more often than not with some value added Thermomix usage.
As I had to think outside of the Thermomix box and seeing as our new place has such an amazing oven, I decided I'd never have a better reason to put it to good use. This traybake ticked all of my boxes – it's delicious, healthy and best of all requires minimum prep and even better, minimum washing up.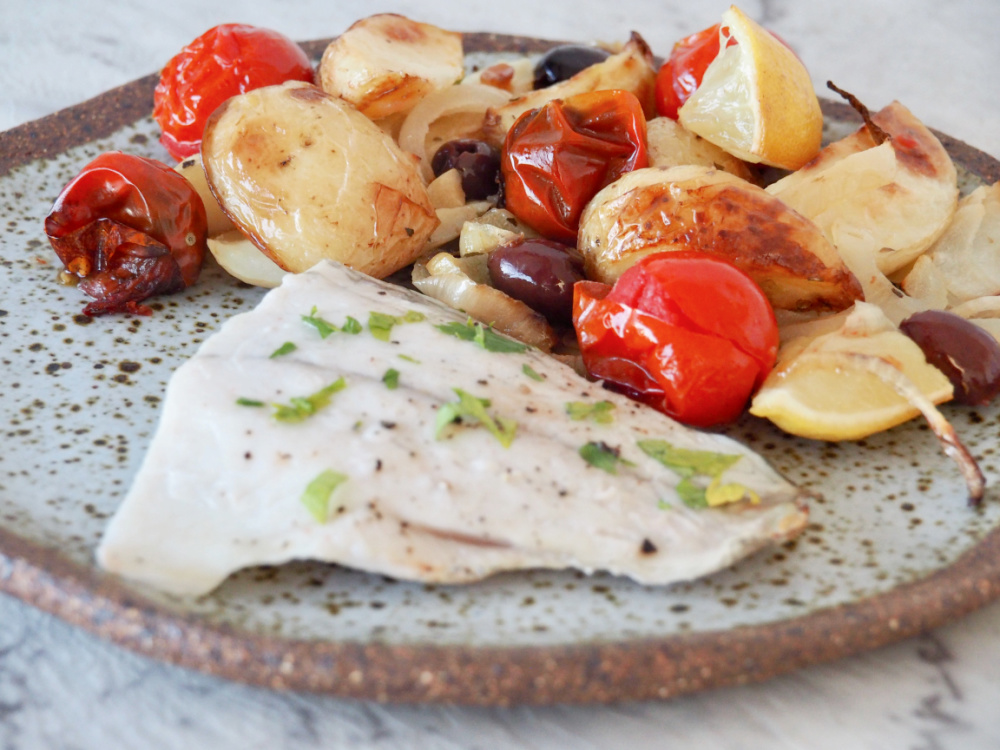 In this recipe, it's worth prepping all the ingredients at the start because then you can just add them to the tray at the appropriate stage of cooking. It's not the quickest traybake I've ever cooked but it's definitely one of hte most delicious!
This recipe is also rather versatile, you can bulk it out with extra veggies and if you're not a fan of olives or capers, you can give them a miss.
I hope you love this fish dish as much as we do!
Are you in love with your oven? What's the one kitchen appliance you can't live without?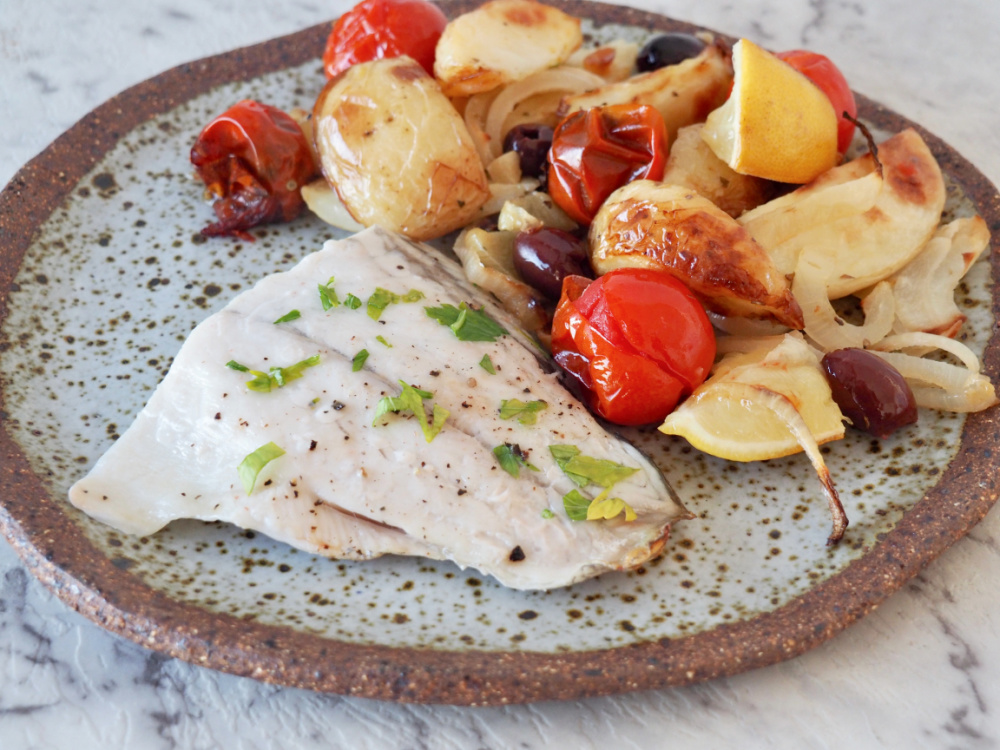 Serves 2 (easily doubled)
Ingredients
4 small potatoes, cut into wedges
2 onions, halved and sliced
3 garlic cloves, peeled and roughly chopped
1/2 teaspoon dried oregano
1 tablespoons olive oil
1/2 lemon, cut into wedges
12 cherry tomatoes
12 pitted kalamata olives
1 tablespoon capers
2 x 100g barramundi fillets
fresh parsley, to garnish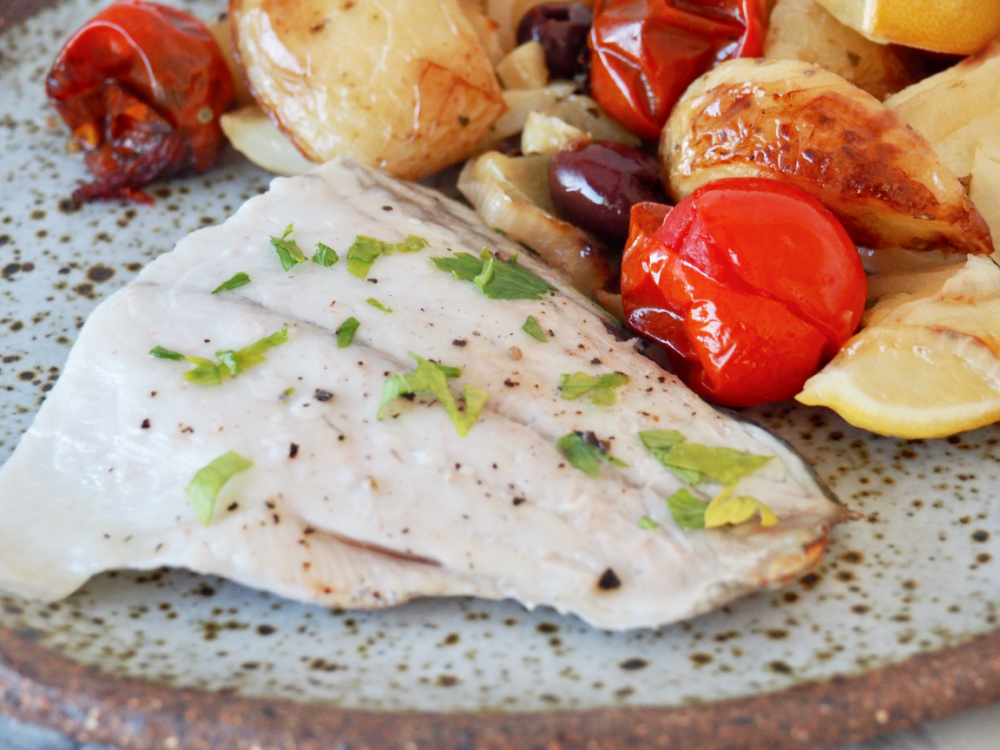 How to
Preheat oven to 200C/180C fan-forced.
Parboil the potato wedges until just tender and drain.
Tip the potatoes, oregano and olive oil into a roasting tin and toss to combine. Roast in the oven for 15 minutes.
Add the onion and garlic and bake for a further 15 minutes.
Add the lemon wedges and tomatoes and cook for a further 10 minutes.
Top the veggies with the fish fillets and season well. Roast for a further 15 minutes, adding the olives and capers for the last 5 minutes of cooking.
Garnish with parsley and serve immediately.