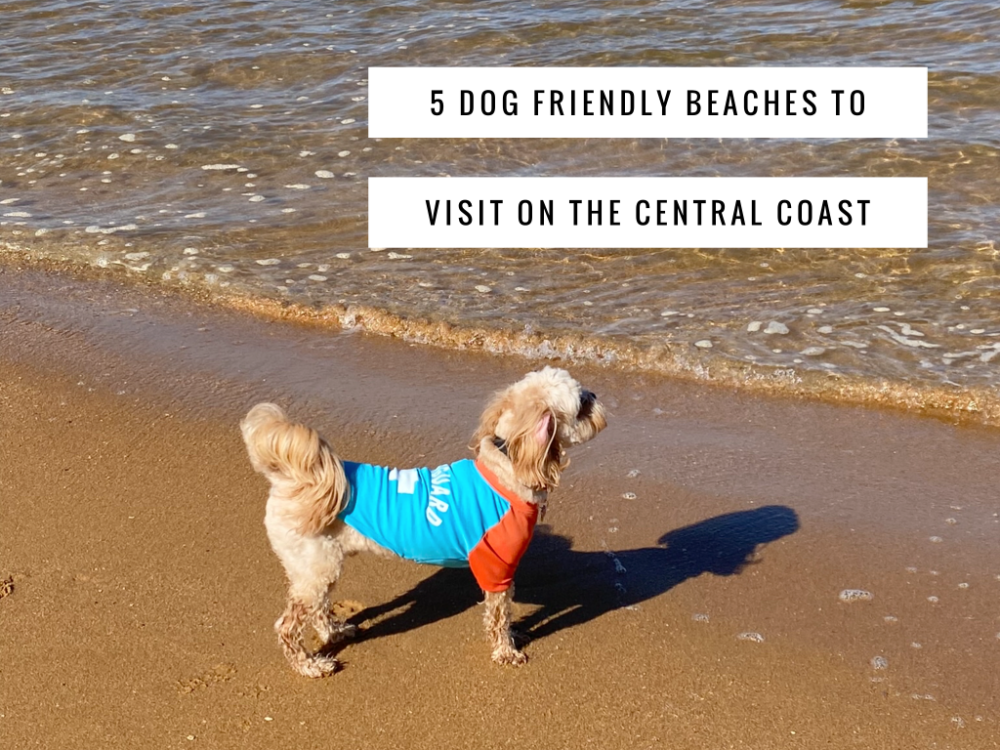 The Central Coast has some amazing beaches and so many of them are dog friendly, we've rounded up five of our favourites.
I don't know whether it's the combination of the foul weather we've been enjoying or the fact that we're leaving town but in the last couple of months, we've been to the beach more times than we have in the last couple of years – not that we're complaining!
We love the Central Coast because it's got a great choice of dog friendly beaches, free and abundant parking, it's never too busy (at least by Sydney standards,) and it's all within a 90 minute drive of Sydney. Winning!
We totally took one for the team and checked out local food and drink options too. Rest assured, there will be no hungry hoomans on our watch.
Unlike other areas, the off leash dog beaches on the Central Coast are always off leash but check the signs because usually only a designated part of the beach is off lead.
All the dogs and the owners we have met have been so respectful and responsible. Remember, if your dog isn't going to come back to you when called, it shouldn't be coming off the lead!
Add these beaches to your must visit list!
North Shelly Beach
Located near The Entrance, Shelly Beach is one of our favourites. The dog beach is technically North Shelly Beach – and the dog friendly areas are very clearly signposted.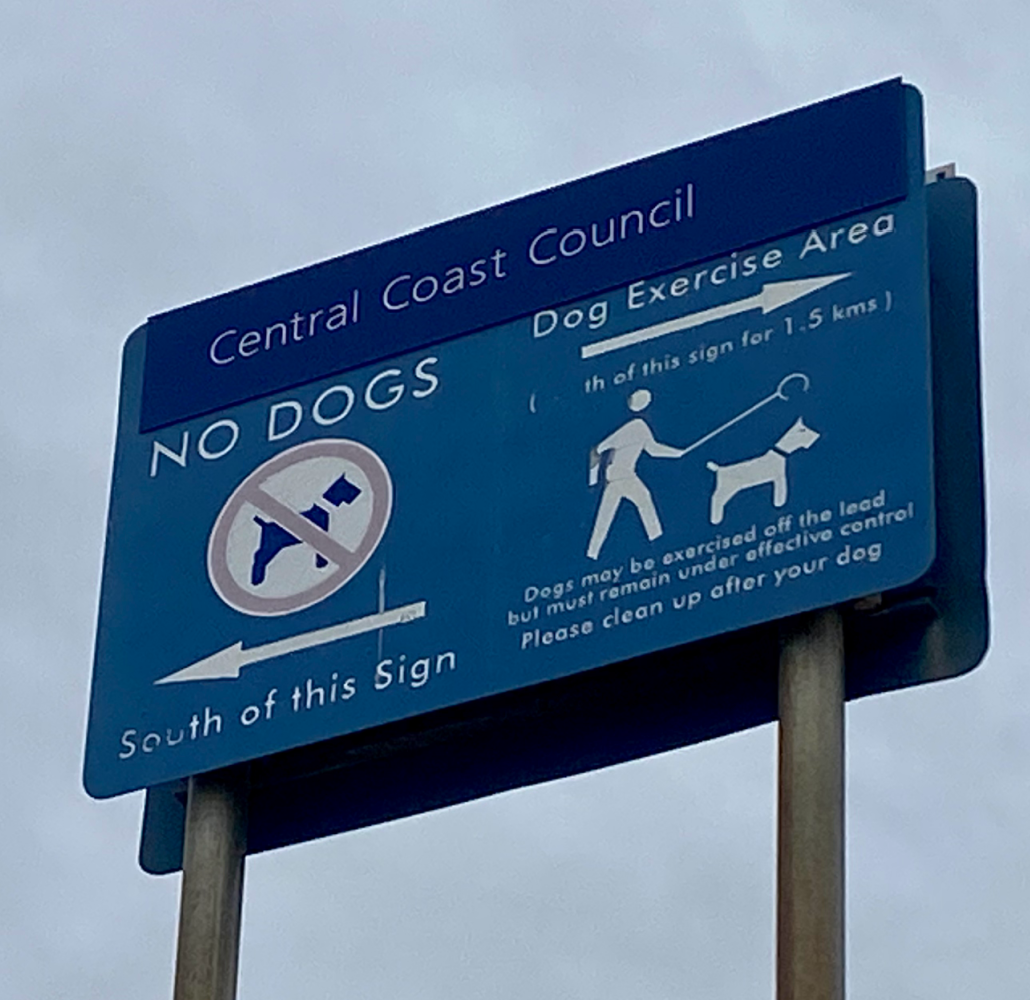 Dogs can go off leash any time of the day. The off leash section starts from the beach access stairs and if you're pup is feeling very energetic they can run free for almost 1.5km to just before Toowoon Bay (note: Toowoon Bay is not dog friendly.)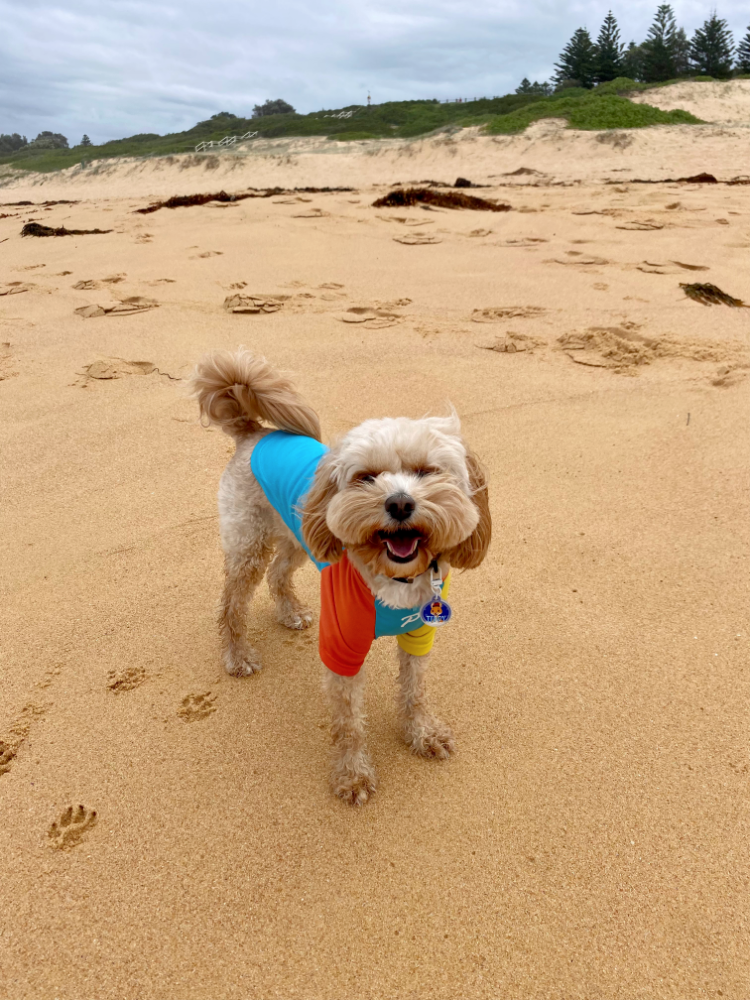 We love this beach because there's plenty of space, the water is super clean and it's frequented by conscientious owners and friendly dogs. Bonus points for a decent cafe, clean toilets and plenty of free parking! If you're sans dog, the beach is patrolled and the surf is good – just remember to swim between the flags!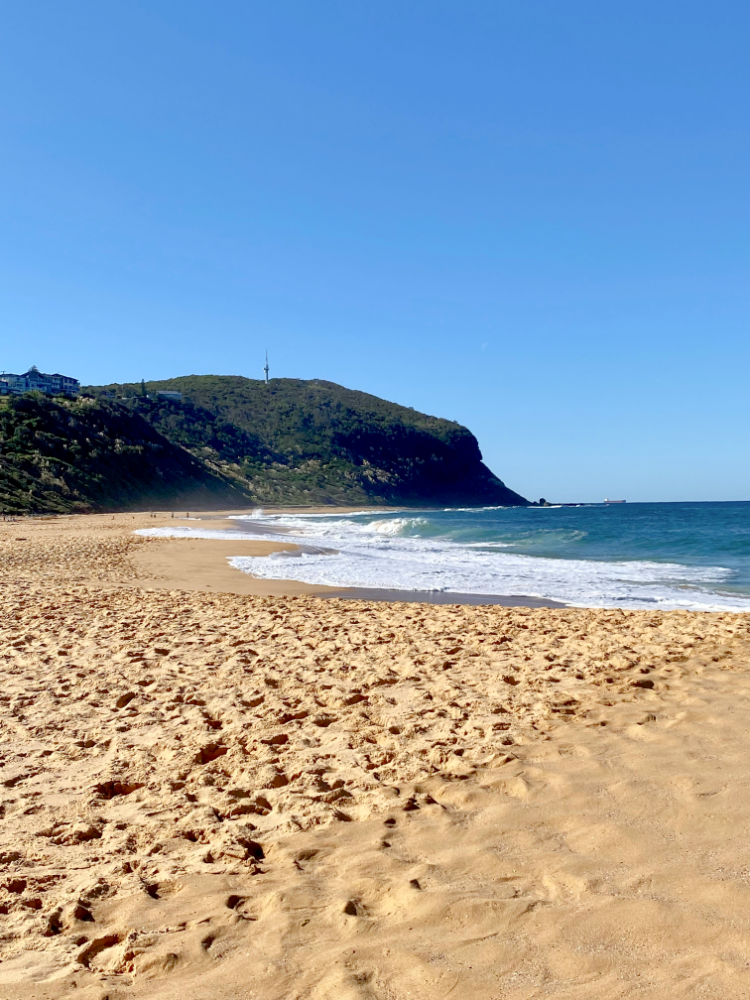 To Refuel
Ground Floor Surf Living Club, Shelly Beach Shelly Beach Road, Shelly Beach NSW 2261
For a relatively small place, there's a surprisingly big menu with plenty of choice. It can get super busy though so be prepared to wait. If you're lucky, you'll score a seat at one of the outside tables, if not, grab and go – there's plenty of picnic tables and places to sits nearby.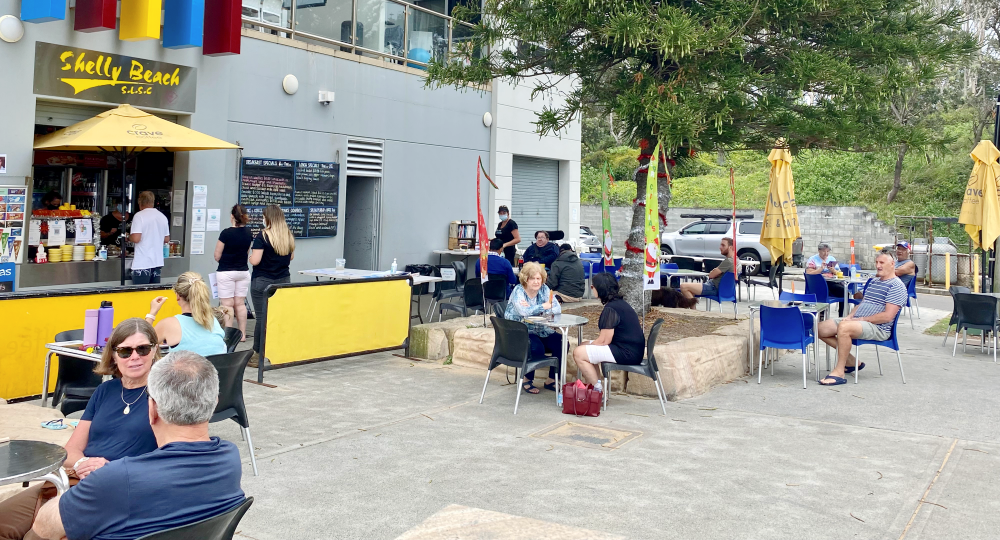 Ettalong Beach
The water here is calm and shallow making it a great choice for families and pups! The whole of the beach is dog friendly but the close to Kourung Street is completely off leash and well signposted. The dogs and their owners here are really respectful – your pup is in for a treat.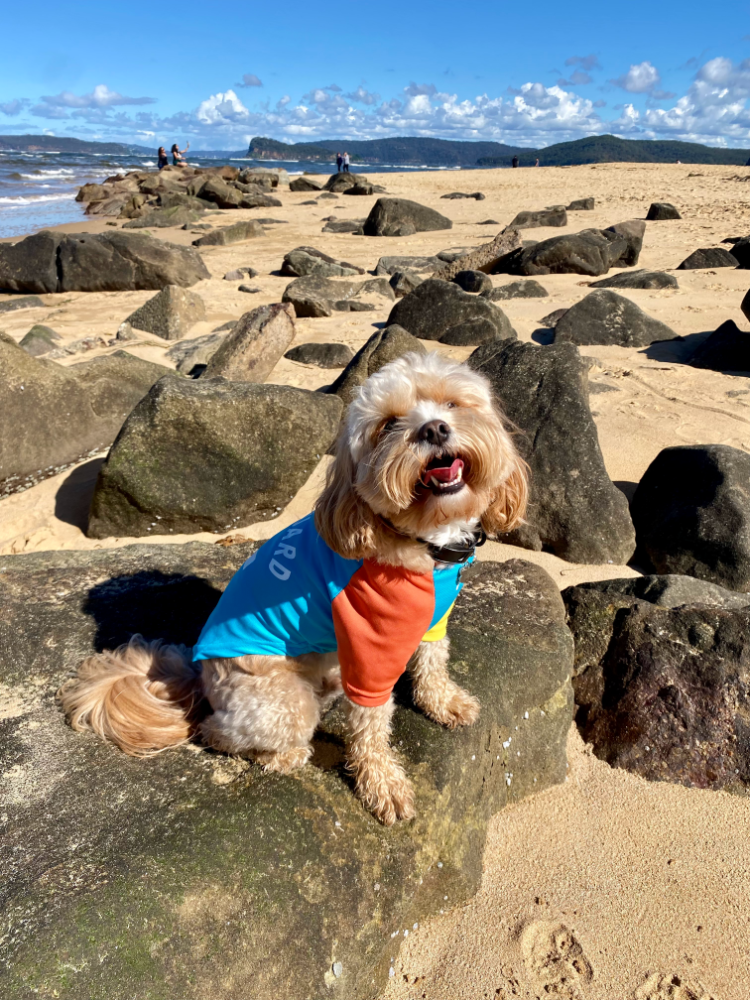 There's a playground, plenty of picnic and barbecue facilities, the popular restaurant The Box on the Water and for take away/casual dining, The Beach Kiosk.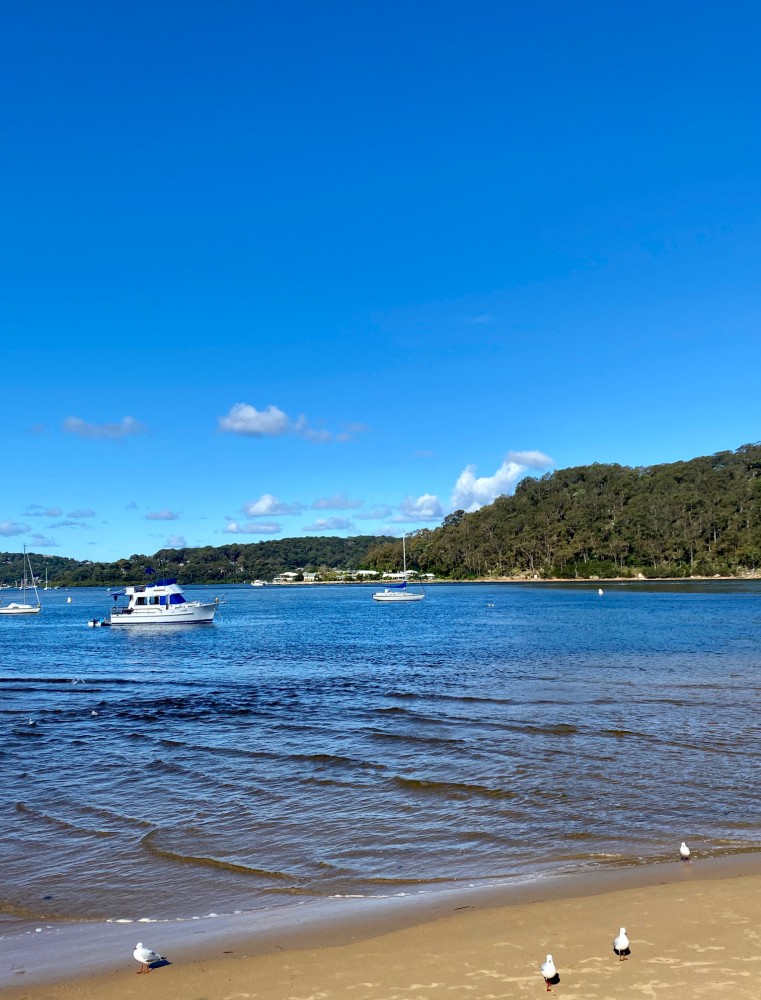 To Refuel
Ettalong Beach Waterfront Reserve, The Esplanade, Ettalong Beach NSW 2257
Location, location, location! The Beach Kiosk is our go to for take away with a view and everyone else's go to too because this place gets super busy at weekends!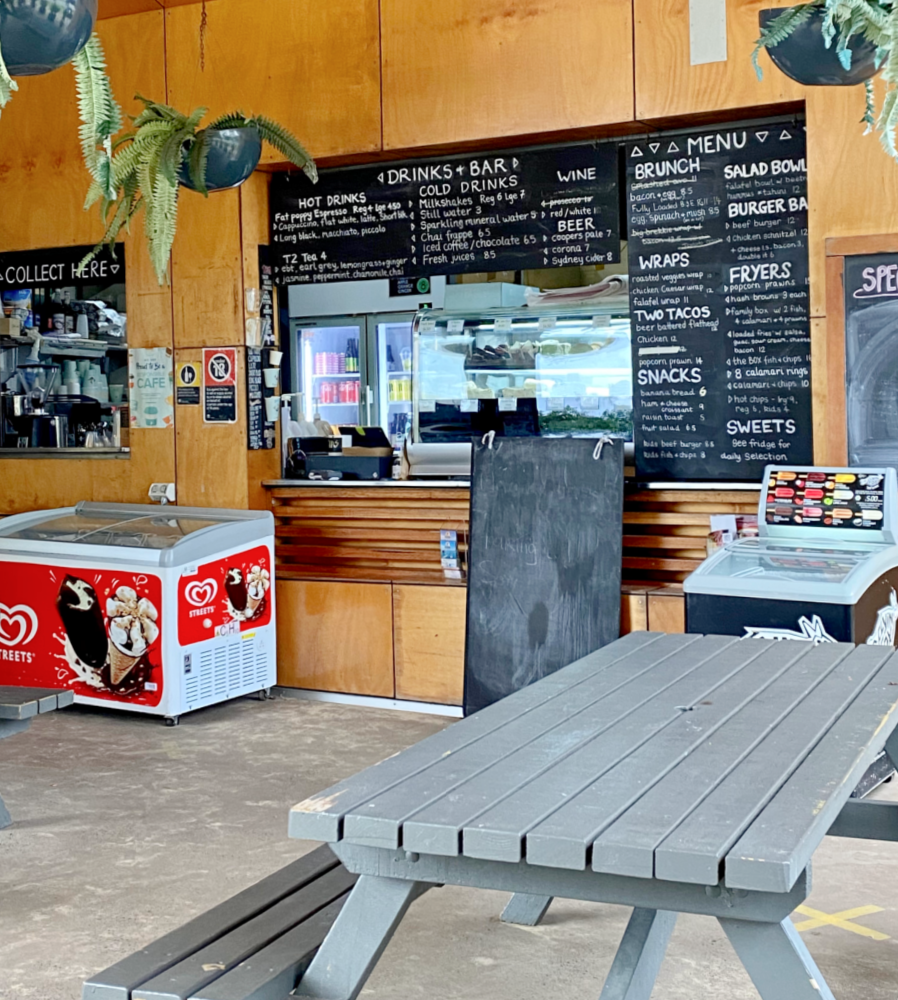 There's undercover seating at the kiosk but grab yourself some take away and secure a spot on one of the beachside chairs in front of the restaurant for some cheeky waterside views. Hot tip – get some hot chips, they're the bomb diggity!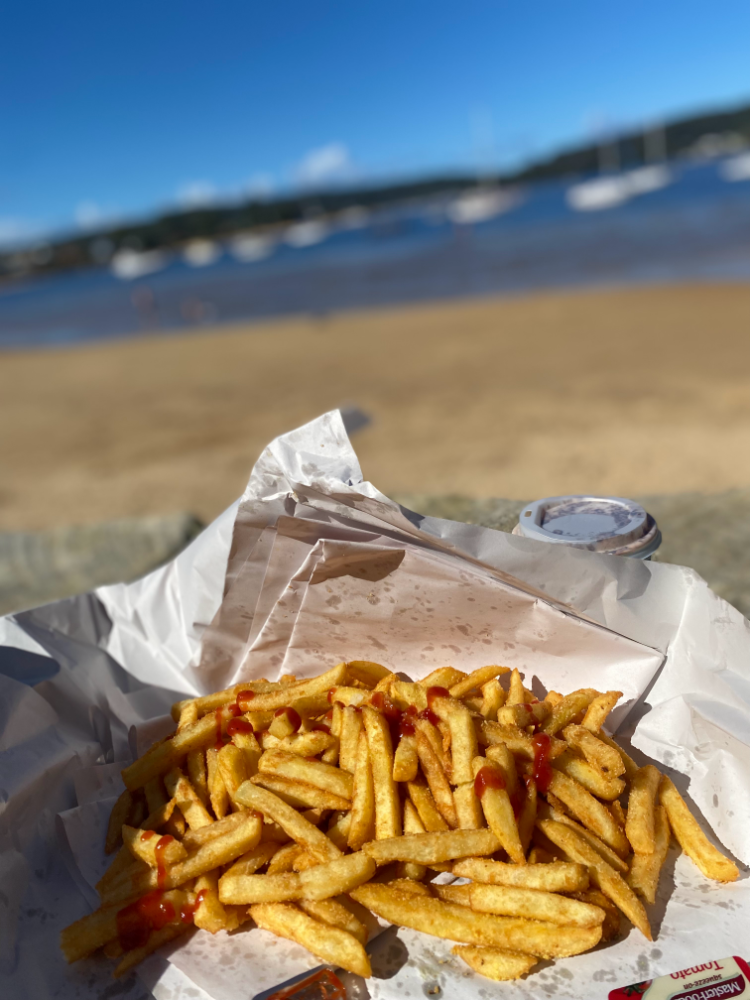 Copocabana Beach
Although this beach is not as famous as it's Brazilian namesake, it's not as big or as built up either. However, it's golden sand, big waves and relaxed vibes make this one of the most popular beaches on the Central Coast.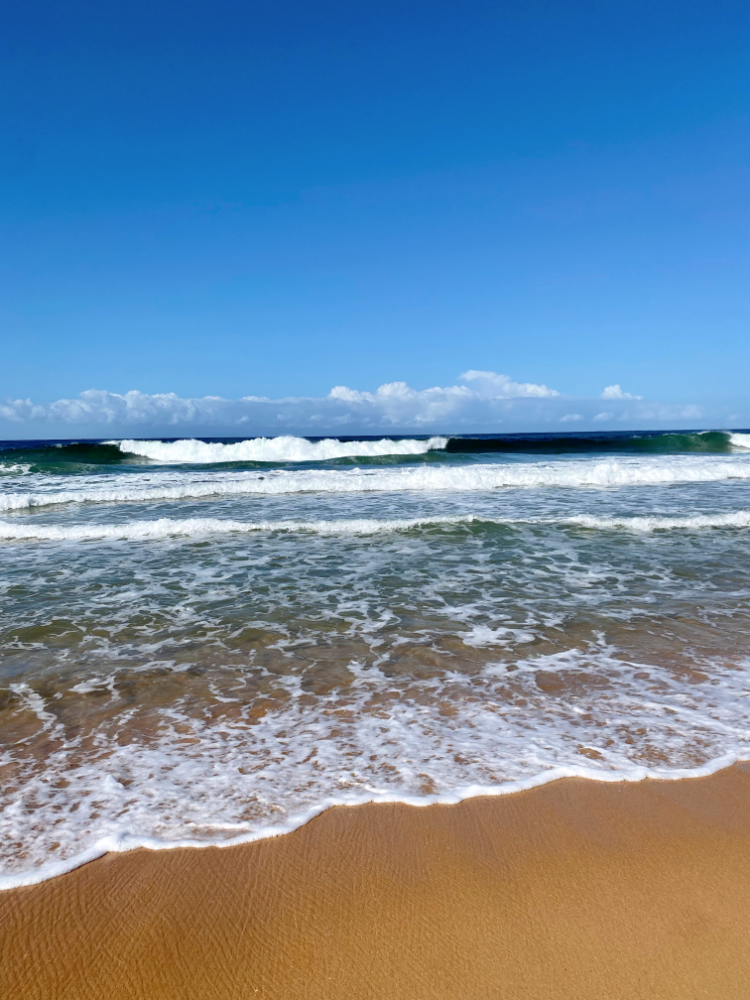 Dogs love it too because the off leash area runs from the south end of Copacabana Beach (that's south of the patrolled area) and runs as far as McMasters Beach to about Gerda Road. The northern end of the beach is not dog friendly so it's best to park near Copa Lagoon. With so much space to run free, this beautiful beach definitely gets Teddy's paw of approval.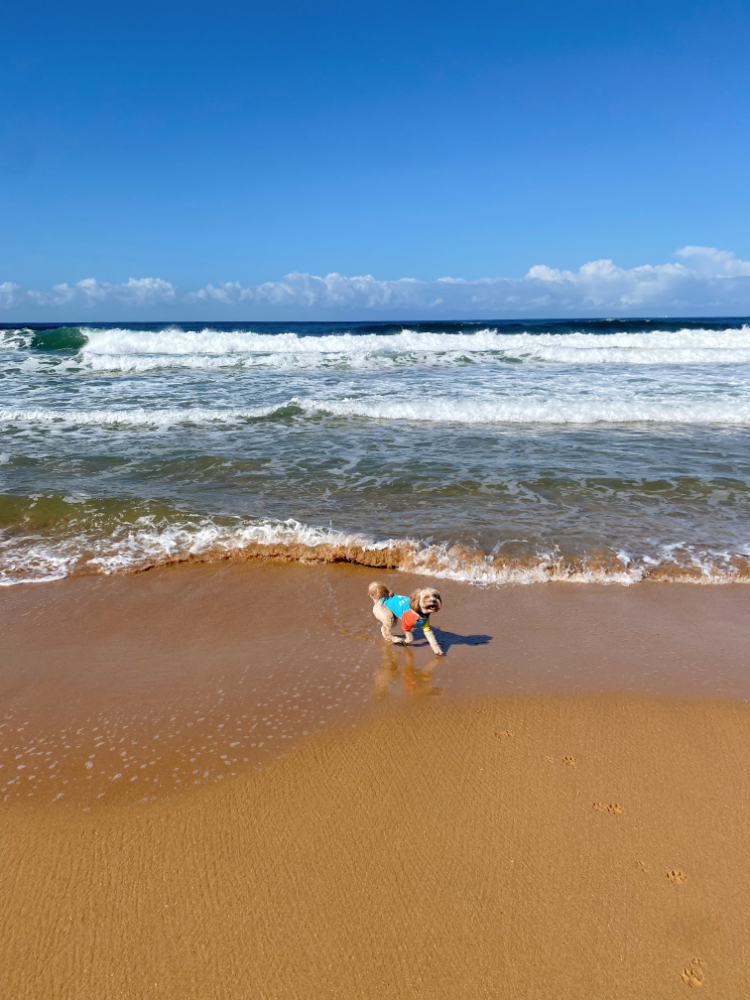 To Refuel
2/202-204 Del Monte Place, Copacabana NSW 2251
Copocabana has some great food options. Our pick is the Cabana Cafe which has a large dog friendly covered deck. The staff are really lovely, the food is fabulous and the coffee is great. When we visit, there is no table service and food is served to take away but you are more than welcome to eat "in" on the deck.
I highly recommend the corn fritter stack with poached eggs, halloumi, smashed avo and cherry tomatoes with hollandaise. David rates the bacon and egg roll too!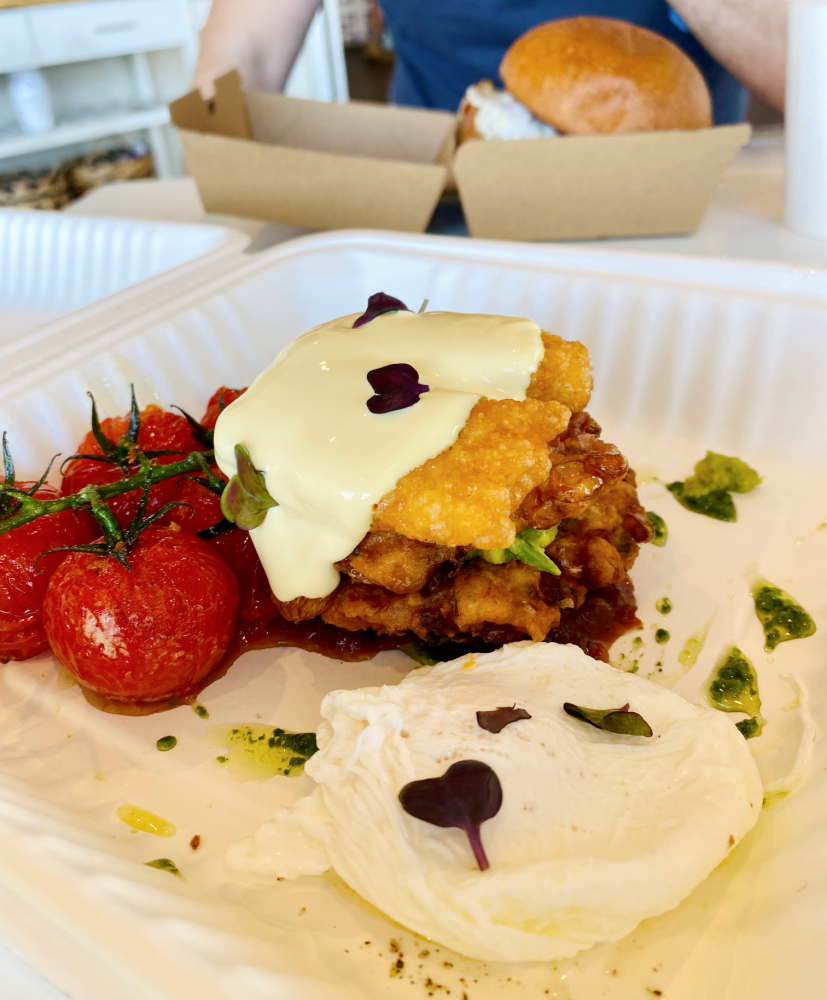 For a great back story on the cafe and top tips for more Central Coast take away options, check out Not Quite Nigella's 6 Great Places to Get Take Away on the Central Coast.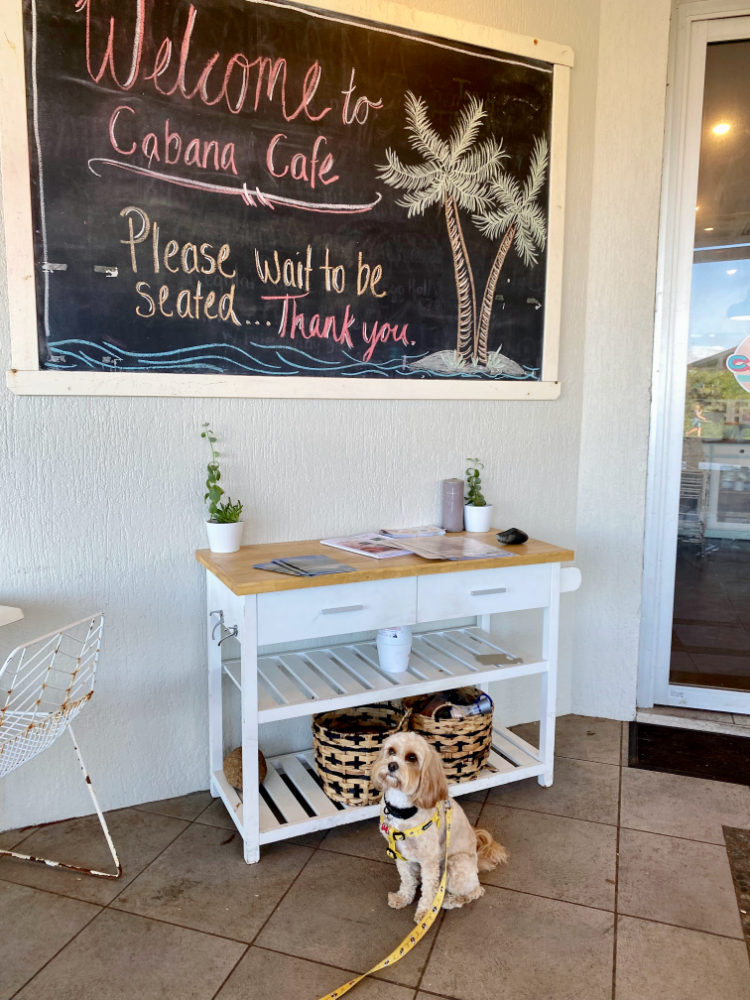 Terrigal Beach
Dogs aren't allowed on the main part of Terrigal Beach but there is an off leash area around the area at Terrigal Haven. The off leash dog friendly area is from the beach access at Henry Street, south to the Crystal Street beach access.
Terrigal has a thriving retail and restaurant scene so it's generally busier and parking can be a little bit harder to find.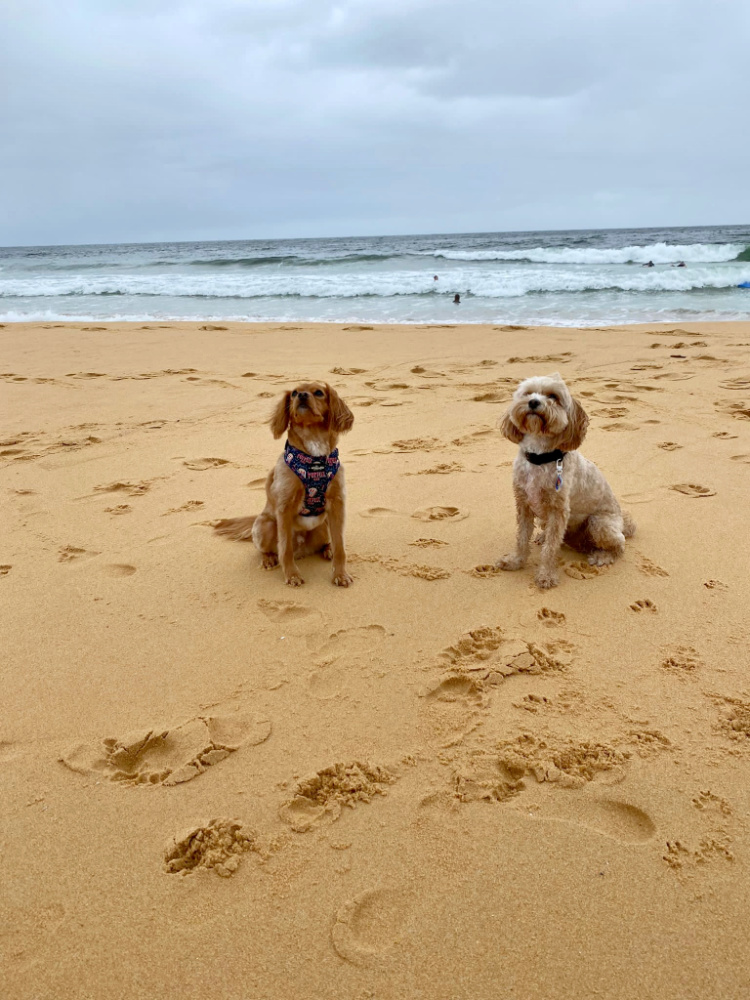 For an on leash adventure, why not take a stroll along the Terrigal Boardwalk? This 227m long raised walking platform connects Terrigal Beach Esplanade and the Haven.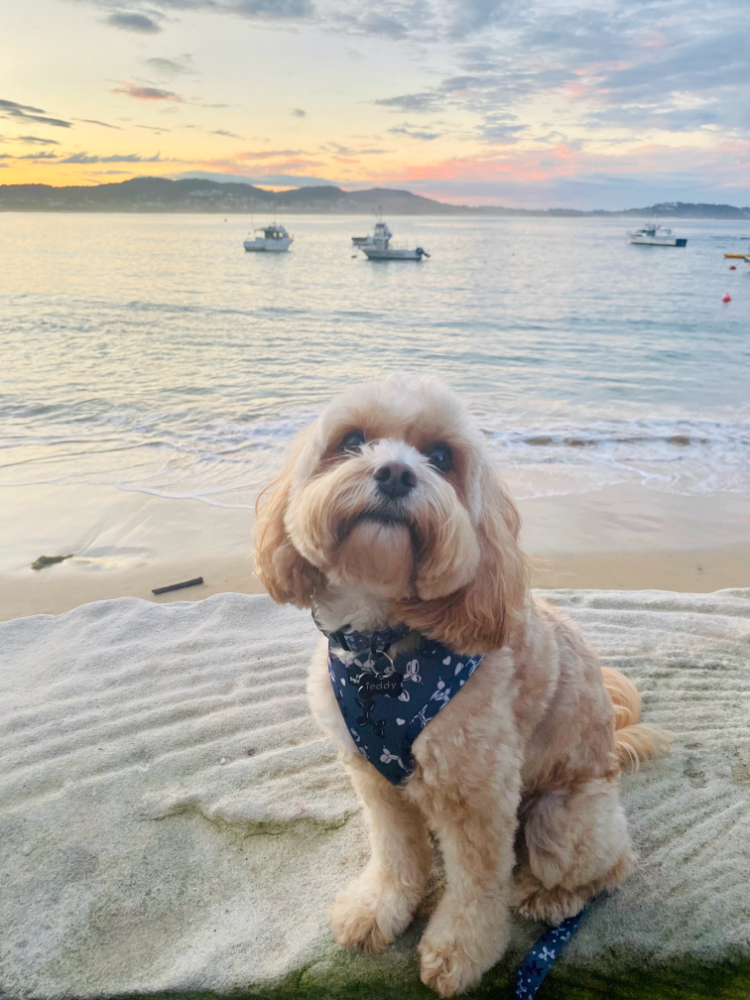 It's an enjoyable and accessible walk and very family and dog friendly with a great cafe at either end – try Bellyfish at the Esplanade or The Cove at the Haven.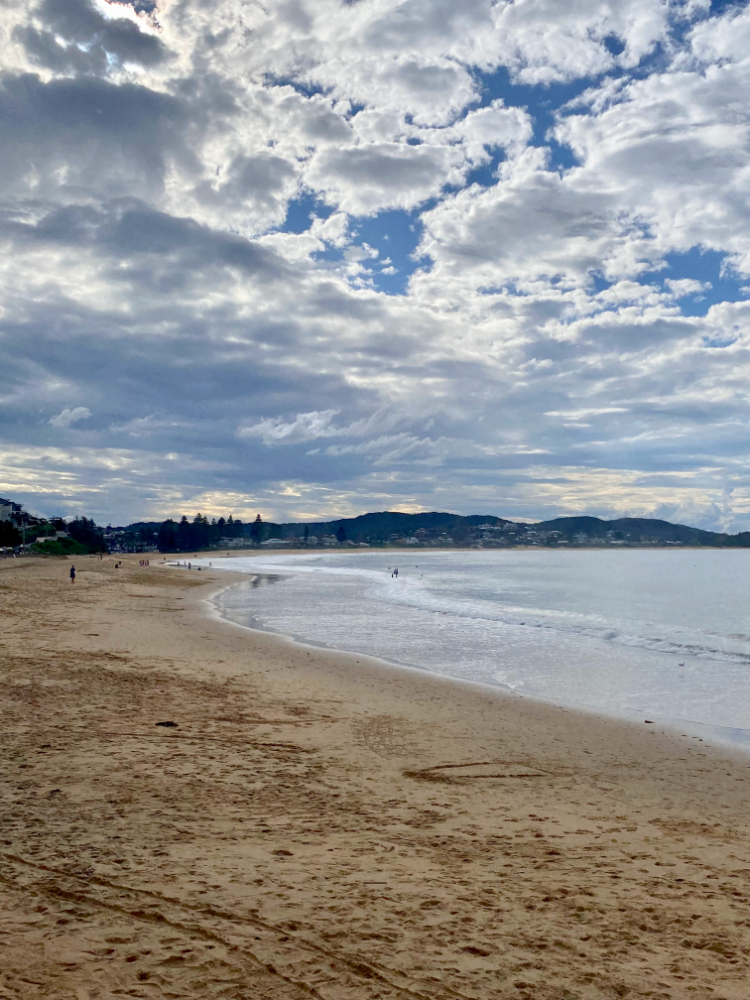 To Refuel
4/112 The Esplanade, Terrigal NSW 2260
Bellyfish is one of our Terrigal favourites. It's super dog friendly, the coffee is great and the menu focuses on local, organic produce – the food is fabulous!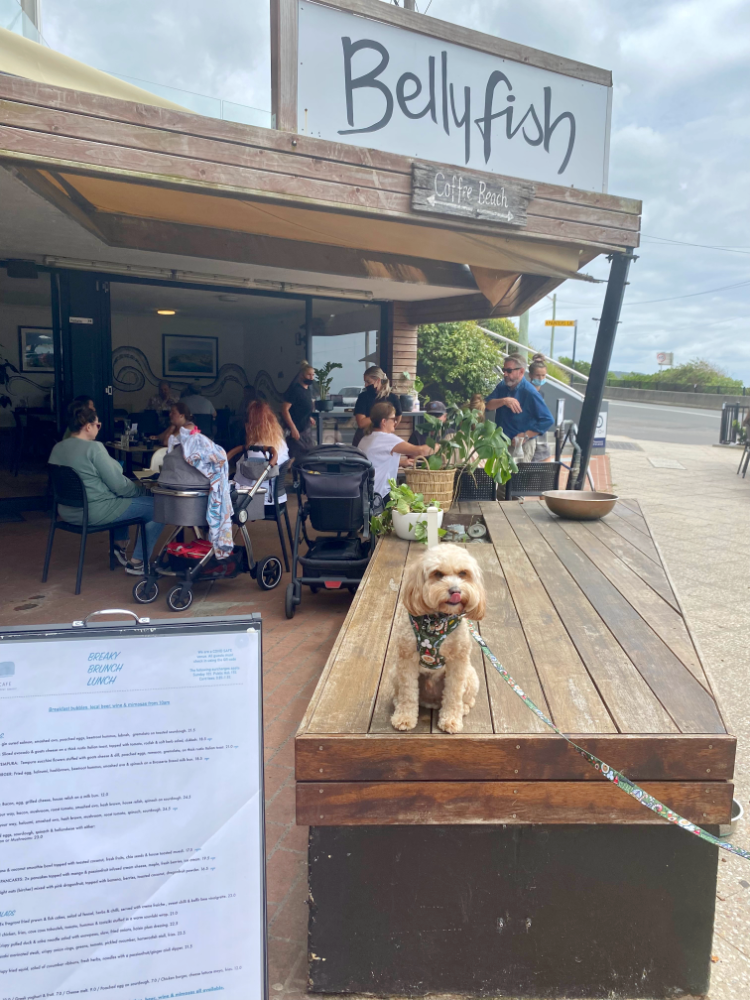 Killcare Beach
This beach is a hidden gem. Killcare is a real beauty with the overlooking rocky headland of Bouddi National Park and in the distance, the Northern Beaches!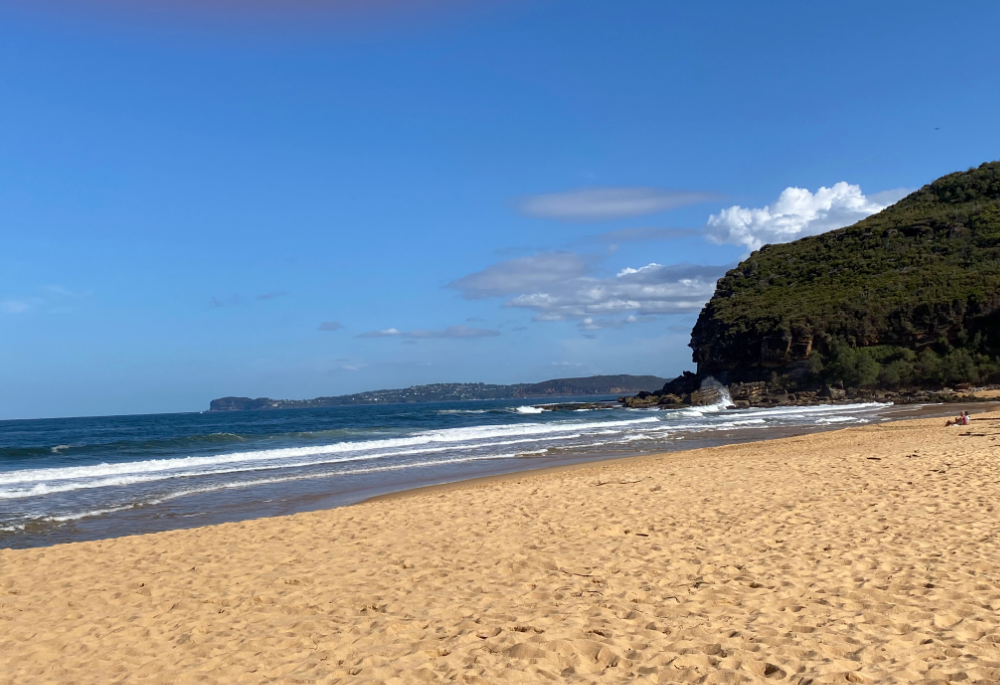 Your dog can run free in a 4km stretch of sand in the middle part of this picturesque beach – check the signs – and if that's not wonderful enough it rarely gets busy and there's plenty of parking.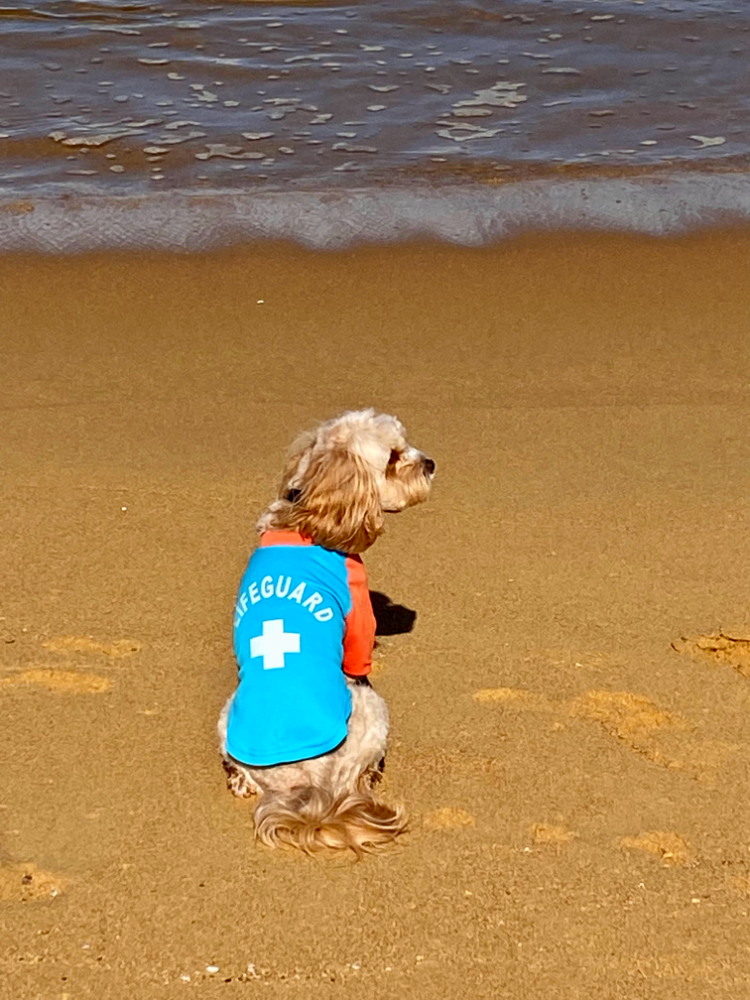 To Refuel
81 Beach Road, Killcare, NSW 2257
Pop your dog's leash on and head to Kilcare Beach Kiosk, (located on the ground floor of the SLSC) for some well earned refreshments. We run out of time and stomach space but I've heard great things about it and the food looks delicious with lots of vegan and gluten-free options too.
Do you and/or your dog love the beach? Have you got a favourite? Is there a beach I need to add to my Central Coast bucket list?