This no bake recipe makes a quick, easy and totally delicious Tiramisu style dessert.
A few weeks ago, I saw Sue share her version of easy Tiramisu and I just could not stop thinking about it! Imagine a tiramisu with just 5 ingredients that could be enjoyed immediately (and could be made in advance too!)
So when our new neighbours invited us over for antipasti and carbonara I knew this tiramisu would be just the ticket for a quick, easy and delicious dessert.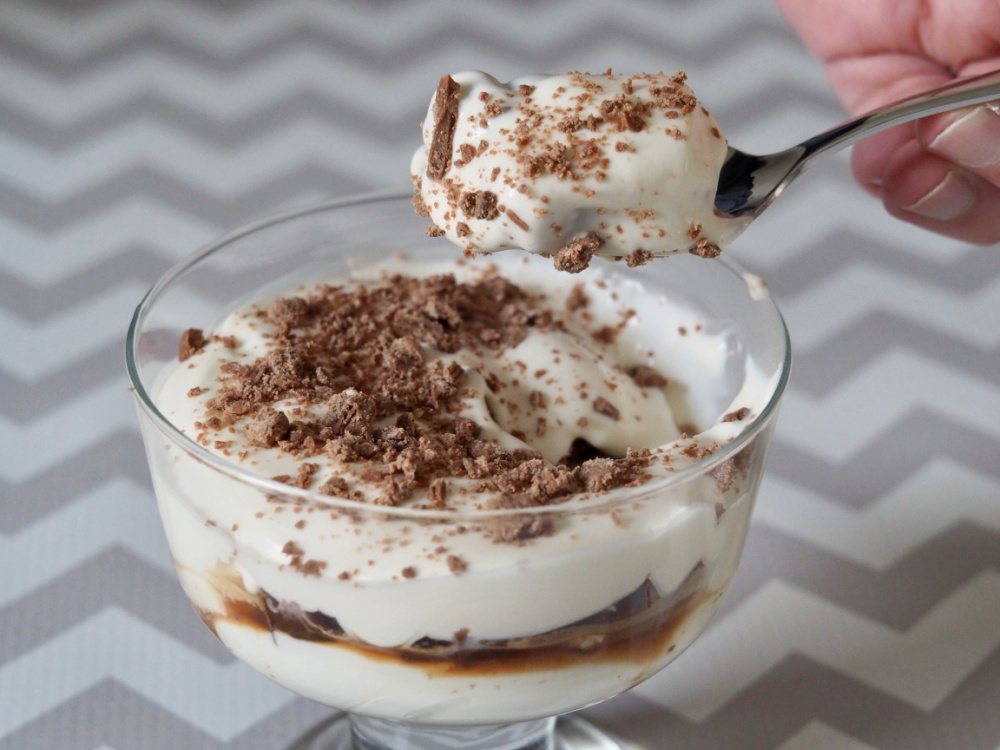 Of course, I had to give it a go at home first and I'm pleased to report that this dessert passed the taste test with flying colours. Tiramisu is David's favourite dessert and he gave this version a big thumbs up.
If you have time on your hands and you want the real deal Tiramisu then you'll have to refer to my original and authentic recipe for the Italian dessert but if you're short on time and ingredients, this Tiramisu style dessert is really going to hit the spot. I love that it can literally just be whipped up and served but also makes a great make ahead dessert too.
Kahlua is my all time favourite liqueur and I will find any excuse to use it in any recipe but if you don't have any and/or want an alcohol free option, just swap it out for some strong espresso coffee.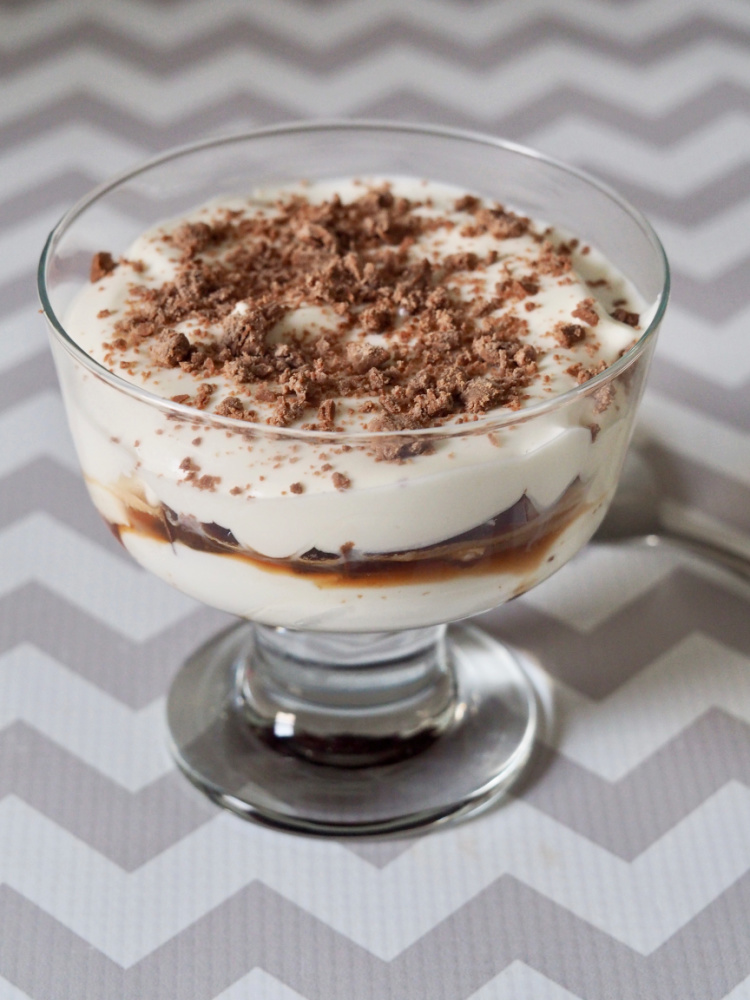 Of course, a traditional Tiramisu calls for mascarpone but Sue's idea to swap it for ricotta is genius – it's healthier, makes for a firmer mixture and I have found it to be more economical too.
I have got very confused about cream since I've been in the UK where there is no such thing as thickened cream! The closest creams to thickened are either whipping cream or double cream but I prefer whipping cream which is lower in fat. If you prefer a richer and creamier mix, feel free to use double instead.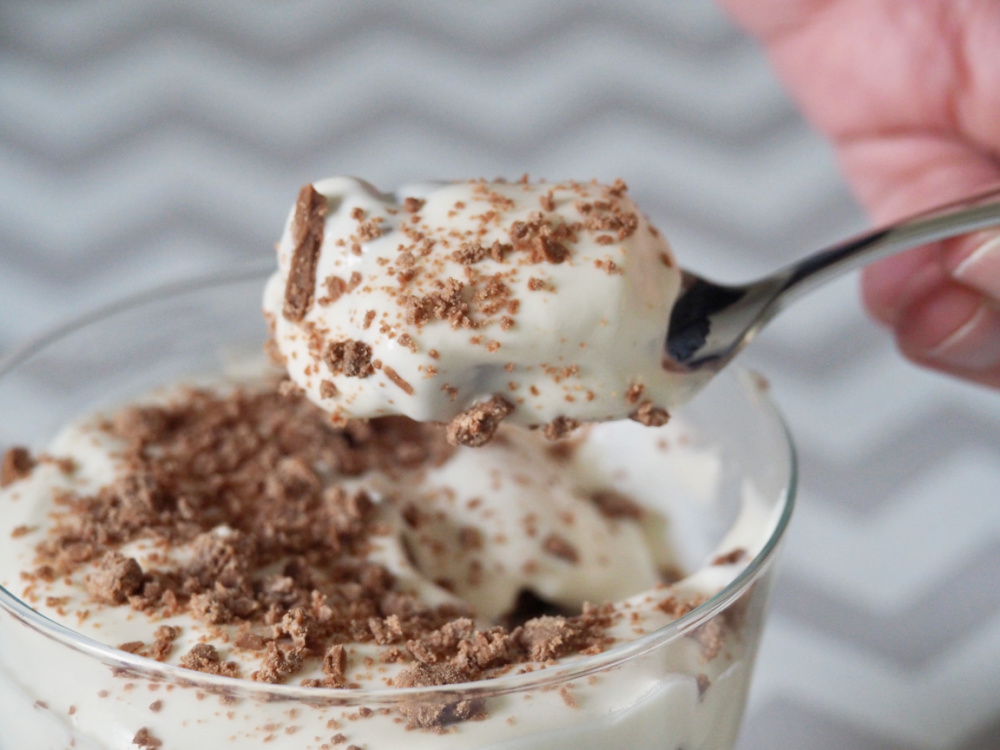 I think chocolate and cake make everything better so I use a little more cake than Sue and top the tiramisu off with a chocolate Flake rather than cocoa. Because nom! If you can't find chocolate mini rolls, a couple of slices of a regular chocolate swiss roll will work wonders too.
What's your favourite dessert? If you were coming over for dinner, what dessert would you bring?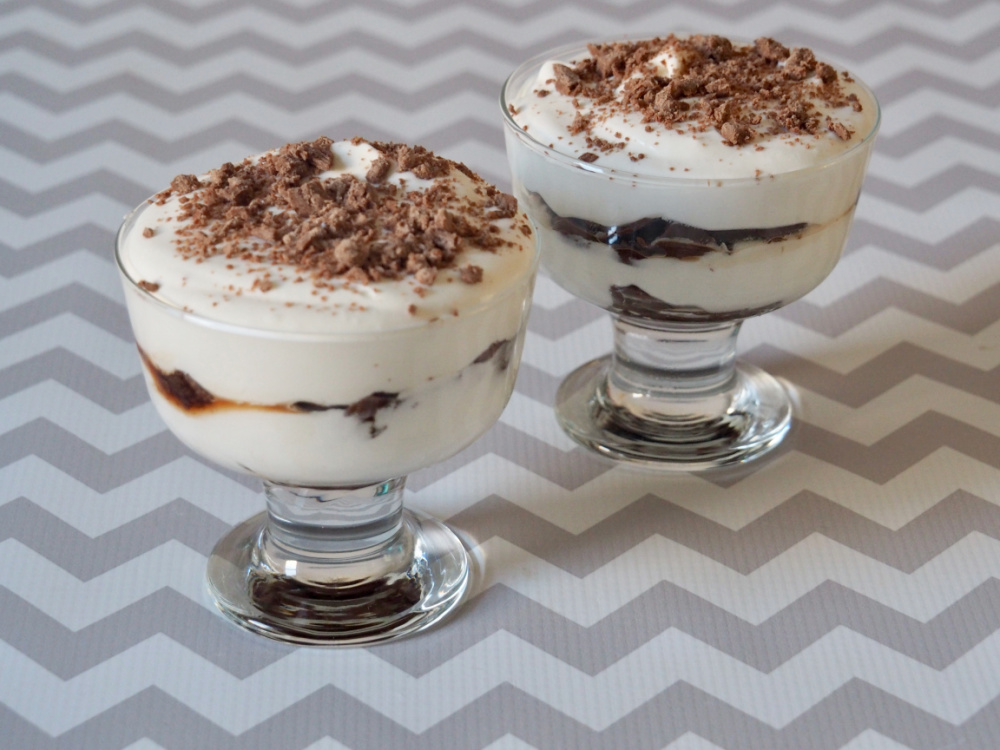 Serves 4 (easily halved)
Ingredients
300ml whipping (or thickened) cream
1/2 cup sweetened condensed milk
1 cup (250g) ricotta cheese
8 chocolate mini rolls, cut into thin slices
4 tablespoons Kahlua or strong espresso coffee
1 chocolate flake, crumbled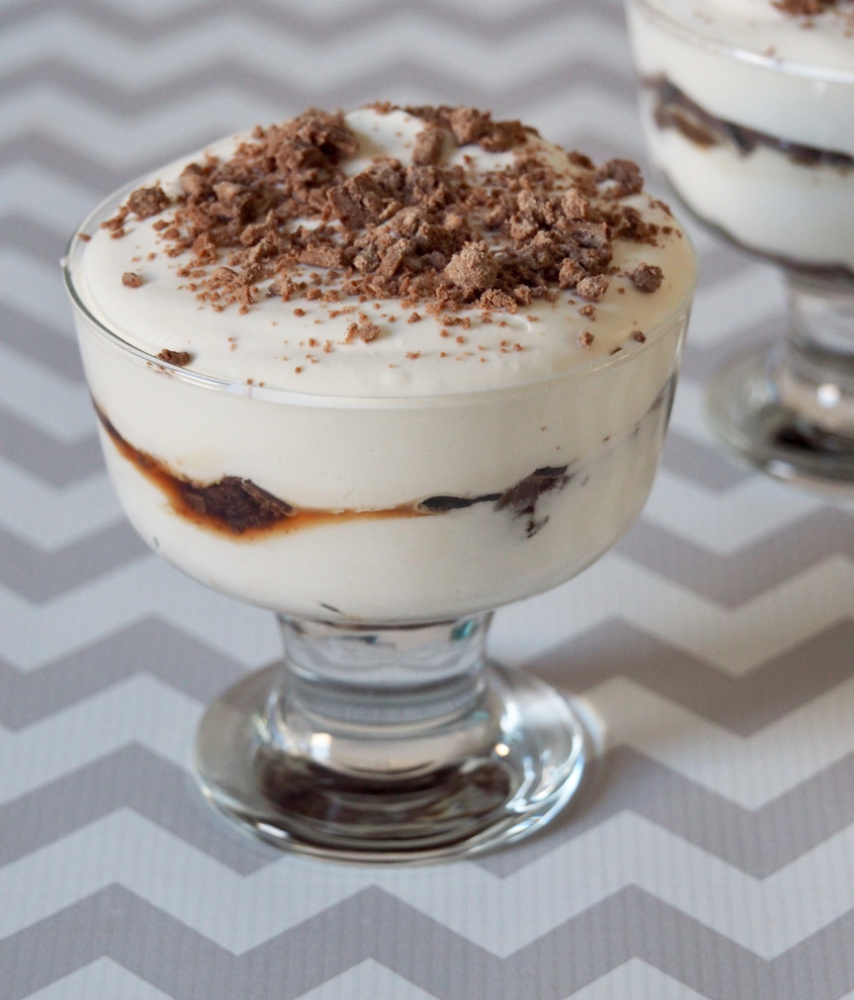 How to
Place cream into a large bowl and whip until it starts to thicken.
Add condensed milk and cheese and whip until soft peaks form.
Divide half of the chocolate mini rolls between 4 sundae glasses and pour 1/2 tablespoon liqueur over each one.
Spoon half of the cream mixture into the 4 sundae glasses.
Top the cream layer with the remaining slices of chocolate roll and pour over 1/2 tablespoon liqueur over sponge in each glass.
If you want to give your dessert an extra kick, fold an extra drop of coffee or liqueur into the cream mixture.
Top with the remaining cream and sprinkle over crumbled Flake.
Serve immediately or pop in the fridge until ready to serve.