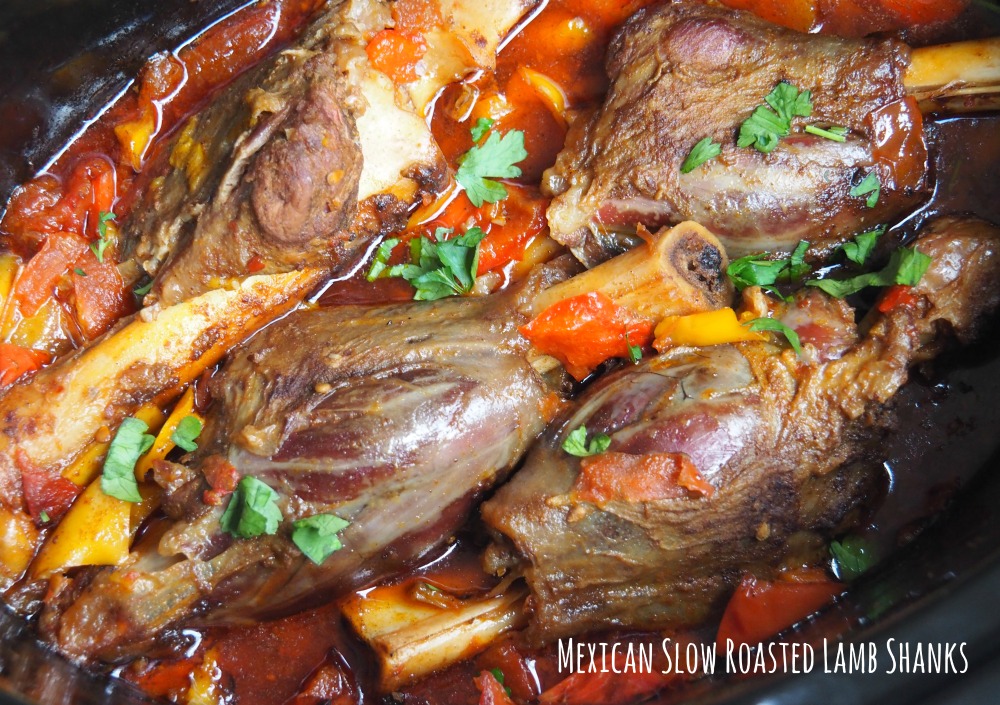 Serves 4 (low iodine)
These slow roasted lamb shanks are comfort food at it's best.
Shall I tell you a secret? I like eating red meat but I don't really like to (and rarely) cook it. Mostly this is because it's expensive and I'm always worried I'm going to stuff it up. This dish is one of the exceptions though, because although there is some financial investment, these slow cooked roasted lamb shanks are always fall-off-the-bone-flavoursome. You can't go wrong!
As recipes go, they don't get much easier than this. I like to marinate the meat overnight because it gives the meat a fuller flavour and a lovely colour. If you're pushed for time though, you can just marinate and go and you'll still have a delicious dinner waiting for you when the slow cooker has worked it's magic.
You can serve the lamb with flour tortillas, or rice if you need a low iodine option,  with some lime wedges and a green salad. When it's really cold, I like to do a Mexican-English roasted fusion with these Mexican lamb shanks and a side of healthy mash and steamed veggies. It's like giving your belly a warm hug!
So tell me, do you like to cook meat and do you cook it often? Are you a fan of ye olde roast dinner?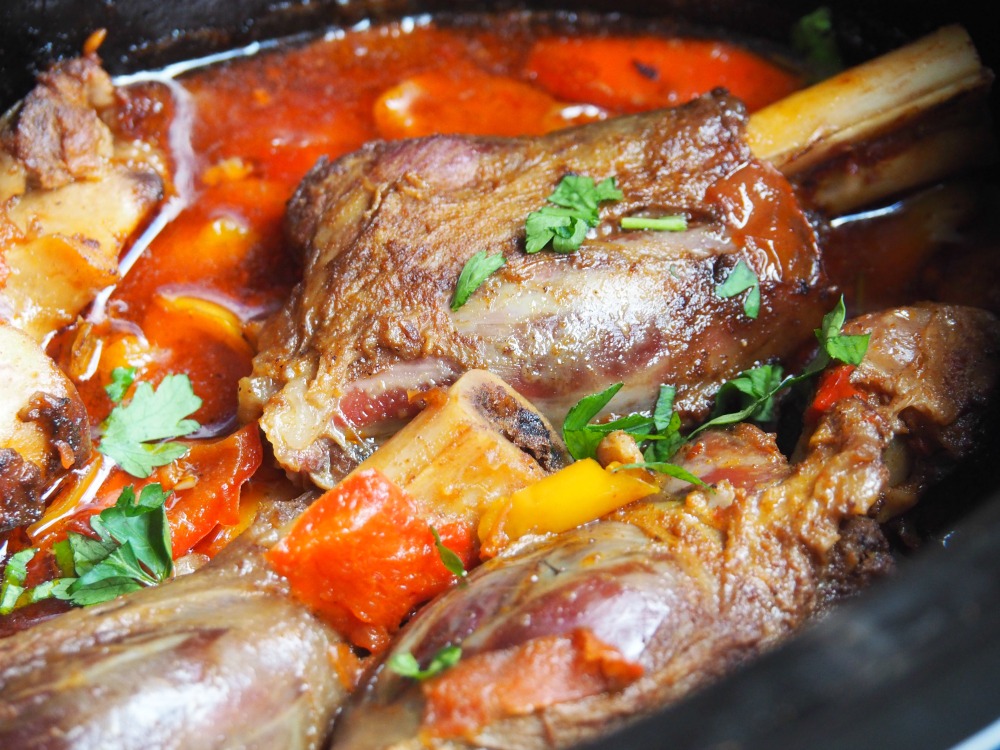 Ingredients
2 tablespoons olive oil
2 teaspoons sweet paprika
2 teaspoons ground cumin
1 teaspoon ground coriander
2 cloves garlic, crushed
pinch chilli flakes
2 medium tomatoes (300g) chopped coarsely
1 medium red capsicum (bell pepper) (200g) chopped coarsely
1 medium yellow capsicum (bell pepper) (200g) chopped coarsely
8 french – trimmed lamb shanks
2 tablespoons finely chopped fresh oregano or parsley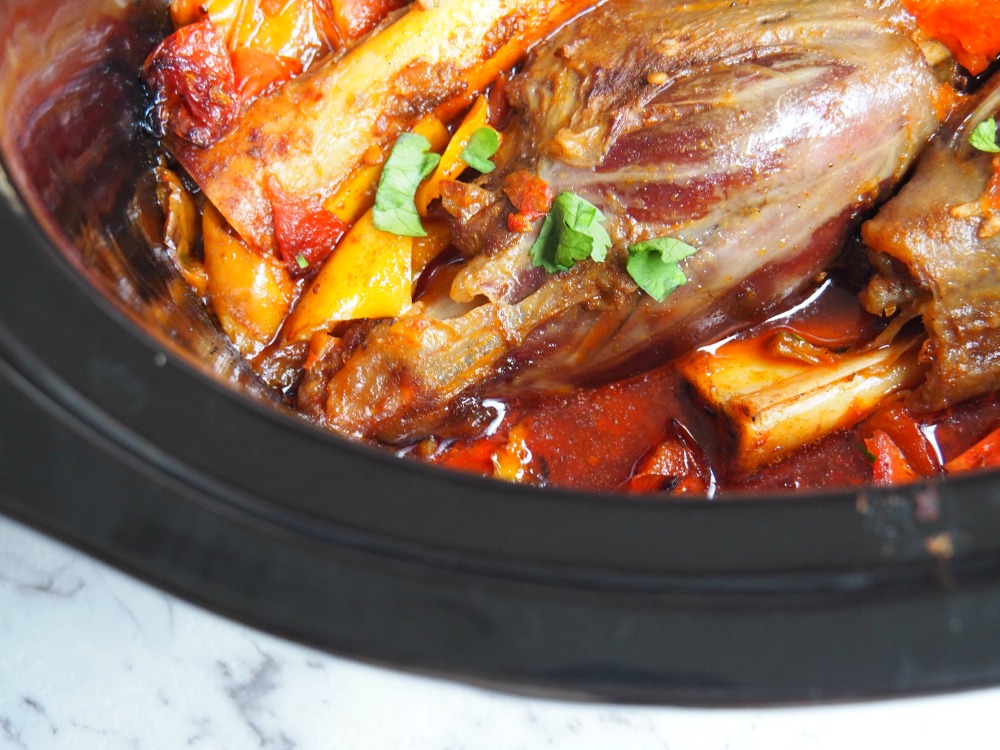 How to
Combine oil, spices, garlic, chilli  in a large bowl.  Add the lamb and turn to coat in the marinade. Marinate the lamb shanks for as long as possible, preferably overnight.
When ready to cook, combine tomato and capsicum in slow cooker.
Cook lamb in heated large frying pan, in batches, until browned. Transfer to slow cooker and cook, covered on LOW for 8 hours. Season to taste.
Serve lamb shanks drizzled with sauce, sprinkle with herbs.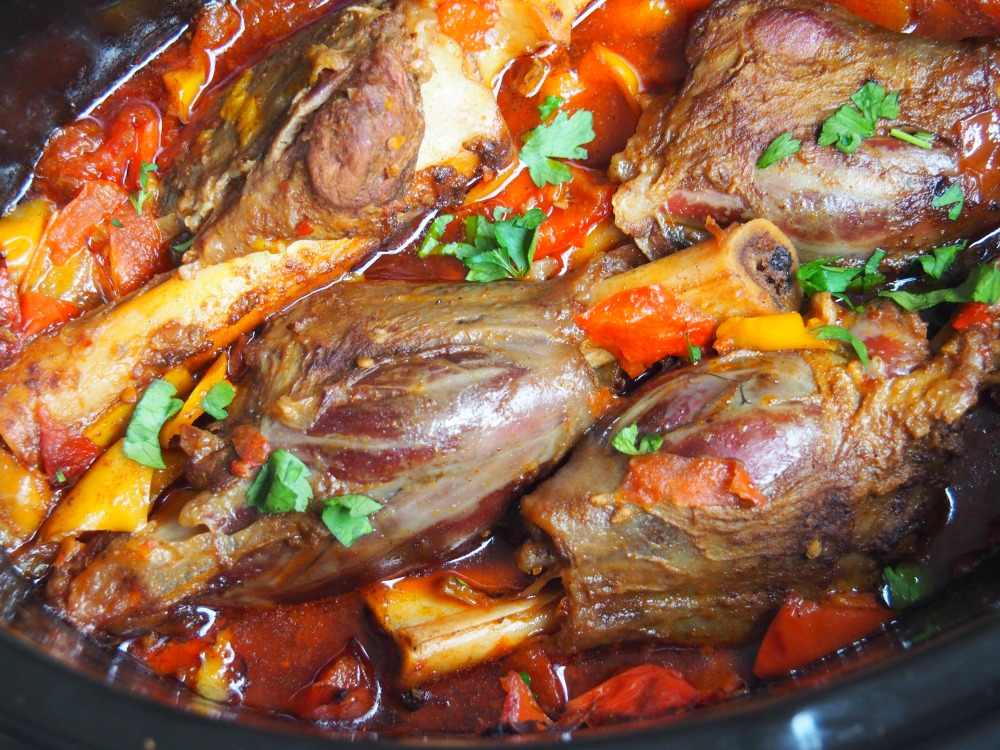 Other info
Prep and cooking time: 8  hours 30 minutes
Suitable to freeze at the end of Step 3.