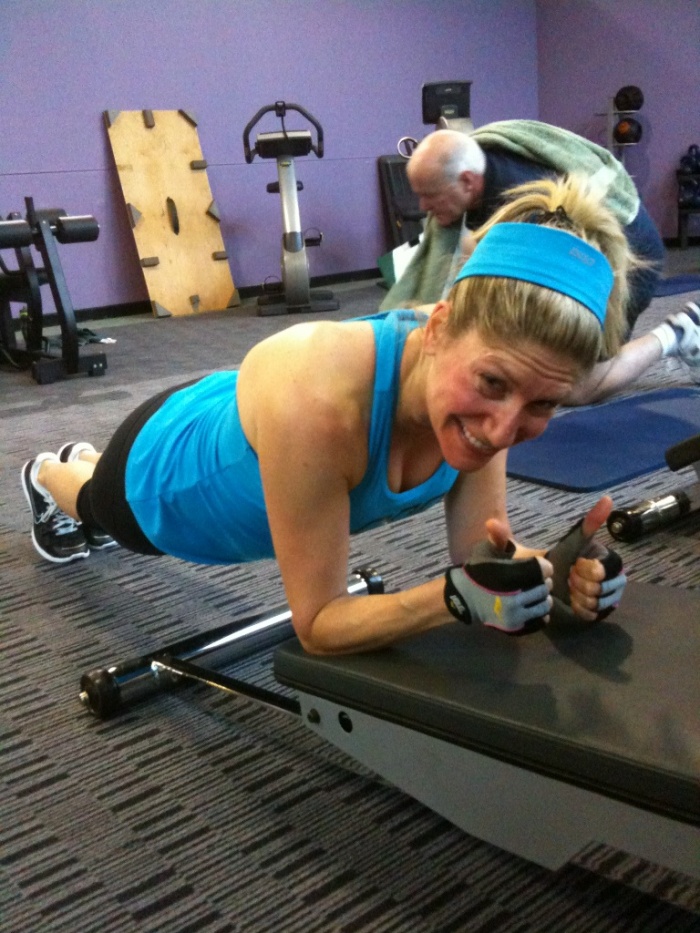 "One of the marks of a gift is to have the courage to fulfil it." 
– Katherine Anne Porter
Thursday gets off to a cracking kick start – I'm back in business with my all-awesome personal  trainer,  Kathy.  This morning it's all about the uppers – chin ups, press ups, sit ups – with a few weights and other  instruments of torture thrown in for good measure. I'm so happy to be back in training that nothing can get the smile off my face. I don't think I'll be smiling quite so hard tomorrow when I have my "gym hangover," (ie, when I hurt like hell!) but I'll grin and bear it and  remind myself that pain is temporary! Not only is Kathy personal trainer extraordinaire,(check out her promo video here,) but today, she is also my official photographer, as she snaps with wild abandon in an effort to capture the landmark moment of Personal Training: The Comeback. Man, it feels good!
Kathy is like the Energiser Bunny in human form. Her energy and enthusiasm know no bounds and she's an absolute inspiration. I'm very lucky to have her as my trainer, and, my friend. During my first run in with Cancer, she bought me a set of cards called "I believe in you." There are 30 cards in the set, one for each day of the month. Each card has a little window that you open to reveal a daily dose of inspiration. I used to love getting up in the morning and checking out the thought for the day. It's such a beautiful gift.
Today is the first day of Summer, the first day of December and although it's not quite Hanukkah (the ultimate donut-fest,) it's definitely  on it's way.  So me thinks, it's the perfect day to start a virtual advent calendar. Therefore, in the spirit of positive thinking and empty calories, instead of having chocolate, my calendar is going to have a daily dose of inspiration; a message from one of my "I believe in you" cards. Hooray for faith and confidence. You can never have too much of a good thing!  Check out today's message of support and encouragement at the top of the post…
Best of all the Feeder Programme is taking the office by storm.  Surprisingly, the  Almond Stars (which are actually Almond Bells and Almond Christmas Trees) go down a treat. They may look worse than basic but everyone who eats them, loves them which just goes to show, never judge a biscuit by how bad it looks! The Cranberry Chewies disappear pretty quickly too but at least they look  appetising. Next week I must remember to save something for the homeless man on the corner, I was feeding him every day until I was diagnosed. I expect he's missing me and I hope that he hasn't been too hungry in my absence!
It's my last half day at work today – another milestone. I make the most of my freedom and pop into Weight Watchers to say goodbye to those lovely ladies. They are total legends and have supported and encouraged me every step of the way on my weight loss journey. Now that my work timetable has changed I won't be able to get to the weekly weigh ins anymore so this is our final farewell. Never one to miss out on an opportunity to expand the Feeder Programme, I give them some Cranberry Chewies. It would be rude not to, they're a light fantastic at only one weight watchers point a pop! They're happy but I'm sad, I hate goodbyes and the fact that I've gained more weight doesn't really lift my mood!
After an afternoon at home, I head back to the city to meet David for our long awaited tall ship cruise around the harbour. We bought some bargain bucket discount vouchers ages ago and in light of recent events think it's better that we use them sooner rather than later. We are a bit worried about the weather but we don't need to be. It's a glorious evening and the harbour looks picture perfect. As does our amazing tall ship the Soren Larsen, which is over sixty years old but looks like it could have sailed in the First Fleet! It's a magical experience. We love cruising round the harbour, soaking up the scenery, drinking cold beers and watching the sunset. It's  beautiful. After a barbecue dinner and a slow but scenic sail back into the harbour, we head off to The Lord Nelson Brewery, which is the oldest pub in Sydney and recognised around the world for it's award winning beers. Our pint sized nightcap is  the perfect end to the perfect evening!