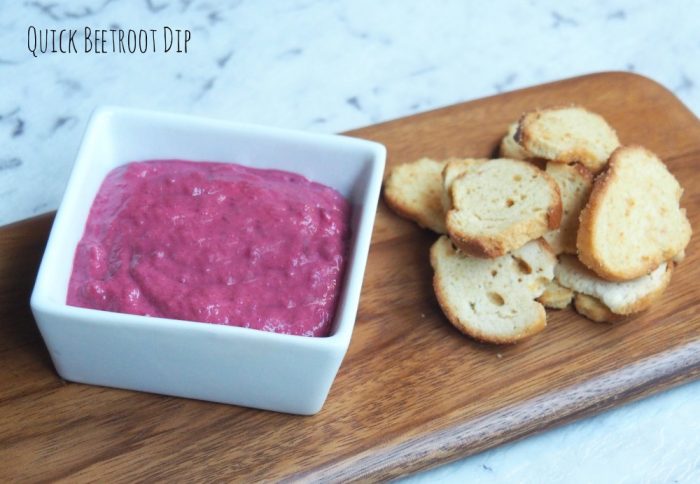 Serves 4 (easily doubled)
I'm not a survivalist but you'd find that hard to believe if you looked inside my pantry. We may only be a two person family but I have enough food in there to feed a small village. Apart from the plethora of fudge and cake making supplies, most of my pantry is made up of tinned food, both those that I use regularly and those that I use just in case.
Beetroot is my go-to can of just in case, because paired with a few other kitchen staples, you can make a yummy frittata  or this delicious dip.  And if you've got two cans, you can make both!
This vegetarian dip is quick, easy, healthy and best of all, you can make it in a moment and at a moment's notice. What's not to love?
Ingredients
1 small clove garlic, crushed
225g can sliced beetroot, drained
¼ cup (60ml) yoghurt
1 teaspoon ground cumin
squeeze of lemon juice, optional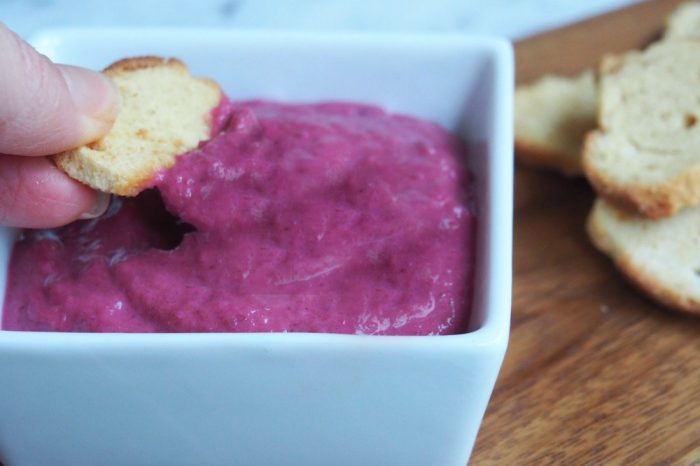 How to – Traditional
Blend or process all ingredients until smooth.
How to – Thermomix
Chop garlic for 5 seconds on speed 8. Scrape down sides of bowl.
Add all other ingredients and mix for 15 seconds on speed 7. Scrape down base and sides of bowl and mix for another 15 seconds on speed 7 or until smooth.
 Other info
Prep Time and Cooking Time:  5 minutes