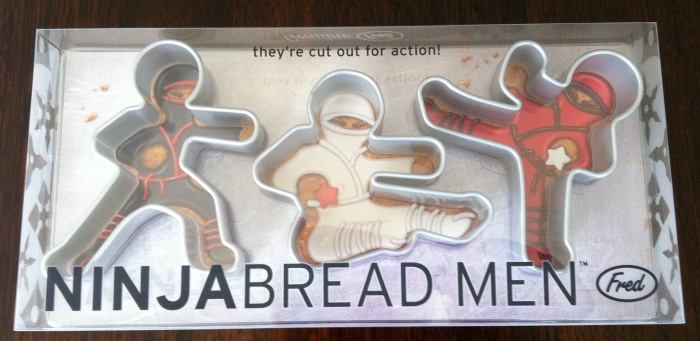 I'm up at the crack of dawn…again! It's hard to sleep with all the rampant rain, forget cats and dogs, it's raining wombats and wallabies today. I make good use of time playing with the blog and making another batch of  Mango and Coconut Gelato. It's my bestest! Then it's off for Sunday Basic Training. It used to be a 45 minute class which was perfectly bearable, but in my absence it's been extended to an hour! Ha! Think of the extra calories I can kill in those 15 minutes of speed, sweat and tears! Plus it's a family first, David's at the gym too. It's not that he doesn't frequent the gym, he does! Just not this early in the morning! For both of us to be in the gym, at the same time and so early in the day is quite an acheivement!
We're on a roll so we continue our good work and hit the shops for some retail therapy! I finally get my Ninja-bread Men which is the cause of great excitement and a mezzaluna knife thingy for chopping herbs. All our knives are blunt as a pile of hedge hooks; they're neither use nor ornament. So at least I'll have one sharp implement in the kitchen! I also got some cookie cutters on sale, a castle and a dinosaur. At this rate, I'll have a collection to rival Nigella! I'm creating my own Cookie Cutter Kingdom in the kitchen!
We are planning to get an all-singing-all-dancing cake mixer  today too but there are just too many to choose from and we are blinded by the science. We'll have to do some research before we splash the cash that's for sure!
I'm dying to try out a slice recipe from my new Woman's Weekly book so I give the Chocolate Crackle Slice  a go. This was a childhood favourite of mine, and of David's. It is quick to make, and best of all, doesn't need the oven on! It's chocolate heaven! So yummy!
It's another simple but scrumptious dinner tonight, Mexican-Style Roast Chicken. We don't often cook big bits of meat, but this recipe is so simple and the chicken is cooked to perfection. It's so delicious that we're going to have a Tex Mex Feast with the left overs tomorrow!