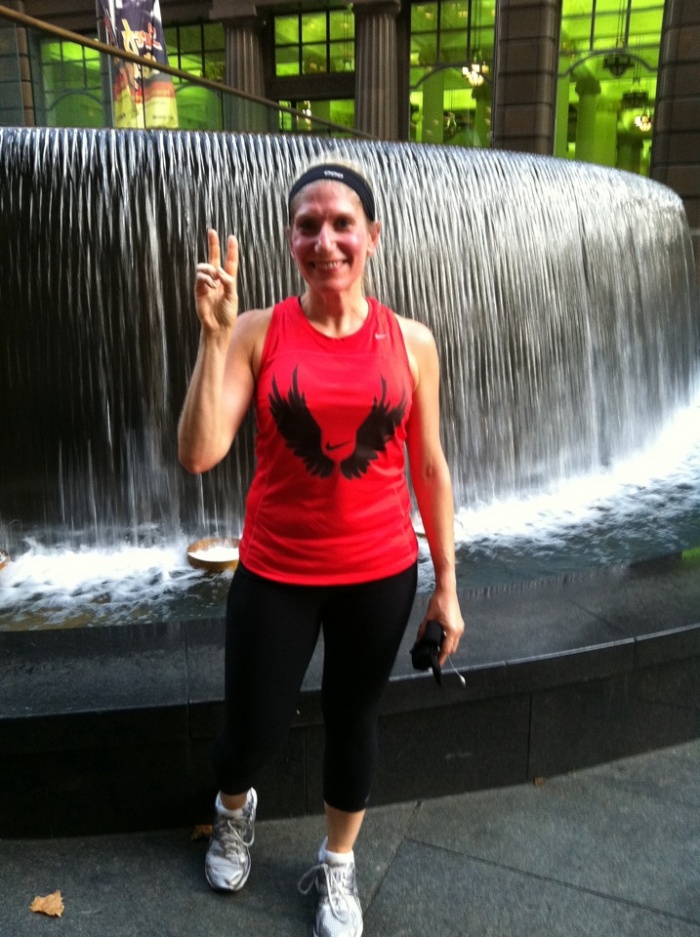 I have a nifty nine hours sleep and wake up feeling all warm and fuzzy and really rested. This is a great way to start the week… feeling recharged and ready for anything!
Work is fun and the good news keeps on coming. I've found a bread that's super healthy and iodine free. Can you believe it? I'll be able to have my wrap and eat it! This is because the lovely people at Mountain Bread make some of their wonderful products with organic flour and non-iodised salt! What a result! I might have to be iodine free, but there will still be mountain bread for me!
I have time on my hands and potter around after work waiting to try out the Nike Running Club. I spend most of my time dreaming up excuses not to go, after all, this is going to take me way out of my comfort zone! First, I'm worrying that I won't be fast enough and secondly, that I'll be Sammie no friends. I really hate going to places or events where I don't know anyone. Still, it's always good to push one's boundaries, and I'm sure after I've pounded the pavements with all the girls, I'll feel fit, fabulous and friendly!
The Nike Running Club has been going from strength to strength since last June – it's fun and free to join – I don't know why I didn't look into it before. It's getting pretty popular now that all the chicks are in training for She Runs the Night which is going to be the first ladies-only night run in Australia! How cool is that?
I needn't have worried, because by the time I get to the store, it's packed with peeps ready to run. I sign up and get a  free racy red T-shirt and I'm all set! I even find a friend, another newbie like me! We start in the 5km slow group with a running pace of  6 minute kilometres. The weather is perfect, sunny but not too warm, and the route is a beaut, taking us around some of  the most scenic spots in the city. We keep up a cracking pace of  5 and a half minute k's. I am in the grip of a massive stitch but I'll be damned if I'm going to let that stop me! I keep calm, breathe deep and carry on! The energy is amazing and we must  look quite a sight, like a pack of red devils running like the wind through the heart of the city. We follow our leader, Sarah, right to the end, and high five with wild abandon. I have the best time and can't wait to do it all again next week!
I get to meet David and come home together which is always a treat. It's speedy spice for dinner today with Thai Lime and Lemongrass Chicken. It's fast, fresh and full of flavour. We love it. By the time, we're done with dinner, it's so late!  Monday has gone too soon! Well, you know what they say, time flies by when you're having fun!