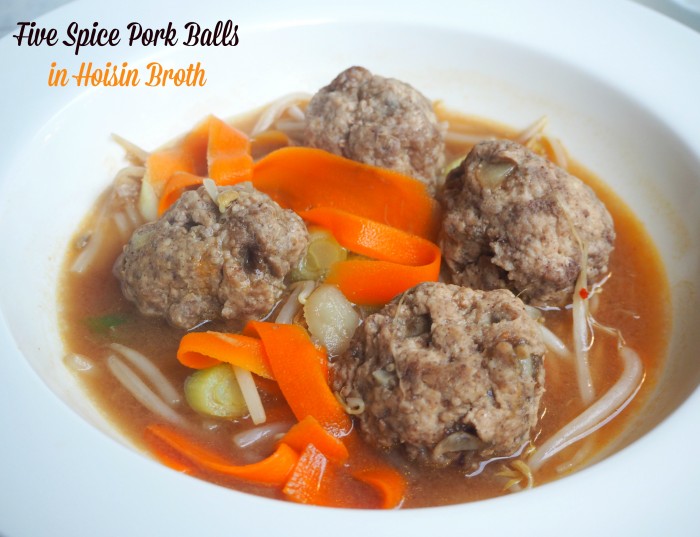 Serves 4
So I was going to buy Thai soup from the take away for lunch because I was desperate for some Asian flavours but I was feeling tight arse because a) it's Tuesday and b) I'm not earning so I went to the supermarket and got all the ingredients for this recipe and got change out of 15 bucks! That's just a tad more than what my soup would have cost, except I got four serves instead of one! That's a lot more broth for your buck!
That's why this  is one of my all time favourite one pot wonders. It's quick and easy to make and light and delicious to eat. There's minimum preparation and maximum flavour and you can have it from the stove to the table in 10 minutes flat! It's super versatile too, just chuck in your favourite Asian greens or thinly sliced veggies! It's just soup-er!
Ingredients
500g pack  pork mince
2 tablespoons soy sauce
2 tablespoons cornflour
1 teaspoon Chinese five-spice powder
225g can water chestnuts , drained, half finely chopped, half sliced
500ml chicken stock
3 tablespoons hoisin sauce
thumb-sized piece ginger, grated
2 large carrots , shaved into strips with a potato peeler
250g pack beansprouts
bunch spring onions, chopped diagonally
How to
Tip the mince into a bowl with the soy, cornflour, five-spice, chopped water chestnuts and some black pepper. Using your hands, mixeverything together, then shape into 12 meatballs.
Pour the stock into a wide, deep pan and stir in the hoisin and ginger. Add the meatballs, then cover and poach for 5 minutes.
Drop in the carrots,  beansprouts, spring onions and sliced chestnuts, then put on the lid and simmer for another 5 minutes.
Ladle into bowls and serve.
Preparation Time: 20 minutes      Cooking Time: 10 minutes