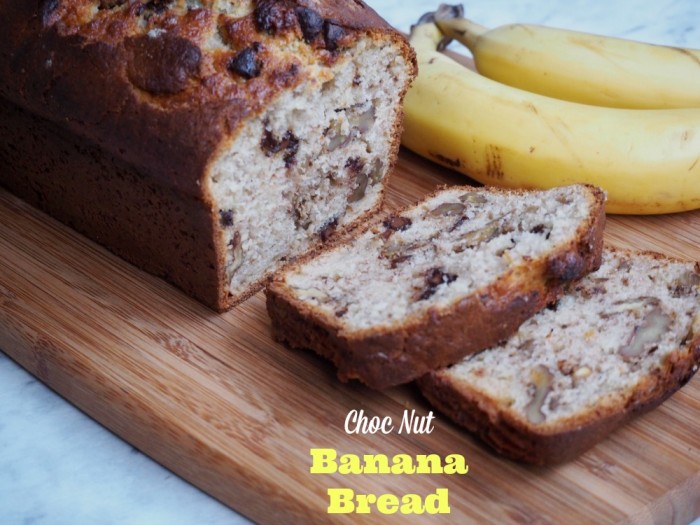 Makes 12 slices
This is adapted  from the Great British Book of Baking which accompanied the first series of the and it's pure pedigree, I promise! If you want to make it in your Thermomix, you can find the conversion here.
Ingredients
250g self-raising flour, sifted
a pinch of salt
150g caster sugar
100g unsalted butter, melted and slightly cooled
2 medium eggs, beaten
250g peeled ripe bananas – about 2 large or 3 medium
75g dark chocolate chips
100g walnut pieces, roughly chopped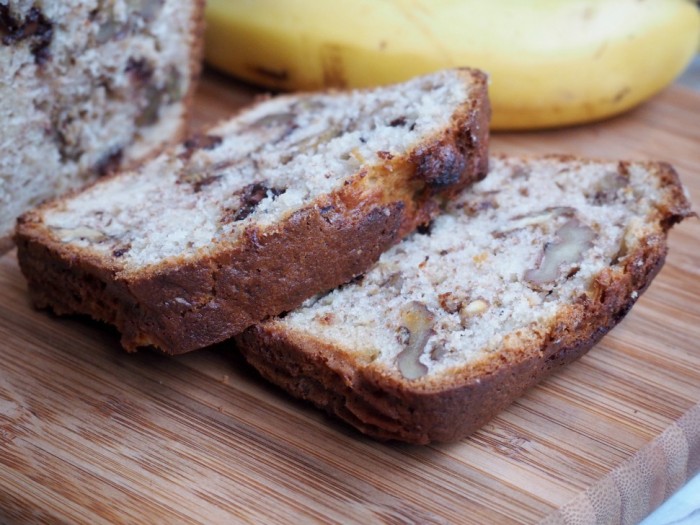 How to
Preheat oven to 180C/160C fan-forced. Line a loaf tin with baking paper aper.
Mix the flour with the salt and sugar in a mixing bowl. Add the melted, cooled butter and the beaten eggs.
Roughly mash the bananas with a fork – there should still be some lumpy bits – and add to the bowl.
Add the chocolate chips and walnut pieces and mix all the ingredients together with the a wooden spoon until well combined.
Transfer the mixture to the prepared tin and spread evenly. Bake for 50-55 minutes until the loaf is golden brown and a cake tester inserted into the centre comes out clean.
Leave to cool for 5 minutes , then turn out onto a wire rack and leave to cool before slicing. Store in an airtight container.
Other info
Preparation Time: 5 minutes   Cooking Time: 50-55 minutes
TIP! Tastes great on it's own or try spreading with some butter, or even some Nutella! So naughty but so nice!