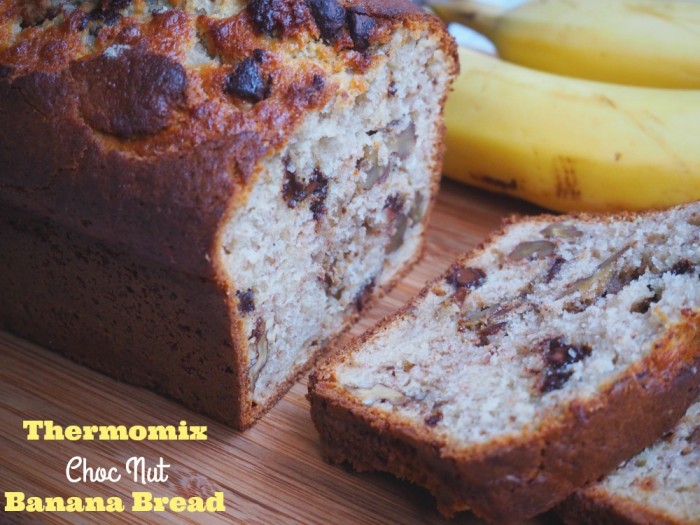 Makes 12 slices
When life (or your colleagues) give you over ripe bananas, you can either slip on the skins, or as I prefer, make Banana Bread. This is a bit of a twist on the cafe classic, and it's much lighter than your everyday Banana Bread too, more cake than loaf but delicious all the same. It got rave reviews in the office. One bite and they all went bananas!  I had to post it forthwith by popular demand!  This is adapted  from the Great British Book of Baking  which accompanied the first series of  The Great British Bake Off and it's pure pedigree, I promise! If you haven't got a Thermomix, you can find the original recipe here (which is just as easy and just as delicious!)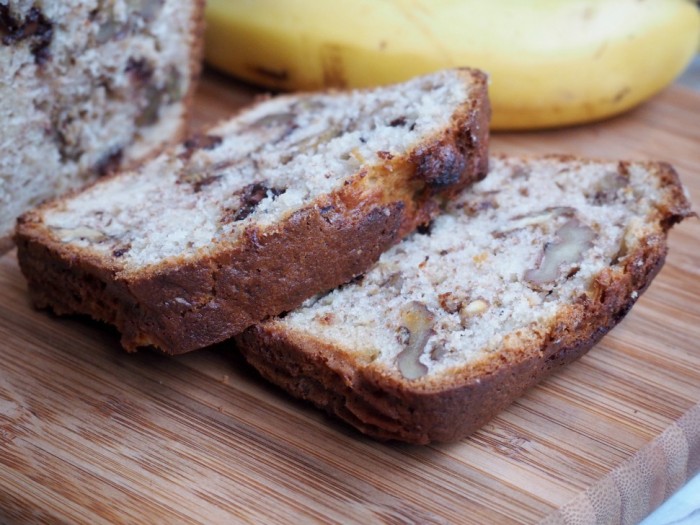 Ingredients
150g raw sugar
100g unsalted butter
2  eggs
250g peeled ripe bananas – about 2 large or 3 medium
250g self-raising flour
a good pinch of salt
75g dark chocolate chips
100g walnut pieces
How to
Preheat oven to 180C / 160C fan-forced. Grease  a loaf tin and line the base.
Mill the sugar for 4 seconds  on speed 9. Set aside.
Melt the butter for 2 minutes  at 60C on speed 2. Check that butter has completely melted and allow to cool for a few minutes.
Add the eggs and mix for 5 seconds on speed 4.
Add the banana and chop for 3 seconds on speed 4. I like it chunky rather than pulpy.
Add the flour, sugar and salt and mix for 10 seconds on speed 5. 
Add the chocolate chips and walnut pieces and mix on reverse speed 3 for 5 seconds using the spatula to assist.
Transfer the mixture to the prepared tin and spread evenly. Bake in the preheated oven for 50-55 minutes until the loaf is a lovely golden brown and a cake tester inserted into the centre comes out clean.
Leave to cool for 5 minutes , then turn out onto a wire rack and leave to cool before slicing. Store in an airtight container.
Other info
Preparation Time: 5 minutes   Cooking Time: 50-55 minutes
TIP!Tastes great on it's own or try spreading with some butter, or even some Nutella! So naughty but so nice!