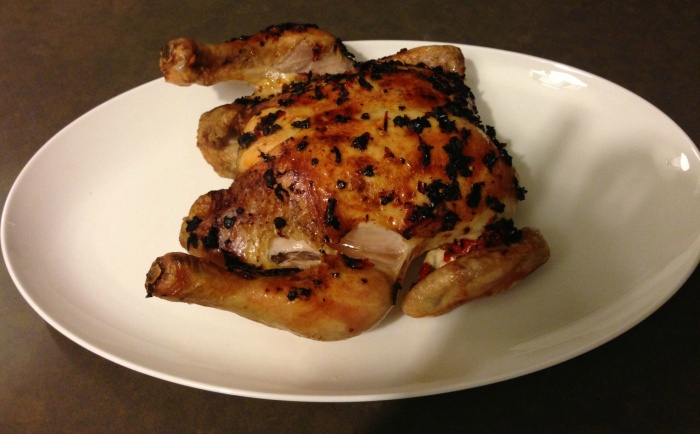 (low iodine)
Serves 4
Ingredients
1.8kg chicken
4 large red chillies
1 lime, thickly sliced
1 lime, extra, zest grated plus 1 tablespoon lime juice
1 1/2 tablespoons olive oil
How to
Preheat the oven to 220C/200C fan-forced. Line a baking dish with baking paper.
Remove the seeds from, and roughly chop 3 of the chillies. Keep the other one whole. Set aside.
Place the chicken breast side down on a board. The back should be facing up and the drumsticks pointing towards you. Using kitchen scissors, cut along both sides of the backbone of the chicken, remove it and throw it away.
Turn the chicken breast side up and press firmly on the breastbone to flatten it. You'll hear a little crack.
Place the lime slices and whole chilli in a baking dish lined with baking paper. Place the chicken on top of the lime slices, tucking in the wing tips.
Combine the rind, juice, chopped chilli and oil and rub over both sides of the chicken. Season with black pepper and bake for about 35-45 minutes until cooked through.
Other info
Prep and cooking time:  55 minutes
Serving suggestion:  Serve with a simple salad, it goes great with the Quinoa Supergreen Salad.