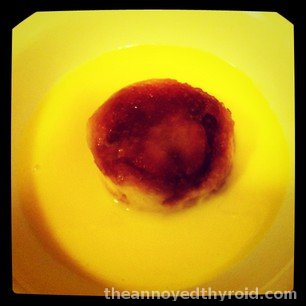 Serves 3-4
Want the perfect pud? Make this in minutes!
Ingredients
2-3 tablespoons golden syrup
50g (2oz) soft butter or margarine
50g (2oz) caster sugar
1 egg
½ teaspoon vanilla essence
100g (4oz) self-raisin g flour
3-4 tablespoons milk
Finely grated lemon rind, optional
How to
Lightly grease a 600ml (1pint) pudding basin and spoon in the syrup.
Beat together the remaining ingredients using enough milk to give a soft consistency and using the lemon rind if desired.
Spoon over the syrup, levelling the top
Cook on MEDIUM for 6 ½ – 9 minutes or until the pudding tests when cooked with a toothpick. The top may still look a little moist.
Leave to stand for 5 minutes before turning out on to a plate.
Other info
TIP! To serve two: use half the measurements of dry ingredients, a small egg and 1 tablespoon of milk. Use individual dishes or teacups and cook for 3-4 minutes on MEDIUM. Serve with additional hot golden syrup if desired.