(low iodine)
This fool proof roast is quick, easy and tastes amazing!
I have to admit I am not a fan of cooking roast dinners although I am very enthusiastic about eating them. When I cook meat, I always stress that about how much the meat cost and how much money I'm going to waste when I stuff it up! However, even I can manage this roast.
It's super quick, super easy and super delish and apart from a bit of chook wrestling at the start, you can just chuck it in the oven and return to the most delicious dinner about 40 minutes later. The meat is juicy and flavoursome and don't get me started on the aromas from those juicy lemons and roasted garlic – mmmm!
And if you're on that pesky (and somewhat boring) low iodine diet as part of treatment for an annoyed thyroid, I promise you this meal is a real treat to eat!
If you've got some extra time, why not go the whole hog (or the whole chook) and throw in some roast potatoes too? You won't regret it!
Are you good at cooking meat? What's your favourite roast?
Serves 4
Ingredients
1.6kg chicken
2 lemons, thickly sliced
2 bulbs garlic, unpeeled, cut horizontally
Olive oil for brushing
Cracked black pepper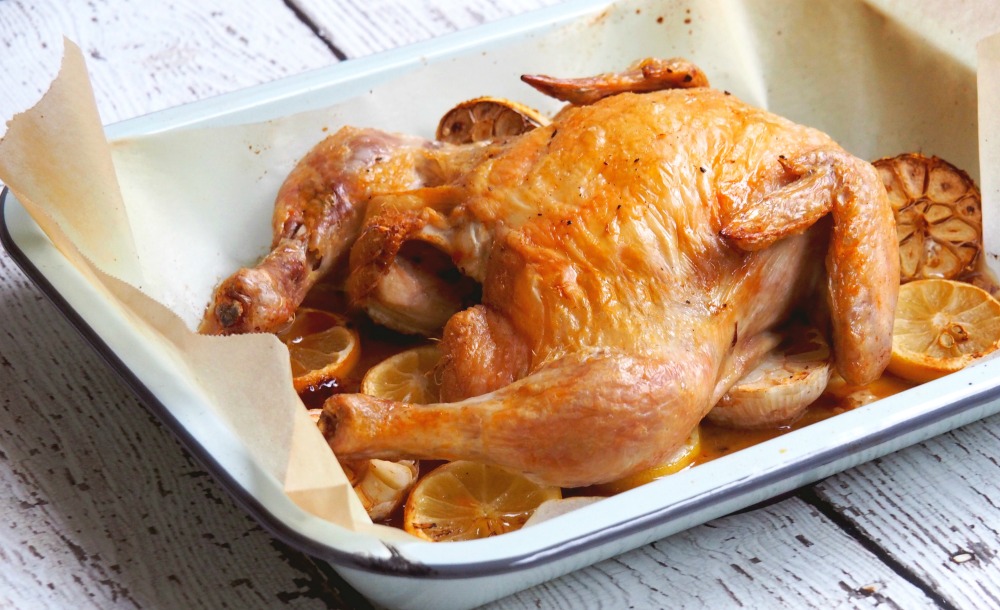 How to
Preheat the oven to 220C.
Place the chicken breast side down on a board. The back should be facing up and the drumsticks pointing towards you. Using kitchen scissors, cut along both sides of the backbone of the chicken, remove it and throw it away.
Turn the chicken breast side up and press firmly on the breastbone to flatten it. You'll hear a little crack.
Place the lemon slices and halved garlic bulbs in a baking dish lined with baking paper. Place the chicken on top of the garlic and lemon, tucking in the wing tips.
Brush with the oil and season with kosher salt and black pepper.
Bake for 40-45 minutes until golden and cooked through.