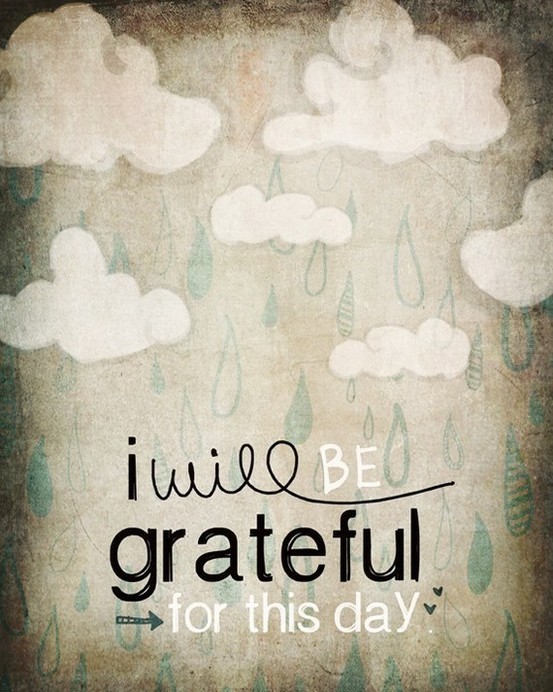 Hooray for Friday. I'm having one of those  mornings and am all at sixes and sevens. I'm forgetting to do this, and doing that when I shouldn't. Still, at least I get the bake bang on, that Borrowdale Tea Bread disappears in minutes! Even though, I hide it on top of the filing cabinet, (not from my colleagues, but the ever-multiplying army of cockroaches in our office,) after our lightning quick 15 minute break, all that is left, are crumbs! Mother is right (isn't she always?!) you don't even need to butter it up, it's tea-licious in it's own right.
I'm happy to get out of the office a bit early before I make any more mishaps. We're off to see the Endo and get the blood test results and to place the final piece in the puzzle. Whatever, the results, I'm ready. I know the scan is clear, and that means no treatment for now, which is as good as it gets for me!
The Endo is happy and not just because I took her some of those delicious Gooey Chocolate and Cranberry Cookies! The blood tests are good! My antibodies are going down, which is the right direction. Then there's that Thyroglobulin. If you want to be a geek, google it, but I made a promise to myself to be a Medical Ignoramus. When it comes to scaring yourself silly googling medical science, less is most definitely more! In layman's terms, I think Thyroglobulin indicates how busy the Cancer is being. My antibody readings are still quite high (even though they're a fraction of what they were after surgery,) which makes the thyroglobulin readings hard to interpret. The Endo says it's like trying to listen to a radio (thyroglobulin) with static (the antibodies.) So the blood is a work in progress.
I have to have some blood tests next week, just routine, to check my daily drugs are working their magic. I'm not seeing the Endo again or having any more blood tests until December! A six month reprieve – what a breath of fresh air! I can hardly believe it! We'll see what the results say then, but the provisional plan is to have another scan this time next year, just to dot all the Is and cross the Ts! You can never second guess the big C!
Once again, I'm so thankful to have such great doctors; they make things seriously simple and literally, much more painless.
To say that we're relieved, would be an understatement. The way I see it, I have six months until the next milestone, and I'm going to make sure every day counts!
I start as I mean to go on and prepare to party! After popping to the shops and getting some groceries (needs must and all that,) we kick back and relax with a bottle of bubbles at the Small Bar. Right now, I have a voracious appetite for Prosecco. It's much easier to drink than champagne, a lot cheaper and tastes better! And if that all wasn't enough, it reminds me of the heady days of romance in Venice!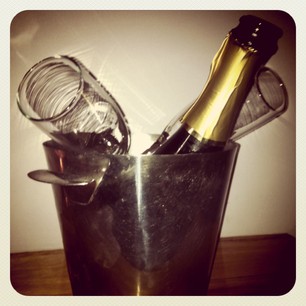 Tonight, I know where I want to go for the celebration supper, our local Eastern European Beer Cafe, Bazaar! Eating there is a bit like being an extra on that TV programme Man VS Food and that's probably why we love it! The weather is baltic outside, cold enough for coats (and that's saying something in Sydney!) so a big, hearty dinner is exactly what the doctor ordered!
I'm  a creature of habit and always have the Veal Goulash served in a sourdough bread cob. It's just the food dreams are made of!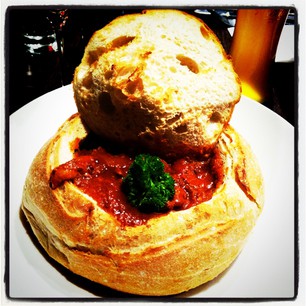 It's Hungarian Fest at Bazaar so our visit is incredibly well timed, and David plumps for the Szegedi Goulash; sauerkraut, bacon, sausage, veal goulash, sour cream and bread dumplings! We both want both dishes so we double dip and shared a bit. Food envy is no way to be carrying on!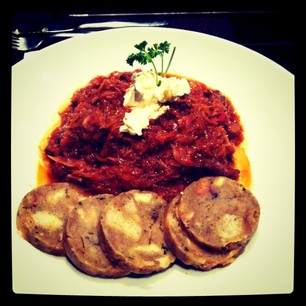 I realise that this is where we came to commiserate when we got the news about the second diagnosis and the surgery.It's quite fitting then, that here we are 9 months later, celebrating good health and good news; that's what you call coming full circle! When we're done, we're full of Eastern European promise even if we do look like dumplings!
Pin-spiration Reference: http://www.etsy.com/shop/vol25