Hooray! It's Friday! Or should I say Wine-Day?! Today, we're heading North to the Hunter Valley where we are going to taste some fine wine, smelly cheese and delicious chocolate! Bring it on!
Max our trusty tour leader,  picks us up bright and early and off we go. Once we hit the freeway, the scenery is spectacular as we drive along the Hawkesbury River. We make a quick stop to use the toilet and grab a coffee and then hit the wineries!
First stop, is the aptly named First Creek where we taste a long list of wonderful wine. Winery number two, is the appropriately named Tempus Two where we enjoy a great selection of wine before popping next door to the Smelly Cheese Shop where we enjoy a private cheese tasting. There's lots of labna, some fantastic fetta and some beautiful blue cheese too. There's a plethora of providores in the shop proper and my taste buds are in overdrive as I salivate over the oils, olives and freshly baked breads.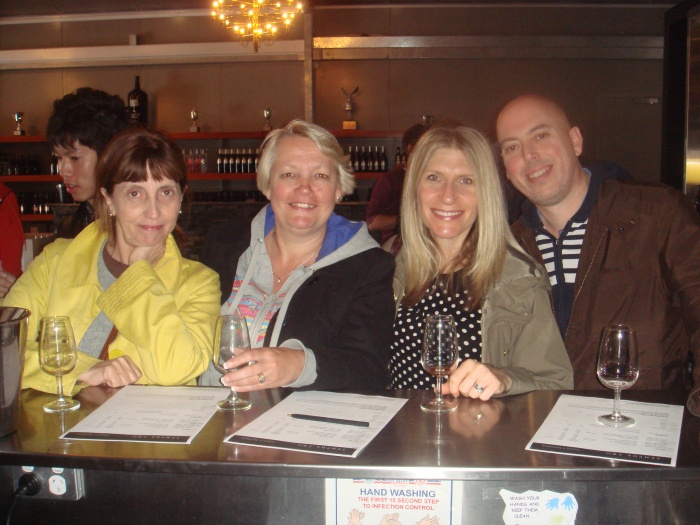 Winery number three is James Estate  a lovely, boutique winery with some delicious tipples. We're really getting into this…
We hop back on the bus and then get dropped off at the Chocolate Shop  in the Hunter Valley Gardens. There's chilli chocolate, chocolate rocks and chocolate coffee beans to taste and all kinds of sweet treats to buy. Looking at all the sweet eats is making me rather hungry, so I'm pretty pleased that it's time for lunch.
We refuel at Bluetongue Brewery Cafe with a light lunch and a paddle of beer. Joan's not a big beer fan but David, Beverley and I work our way through 2 paddles, and come to a tidy little arrangement, where we swap the ones we do/don't like so that we can enjoy a little more of what we fancy! The Brewery also has a neat little cellar door where we get to taste Polin and Polin  wines. We're particularly pleased about this, as we met the winemakers when we were wine tasting in Orange, and have been wanting to give these wines a go. The wines lives up to our expectations and then some. We can't leave without buying a bottle or two.
After lunch, we squeeze in visits to two of our favourite wineries Ironbark Hill and Blueberry Hill. We love them both and have a fine old time. It seems like we buy a bottle or two of something from each of the wineries, it's just tastes too good. Most of the wine we've tasted can only be brought from the Cellar Door so it's an opportunity not to be passed up. Who knows when we'll be back to restock our wine rack?
We settle down for the long journey home and snooze our way back to Sydney. The weather cityside has taken a down turn and is blowing a gale. We make a mad dash for home with our bottle booty and stay indoors to keep warm and toasty. We're all pretty pooped but I throw together  a Thermomix Mushroom and Pea Risotto; the perfect winter warmer. Effortless to make and excellent to eat!
Oh we've had a fine wine old time!