There's no better way to start Saturday than with a run! Back at the ranch, it's action stations. Me and Beverley give Joan a bit of a hair and nail makeover which makes me and Bev feel warm and fuzzy and leaves Joan looking smokin' hot!
Then the fun really starts… Saturday is market day. First stop is the uber cool Paddington Markets where both the lovely ladies find things to tickle their fancy. Then we wander along Oxford Street window shopping in all the quirky and designer stores. We refuel at a lovely cafe and then despite the wild weather, I insist on dragging everyone to the Nike pop up store, even though it's not open. I just want to say I've been and look through the window.The sign on said window, explains the name of the store, Nikeplusnine and why it's only open after dark.
Here it is: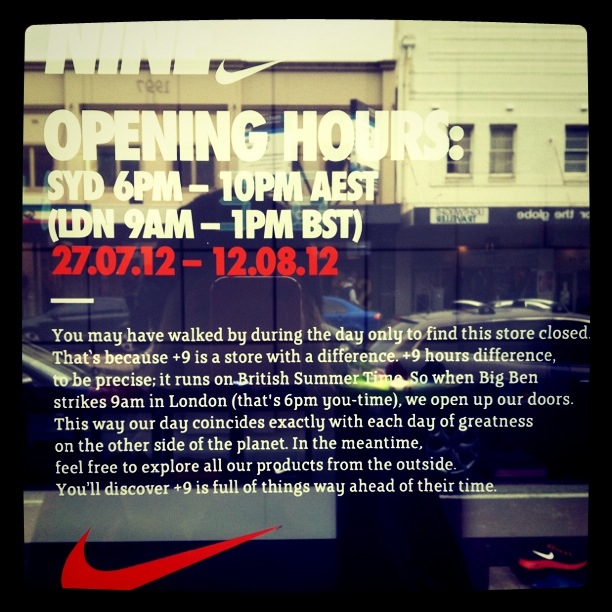 So now you know too! I think it's such a cool concept that I have to take a picture. I'm so busy pressing my nose up to the window and checking out all the splendid stuff inside that I don't notice that I'm under surveillance! It turns out that this friendly fella works for Nike and he asks me why I want the photo. For a minute, I think maybe it's my mate Tim, he of the free trainers fame, but it's not! Shame, it would have been nice to put a name to a face!
After the Nike-citement, we are shoppers on a mission. We're off to my most favourite markets of all,  The Rocks. There's something for everyone here and all manner of Australiana from kangaroo scrotum bottle openers (seriously!) to native herbs and pretty much everything inbetween! The visitors systematically work their way through their shopping lists and get everything they're wishing for.
Shopping is hard work so we take the weight off our feet and the shopping bags out of our hands for a bit at ECQ bar  over a glass of bubbles.
There's secret tricks and cunning plans on the way home as David takes the visitors off on a detour so that I can rush home and decorate Beverley's surprise birthday cake. I have a Nigella's Buttermilk Birthday Cake that I prepared earlier and has come out of retirement from the freezer. As it turns out, maybe the cake isn't such a surprise after all, as everyone arrives home in the middle of the mayhem. The beaters are blaring with Bill's Vanilla Whipped Buttercream, I'm covered in icing sugar and the bench top is covered in candy.  Miraculously, Beverley doesn't seem to notice! All's well that ends well, and the Picture Perfect cake doesn't look so bad after all!
Then there's a Wonder Woman style costume change before we head out for the evening. It's the last supper and tonight we're off to Safi where Bev and Joan are going to embark on a little food safari. We feast on a banquet with a plethora of dishes enjoying a taste of the Middle East. The food is fantastic, the company is awesome and the evening is excellent. Then, there's the cake which turns out to be a big surprise, a big hit and leaves everyone with a big belly.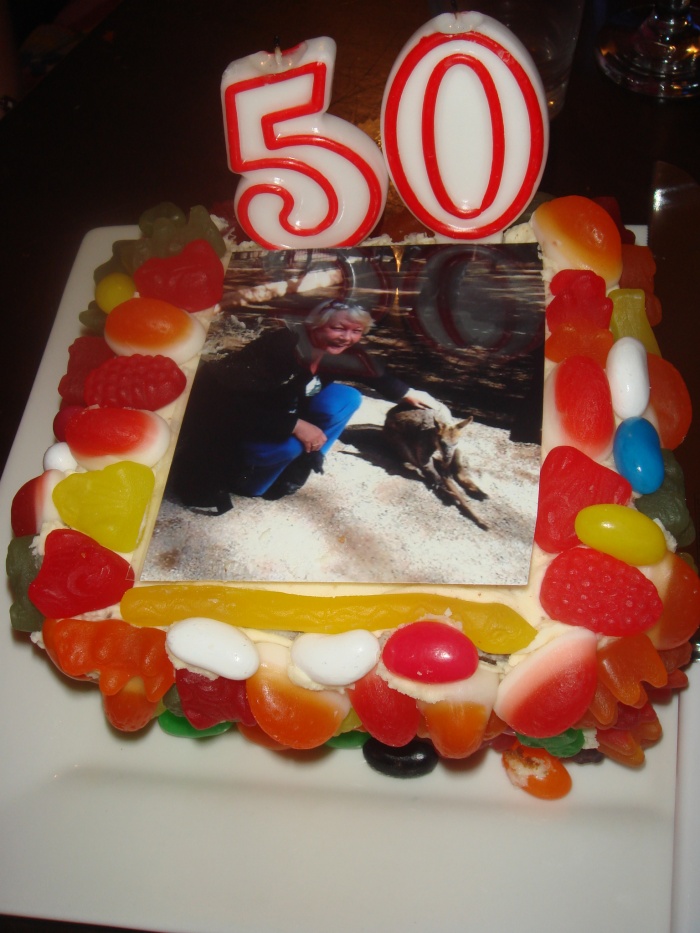 Beverley says the birthday cake is the icing on the cake of her evening. Don't you just love a happy ending?