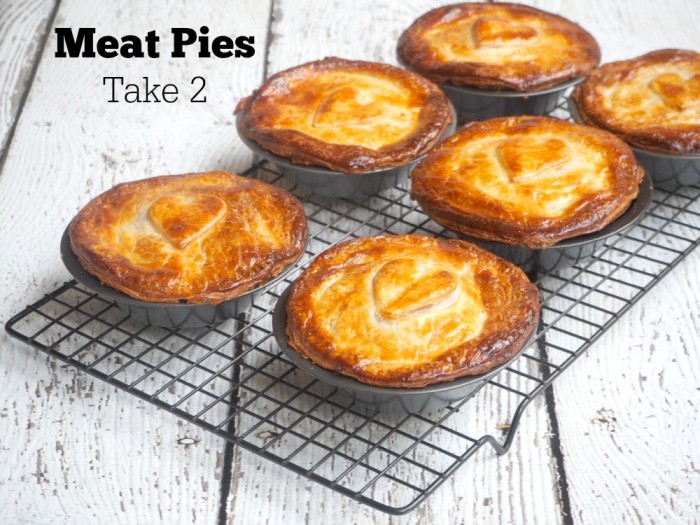 Makes 6
The Meat Pie is an Aussie institution! This recipe is equally as tasty as my other meat pie recipe, but with added bacon because bacon makes everything better! There's something super satisfying about making your own pastry (and I've included both Thermomix and traditional instructions) but if you're pushed for time, use 3 sheets of frozen shortcrust pastry instead and you'll be right!
Ingredients
FOR THE PASTRY
1 ½ cups (225g) plain flour
100g cold butter, chopped coarsely
1 egg
1 tablespoon iced water, approximately
2 sheets puff pastry
1 egg, extra, beaten lightly
FOR THE BEEF FILLING
1 tablespoon olive oil
1 brown onion, chopped finely
2 rindless bacon slices (130g) chopped finely
500g minced beef
¼ cup (35g) plain flour
2 cups (500ml) beef stock
¼ cup (70g) tomato paste
1 tablespoon Worcestershire sauce
1 egg, beaten lightly
How to – Pastry
Traditional Process flour and butter until crumbly. Add egg yolk and enough of the water to make mixture come together. Knead pastry on floured surface until smooth. Cover and refrigerate for 30 minutes. Meanwhile, make beef filling.
Thermomix Place flour and butter into TM bowl and mix for about 10 seconds on speed 6 until mixture resembles breadcrumbs. Set scales and weigh in egg. If necessary add iced water to reach the 50-60g mark. Set the dial to closed lid position and knead for 10 -20 seconds oninterval speed to form dough. Knead pastry on floured surface until smooth. Cover and refrigerate for 30 minutes. Meanwhile, make beef filling.
How to – Beef Filling
Heat oil in a large saucepan, add onion and bacon; cook, stirring, until onion softens. Add beef; cook, stirring, until browned. Add flour; cook, stirring for 2 minutes. Gradually stir in paste, sauce and stock; bring to the boil. Reduce heat; simmer, uncovered, about 10 minutes or until thickened, season to taste. Cool.
Preheat oven to 200C/180C fan-forced. Oil six 2/3 cup (160ml) pie tins.
Divide pastry into six portions; roll each portion between sheets of baking paper until large enough to line tins. Lift pastry into tins; press over base and sides. Trim edges. Refrigerate 30 minutes.
Cut six 11cm rounds from puff pastry. Refrigerate until required.
Line pastry-lined tins with baking paper; fill with dried beans or rice. Place tins on oven tray and bake for 10 minutes. Remove the paper and beans; bake for a further 5 minutes. Cool.
Fill pastry cases with beef filling; brush edges of pastry with extra egg. Top with puff pastry rounds; press edges to seal. Brush tops with extra egg. Cut steam holes in top of pies.
Bake pies about 20 minutes or until browned lightly.
Other info
Prep and cooking time: 1 hour 30 minutes + chilling
TO FREEZE Make the pies in freezer proof dishes. Assemble pies and complete to the end of Step 7. Cool and cover with 2 layers of plastic wrap and 1 of foil. Label, date and freeze for up to 3 months. Thaw overnight in the fridge. Discard plastic wrap and foil. Reheat as in Step 5 until filling is hot. If pastry is browning too much, cover pies loosely with foil.
TIP If using frozen shortcrust pastry, just cut circles of pastry, line tins and continue from Step 6