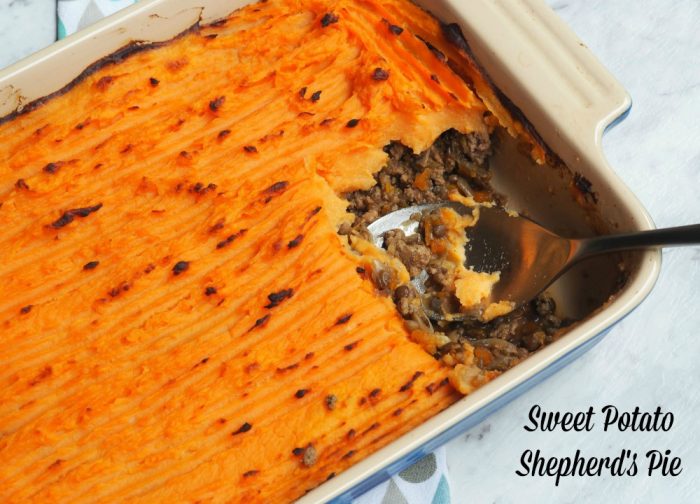 Serves 6
I love eating meat but I don't really care for cooking it mostly because I'm a bit of a princess about handling it and I'm a bit of a worrier about ruining it, because let's face it, it's an expensive waste of ingredients if you have a cooking faux pas. That said, I always make an exception for mince because it's the one thing I can cook, will cook and it's super versatile.
In the words of Jon Snow, we all know "winter is coming" and although I'm not a fan of cold weather per se, I am a big fan of wearing beanies and eating comfort food (but not at the same time.) This pie is perfect for the colder weather – eating it is like giving your belly a big warm hug.
Now I know Shepherd's Pie is technically made with lamb, but let's not split hairs. This pie is delicious whether you use beef or lamb, so use whatever you prefer or whatever you have to hand.
I've got this theory that the yummiest food is also the ugliest (or at least the hardest to photograph) and this pie is backs up my theory to perfection. One knows that one should never judge someone (or for that matter some dish) by appearances. Believe me when I tell you that what this dish lacks in looks, it more than makes up for in taste!
This freezer friendly pie doesn't just have all the comfort, it has  almost all of your five a day too, well 4.5 to be exact. The pie is chock full of veggies and by bulking the meat out with lentils, you get some value added protein and some extra serves too. Swapping regular spuds for some low GI sweet potato means it's good to eat and good for you too!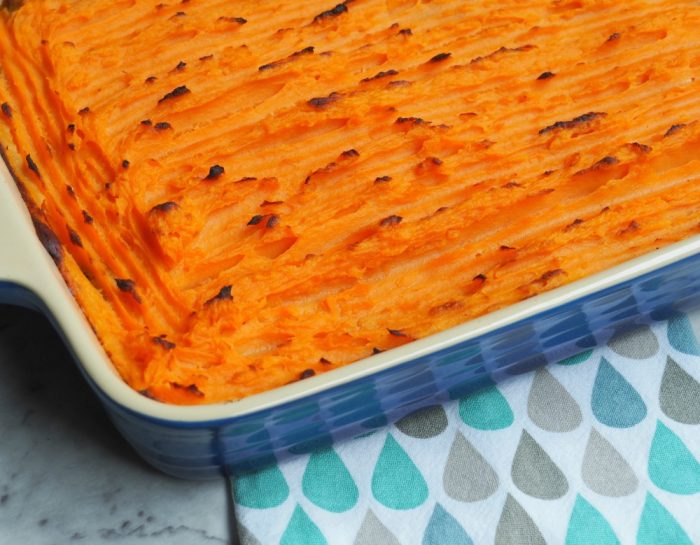 Ingredients
450g lean lamb or beef mince
2 onions , chopped
3 carrots , diced
2 garlic cloves, crushed
500ml salt-reduced beef stock
1 tablespoon Worcestershire sauce
1 teaspoon  Marmite or Vegemite
1 x 400g tin brown lentils , drained
150g mushrooms, chopped
1 kg sweet potato, peeled and chopped
2 tablespoons  sour cream
How to
Heat a large, non-stick pan and dry fry the mince until browned.
Add the onions, carrots and garlic and fry for about 5 minutes.
Stir in the stock, Worcester sauce, Marmite/Vegemite, lentils, mushrooms and season well.
Simmer for 10 minutes or until just saucy.
Meanwhile make the mash. I like to make the mash in the Thermomix (see tip below), but alternatively,  boil or steam the sweet potato until tender. Drain and then mash with the sour cream.
Heat the oven to 200C/180C fan-forced.  Transfer the mince to an ovenproof dish. Top with the sweet potato mash and cook for 30 minutes until bubbling. Serve.
Other info
Prep time: 25 minutes   Cooking time: 50 minutes
TIP! To make the mash in the Thermomix chop the sweet potats into 2 cm pieces. Place potatoes, 250g milk and some salt into TM bowl and cook for 20 minutes at 100C on speed 1. The potatoes should fall apart when cooked, if they're still a bit hard, cook for a few minutes more. Insert butterfly and add sour cream. Mash for 20-30 seconds on speed 4.