So it's Race Day Eve and I'm taking it easy. Today I don't even leave the house bar the usual Saturday morning grocery and coffee stop. Life has been so fast and fun packed of late, it's nice to take things easy.
Tomorrow I'm running so today I shall bake! I can't think of a better place to spend Race Day Eve than in the kitchen and I bake off with gusto. The Thermomix magics up some hummus and Cauliflower and Leek Soup faster than the speed of light, and then I make the different but delicious Chocolate Zucchini Cake. I remember Cindy from Nutritionchic saying that it's OK to eat something naughty, if it helps you eat something nice, that's good for you. So here, we go, have your cake and 1 of your five-a-day and eat it! I love the slighty spiced chocolate flavour and the moist but light texture. I even conjure up some ganache in the Thermomix. It's looking good.
I take time out at dinner and David gets busy with the barbecue. He serves up a  big, juicy steak and lots of green veggies, my favourite pre-race feed!
I just have time to give myself a mini manicure with some funky nail stickers – which are fast becoming my new favourite fashion accessory. I'm developing a habit for sporting spiffy stickers on my nails every race I run. A different race, a different design. Tonight, I choose the aptly named Springtime! Check them out!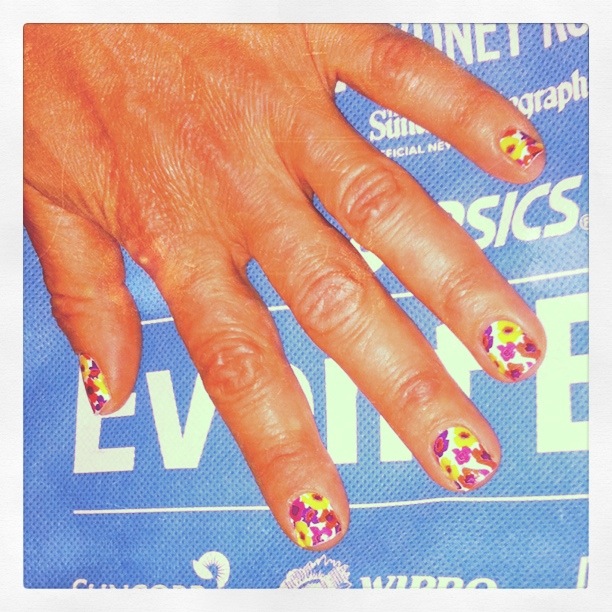 Then it's early to bed tonight, because I'm going to be very early to rise tomorrow!