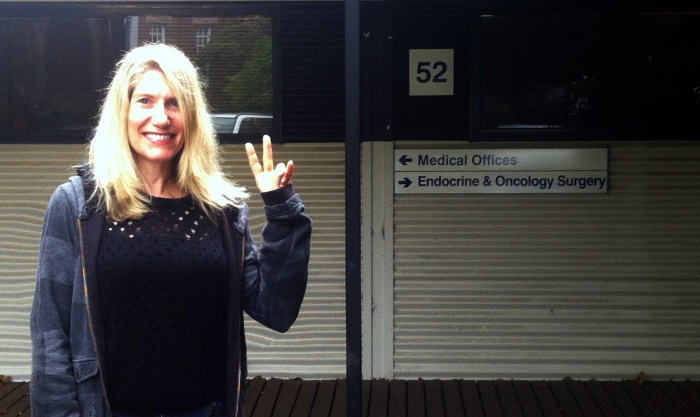 Today's the day. I'm going to see the Prof. It's been a year and a day (not that I'm counting!) since he took my annoyed thyroid and six months since we last met. As there's little else left in my neck that's of any surgical interest to the great man, I'm hoping this is just a social visit! Nevertheless, I can't help but feel a little nervous.
Things have changed in the office… you can tell I haven't been for a while. There's new faces at reception and the Prof has a nice, new secretary. My beloved Geraldine now only works three days and Thursday isn't one of them! Lucky, we're local  so I can swing by and say hi, bye another time.
The prof doesn't keep me waiting and it's good news all the way. He's thrilled with the results from my scan and gives my neck the once over just to be sure. Despite giving him a cute little box of White Chocolate and Raspberry Rocky Road, he says he never wants to see me again! I've been dumped! By my doctor! And heavens, it's a good feeling!
He tells me to get in touch if I ever need him. However, I hope the only reason I swing by this office in future, is to feed the doctor, not need the doctor!
I still maintain that the good health I enjoy today is a direct result of the  Prof's fast work and nifty knife skills. So maybe you can understand why I feel a little bit sad to say goodbye. However, doesn't every ending herald a new beginning. Today is my new beginning, and, even though,  I don't know what lies ahead,  like C S Lewis,  I have to believe that "there are far, far better things ahead, than any we leave behind."