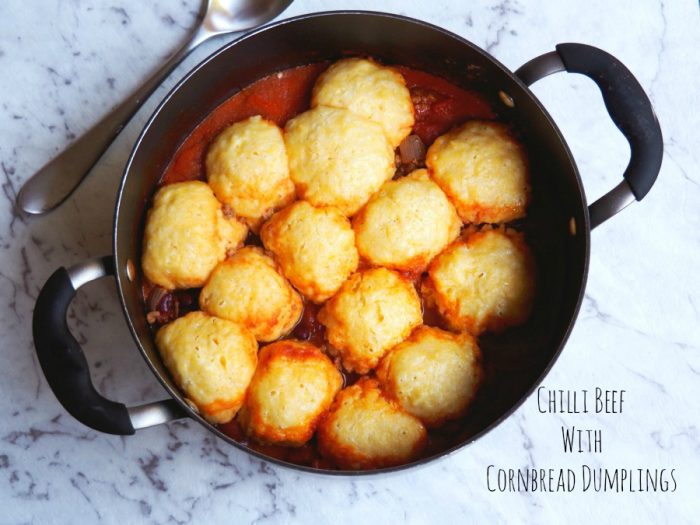 Serves 4 (very generously)
If I had to eat one food for the rest of my life it would definitely be dumplings. They feature in so many of my favourite cuisines and they're always downright delicious. I'm pleased to report that these cornbread dumplings are no exception. They're the perfect accompaniment to the lightly spiced chilli with their soft, spongy and oh, so slightly cheesy texture.
This is also such a low maintenance dish, it needs nothing much except some stirring of the stew and some rolling of the dumplings – it really is a one pot wonder. One word of advice though, use the biggest pan you have, because the more surface area those dumplings have to spread out, the better the dish will be!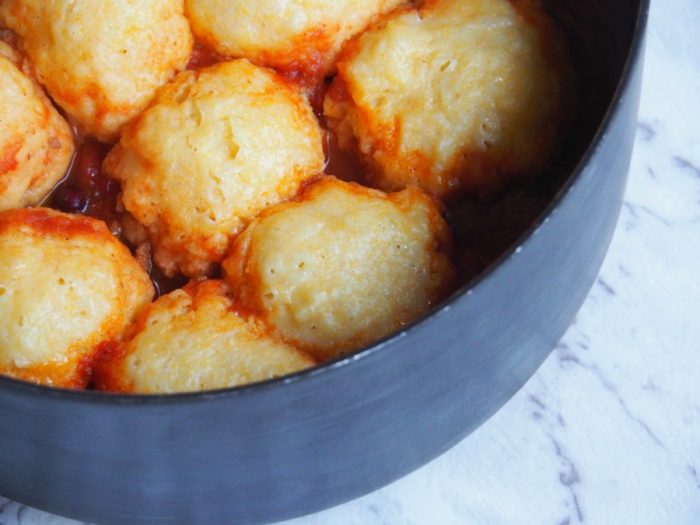 As it happens we love this dish so much, that we even made it for our recent Valentine's Night Dinner… Even though it was about 100 billion degrees (or at least that's how it felt.) It was so hot outside that I thought my eyeballs would surely melt, but we just cranked the air con up indoors because we were not going to let Mother Nature come between us and our dumplings.  We heart this dish hard. It's quality, comfort food at it's finest!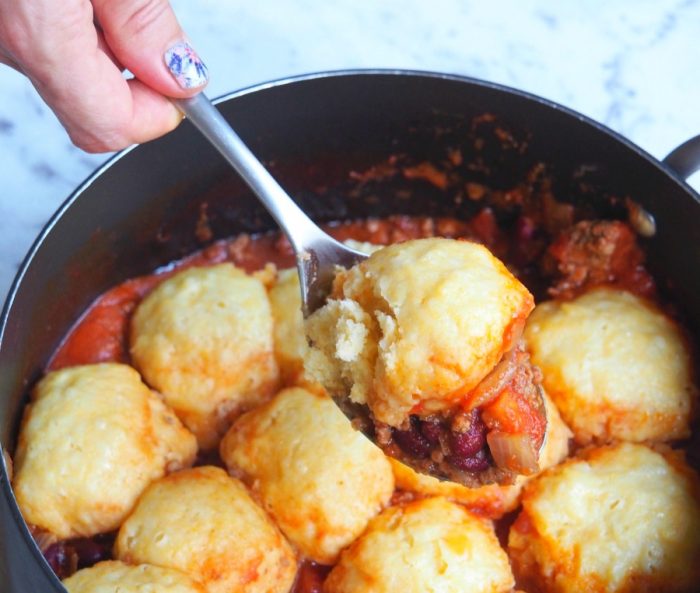 If you had to eat one food for the rest of your life, what would it be? Do you like eating winter food in summer too?
Ingredients
1 medium onion, roughly chopped
3 cloves garlic, crushed
1 tablespoon olive oil
800g (1 ½ pounds) minced beef
2 teaspoons ground cumin
2 teaspoons smoked paprika
½ teaspoon cayenne pepper
400g canned kidney beans, rinsed and drained
800g canned diced tomatoes
1 cup (250ml) beef stock
1 cup (250ml) water
1 tablespoon light brown sugar
CORNBREAD DUMPLINGS
1 ½ cups (200g) self-raising flour
1/3 cup (55g) polenta
¼ cup (30g) coarsely grated cheddar cheese
¼ cup (60g) creamed corn
1 egg
½ cup (125ml) milk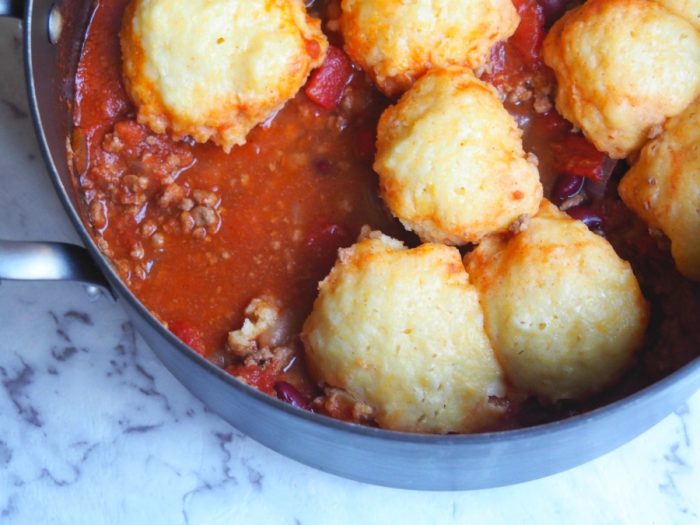 How to
 Heat oil in large saucepan; cook onion, beef, garlic and spices, stirring, until beef is browned.
Add the beans to the pan with the tomatoes, stock, water and sugar and bring to the boil. Reduce heat and simmer, uncovered, for about 30 minutes, stirring occasionally. Season to taste.
Meanwhile, make cornbread dumplings. Combine sifted flour, polenta and cheese in a medium bowl and stir in corn, egg and milk. Season well.
Using wet hands, roll level tablespoons of the dumpling mixture into balls and place on top of chilli. Cook, covered about 15 minutes or until dumplings are cooked through.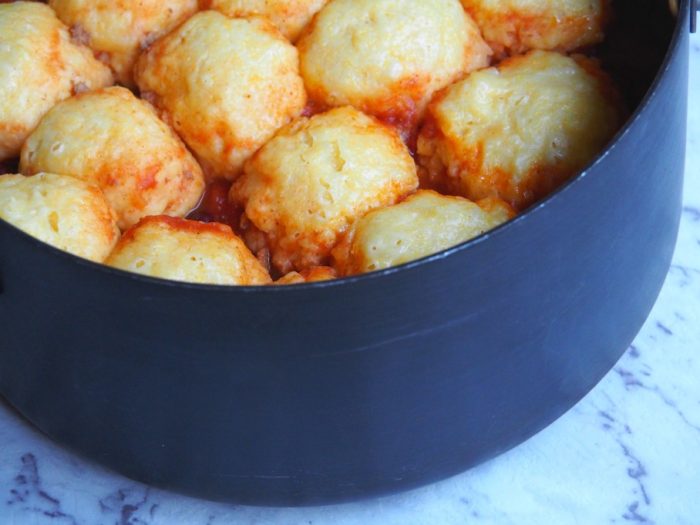 Other info
Prep  and Cooking time: 1 ¼ hours