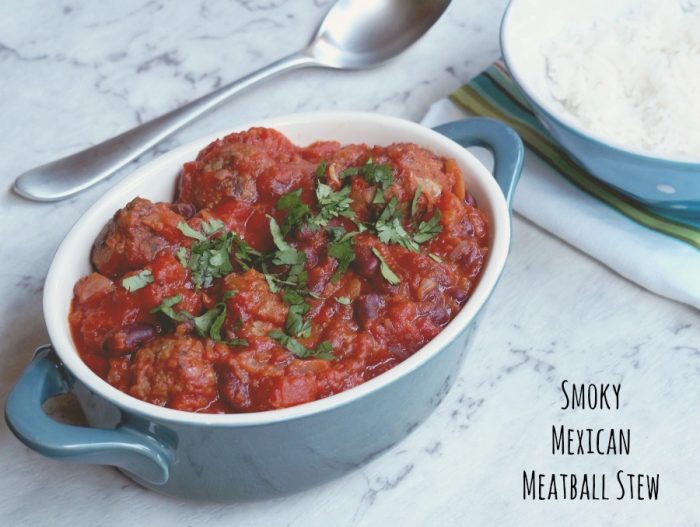 Serves 4
If you imagine a chilli con carne in meatball form, this Smoky Mexican Meatball Stew would be it. Think delicious homemade meatballs in a chunky tomato and bean smoky sauce. It makes me hungry just thinking about it!
My oven died when daylight savings started which proved disastrous for both dinner and food photography. I couldn't bake or grill anything and anything I cooked on the stove, in the Thermomix or in the slow cooker, had to be cooked and photographed in the afternoon (with good light) and reheated (or heaven forbid, eaten cold) for dinner. It was a bit of a juggle, I can tell you!
Anyhoo, this recipe needed a makeover and the death of dear oven meant it got one sooner rather than later. I've added some paprika to the new, improved meatballs which doesn't make them spicy, it just makes them smoky which sets off the flavour of the chipotle sauce really rather nicely.
The sauce in this stew is thick and chunky, if you like it saucy, just add another half a cup of water and you'll be good to go.
This recipe is quick, easy, healthy and full of yum, and as if that isn't good enough, it's freezer friendly too!
Do you like your stews thick or saucy? Are you a fan of Mexican flavours too?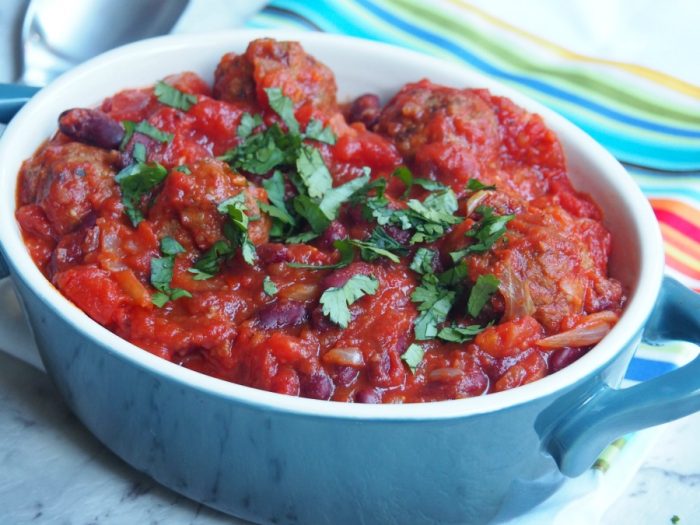 Ingredients
FOR THE MEATBALLS
400g beef mince
50g fresh breadcrumbs
1 teaspoon  ground cumin
1 teaspoon ground coriander
1 teaspoon smoked paprika
1/2 teaspoon chipotle sauce
FOR THE SAUCE
1½ tablespoon olive oil
1 large onion, finely chopped
2 cloves garlic, crushed
2 x 400g can chopped tomatoes
1 tablespoon tomato paste
1 teaspoon of chipotle sauce
1/2 cup water
400g can kidney beans , drained and rinsed
steamed rice, to serve
small handful coriander , to serve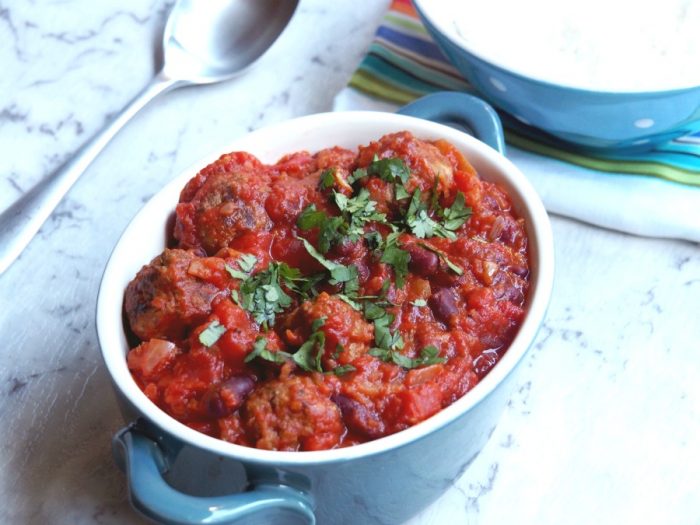 How to
Place the mince, breadcrumbs, spices and chipotle sauce in a bowl. Season well and mix together using your hands. Roll mixture into 20 walnut-sized meatballs and chill in the fridge for about 15 minutes.
Heat 1 tablespoon of the oil in a large, deep non-stick frying pan. Cook the onion and garlic for 5 minutes until soft, then remove from the pan.
Heat remaining oil in same pan on medium. Cook meatballs for about 8-10 minutes until browned all over.
Add tomatoes, tomato paste, water, extra chipotle sauce and onion mixture. Season well and simmer for 5 minutes, until reduced slightly. Add beans and simmer for 10 minutes, until the sauce has thickened and the meatballs are cooked through. Top with coriander and serve with the rice.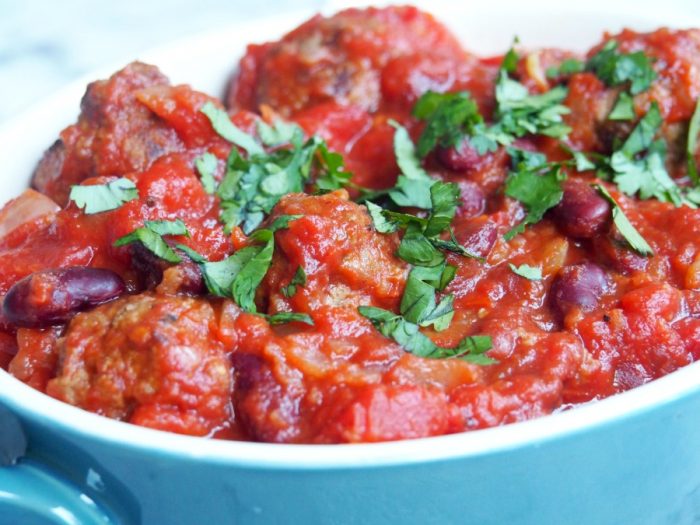 Other info
Prep time: 10 minutes  Cooking Time: 30 minutes