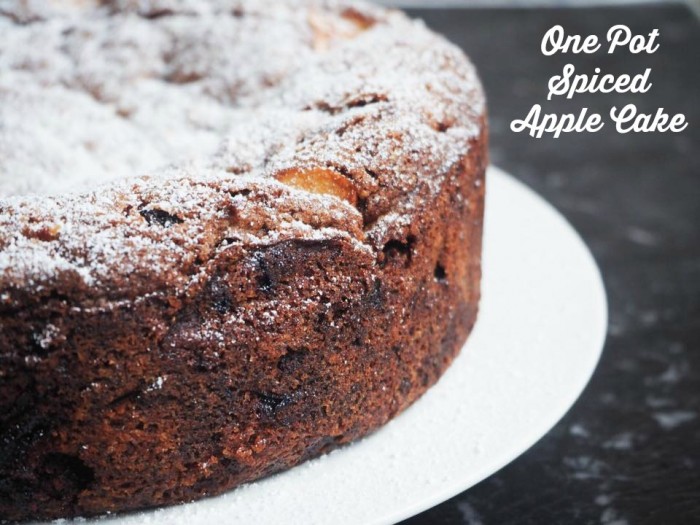 Serves 10
I found this recipe in an old BBC Good Food magazine. I love the one-pot pan method and the end result is a deliciously moist, flavoursome cake. I made this cake for Monica's birthday and everyone in the office gave it the thumbs up!
Ingredients
250g butter, chopped
3-4 Granny Smith apples, peeled, cored and sliced thinly
2 cups (440g) caster sugar
2 eggs, lightly beaten
2 1/2 cups (375 g) plain flour
2 teaspoons bicarbonate of soda
1 teaspoon baking powder
3 teaspoons ground cinnamon
1 cup (160g) sultanas
icing sugar, to dust
How to
1. Preheat oven to 170C or 150C fan. Grease base and sides of a 26cm round cake pan and line base with baking paper.
2. Melt butter in a large saucepan on medium heat. Remove from the heat and mix in apples and sugar, then eggs. Stir in flour, baking powder, bicarbonate of soda, cinnamon and sultanas. Stir just enough to blend evenly. Don't worry – the batter will be quite thick and very bulky. Plop it into  the prepared pan and bake for 1 hour 20 minutes, until risen and golden, and top springs back when lightly pressed.
3. Cool in pan for 15 minutes, then turn out onto a wire rack to cool. Dust with icing sugar to serve.
Other info
Prep Time: 10 minutes   Cooking time: 1 hour 25 minutes
TIP!  The cake keeps well in the fridge for 3-4 days. It makes a delicious dessert served warm with cream or custard.