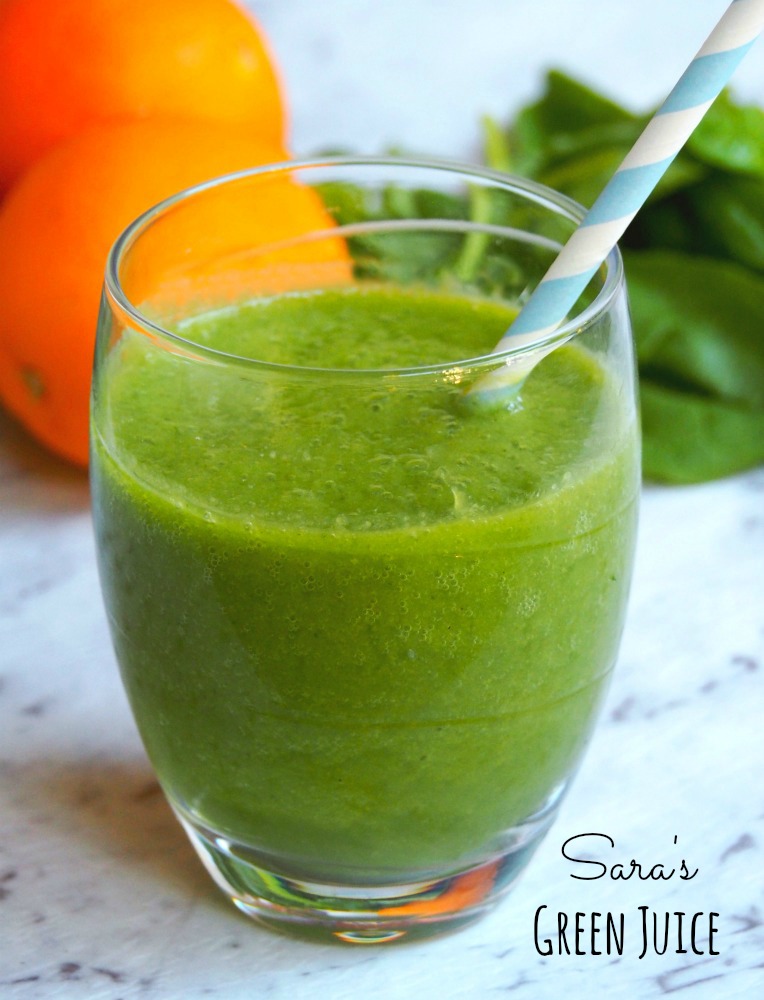 Serves 4
This green juice will give you six serves of fruit and veggies – it's green but it's not mean!
When I was having treatment and was on the low iodine diet, I was a lean, mean juice machine. Juices ticked all the boxes because they were quick, easy, low iodine, healthy and delicious. They're a perfect breakfast or even lunch on the go and they're full of good stuff.
My friend Sara shared this recipe with me on Instagram after seeing some of my snaps of green juices. This is very similar to the Fruity Green Juice but with some value added strawberries.  This juice is my all time favourite! The secret strawberries and the creaminess of the banana are a winning combination, although the fruity flavours in the juice are really balanced and it's not overly sweet.
For the record, I think strawberries and banana are a massively underrated combination. I spent a year on a kibbutz in the mid 90s and while I was there I became obsessed with this strawberry and banana juice that you could buy in a can. I just could not get enough of the stuff and to my utter dismay I have never seen it out of Israel. There are many reasons I'd love to go back to Israel and that strawberry and banana juice is just one of them.
In the meantime, this juice is a great substitute – it tastes good and it's good for me too!
What's your favourite juice combo? Is there a food from another country that you really miss?
Ingredients
1 banana, roughly chopped
1 navel orange, peeled and quartered
1 apple, cored and quartered
1/4 cucumber, roughly chopped
A handful of baby spinach leaves
A handful of strawberries, hulled
1 tray ice cubes (10-12)
200g – 500g cold water
How to
Place everything except the water into TM bowl and chop for 30 seconds on speed 8 .
Add water and mix for 2 minutes on speed 8.
Other info
Prep time: 2  minutes   Cooking time: 3 minutes
TIP! The amount of ice and water you use depends on your taste. Remember less water, thicker consistency, more water, thinner consistency.