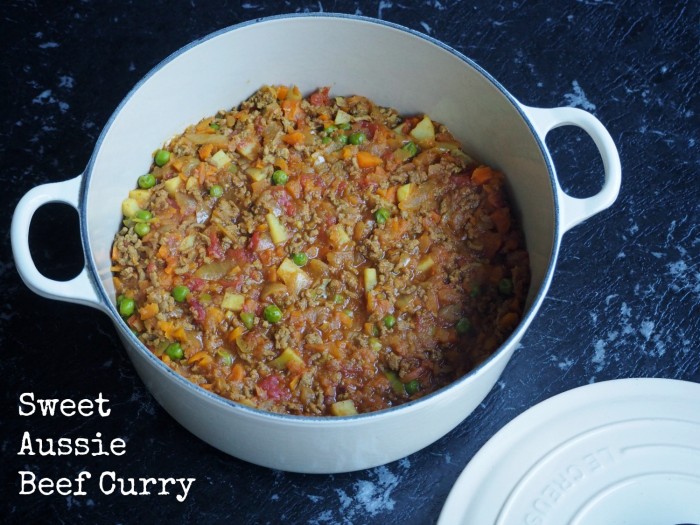 Serves 6
This simple curry is super tasty and definitely more sweet than spicy. It's also full of hidden fruit and veggies, so perfect for kids and  vego-phobics alike! This is a  firm favourite in our house!
Ingredients
2 teaspoons olive oil
500g (1 pound) minced beef
30g (1 ounce) butter
1 medium brown onion (150g), chopped finely
2 cloves garlic, crushed
2 medium carrots (240g), chopped finely
185g (60z) baby new potatoes, chopped finely
1 large apple, grated coarsely
1 tablespoon curry powder
1 tablespoon plain flour
1 ½ cups (375ml) beef stock
400g (13oz) canned crushed tomatoes
1 tablespoon light brown sugar
1/2 cup (60g) frozen peas
How to
Heat oil in a large saucepan, add beef; cook, stirring until browned Remove from pan
Melt butter in same pan, add onion, garlic, carrot, potato and apple. Cook, stirring until soft.
Return beef to pan with curry powder and flour. Cook, stirring for 2 minutes.  Gradually stir in stock. Stir in undrained tomatoes and sugar. Bring to the boil, stirring. Reduce heat; simmer, uncovered, 10 minutes. Stir in peas and cook until hot, season to taste.
Serve with steamed rice or naan bread.
Other info
Prep and cooking time:  40 minutes
TIP! Substitute a stick of finely chopped celery for one of the carrots.