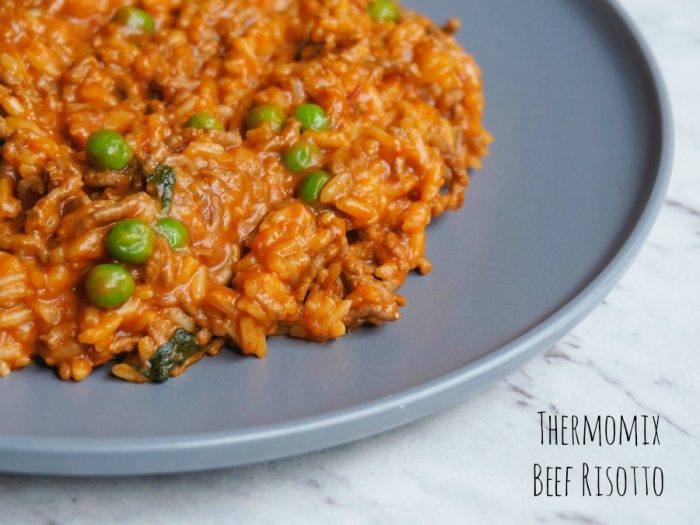 Serves 4
So I've given this recipe a makeover a number of times now and no matter how hard I try, I can't capture the HYF (High Yum Factor) of this dish photographically. I promise you though, this risotto is much more delicious to eat than it is to look at!
As a rule, David won't touch risotto, let alone eat it because he's not a lover of what he calls "hot, wet rice." He will however, happily chow down on this dish and has even been known to go back for seconds.
If the fussiest eater in the world's seal of approval is not enough to persuade you to try this dish, then let me tell you that this is one of the most all time popular recipes on the blog and one of the most commented on too, so clearly the proof is in the eating. This further backs up my theory that the ugliest food is often the yummiest. While we're on the subject of comments, do scroll down to the comments where peeps share their tried and tested tweaks to this recipe – it's super versatile!
I can't take all the credit for this deliciousness though, Jamberie originally posted this recipe on the fantastic Forum Thermomix. She cleverly converted the recipe from the Australian Womens Weekly Minced Meat Cookbook. I first made this for Belinda when she was ensconced in hospital and it's become a firm favourite in our house and if the numbers are anything to go by, in lots of other people's houses too.
It's absolutely delicious, and on the rare occasions that there are leftovers, it makes a great lunch for the next day. You must try!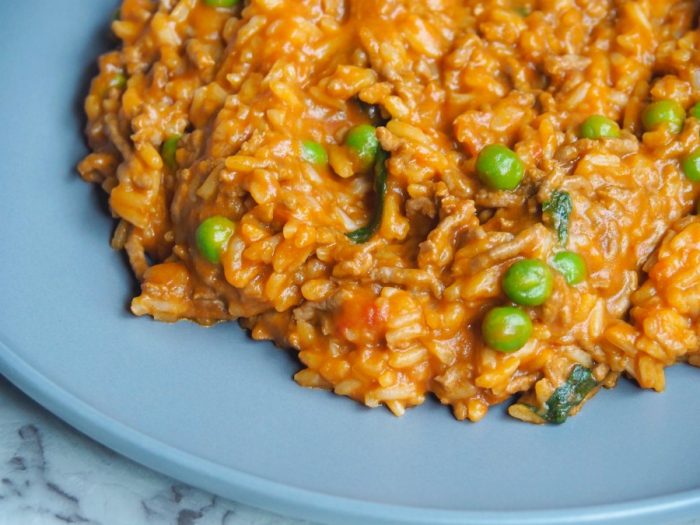 Ingredients
60g parmesan cheese
1 clove of garlic
1 onion, quartered
90g butter or margarine
100g tomato paste or pizza sauce
400g tin tomatoes, diced
70g (or 1-2 tbsp) vegetable stock paste
500g beef mince
300ml water
200g (1 cup) long grain rice
1 cup frozen peas
1/2 bunch of basil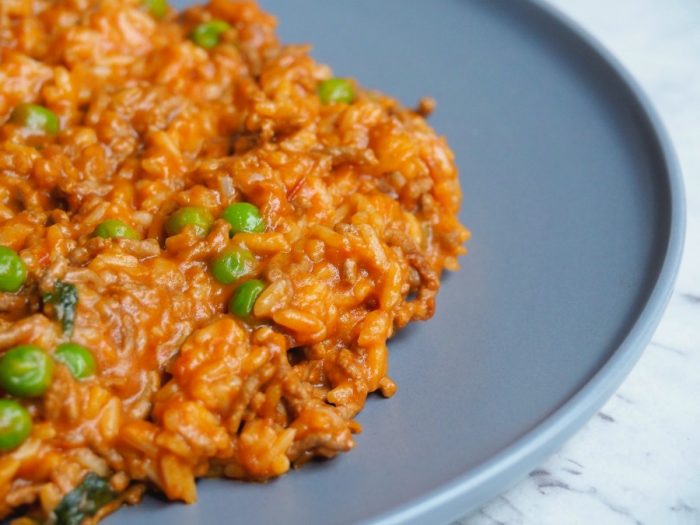 How to
1. Place cheese into TM bowl and grate for 8-10 seconds on speed 9. Set aside.
2. Place onion and garlic into the bowl and chop for 3 seconds and speed 6.
3. Add butter or margarine and saute on Varoma temperature for 4 minutes on speed 1 with the MC off.
4. Add tomato paste (or pizza sauce if using), can of tomatoes and stock paste, cook for 5 minutes at Varoma temperature on speed soft. It's a good idea to put the steamer basket on the top of the lid to prevent splattering.
5. Add mince, cook for 8 minutes on Varoma temperature on speed soft or Speed 1 depending on mince.
6. Insert butterfly, add the rice and water, and cook for 17 minutes at 100oC on speed soft.
7. Add the peas, basil and parmesan cheese in the last minute. Mix until combined.
8. Place in the thermoserver to rest until the rice is to your liking.
Other info
Prep Time: 2 minutes Cooking time: 35 minutes
TIPS! This recipe is freezer friendly.
If you're like me, and you like your rice a little softer, then cook for an extra 3-5 minutes.
This recipe is really versatile, you can substitute other frozen veggies and if you don't have fresh basil, you can use the herb concentrate instead.