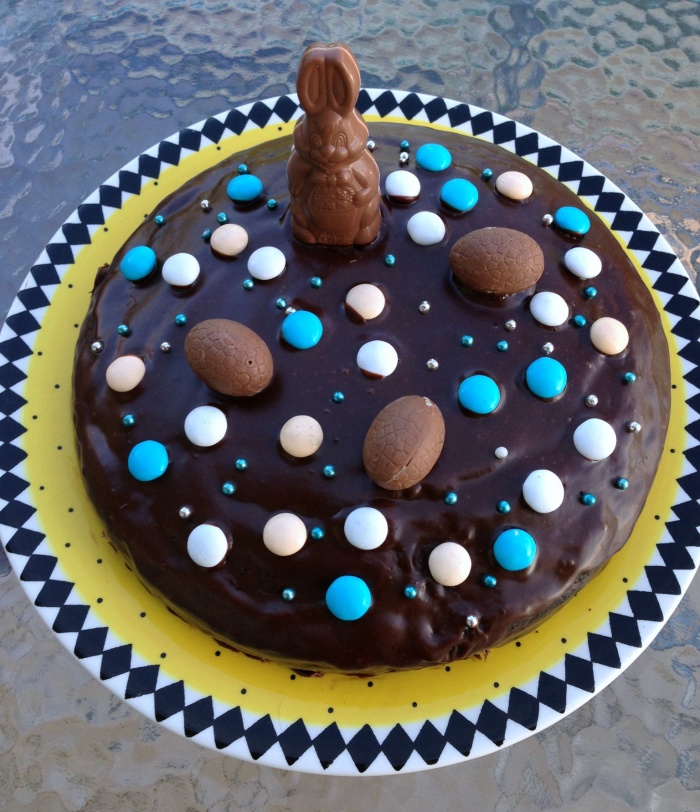 Serves 8
This cake is super light, super easy, super quick and super fluffy with or without a Thermomix!  Here's the conversion but the regular recipe is right here. The golden syrup gives the cake a delicious fudgey (is that a word?) flavour and it's not too rich which means you can really go to Chocolate  town in the decorating department.  Just check out my egg-cellent Easter Cake….
Ingredients
150g raw sugar
175g  self raising flour
2 tablespoons cocoa powder
1 teaspoon bicarbonate soda
2 eggs
150g sunflower oil
150g milk
2 tablespoons golden syrup
How to
Pre-heat oven to  180C/160 fan-forced. Grease and line two 18cm (7 inch) sandwich tins.
 Mill the sugar for 3 seconds on speed 9.
Add the flour, cocoa and bicarbonate of soda to the TM bowl. Mix for 5 seconds on reverse speed 1. Check that the mixture is combined. If necessary repeat, 5 seconds on speed 6.
Add the syrup, eggs, oil and milk to the TM bowl. Mix for 10 seconds on speed 4. Scrape down the sides of the bowl. Mix again for 5 seconds on speed 4.
 Use the spatula to transfer the mixture into the two tins and bake for 25 – 30 minutes until risen and firm to the touch. Remove from oven and leave to cool before turning out onto a cooling rack.
When the cake is cool, either dust with icing sugar, slap on some buttercream or top with some ganache. (If it's good enough for Adriano Zumbo, it's good enough for me!)
 Other info
 Prep and Cooking time: 35 minutes
TIP! This recipe will work just as well as one larger cake, just use a deep 23cm cake tin but cook for 30-35 minutes.