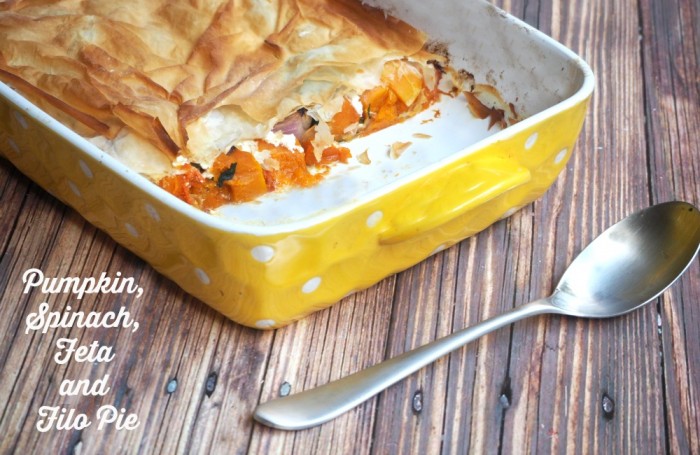 Serves 4 generously
This is an oldie but a goodie. Remember how I raved about it with Pumpkin – 7 ways? This light and crispy pie contains a few of my favourite things – pumpkins, feta and pastry!  It's vegetarian, low fat and super healthy and can win over the  most ardent meat lover. It's a  real winner dinner in our house! Best of all, the pie tastes as good cold as it does hot, so in the unlikely event of any leftovers, your lunchbox is sorted! And if all that wasn't wonderful enough – it weighs in at a teeny tiny 5 weight watchers pro points per serve! Dinner sorted for Monday and you can have leftovers for lunch on Tuesday!
Ingredients
1kg pumpkin, peeled, seeded and cut into 2cm chunks
2 red onions, cut into wedges
1 teaspoon chilli flakes
400g baby spinach leaves
100g feta
4 sheets filo pastry
1 tablespoon olive oil
How to
Heat oven to 220C/200C fan. Put the pumpkin, onions and chilli flakes in an ovenproof pie dish or use 4 individual pie dishes if you prefer.
Season and cook for 25-35 minutes (depending on your oven) until the pumpkin is tender and the onions are starting to char at the edges.
Meanwhile, put the spinach in a sieve and pour over a kettle of boiling water. Squeeze out any excess liquid and stir it into the pumpkin mix.
Crumble over the feta, scrunch up the pastry and place it on top.  Lightly brush the pastry with the oil and then return the pie to the oven. Cook for another 15 minutes until the pastry is crisp and golden.
Prep Time: 20 minutes Cooking time:  50 minutes
TIP! This is great served with a salad on the side. We love the Ultimate Greek Salad.