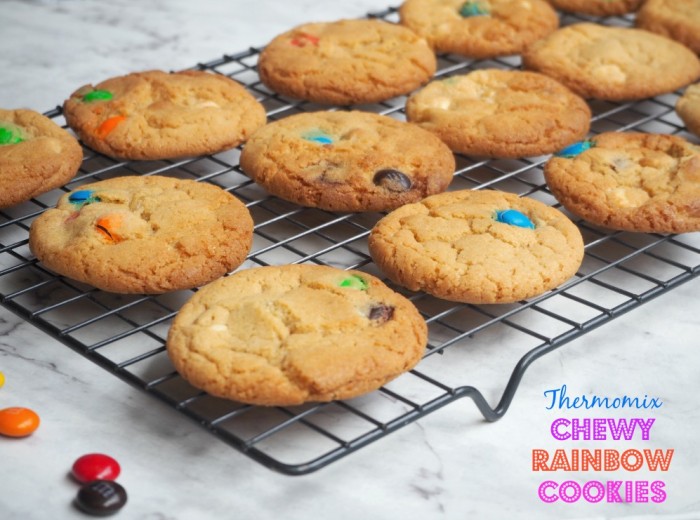 Makes about 24 cookies
These cookies are chewy and rainbow coloured. They remind me of my M&M Chocolate Chewy Cookies without the chocolate! You can use Smarties,  choc chips, nuts, dried fruit or M&Ms, whatever tickles your fancy.
Ingredients
110g raw sugar
110g brown sugar
125g butter, softened
1/2 teaspoon vanilla extract
1 egg
250g  self-raising flour
1/2 teaspoon salt
75g smarties
75g white/dark chocolate chips
How to
Heat oven to 180C/fan-forced 160C. Line two baking trays with baking paper.
Mill the raw sugar to caster sugar for 3 seconds on speed 9.
Add the butter, extract and brown sugar to TM bowl and mix on speed 4  for  1 minute.
With the blades running on speed 4, add the egg through the hole in the top of the lid. This should take about 30 seconds.
 Add the flour and salt . Set the dial to the closed lid position  and knead for 30 seconds  on interval speed.
Add the Smarties and chocolate chips. Mix for 20 seconds on reverse and speed soft. Give the mixture a stir with the spatula.
Place heaped teaspoons of mixture onto the trays – you'll get about 24 out of this mix. Make sure they are really well spaced (about 5cm) as the cookies spread as they bake.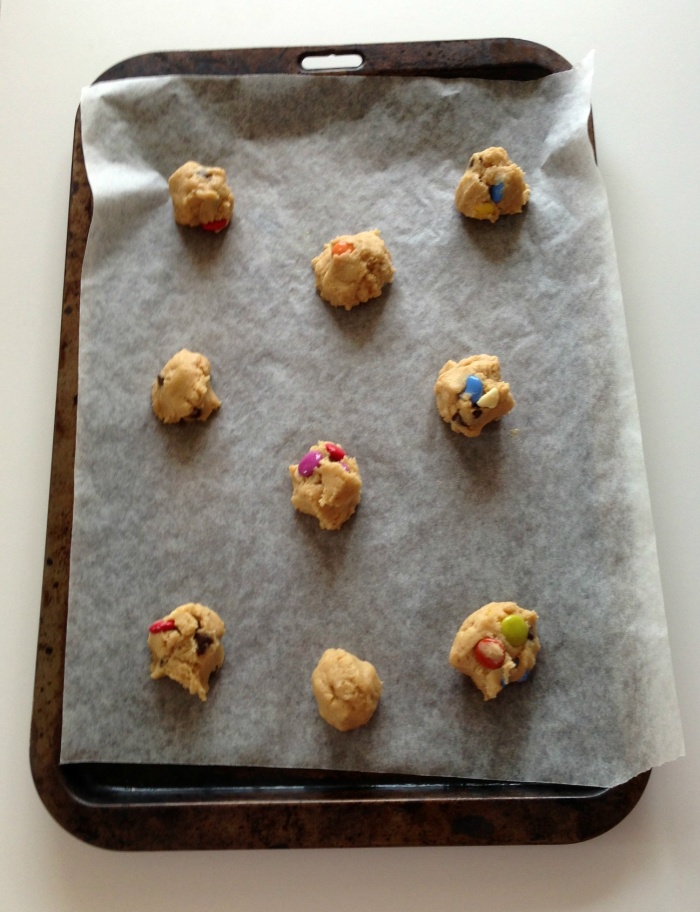 Bake for about 10 minutes or until golden. Cool on the baking trays for 5 minutes, then lift onto racks and leave to cool completely. 
Other info
Preparation  Time: 5 minutes  Cooking time:  10 minutes