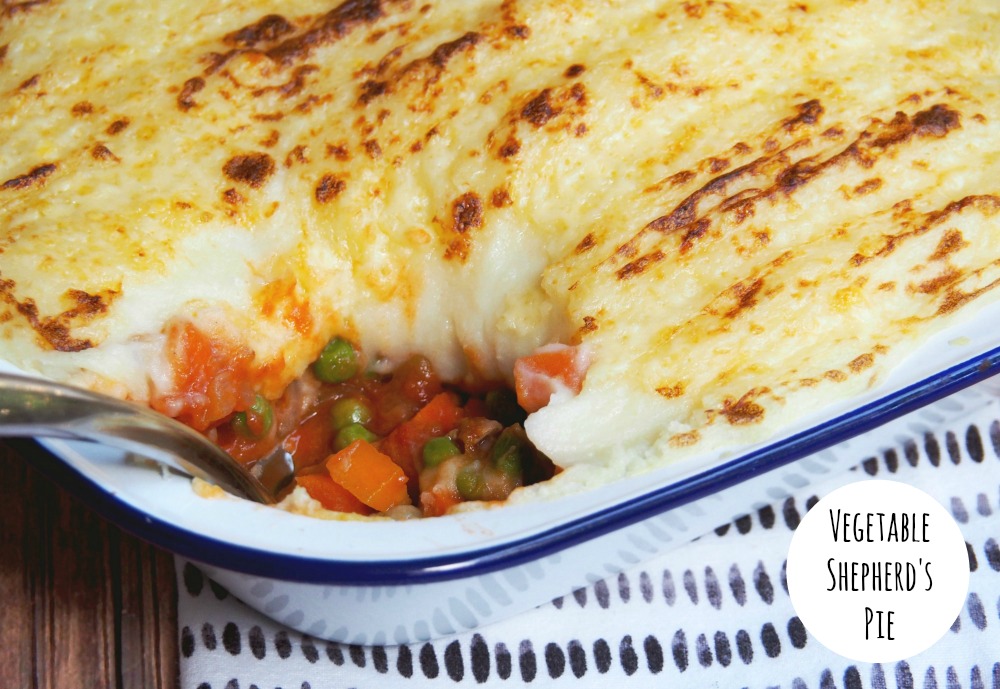 Serves 4
This deliciously comforting Vegetarian Shepherd's Pie is budget friendly and a great way to use up any tired veggies in the fridge.
I've given this recipe a bit of a makeover with some new pictures and some tweaks to the original recipe but it's still as easy, tasty and freezer friendly as ever.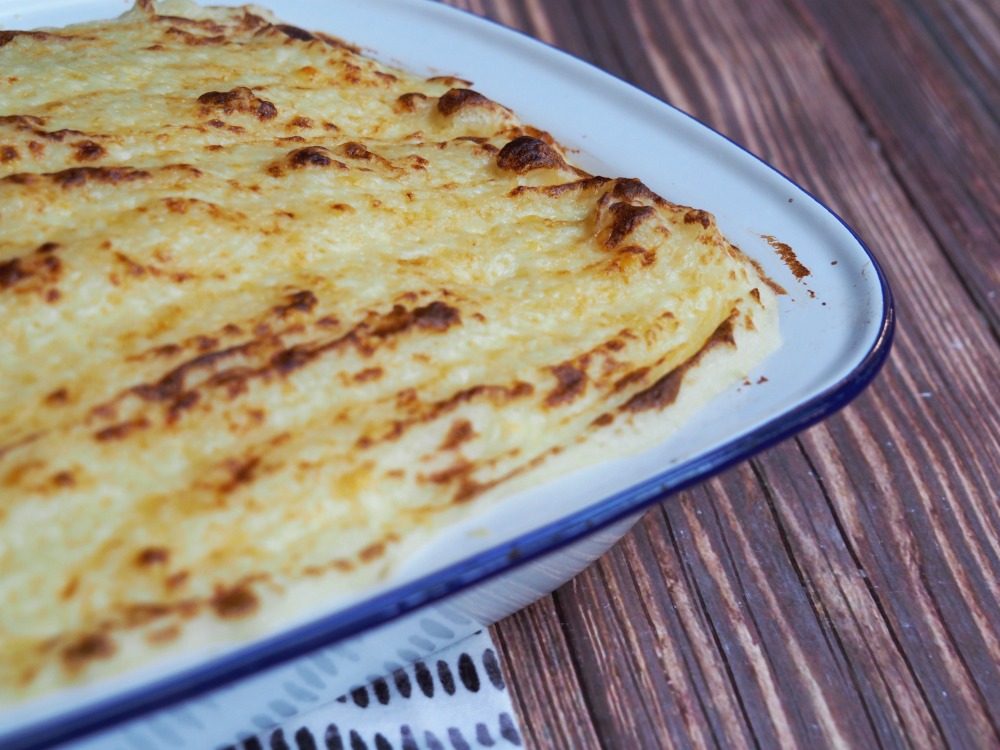 This recipe is super versatile, you can use whatever veggies you have to hand and if you don't have heaps of fresh, just stretch out the filling with frozen. This has been on high rotation at our house now that we can't get to the shops as often as we used to.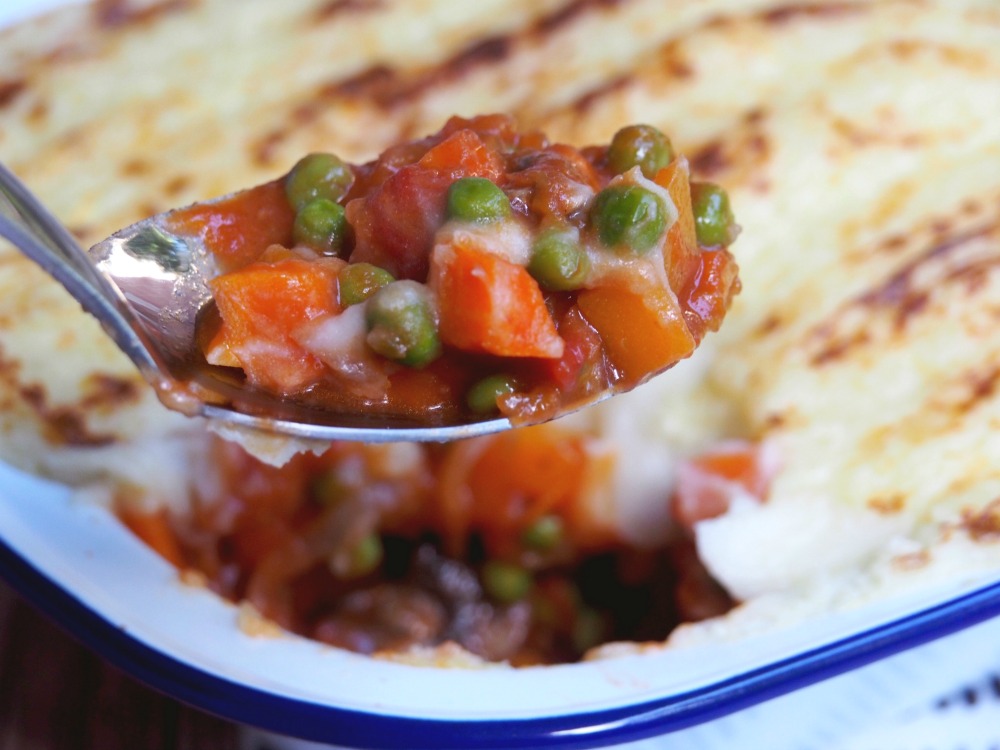 And let's not forget the cheesy mash, it's just the tops! Incidentally, if you're mad for mash, check out these other recipes for potato topped pies.
This pie will please a crowd and feed a crowd and is easily doubled. It's a great alternative to a meaty Shepherd's Pie and it's so tasty, I promise you no one will miss the meat!
Are you mad for mash? Have you got any veggie alternatives for your favourite meaty meals?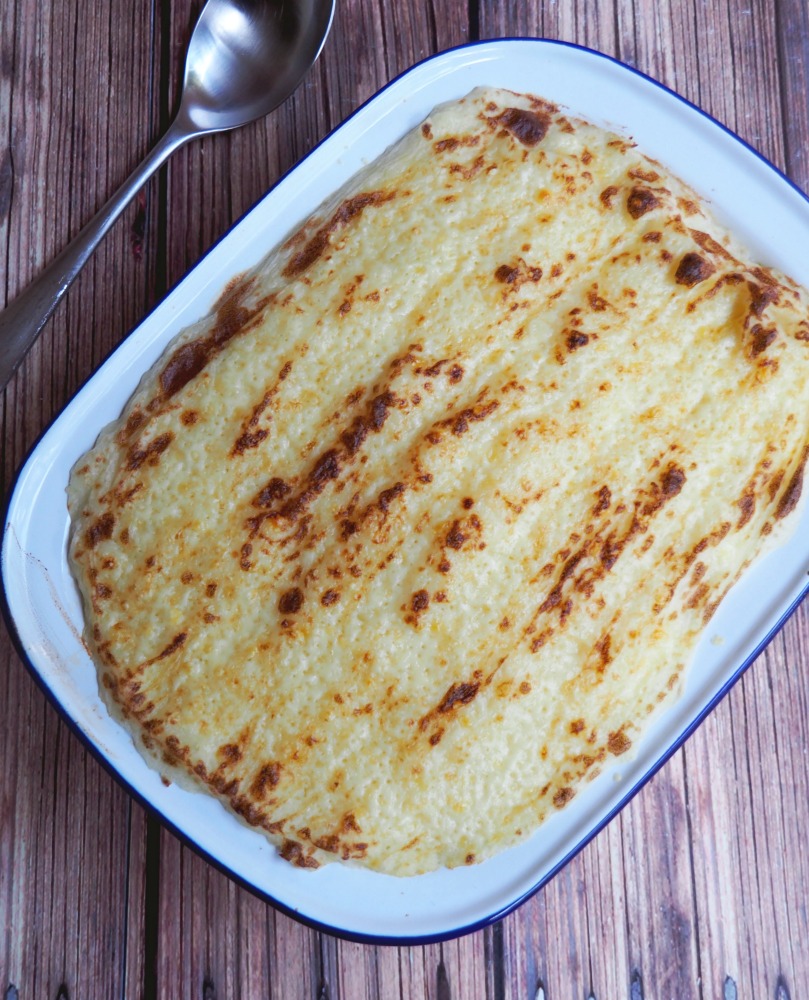 Ingredients
2 tablespoons olive oil
2 brown onions, sliced
1 tablespoon plain flour
300g carrots , sliced and diced
400g pumpkin, diced 1cm
4 garlic cloves, finely sliced
1 rosemary sprig, leaves finely chopped
400g can chopped tomatoes
1 vegetable stock cube or 1/2 tablespoon TM vegetable stock
1 tablespoon tomato paste
splash Worcestershire sauce
200g mushrooms, sliced
200g frozen peas
1kg potatoes, chopped 2cm
250g milk (Thermomix) or ¾ cup (180ml) milk (stovetop)
25g (Thermomix) or 45g (stovetop) butter, softened
50g cheddar cheese, grated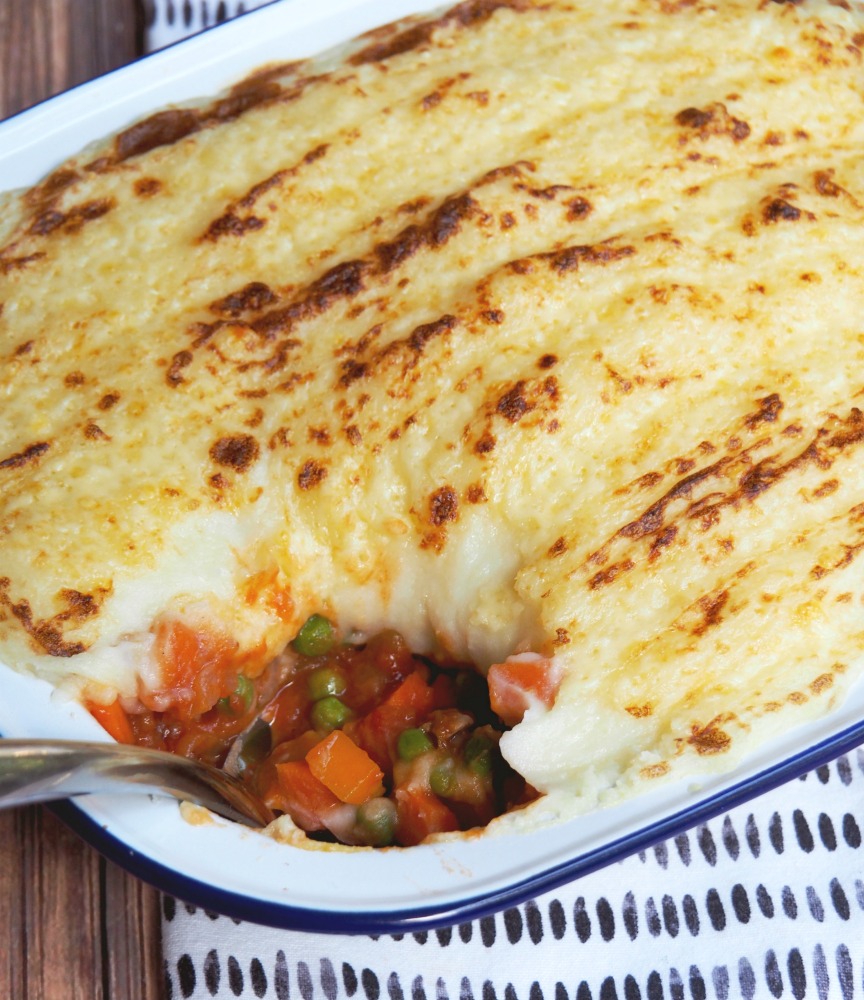 How to.
Heat 1 tablespoon of the oil in a pan on medium. Cook onion for 6-8 minutes until soft.
Add flour and cook for 2 minutes.
Add the carrots, pumpkin, garlic and rosemary, and cook for 5 minutes, stirring regularly, until vegetables begin to soften.
Add tomatoes, tomato paste, stock cube, worcestershire sauce and 1/2 can of water. Cover and simmer for 10 minutes.
Uncover, add the mushrooms and cook for 10-15 minutes, until the sauce has thickened and the vegetables are tender. Season well.;
Stir in the peas and cook for 1 minute until peas are tender.
Meanwhile, make the mash
ON THE STOVE: Cook potato in a large saucepan of salted boiling water for 15-20 minutes, until tender. Drain. Return to pan and mash well. Add milk and mash until smooth.
TO MAKE THE MASH IN THE THERMOMIX: If you are making the mash in the Thermomix you will need less butter and a bit more milk. Chop the potatoes into 2 cm pieces. Place the cheese into the TM bowl and grate for 4-6 seconds on speed 6 Set aside. Place potatoes, 250g milk and some salt into TM bowl and cook for 20 minutes at 100C on speed 1. The potatoes should fall apart when cooked, if they're still a bit hard, cook for a few minutes more. Insert butterfly and add 25g butter. Mash for 20-30 seconds on speed 4.
Preheat grill to high. Lightly grease a medium ovenproof dish, spoon in the veggie mix and top with the mash. Drag a fork lightly over the surface and sprinkle with cheese. Cook under the grill until cheese is bubbling and golden.
Other info
Preparation Time: 15 minutes Cooking Time: 40 minutes