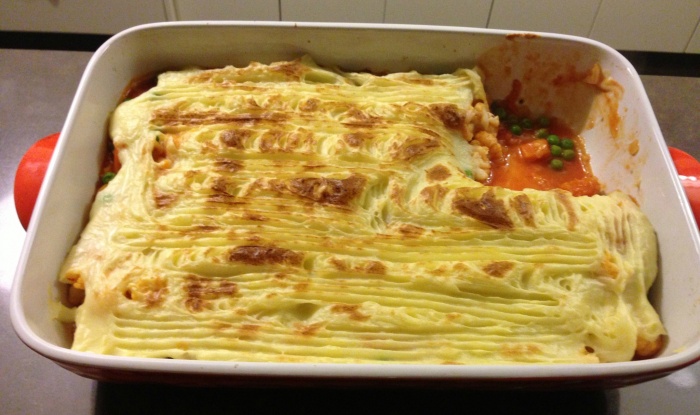 Serves 4
It's not quite Winter I know, but the temperature is dropping faster than a bad facelift! This winter warmer  is really delicious and a great way to use up any leftover veggies in the fridge!
Ingredients
2 tablespoons olive oil
2 brown onions, sliced
1 tablespoon plain flour
2 large carrots(about 300g) , cut into small batons
150g pumpkin, chopped coarsely
½  cauliflower,  broken into small florets
4 garlic cloves, finely sliced
1 rosemary sprig, leaves finely chopped
400g can chopped tomatoes
1 2/3 cups (200g) frozen peas
900g  potatoes, chopped
¾ cup (180ml) milk
How to.
Heat 1 tablespoon of the oil in a pan on medium. Cook onion for 6-8 minutes until soft. Add flour and cook for 2 minutes. Add the carrots, cauliflower, garlic and rosemary, and cook for 5 minutes, stirring regularly, until vegetables begin to soften.
Add tomatoes and 1 can of water. Cover and simmer for 10 minutes. Uncover and cook for 10-15 minutes, until the sauce has thickened and the vegetables are tender. Season.  Stir in the peas and cook for 1 minute,  until peas are tender,
Meanwhile, cook potato in a large saucepan of salted boiling water for 15-20 minutes, until tender. Drain. Return to pan and mash well. Add milk and remaining oil and mash until smooth. (Or make the mash in the Thermomix if you have one!)
Preheat grill on high. Spoon the hot vegetable mix into a medium ovenproof  dish, top with the mash and drag a fork lightly over the surface. Place under the grill for a few minutes until top is crisp  and golden.
Other info
Preparation Time: 15 minutes    Cooking Time: 40 minutes
Reference: BBC Australian Good Food June 2012